Heather Dubrow is furious at the Bravo Magic Making Machine for not telling the REAL truth about her drama with Kelly Dodd. According to Heather, it was Tamra Judge who initially mentioned her concerns about Kelly on the Glamis trip, because she did not want Kelly around the kids. And Tamra asked Heather for her opinion.
Heather complained on Twitter that Real Housewives Of Orange County edited her "responding" to Tamra, but made it look as if Heather was the person who brought it up. Basically Heather is blaming it all on her BFF Tamra, but that is okay cause Tamra willingly takes the blame!
CLICK THE CONTINUE READING BUTTON FOR MORE!
"When Heather said that she never said that why didn't Tamra speak up & say she did? She tells everything else. #scaredofheather #RHOC," a viewer wondered. Heather responded, "Because @TamraBarney said it first that day and then we discussed it. That's what we were referring to." 
"@HeatherDubrow that is true," acknowledged Tamra.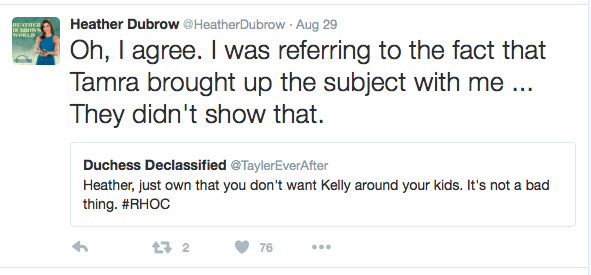 Heather admitted she doesn't want Kelly around her kids, but the distinction is, "Tamra brought up the subject with me … They didn't show that."
Heather is also furious that it appeared she lied to Kelly, which Heather also blamed on editing. She insisted only small portions of her conversations with Tamra and Kelly were shown. To verify Heather's version, we are supposed to "ask Tamra."  


Furthermore, Heather would have been fine skipping Glamis if Tamra chose to include Kelly. 

Since Heather was on a roll here, she also insisted that Bravo mis-edited the scene from the sushi party. She wasn't just ordering Kelly to leave – she was ending the entire party! Oh, cause that's so much better! 

Tamra, too, had issues – mostly because she resents being outed as a shit stirring gossip. She maintained that we all mis-watched the scene of her and Vicki Gunvalson discussing Heather's reservations about Kelly.
Tamra seems to be glomming onto the 'cussing' part of the situation. Probably to deflect from her misrepresented things to Vicki, who in turn misrepresented them to Kelly. 

Tamra didn't mince words when she called out the real RHOC liar: Kelly.
Tamra defended Vicki against Kelly saying Vicki told to everyone Heather didn't want her around the illustrious Dubrow children, primatuers of perfection.

Moving on, Kelly has been hitting the wine again and hearing paranoia. She accused Heather, Tamra, and presumably Shannon of hiring people to besmirch her reputation this season. Ummm… really?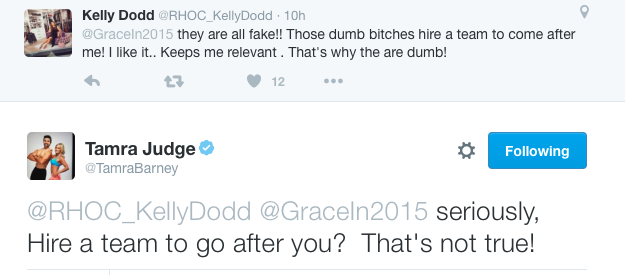 Kelly also wondered, since Shannon's 70's party was supposedly close friends, why her besties Nina and Jaci didn't make the vow renewal guest list?!

Touche! Maybe?
TELL US – DO YOU THINK HEATHER WAS MIS-EDITED? ARE THE LADIES CONSPIRING AGAINST KELLY?
[Photo Credits: Bravo]