Kelly Dodd is defending herself against Shannon Beador's 'fat shaming' accusations. Surprise, surprise – it is NOT Kelly's fault! Kelly was bullied, and persecuted, and ganged-up on, and had to lash out in self-defense! Wasn't this girl in anger management?
Tweeting from 'detox,' which she insists is NOT rehab, the Real Housewives of Orange County star blames her rudeness on a viewer she says relentlessly trolled her social media until she snapped.
CLICK THE CONTINUE READING BUTTON FOR MORE!
"If some troll can come onto my site and spew hateful vulgarities and speak of lies about my husband and kid … you better believe I'm going to fight," tweeted Kelly.

In a Facebook post, Kelly continued justifying her response to 'The Troll' as payback and teaching the woman a lesson. It's a social media slam for a social media slam.
"I am going to get in front of this issue! This Troll came onto my site to tell lies and shamed me and my daughter and my husband!! I went back and did the same thing to her! She said my daughter is embarrassed of me amongst other vulgarities… She doesn't know me and I don't know her," ranted Kelly. "I went on her Instagram and commented just like she did me!"
Far from being a fat shamer, Kelly reveals she's actually currently detoxing in 'fat camp'. So ha! She's so not a racist or a body snarker! (Kelly does know how many calories are in booze, right?)
RELATED – Vicki Says This Is The Most Negative Season EVER
"Listen, I'm at fat camp, I have a thyroid problem and I'm fat right now," Kelly announced. "I have no room to talk. However, I am not going to put up with trolls harassing me and my daughter! I know now to ignore the trolls! Because this is exactly what they want – to make me look bad – and I fell into her trap!"
This lady just does NOT know when to shut her mouth. Since Kelly is presently sober while in detox, at least we know her crazy outbursts cannot be blamed on booze. It's just Kelly being Kelly.
Continuing to fan the flames, Kelly then shared a post from 'The Troll' requesting Kelly remove the original 'fat shaming' post because it contains a photo of the woman's real daughter. Did Kelly comply? No way!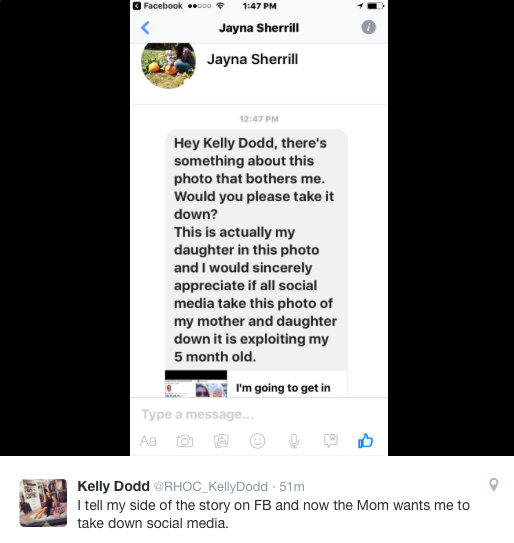 Tamra Judge, of course, had to 'weigh in' (see what I did there!).
First:
Tamra responded to Shannon's missive about Kelly's body shaming with a post about how amazing Shannon is compared to the horrors of Kelly (and Kelly's bad mothering).
RELATED – Tamra Judge Insists Her Faith Journey Is Authentic
"She is not well," Tamra proclaimed. "We knew she would be the most hated housewife ever while filming and it has happened. The best thing we can do is pray for her. I finally had to block her so I wasn't tempted to lower myself and let the devil in." She hash-tagged it #KrazyKelly
Then:
"Owning a fitness studio and seeing first hand the struggles people have with their weight, this disgusts me," shared Tamra. "This woman gets joy out [of] attacking people's weaknesses then cries victim. I really hope Kelly finds some REAL joy in her life today. God, please help her."

Blocking Kelly has not improved Tamra's self control. She continued to non-stop tweet about her nemesis. Kelly and Tamra have been bickering over whether Tamra pushed or hit Kelly in Ireland.
Tamra labeled Kelly as a criminal and a liar. Then, Jesus's warrior who walks among us in Louboutins, requested we all #PrayForKelly.
"When a criminal like Kelly Dodd is making false accusations about me, I have to laugh," tweeted Tamra. "#howmanytimeshaveyoubeenarrested #pray4kelly"

A viewer remarked that "hopefully" Kelly wouldn't be asked back next season. Tamra replied, "Yes the whole cast agrees. #trash." She also retweeted a link to a petition to fire Kelly.
Pot, meet kettle. Preferably in 'detox.'
TELL US – WHO NEEDS TWITTER-TOX MORE: KELLY OR TAMRA? SHOULD KELLY BE FIRED? WILL KELLY BE FIRED?

[Photo Credits: Bravo]