Brandi Glanville's podcast is still going strong and today was one of my favorite days because whenever she has a Bravolebrity on, there is a whole lot of hot tea spillin'.  The now-former Vanderpump Rules star Lala Kent was on and the two of them dropped some crazy accusations and got VERY candid about a plethora of topics. Brandi revealed that Kim Richards' dog bit her twice, is pretty sure that most of the Pump Rules men are at least a little bit gay, and they both are pretty sure about drug use among the cast. Lala and Brandi didn't hold back, so grab your popcorn and wine and unwind from your work week with some explosive quotes below!
Lala starts out by sharing that she did not finish out the upcoming season of Vanderpump Rules. "I did not finish the season. I can't really tell you why I left, but I can tell you that I'm very happy that I did." Brandi chimes in to say that she knows several of the cast members, not well, but then comments about Eddie's indiscretions with Scheana Shay. "I shared my ex-husband with one of them, Scheana. She's a whore." Lala adds, "and she calls me the whore, so I'm a little confused." Brandi continues, "I was at home pregnant and she was f***ing my husband on Tuesdays. And for her to say she didn't know he was married? When you only get one night a week, how do you not know?"
Brandi asks how Lala's relationship is with Scheana now. "I don't get along with anybody on that show. James I connect with but he doesn't get along with anybody either. Everyone thinks it's myself and James that are the whackjobs but I'm thinking it's the other way around. They're all f***ing crazy." Brandi agrees, "well sure, they're all 35 and waitresses and bartenders. Like when I see some of the apartments and how they live, I I'm like 'wow it's time to grow up!'"
Lala says her experience with reality TV has been shocking because she never thought she'd be doing reality television, wanting to make her way through "talent" instead. "Then I realized, this is the new age. This is what reality TV is. I mean, look at the Kardashians. I wouldn't mind being one of them." Brandi agrees, "Me either, you send one Tweet and get a million dollars."
Brandi says of being on reality TV, "It's hard. People don't realize you're not playing a part even though you kind of are. People are judging you as a human being." Lala says it's hard to find the balance of being herself and yet being entertaining to the viewers.  She says viewers think they "know" you by the tiny bit they see on TV but it's maybe fifteen minutes once a week. Brandi says "and it's one little tiny side of you. They're not with you at home, they're not with you 24/7. They're with you when you're with people you don't like, at dinner parties drunk. So maybe that is a part of us, I admit I'm a little crazy."
Brandi says she was happy when Lala came on the show because she's "actually really pretty" and most of the Pump cast "is not attractive."
Lala says that it's frustrating because they're all supposed to be acting real, but "it drives me crazy because they can throw out names, calling me a whore or a slut but the second I say anything about them, it's like 'you're body-shaming.'" She says it's a total double standard with the cast. Brandi says that they're being hypocrites, likely because Lala is the new girl and "she's younger than them and prettier than them."
RELATED: DID JAX TWEET A SPOILER ABOUT JAMES?
Lala can't understand the friendships on the show because "they've all f***ed each other's boyfriends, they've all done the gnarliest things that I would never do."
Brandi thinks "these bitches are so insecure" over their pearl-clutching last season when Lala swam with her top off. "These people are bat-shit crazy."
Lala says she can admit that she tends to get crazy sometimes, but her co-stars won't even admit it. Brandi says that it boils down to the cast not wanting their group infiltrated, "then you're the star and it's not about them anymore."
Brandi says she doesn't let her boys watch Vanderpump Rules and Lala shares that she's floored when she has young kids (like 7 years old!) approaching her, saying that they love her on the show. She questions why on earth parents would think that's okay for them to watch.
What's Lala going to do now that she's off the show? "I'm making money in other areas. I just started with chokers. I have a partner who hand makes them. We have custom jewelry." She's going to focus on one area and then maybe branch out.
RELATED: Lala Kent And James Kennedy Apologize To Andy Cohen For Their Disruptive Swearing On Watch What Happens Live
What's Lala's relationship with Lisa Vanderpump? "I don't know. She was really really cool to me and I felt like she was rooting for me. But then when I parted ways with everything, when cameras were off…I'm just gonna leave it at that." Brandi did chime in part way through to warn her to be careful what she says about Lisa, "because she will ruin your life."
Lala reiterates that she has not hooked up with Jax. She says she was in other relationships during filming. She does love to hang out with James but says he has a lot of growing up to do. Brandi says that James told people she tried to kiss him but she's never even been in the same room with him or met him. Lala says she's into older guys these days. "The man I'm with right now, in the weirdest way reminds me of my dad. He's such a caretaker."
They somehow transition to a conversation about dogs and Brandi admits that she hates her dogs "with a passion" and they now live in the garage because they bite, they pee and they "bark constantly."
Lala admits that she's stopped drinking now but still smokes a lot of pot. While on the subject of drinking, Brandi says it was hard to NOT drink while filming reality TV. And she hated that Lisa Vanderpump would scold her to cut back on her drinking, but every other cast member could drink all day, every day and Lisa never accused them of having a drinking problem.
Lala blasts, "they did the same thing to James, while Jax is doing cocaine every day of his life. It's like 'let's address the REAL problem'." Brandi says when she watched the reunion last year she thinks they were all cracked out and that she even Tweeted about the possible Adderall use. "Their jaws were swinging back and forth, high as kites. I don't know how people can't tell." Brandi quips "that's where the money goes. It has to – look at their apartments."
Brandi doesn't think anyone is evolving on Pump Rules – it's the same storylines every single season: sleeping with each others boyfriends, drinking too much, etc.  Lala says all that's really changed is marriage for some of them and "married people aren't fun to watch." She calls it a buzzkill.  Brandi thinks they did it to get free weddings and a storyline. She shades Scheana's wedding dress. Lala says in 20 years Scheana will ask herself "what was I doing with that body in that crop top?" Brandi's convinced that the weddings are for storylines and doesn't think they seem in love at all.
Brandi reveals that she's dating a businessman and it's going well.
Lala feels bad bashing on her Vanderpump co-stars, but she's tried hard to be kind and feed into their denial, but "it just comes to a point where you're like 'f*** this, you guys are so mean that I'm gonna show you what a fu**ing bitch I can be."
She calls this season is crazy. They all did have a talk about not getting physical. Lala says she kept to that agreement. She also says that she saw in the preview trailer that the others who called her a ho for taking her top off last season, are now taking their clothes off.
They veer back onto the subject of dogs and when Lala says one of her two rescue dogs is a pitbull, Brandi says she's scared to death of them. She then shares that Kim Richards' dog Kingsley bit her twice. And she's had to "go to the corner" because "this dog was going to kill me." When Lala asks if Kingsley got put down, Brandi says he's on a farm somewhere, "it went away." Lala wants to raise her pitbull to be a lover and not aggressive. Brandi then shares a story of a friend of hers who walked a pitbull all the time who was great and then just out of the blue, bit them in the face. Brandi admits that's part of the reason she's so afraid of them – because they seem to flip so easily. Lala says she actually drives home to Utah because she doesn't want to leave her dogs behind and can't take them on the plane (she has one pitbull puppy and one lab/golden retriever mix).  Brandi says her chihuahuas THINK they're pitbulls and bite everyone.
Will Lala ever do reality television again? "If I have my own show. I want a hand in it. I feel like with most of the people on Vanderpump Rules, they don't have a creative side. Like there's no talent in them, so they need someone to run the show always. They're like f***ing puppets. I don't like that I don't have a creative hand in anything that's done with myself on it. I want to be able to put pieces together and say 'this is good TV' or 'this isn't'." She says she'd want to be a producer on her own show. Brandi says she's not doing anything in the future unless she's a producer on it. "I've been screwed over so much."
Lala says she genuinely likes Lisa Vanderpump but doesn't know if Lisa really likes her. Brandi says, "I don't think she really likes anyone but herself. I really believe that it's all about her. And it's her show and everyone is just lucky to be in her presence."
On the cast, Lala admits she likes Tom Sandoval and Ariana Madix, but she knows that they'll always have the backs of the other co-stars because Lala was the new girl. She says that Tom and Ariana did tell her off-camera that they feel she was treated unfairly.
Brandi confesses that she doesn't like Tom and that they've had Twitter feuds in the past. She also thinks he's gay. Lala thinks several of her former co-stars are. Brandi agrees, "I think they sway. I think they're all gay for pay for sure." Lala adds, "I know for sure Jax has definitely taken a dick down." Brandi thinks they've all done it to each other and says "they're not overly masculine men. I think Jax is the most masculine and I'm pretty sure he's had it up the ***." Lala tells her she knows it for a fact. Brandi says she knows a lot of male models who will be gay for the day to land a campaign or a show.
Lala says the cast has insinuated that she slept around to get things. "Honey, if I slept around for things I would be in a mansion and a Bentley."
After Brandi's podcast posted today, a Twitter follower asked Scheana Shay if she'd heard it, her reply (along with Katie Maloney's) is below.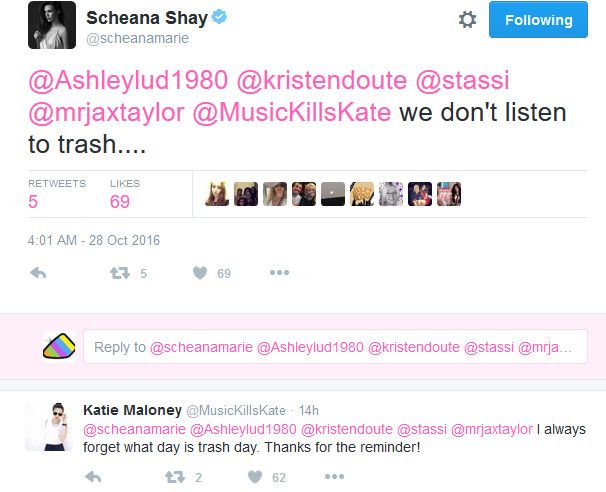 TELL US – THOUGHTS ON ALL THE TRUTHBOMBS IN THE INTERVIEW? DO YOU THINK LALA AND BRANDI ARE SPILLING THE HOT TEA?

You can take a listen to the whole podcast here.
Photo Credit: Instagram/Brandi Glanville/podcast one
Save
Save
Save
Save
Save
Save
Save
Save
Save
Save
Save
Save
Save
Save
Save
Save
Save
Save
Save
Save
Save
Save
Save
Save
Save
Save
Save
Save