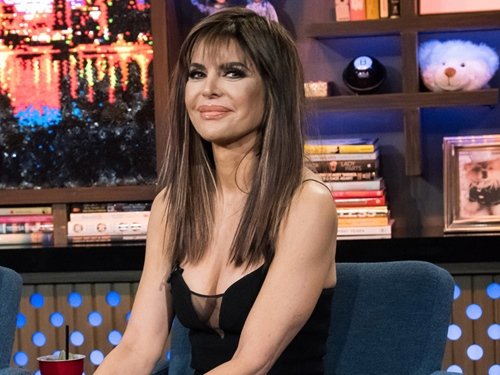 At this point, Real Housewives of Beverly Hills is shaping up to be Lisa Vanderpump vs. Lisa Rinna at the reunion. Sure, there are some other spats happening, but those are at the JV level. Lisa and Lisa have been taking jabs at each other in every single episode this season, in almost every interview they've done to promote the show, and in lots of their social media posts. These are varsity smack talkers.
Aside from Vanderpump's constant digs, Rinna's other major foe this season is Dorit Kemsley, who has been super busy this year offending Camille Grammer and Teddi Mellencamp Arroyave (so far).
When Rinna joined Andy Cohen in the clubhouse for Watch What Happens Live, she shared, "I like Teddi. I like her. She's a straight shooter. I had fun with her."
That's not really surprising. I feel like that question would have a way more interesting answer if Andy had asked Dorit to share her thoughts on the newest Housewife. I'm sure she has some choice words for her since she calls her "psyho" in the preview for the next episode.
Obviously, Andy had to ask Rinna about her (amazing) Instagram stories where she watches the early Real Housewives of Beverly Hills seasons and shares her reactions. When a screen shot of Lisa Vanderpump appeared on the screen, Rinna said, "Who's that? Is that Lisa Vanderpump? Oh, I recognize Giggy." Shady.
When Lisa's other sparring partner Kim Richards appeared on the screen all she said was "Next." That was probably a good move considering that Kim isn't even on this season in any capacity.
When Andy brought up Camille, Rinna admitted, "I like Camille in Season 1. Where is that girl? Bring her back. I want her back. I loved it." I'm all for Camille being classy, but I know that she is more than capable of dragging Dorit. Season 1 Camille needs to reemerge, even if it's just for one scene to put Dorit in her place.
Rinna insisted that she never actually watched the show before it was on. She told Andy, "Here's the thing, it's the truth. If you ask most of the girls who have come on the show, they don't watch it." She also said, "The truth is, I saw clips. If I sat down and saw all the seasons, I would never be on the show."
A caller asked Rinna why she lets Vanderpump "take so many jabs" at her. Instead of getting defensive, Rinna said, "Sweetie, that's what we do. We jab each other back and forth." She even admitted, "I will say that I enjoy nothing more than taking the piss out of Lisa Vanderpump and I think vice versa. So it might look like she's taking a lot of jabs and she is, but you know what, I get her back. Trust me." I'm so here for that. I love a little Lisa vs. Lisa shade.
A fan employed Rinna's signature "own it" catchphrase and asked Rinna who "does the worst job of owning it." Without much explanation, Rinna said, "Probably Dorit. In all fairness." I wish she elaborated more, but it really wasn't necessary. Most people watching this show would agree. Dorit doesn't own her actions or her house (allegedly).
One of those most hilarious (and unexpected) moments of the season was when Rinna's daughters said that they "learned how to give head" from reading her book. I cannot imagine how her husband Harry Hamlin felt about that one.
Andy asked Rinna, "What was Harry's reaction to your daughters getting blow job tips from your books?" Rinna said, "Ugh. What do you think his reaction was?" Andy said, "I think it was probably very poor, right?" She told him, "At first he was like, 'Oh my god. What have you done now?' He's been OK now." Now that is a conversation that I wish was filmed for the show
RELATED: Kyle Richards Doesn't Understand Why Lisa Rinna Is Taking Jabs At Lisa Vanderpump On Her Instagram Story
TELL US- IS DORIT THE WORST AT "OWNING IT" ON RHOBH? WHOSE SIDE ARE YOU ON IN THE LISA VS. LISA RIVALRY: VANDERPUMP'S OR RINNA'S?
[Photo Credit: Bravo]