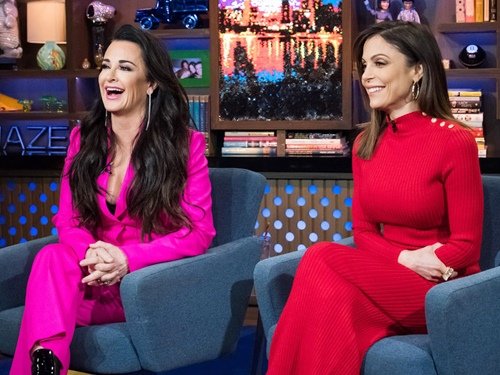 Even though Kyle Richards and Bethenny Frankel have been close friends for decades, last night was the first night that they both appeared as Andy Cohen's guests on Watch What Happens Live.
The Housewives discussed the drama on their shows. Kyle was fresh off of the episode when Lisa Vanderpump ditched Dorit Kemsley in a restaurant and of course, Bethenny had to answer some questions about her costar Luann de Lesseps following her arrest and rehab stint.
Andy asked Bethenny about her show with Fredrik Eklund. He wanted to know, "Who do you think is running the show more between the two of you?" She answered,  "I am. I don't want to say that, but Fredrik would say that also. I run the show. Happy wife, happy life. You know what I mean?" That sounds about right.
Kyle was asked, "What was Bethenny like when you first met?" She joked, "The same. Only poor." God, I wish they had reality TV back in those days. Kyle and Bethenny on the rise would be some entertaining content.
A viewer asked Bethenny, "What is the status of your friendship with Erika Jayne? I know in Season 6, you had a beef." Bethenny shared, "Oh god. That was so long ago. I may make an appearance on Beverly Hills this season and you might see Erika and I interacting. We ran into each other at Christina Aguilera's birthday where she performed. We know people in common. I know her husband, so we're good." I love a Housewives crossover. I cannot wait for that.
A caller wanted Kyle and Bethenny to name the person who is the "most exhausting" to be friends with on each of their shows. Without hesitation, Bethenny said, "From mine, Ramona [Singer]. She didn't even have the verb out yet, and I was like 'Ramona.'" Once again, that sounds about right. Kyle told Bethenny, "I don't have anyone." Really, Kyle? It doesn't seem "easy" to be friends with most of the Beverly Hills ladies. Then again, Kyle is the only one who consistently gets along with everyone, so maybe it is just easy for Kyle. Bethenny responded with, "Oh, I know. You're so political. I'm not."
A fan asked Kyle, "Did you feel jealous when Lisa Vanderpump left the table because you felt that if Dorit were crying, she wouldn't have left?" That is what Kyle said in the episode, minus the word "jealous," so it's really not surprising that Kyle answered, "I didn't feel jealous. I thought it was strange that Lisa would walk off like that. By the way, we did acknowledge her lawsuit being dropped. We talked about it and we toasted to it. I thought it was weird she walked off and later I thought 'She wouldn't have done that with Dorit.' It wasn't jealous though. It's more like, let's level the playing field here." Lisa walking out of that restaurant was so ridiculous and unnecessary, but those reaction shots of Dorit and Kyle looking shocked outside the restaurant are premium content for GIF's and memes so it was definitely worth it.
Bethenny had nothing but positive updates about Luann. She shared, "Luann's great. I can't say I'm surprised. We've talked about this. Luann is the most resilient strong woman I've ever met – maybe.  And you know, she hit the wall going 90 and the way you handle something when something bad happens is very character building. It shows a lot about a person. She's taking care of herself. She's taking it seriously. She's not delusional about where she is. She is sort of on a path and she's in a good place. She's very honest about exactly where she is and about what happened and about what her goals are. We spent time in a spa and I'm honestly impressed."
Later in the show, Bethenny clarified her relationship status, saying, "I am single. I did reconnect with someone very recently that I may begin to date. Very recently, but I am single. Don't believe everything you believe." Very interesting.
RELATED: Kyle Richards Thinks Lisa Vanderpump Is Jealous Of Her Friendship With Dorit Kemsley & Teddi Mellencamp Arroyave Is A Great Addition To Real Housewives Of Beverly Hills
TELL US – WHO SEEMS LIKE THE MOST EXHAUSTING PERSON TO BE FRIENDS WITH OUT OF ALL THE REAL HOUSEWIVES? WAS KYLE JEALOUS OF LISA & DORIT'S FRIENDSHIP?
[Photo Credit: Bravo]