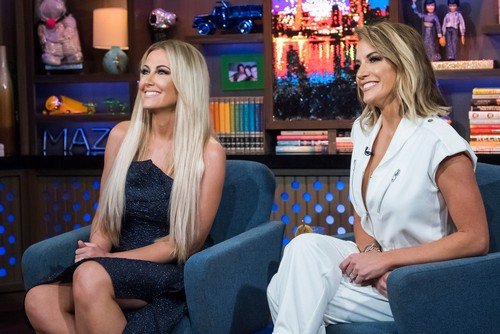 Real Housewives of Dallas definitely nailed the casting for Season 2. With the casting just right and the relationships solidified last year, Season 3 is off to a fantastic start. Unfortunately, Real Housewives of Dallas has been relegated to redheaded stepchild status within the Real Housewives franchise, but this show is actually so good and worth the watch. Just maybe skip the first season.
Dallas Housewives Cary Deuber and Stephanie Hollman discussed all the drama during last night's episode of Watch What Happens Live.
Host Andy Cohen asked Stephanie about her decision to discuss depression and her suicide attempt with LeeAnne Locken. She explained, "I was just kind of in a moment with LeeAnne where we were talking about depression and I felt like I had never gotten to know her. I feel like sometimes when you share deep things, you can connect. I shared it and then I was like 'There's no turning back.' It was the best thing I had ever done because I personally needed to let go at that time in my life. I had never really come to terms with what happened."
Cary told Stephanie, "I was proud of you" and so were a lot of people. Sharing that deeply personal experience probably helped a lot of viewers see that they are not alone in similar struggles.
Moving on to far more trivial manners, a viewer asked, "Do you think the necklace Brandi [Redmond] got for D'Andra [Simmons] was sincere or was she trying to buy her friendship?" Cary responded with, "Didn't we go in on that?" Stephanie confirmed, "We all went in on that. It was sincere." That was very unclear watching the episode. Did Brandi make it seem that way? Or was it the editing that made it look like Brandi purchased that necklace on her own?
Then Andy broke down that fourth wall and asked about LeeAnne and D'Andra's fight over who was the queen. Andy wondered, "Were they fighting about who the star of the show is?" Cary confirmed, "Yes." Andy admitted, "That's what I figured too."
Cary also started to say, "It was more D'Andra was really wanting to be the…" And Andy filled in the end of that sentence was "star of the show." Cary began to say, "It was mostly…." and then she said, "D'Andra was being pretty aggressive." LeeAnne has been the focal point of this show since Episode 1. Come on, D'Andra. I've been a D'Andra fan from the jump, but she did only join this show during Season 2. Not only that, but pretty much all roads lead to LeeAnne on this show. If it wasn't for LeeAnne, there would be no Real Housewives of Dallas. Let's be honest.
A viewer asked Cary, "The way you and Mark [Deuber]got together gets brought up a lot on the show, how does his ex-wife react to it? Cary answered, "She's good. She actually just got engaged. She's doing great. No animosity. All good."
Then Stephanie discussed Kameron Westcott getting offended that Brandi adopted a baby. I can't help agreeing with Stephanie when she said, "I do not take back that she was making the adoption about herself and she was kind of ruining the moment for Brandi, but I wish I would have said 'badger' instead of 'bash' because I felt like she hung on to that word. The sentiment is still there. I stand by how I felt." Kameron and Brandi weren't even close. Why would Brandi share that with her?
A fan asked Cary, "Do you regret telling Brandi that D'Andra says she abuses Adderall?" Without hesitation, Cary said, "No, I don't regret it at all."
Andy couldn't help chiming in to say, "She did admit in that first episode that she was referring to Brandi. Then she didn't cop to it to Brandi. Am I right about that?" Cary told him, "Yes, you are correct." Andy remarked, "I don't understand that."
And of course, the conversation came back to the star of the show LeeAnne. Cary admitted, "I definitely would say she has been making the effort to change. She has shown me a lot of progress."
Stephanie added, "I would say the same. I see her thinking before she reacts. It doesn't happen all the time, but it's better than it was and I think she's really making the effort with me, so I can only judge from that. For me, I saw a change." Cary said, "I do too."
TELL US- WHO IS THE STAR IN THE REAL HOUSEWIVES OF DALLAS? DID KAMERON HAVE A RIGHT TO BE OFFENDED OVER BRANDI'S SECRET ADOPTION?