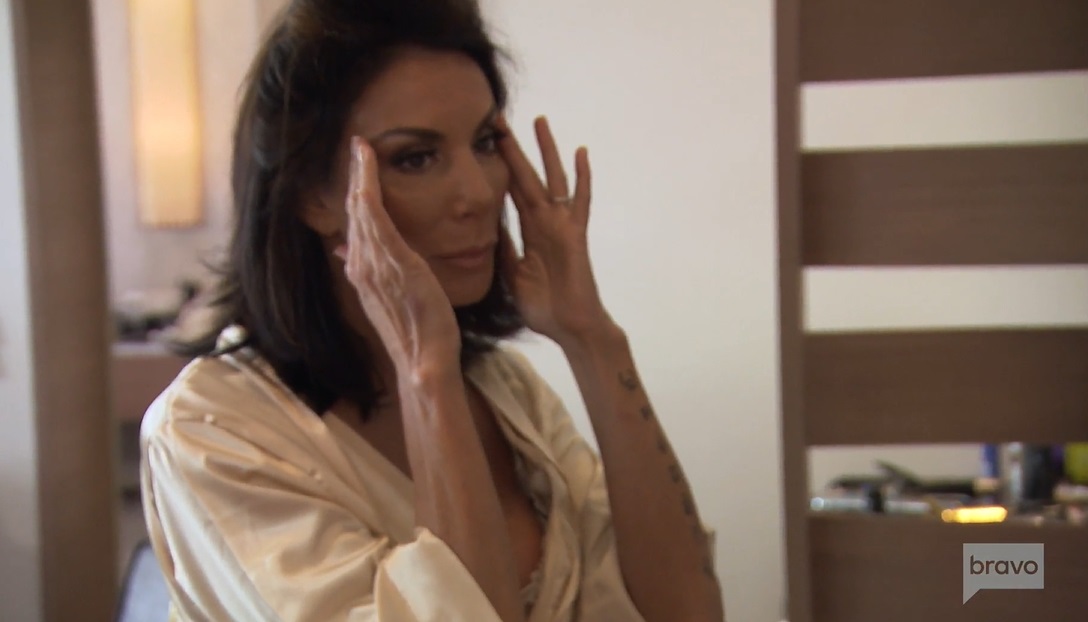 On last night's Real Housewives of New Jersey  Danielle Staub finally got her happily ever after…at least for a few months. The ladies wake up to the beauty of Bimini, and Teresa Giudice and brother Joe Gorga are finally getting along and bonding over some dumbbells. How appropriate! Margaret Josephs and husband Joe Benigno are also in tropical bliss. Melissa Gorga has foregone the weights for tanning oil to prep for Danielle's bride squad photo shoot. Everyone is still reeling from Danielle's comments about soon-to-be husband's Marty Cafferty's children. Margaret warns Joe to tread lightly if the guys take Marty out for some pre-ceremony bro shenanigans. Teresa calls Dolores Catania who isn't the least bit sad she's not included in nemesis Danielle's big day. After hearing the previous evening's dinner drama, she wonders if Danielle will even make it down the aisle.
Danielle is micromanaging her photo shoot, and I feel terrible for her beautiful daughters. The former housewife is disappointed that her tribe of bridesmaids isn't constantly at her beck and call. Marge is concerned about being a girl that loves cheese in a group of skinny Minnies, and Danielle is peeved when Margaret refuses to take off her lacy pants. Thankfully she's distracted by her desire to have a Baywatch strut photo and begins screaming out orders for that.
Back at the resort, the Joes squared decide to take Marty out for drinks to make sure he knows what he's marrying. That will likely end well. The women opt for coconut drinks, and Teresa shares that Jackie Goldschneider has invited Dolores to lunch to discuss the whole "you should control your husband" debacle. At a beach bar, the Joes are shocked to hear that Marty isn't getting any sex but yet he paid for Danielle's forty-five thousand dollar wedding dress without his knowledge. Marty likes a challenge, but the Joes laugh over how disrespectful Danielle is to her future husband. The men opt for conch, and Joe (once he can pronounce it) relentlessly teases him about his missing balls. Marty has balls, and he proves it by throwing a drink in one of the Joe's faces. The other Joe laughs. They were just testing Marty to make sure he really loved Danielle. Good one…except it wasn't really a test. Joe is just hoping to save Joe from Marty's wrath. These bozos may be smarter than they look!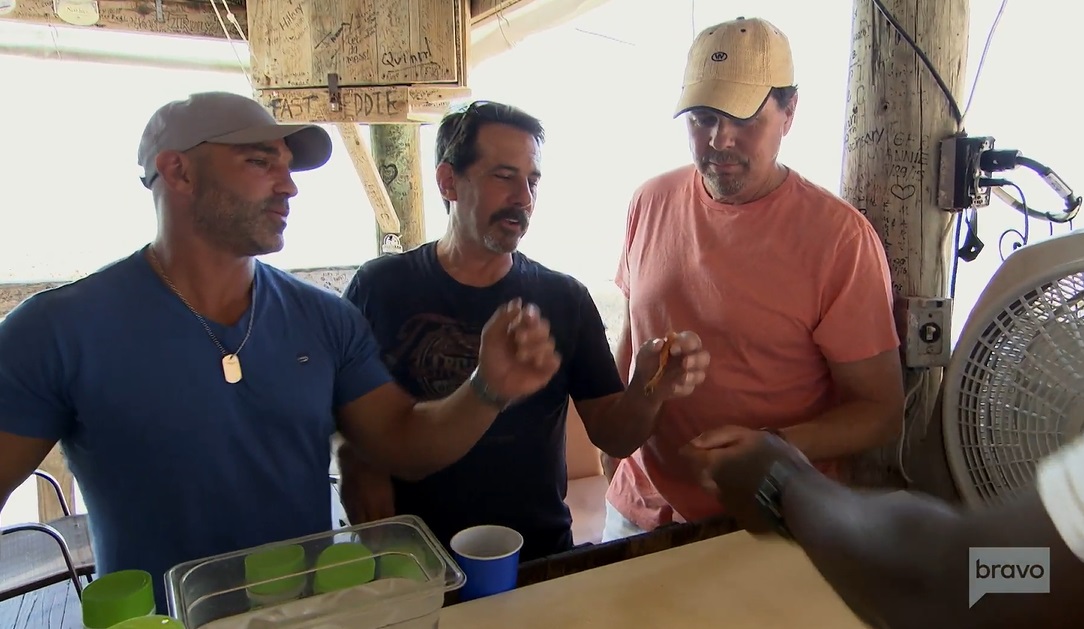 In Jersey, Jackie and Dolores are lunching, and Jackie hopes Dolores can counsel her as to how to get back into Tre's good graces. Before getting to the meat of the conversation, they ladies bond over Danielle's crazy. Jackie tries to plead her case, and Dolores' loyalty to Teresa doesn't waiver for one second. Dolores believes Jackie is an elitist, but Jackie explains that her father also spend some time "away" when she was in college. Dolores doesn't think the stories are comparable. Jackie kicked Teresa when she was down according to Dolores. Teresa's anger is just her way of showing hurt. She urges Jackie to compromise before the spirit of Teresa's anger takes them both out with a giant bistro umbrella.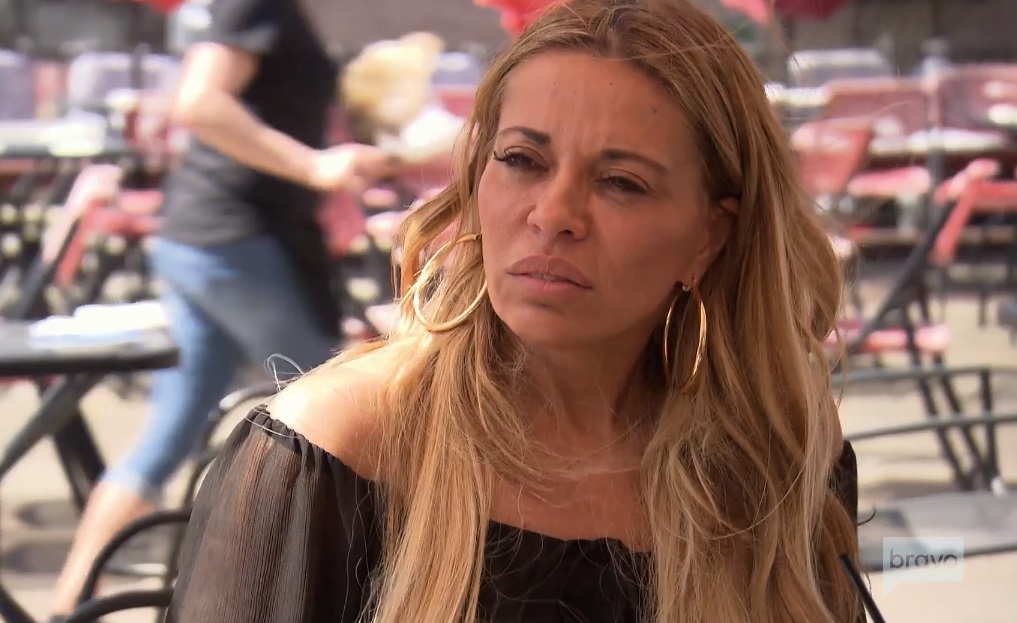 A wasted Joe Gorga needs to gorge on a ton of food if he's going to make it to the rehearsal dinner. Melissa and Tre find him stuffing his face and listen to Joe dish on kitty whipping and ball busting. Marge hears the same from her Joe, and she's worried Joe's drunken behavior with Marty could add to the tension she's been having with Danielle. Because Bravo doesn't want us to forget about Jennifer Aydin (who?), we are treated to her shopping with her brother for a cross for his future bride. The jewelry will be presented at an engagement promise ceremony in Turkey.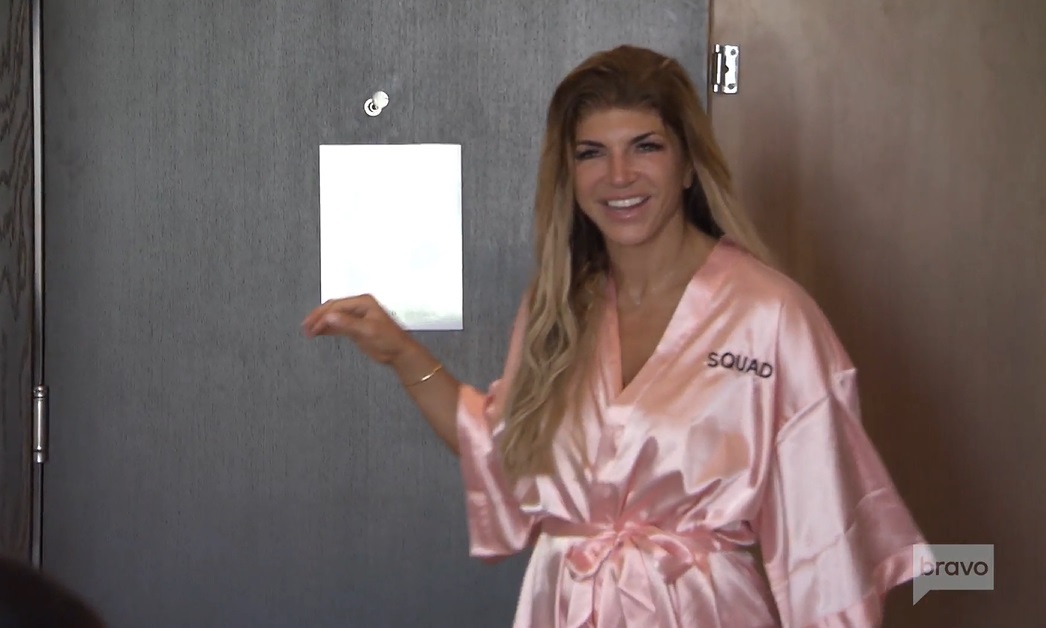 There's a storm brewing in Bimini as the ladies convene for the rehearsal a cocktail party. As Margaret shares the weather forecast, Danielle accuses her of trying to will the rain into existence. She is over Marge's negativity. Hell, if Margaret knew you could will anything into existence, she'd be talking about winning the lottery instead of a rainstorm. At the party, Danielle accuses Joe of telling Marty that she's only with him for the money. Gorga isn't going down for this alone, so he calls the other Joe to face the beast. Danielle threatens a few murders before asking her crew if she's a gold digger.
Margaret gives Joe a stern look before Joe delivers a swift and definitive "no". Danielle realizes the Joes were just busting Marty's chops, and their teasing only proved how much Marty adores her. That said, Danielle thinks the seeds of money seeking were planted in the Joe's minds by her BFF Margaret. Gold-digging and thunderstorms. Margaret can conjure so much!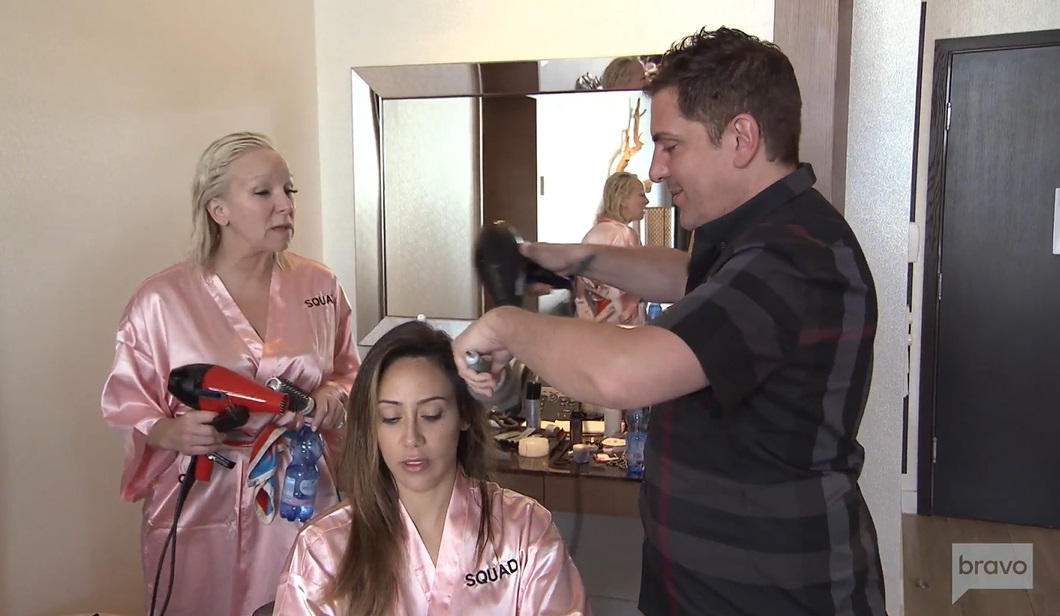 On the day of the wedding, the women are getting ready, and Danielle is livid to learn that Melissa and Teresa have arrived to her glam squad with wet heads. They weren't promised blow-outs. Her glam squad was solely for herself and her daughters. Wait, is her hair stylist my beloved Jonah Hill!??! Danielle's head almost explodes when Margaret shows up with wet hair. Margaret is quick to dry her own hair, and Danielle says her actions almost make up for her husband's words the night before.
Margaret questions how she can be so blindly loyal to Danielle while being treated so poorly by her. She refuses to take any more of Danielle's neediness and excuses herself from the wedding party. Danielle follows Margaret into the hallway, and Teresa understands Danielle's disappointment. Danielle apologizes to a teary Margaret. In order to calm the situation, Margaret puts on a happy face in hopes of eliminating drama. Secretly, she's wishing she'd listened to Dolores about what a toxic friend Danielle is. The couple has written their own vows, and as their ginormous wedding party looks on, there are a few skeptical faces. There is also a lot of unnecessary cat calling courtesy of Joe Gorga. Ha!
TELL US – WHAT DID YOU THINK OF LAST NIGHT'S EPISODES? WAS DANIELLE A COMPLETE BRIDEZILLA? 
[Photo Credit: Bravo]