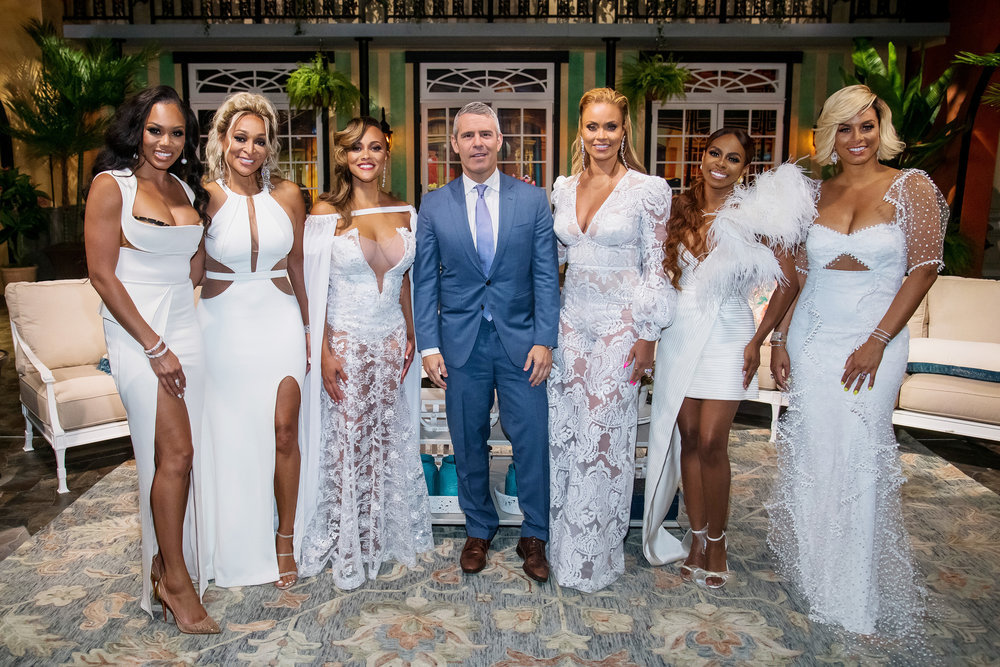 The ladies of The Real Housewives of Potomac had a breakout season, and the reunion has arrived! It's time to settle scores, rehash the drama, and maybe ignite some new feuds. These women had no problem being MESSY and SHADY this season. Last night we did a deep dive into the drama of Karen Huger & Gizelle Bryant. It's the fight that never ends!
However, Karen and Gizelle won't be the only ones with drama. Candiace Dillard comes face to face with her mother, and you know that will be explosive. Plus, Ashley Darby's husband Michael Darby is slated to make a jaw-dropping appearance. So much of the Real Housewives of Potomac season centered around him, so expect MAJOR fireworks. Monique Samuels and Robyn Dixon will be there too to dish on the season's drama. Alright, let the games begin!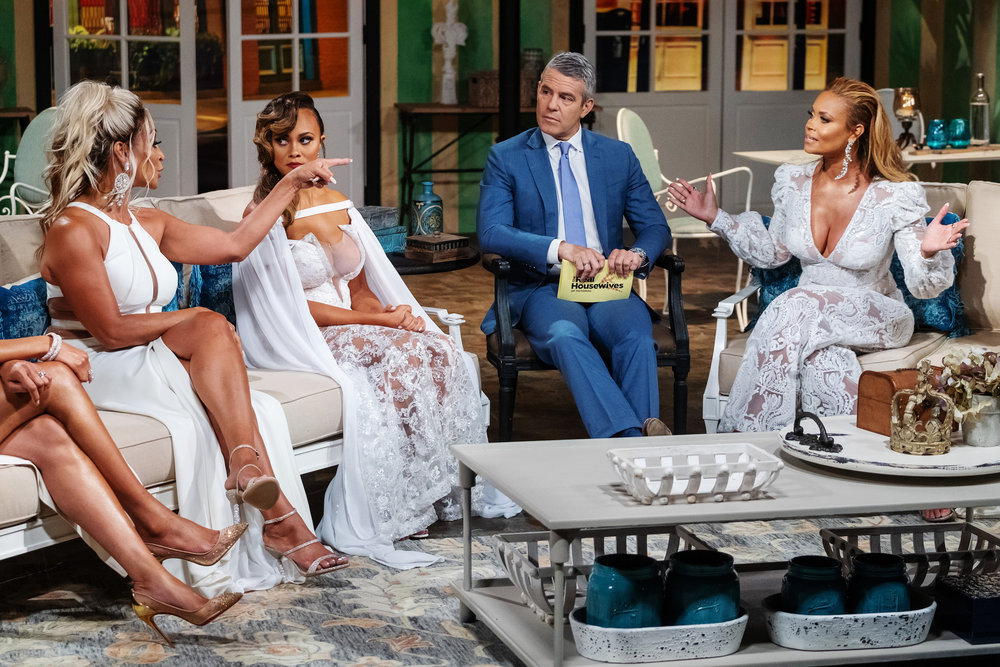 The ladies are all shown getting ready for the reunion. And they all look pumped. Robyn and Gizelle speculate on whether or not Michael will actually show.
Candiace looks HIGHLY stressed that her mom Dorothy Dillard is coming to the reunion. That's going to be a therapy session like no other. I think Dorothy wants the spotlight even more than Candiace.
Ashley's sad to be away from her baby, and oh my god he's so cute! LOVING THE ALL WHITE THEME. These women all look flawless.
Andy Cohen makes a joke about butter knives to Candiace, and the shade is real! Monique's baby is thriving just like Ashley's, and I'm so happy for her!
It's great to hear that Karen moved back to Potomac. Finally, one less thing that Gizelle can come at her about. Karen throws shade at Michael saying he never misses a camera, so he'll be there. She references the Fox 5 interview as an example of that, and it sets Ashley off.
Gizelle says she's sick of talking about the Michael situation, so clearly she's in the wrong setting. The video package about Gizelle is hilarious. I forgot all about Sherman skipping Candiace's wedding.
Gizelle tried to clean up her life, but I don't think it lasted long. In no time, she was just as messy as ever. Gizelle says her therapist taught her a lot and to be emphatic. Where was the empathy all season? Nobody in the group thinks Gizelle was changed by therapy.
Karen says Gizelle's shade is reckless, but Gizelle says her attitude serves her well. Gizelle says she saw Sherman at the gym, but they didn't speak. She claims he avoided the wedding so he didn't have to speak to Monique.
Monique refuses to take blame for that. I don't blame her. She's not responsible for how someone else feels.
Karen chimes in. Gizelle fires back saying she's heard a lot about Karen as well. Karen found the timing odd because at the last Real Housewives of Potomac reunion she said he was doing better in her life.
Gizelle stumbles through an answer about having a new man, and Andy says he's heard rumors. Who do we think it could be?
She says she's being heavily pursued, but Karen says he won't be around long. Gizelle confirms a rumor that it's her ex husband. It's been since last year that they've been together. Her kids are confused about the situation because they've never seen him together.
Karen heard about it months ago from his church. She thinks he has best chance to handle her. Ashley thinks it's great she forgive him and that they're moving on. Of course, she thinks that given how much she's forgiven about Michael.
Gizelle says it's baby steps. Robyn likens the relationship to her and Juan Dixon. Girl, don't get us started about your weird living arrangement with Juan. I still CANNOT with those ring finger tattoos.
It's so sad watching Karen discuss her grief over losing her parents. I'll never understand why Gizelle wasn't empathetic with her about not going out in NOLA.
This was such a comeback season for The Grand Dame. Karen finally reveals what retail store her fragrance is in. Bloomingdale's it is! Karen fires back at Ashley and Gizelle for saying it was an old lady perfume.
Karen is upset watching the show back because Gizelle keeps implying she doesn't own her company. She says Gizelle sits in the confessional chair like a coward to attack her brand.
Everyone gets really courageous when they're doing those interviews. Half of that would never be said to someone's face.
Karen says the Instagram Live situation was a result of spending all day hearing about death on the plantation. Robyn says nobody would equate grieving with Instagram Live. Karen throws in a dig about Robyn's relationship with Juan and finds it all so distasteful.
Losing a loved one is so painful, so they really shouldn't be attacking her over how she deals. Karen says she's leasing her new home with the option to buy. Good call saying that now in order to avoid inquiries later. Gizelle and Robyn would be all over that one.
Why are they riding Karen so hard about every part of her life? Gizelle is sitting there being super secretive about her love life, and nobody is questioning THAT. Robyn STILL won't reveal who Michael wants to "suck" even though we all know it's Juan. Get a new topic, ladies.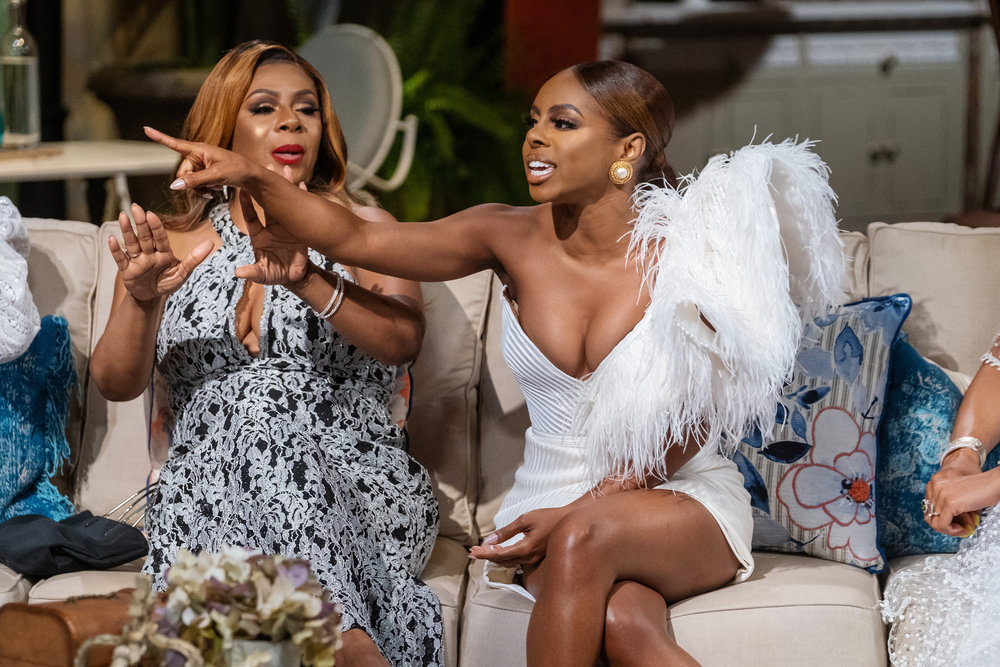 Candiace's mom is now joining the women on the couch, and it's Candiace's worst nightmare. SHE BROUGHT THE PURSE. That's so iconic.
She says she came because she likes the camera. Candiace reveals they're no longer in counseling, and last week we learned they haven't been speaking at all.
How does Candiace not have the first seat after this video recap? WHAT A SEASON FOR THIS WOMAN. What a star making season.
Candiace says the wedding was worth all the drama, but her mom not so much. She felt like Candiace was throwing her father's side of the family in her face.
Dorothy says she didn't care if they were there but says she shouldn't throw it in her face. Candiace says if she hadn't told her, it would've been so much worse.
Dorothy wants to be the center of any and all moments. She's PSYCHO. It's so awkward for the group being there for this family spat.
Candiace found out about her brother in the weirdest way ever. She found out by walking into her dad's room and finding a poem her brother wrote. That's so wild. Why would they keep that from her?
Monique and Gizelle come to Candiace's defense saying she was trying to spare Dorothy the pain of it all. She says she's healed from that pain, but Andy disagrees.
Karen doesn't want to see them fight anymore and encourages them to work through it. Can they? It's going to be hard to do that when her mom never wants to be wrong.
Dorothy gives a demonstration about how the purse incident happened, and I'm shaking my head. Why not make her a full-time housewife next season? She's thirsty for attention, and we've never had a mother daughter duo before.
Dorothy says Candiace's face hit the purse, and not the other way around. She says Candiace is a drama queen, and Candiace says she had a welt from it. VIOLENT. There's no excuse for that kind of behavior.
Candiace brought receipts to clarify her living situation, and I stan that decision. Candiace reveals her name is on the home, and her and Chris Bassett are paying the full mortgage. Her mom kind of disagrees.
Dorothy and Gizelle ran into each other. Gizelle says her mom claimed she was buying the new house for Candiace and Chris. This sounds like Gizelle being messy. Let's be honest here.
The knife incident comes up, and Candiace said Ashley came into her house with hate and nastiness. Is that a good excuse? Not really.
Ashley calls Candiace the least successful woman at the reunion. According to Candiace, everything Ashley has came from Michael. She repeatedly calls Ashley a gold digger. Candiace says Michael is near death, and Ashley will cash that check soon.
Dorothy defends Chris saying he comes from a rich family himself. CASH THOSE CHECKS, HONEY. Candiace says she's owned all of her businesses longer than anyone else on the couch. REALLY? Someone fact check that for me please. I'm very curious.
Dorothy says Candiace's behavior isn't a reflection of her own, and Candiace looks shocked. The fight with Ashley and Candiace was so crazy though. That was one of the most heated interactions I've seen at any reunion.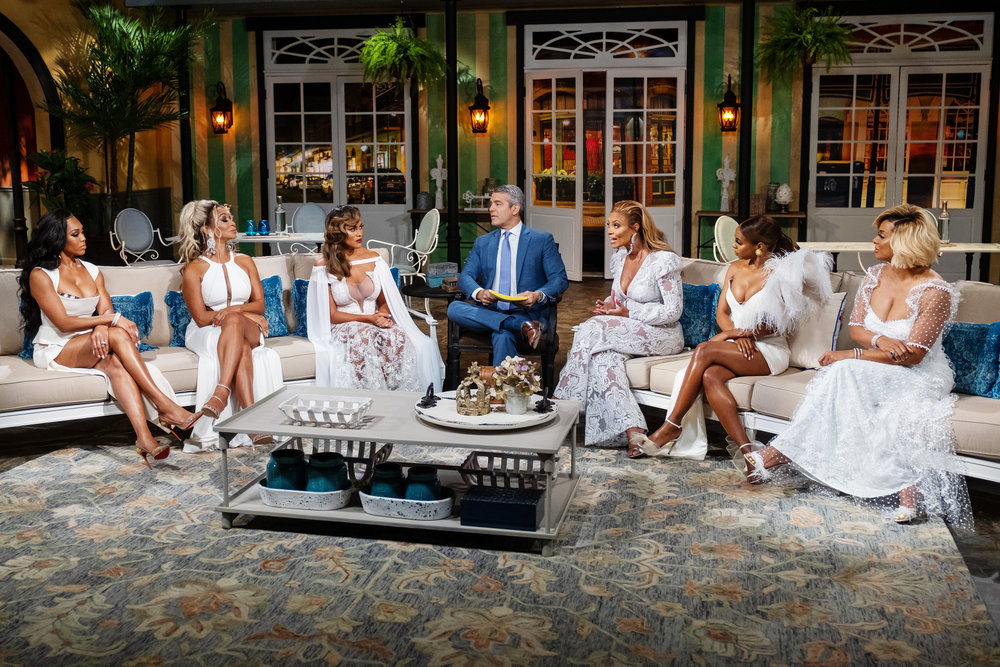 I don't think a friendship will ever be possible between Ashley and Candiace. That ship has sailed and sunk to the bottom of the sea.
THAT WIG THOUGH. Katie Rost might have had some bad wigs this season, but Ashley's wig was so bad. BURN IT. THROW IT AWAY. Never ever wear it again.
Ashley's baby hasn't met any of the other women, and Ashley says she's faced depression. Do we think that's real? You be the judge, I guess.
Ashley's father looks identical to Michael, and that's so creepy. She says her daddy issues might have led to her marriage to an older man like Michael. WEIRDDDDDDDDDDDD.
Ashley called Candiace a hamster face, and that's OOF. She says Candiace doesn't know how to be decent on social media, and Gizelle says Candiace is nasty.
Social media makes things to much worse. The drama builds up in between filming, and it all erupts at reunion.
Candiace demands that Ashley own her stuff. However, Ashley accuses Chris of making fun of her miscarraige. They show the tweet, but he doesn't really say anything that bad. I'm not sure what Ashley is actually referencing.
Candiace attempts to drag Gizelle into it, but naturally the word on the street is avoiding it. Candiace doesn't offer any apologies for any tweets about Ashley.
She doubles down on her rainbow party comments thinking Ashley and Michael put on a performance. That's so rough to accuse that was something not genuine. I don't know if I'd go there, but she might have a point.
They discuss that Michael was crying one minute and then allegedly grabbing the cameraman right after. Michael is in the building, and the tension is about to skyrocket. WHAT AN ENDING. It felt like a horror movie at the end!
TELL US – WILL KAREN AND GIZELLE EVER REPAIR THEIR FRIENDSHIP? DO YOU BELIEVE ASHLEY AND MICHAEL HAVE A REAL MARRIAGE? DID YOU ENJOY PART ONE OF THE REAL HOUSEWIVES OF POTOMAC REUNION?
[Photo Credit: Charles Sykes/Bravo]