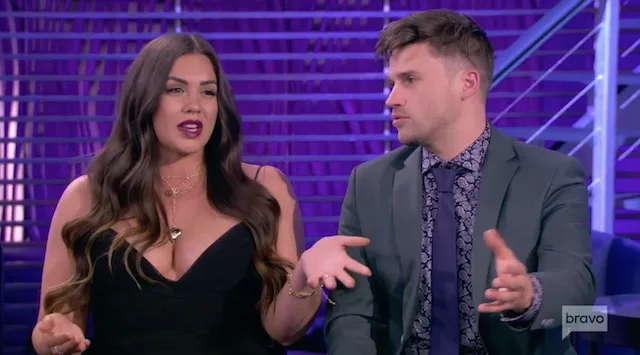 Right now, Vanderpump Rules is all about Jax Taylor and Brittany Cartwright's  Kentucky weddinnnnnn. It has become such a focus that it feels like Tom Schwartz and Katie Maloney got married a whole lifetime ago, even though it was actually in 2016 and aired in 2017.
Apparently, they forgot some paperwork back in the day, so the marriage wasn't actually legal. However, they did finally make it offical in Las Vegas last summer. As consuming as Jax and Brittany's wedding has been this season, the lead in to Schwartz and Katie's wedding was arguably just painful, but at least it wasn't as offensive. The drunken fights, cheating accusations, and rage texts did not feel like precursors to marital bliss, yet here we are. These two have been together for over a decade. Wow. I'm sure there are some viewers who are a little surprised by this, but they're not alone. It turns out that Schwartz is a bit shocked as well.
In a very candid interview with Us Weekly, Tom admitted, "We've been through so much and I mean, arguably at so many points in our relationship, you could say, 'They probably should've broken up or gone their separate ways.'" Talk about brutal honesty there.
Still, Tom pointed out, "But we got through it. We were stubborn. We put the work in and now I can say, without a doubt, I'm happier than I've ever been. I think we both are."
In that same interview, Katie remarrked, "This year we'll have been together for 10 years. That's a decade. I think there's something to be said there." And I'm just gonna go with "no comment" when it comes to that one.
Tom confessed, "There were times early on that I definitely didn't think it was going to last. I think we both had moments early on like various, but man, I'm just so happy we made it."
TELL US- WHAT DO YOU THINK ABOUT TOM'S COMMENTS ABOUT HIS RELATIONSHIP WITH KATIE? ARE YOU SURPRISED THAT THEY'VE "MADE IT"?
[Photo Credit: Bravo]