Welcome back to The Real Housewives of Orange County. Where, in case you missed it, the apocalypse has happened. After weeks of encroaching panic, the coronavirus has descended upon the OC. Production has been shut down indefinitely. The 'Wives are all in isolation and have resorted to documenting their lives in quarantine via iPhone. It's scary. It's more than a little triggering to watch play back nine months after we all just lived through it. But it's also a fascinating experiment in keeping the cameras rolling during a truly unprecedented time in history.
Unsurprisingly, all of the women are handling the pandemic differently. Braunwyn Windham-Burke has gone digital with her sobriety journey by attending AA meetings online. Elizabeth Lyn Vargas is focused on helping animals while spreading ridiculous conspiracy theories on her social media. Shannon Beador has forced her family into full lockdown mode. And Kelly Dodd is busy giving a giant middle finger to lockdown protocols altogether, jetting off to New York City to visit her boyfriend.
The first half of the episode flies by in brief snippets filled with suffering, confusion, and the slow unraveling into insanity. On Day 8, Braunwyn finally learns how to use a washing machine. (It's the first time she's lived without a housekeeper in her adult life. Like, literally since she was in high school.) By Day 11, Emily Simpson and Kelly are very clearly not social distancing. On Day 12, Shannon breaks down in a predictably sobbing mess over her boyfriend and his kids not following her pandemic house rules.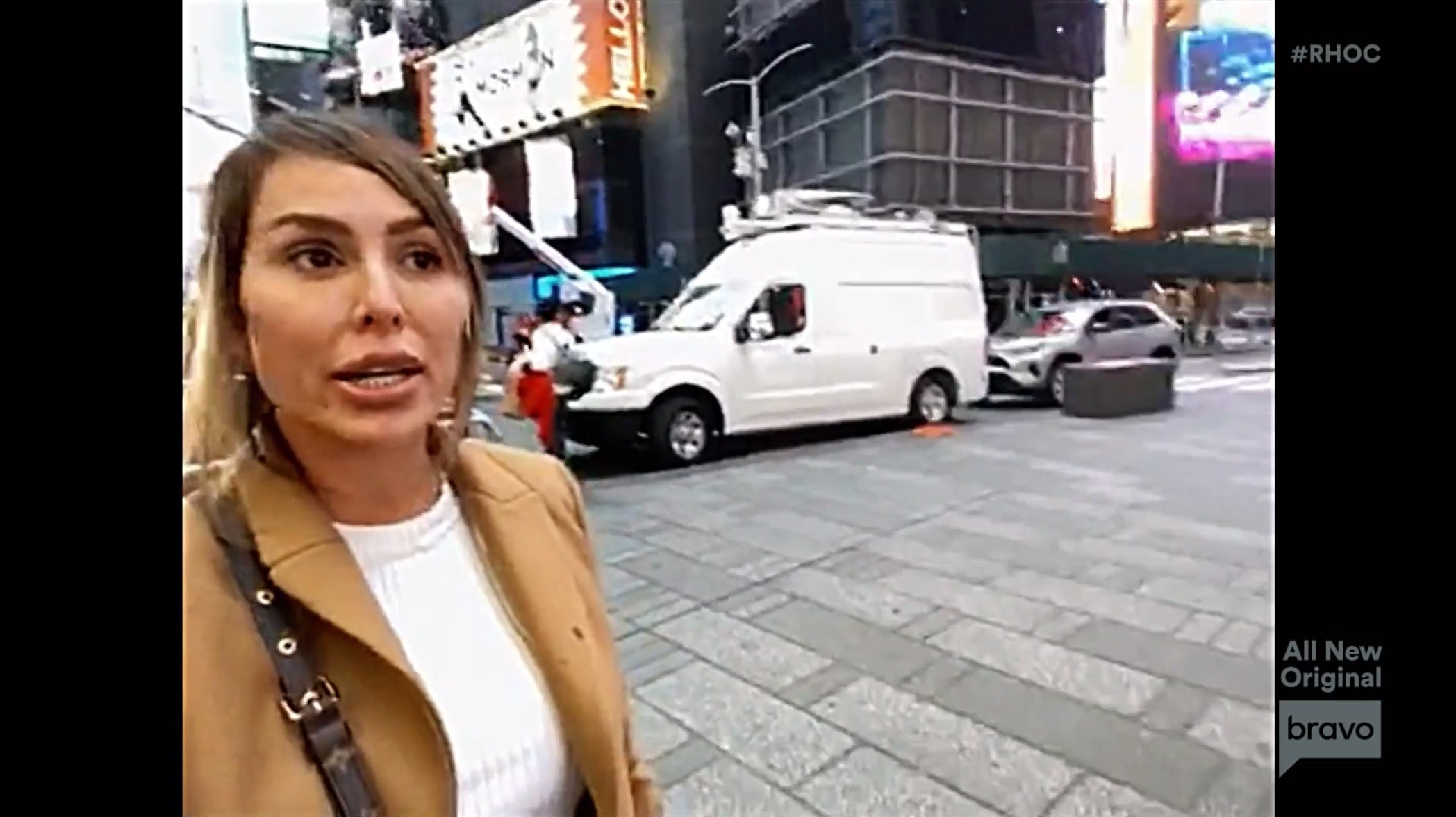 Meanwhile, Kelly lands at LaGuardia and spends her entire segment justifying her trip to New York City. Because she's not about to let a little thing like a global pandemic ruin her fun. Kelly films herself mask-less in the heart of Times Square, which sit eerily abandoned. She orders a hot dog from a street vendor while ranting about how absurd the shutdown is. However, the grossest part of the 'Wife's cross-country jaunt is that she had no qualms about leaving her daughter behind in California.
Yes, Jolie Dodd was with her dad, but Kelly basically chooses being with Rick Leventhal over her kid. In the middle of a global pandemic. Which, whether or not Kelly chooses to take it seriously, is still happening. And by Day 24, she's still trapped in Manhattan, claiming she had no idea NYC would become the epicenter of the pandemic's earliest days.
Back in Orange County, the only Housewife who seems to be really thriving in quarantine is Emily. Miraculously, her marriage with Shane Simpson is more solid than it's ever been in her three years on the show. He's even vacuuming around the house! Braunwyn, on the other hand, is starting to lose her mind with Sean Burke and their seven kids. Three weeks into quarantine, she's starting to lash out at her husband over every little thing. And Gina Kirschenheiter FaceTimes Shannon to learn that she's let John Janssen back in the house following their fight. So while their relationship is back on track, Gina worries Shannon is compromising her health by making up with John.
By Day 39, Braunwyn and Sean are truly at each other's throats. Locked in her closet, Braunwyn admits she physically hit her hubby when he poked fun at her using the vacuum. And apparently, this isn't the first time something like this has happened. Just three months prior, the second-season 'Wife attacked Sean on a ski trip to Aspen. While cameras were filming. In front of one of their twins. Now Braunwyn's in a full tailspin, saying on camera she feels trapped not only in her house, but in her marriage too. She even hints at big things happening under the surface of her life that she's never addressed. And while Braunwyn's 89 days sober, all she wants to do is drink.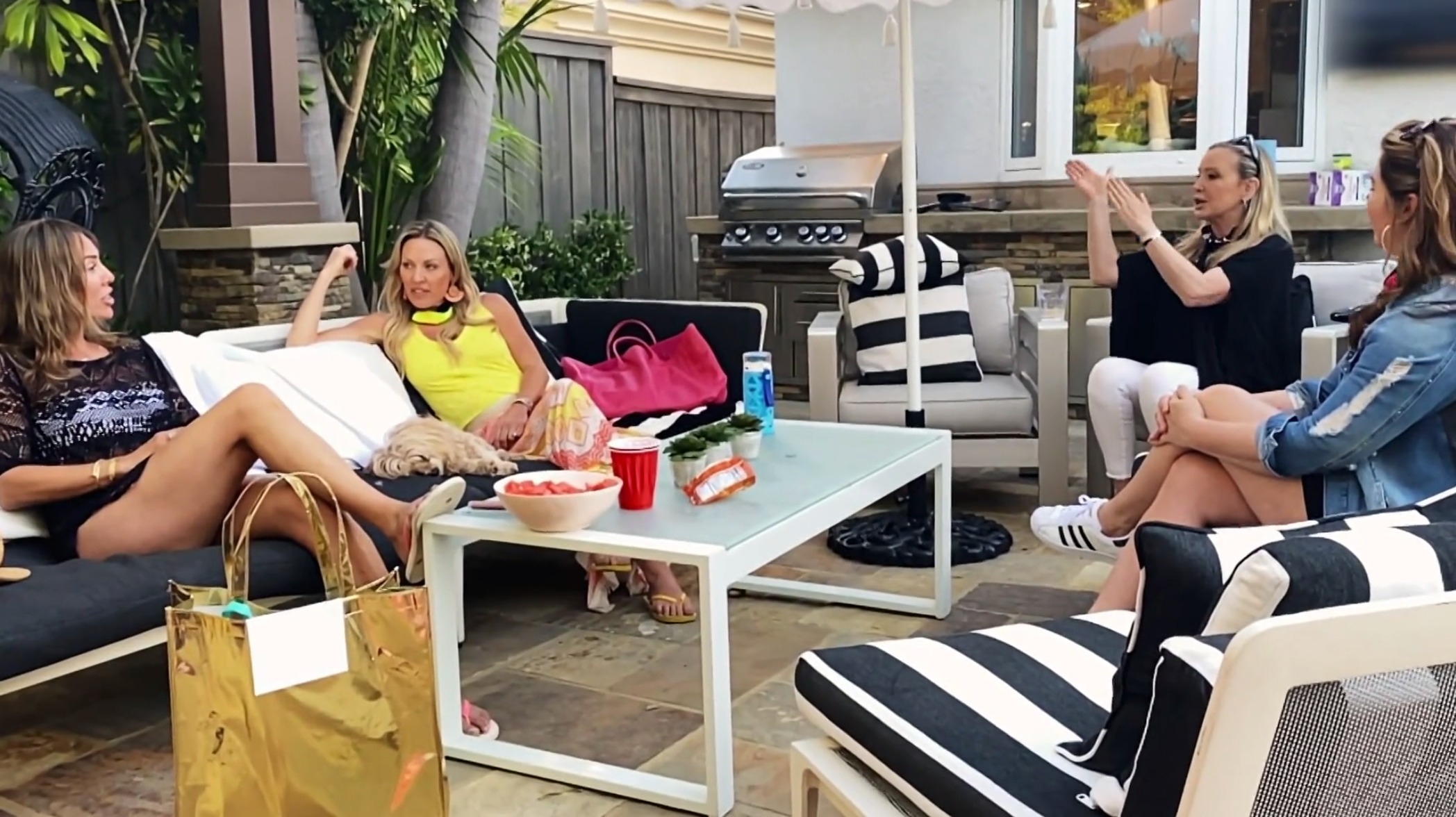 Cut to May 1, and things are finally looking up (relatively) for all the 'Wives. With lockdown lifted, Shannon, Braunwyn and Emily head to Kelly's for a socially-distanced backyard catch-up. And the topic of conversation is all about Elizabeth. It seems over the course of quarantine, the tides have shifted between the newbie and most of the other 'Wives.
The general consensus is that no one trusts a thing Elizabeth says. And surprisingly, the brunt of the criticism is coming from Braunwyn, of all people. Shannon's also upset with the new girl. Because remember that off-camera argument that apparently happened between Shannon and Elizabeth's boyfriend Jimmy Juarez? Yeah, that's come back to haunt everyone.
Via confessional, Shannon also addresses the fallout of her friendship with Tamra Judge. Honestly, I'm kind of surprised production didn't edit this out of the show. From Shannon's perspective, her old BFF has done nothing but trash in for months in the press. (Tamra claims her fellow amiga essentially dropped her and cut off communication once she was let go from RHOC. And it certainly didn't help see Shannon all buddy-buddy with Kelly all over social media, given the latter's history with Tamra.)
And while I'm firmly Team Tamra on this one, it makes sense that Shannon would naturally gravitate to forming stronger friendships with the rest of the cast to fill the void. Especially if that means, as Emily puts it, becoming the Regina George of the group.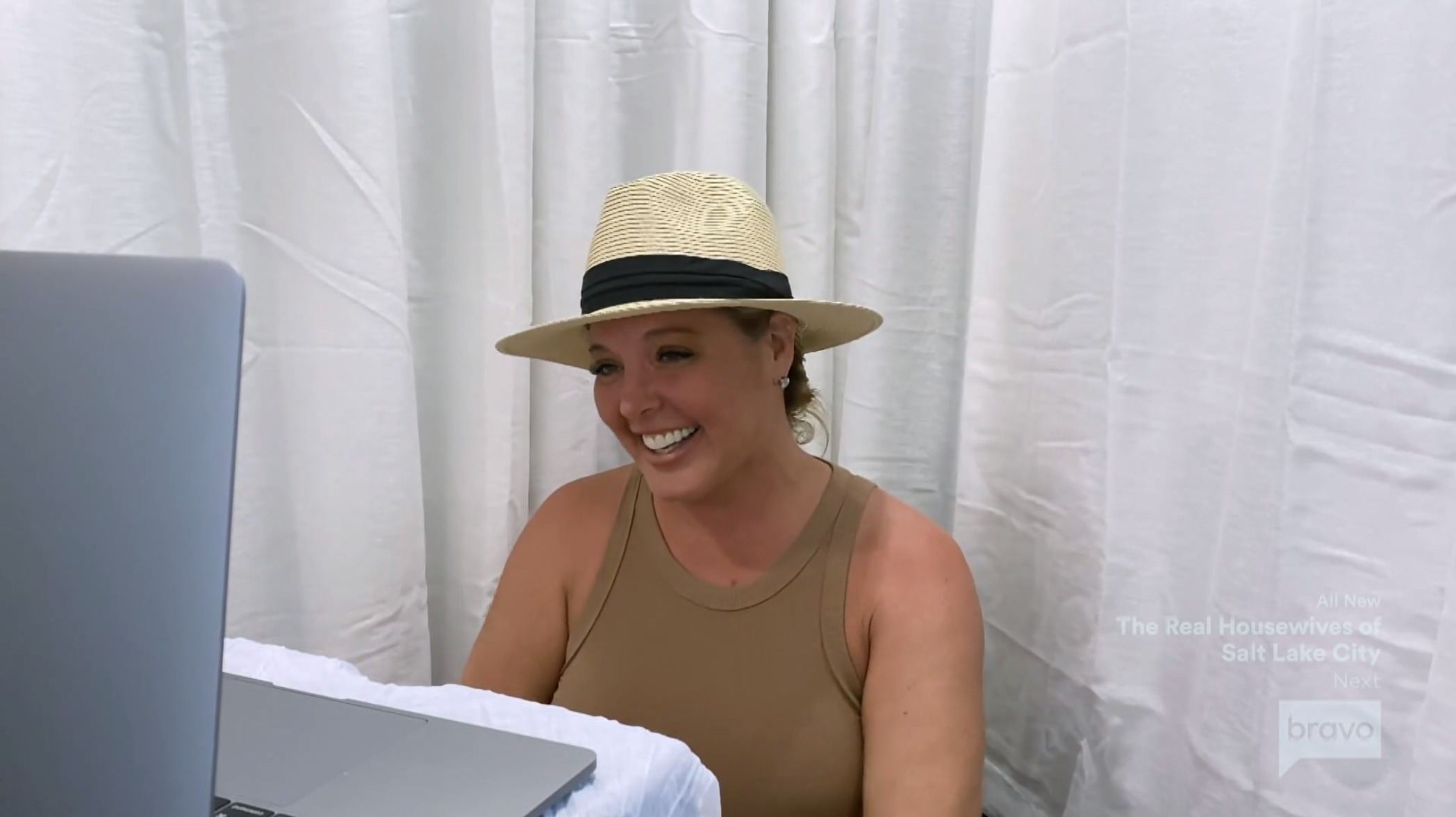 A few days later, Braunwyn's dug up some incriminating dirt on Elizabeth, and she video chats Emily to spill all the tea. According to a simple public records search, the rookie has been operating under some rather dubious financial smoke and mirrors. While she's been bragging about how rich she is, she has taken out two loans on her Newport house, defaulted on another property and gotten a separate private loan — ostensibly to cover the legal fees of her now-settled divorce. She's even been opening her house up to guests on a property rental site. Hmm…none of this sounds like the lavish lifestyle she's constantly claimed to be living.
All this gossip quickly makes its way back to Elizabeth, who admits to Gina over FaceTime that she wasn't being entirely honest in front of the cameras prior to quarantine. And it's not that she wasn't, it's that she just couldn't. Got it? Though to be perfectly frank, it's still pretty murky what exactly the newbie is telling half-truths about. Is it about her wealth? Her boyfriend? Her divorce? The reason for the gag order?
She also references things in her past that she doesn't want to be dredged up. And honey. Have you ever seen the Real Housewives before? Never go on a reality show if you're keeping secrets. It won't end well. Anyway, it's all confusing, but now Elizabeth wants to take the 'Wives on a COVID-free girls' trip to Lake Arrowhead with a clean slate.
Another heavy, real-life topic that gets addressed this week is the death of George Floyd and the nationwide Black Lives Matter protests of last summer. Naturally, Braunwyn's the only OC 'Wife out on the streets marching with her kids. Though it was an unexpected treat to see RHOP's Gizelle Bryant make a surprise appearance to educate the world of RHOC on social justice and racial inequity in a FaceTime with Gina.
It was also touching to hear Braunwyn speak so candidly about white privilege and the importance of teaching her kids to recognize their white privilege and stand up for what's right. (Quick side note, we also finally meet Braunwyn's bestie Shari this week, which will come into play in the back half of the season…)
Finally, the episode ends with a shocker we all knew was coming. Shannon calls Kelly from urgent care, hysterical because one of her daughters has tested positive for coronavirus. (Apparently the twins snuck out to a mask-free party full of teenagers that probably turned into a superspreader event.) And while Shannon's multiple tests have come back negative, it's no secret that she was the first OC 'Wife to come down with the virus right before the Lake Arrowhead trip. Which is both so sad and hilariously ironic given that she also was the one Housewife who took the whole pandemic most seriously. But it looks like next week, things are going to get even more real over in the OC…
TELL US – HOW DO YOU FEEL THE SHOW HANDLED THE START OF THE PANDEMIC? WHAT ELSE DO YOU THINK ELIZABETH IS LYING ABOUT? WHICH REAL HOUSEWIVES OF ORANGE COUNTY WOULD YOU WANT TO BE QUARANTINED WITH?
[Photo Credit: Bravo]