After the beach party from hell, it'll be curious to see where the cast of Southern Charm goes from here. To say there's tension in the group is the understatement of a lifetime. All eyes are on Kathryn Dennis because half of the cast has a bone to pick with her. Not the guys though which is evidently a whole other problem if you ask Leva Bonaparte. Besides Leva & Danni Baird washing their hands of her, Madison LeCroy has an issue too!
Speaking of Madison, the cycle between her and Austen Kroll is too much. They're horrible for each other, and do nothing but continue to bring out the worst. Everyone wants it to be over. Their personal problems spill over into the group way too often. On last week's episode of Southern Charm, a fight between Leva & Kathryn became about Austen & Madison. That's a problem. Can they actually stay away from each other this week?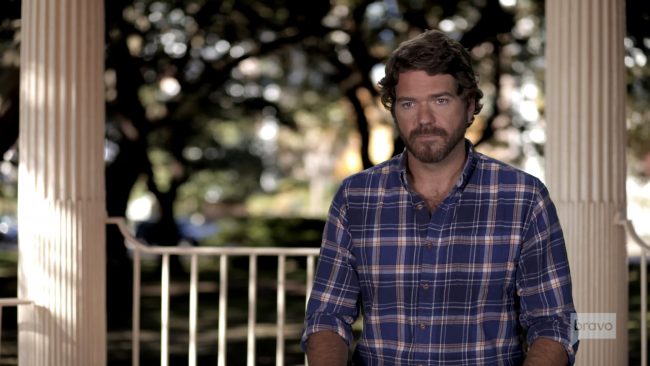 Right away, John Pringle calls Shep Rose to fill him in on what he might've missed at the beach party. Even Pringle feels like it got a bit too dramatic toward Kathryn. It was an unnecessary gang up by Leva & her squad that have nothing better to do. For some reason Leva won't let up on Kathryn. Talk about a one trick pony.
Pringle's kids are going back to their mother's, and they don't even care. You'd think they'd be a little bit sad about leaving summer with their dad. I would be! He lets them run amuck, and they're not really required to do anything. Maybe he would get a reaction from them if they got off the technology. They're a bit too engrossed in their electronics to give any f**ks about what he's saying.
I enjoy seeing this softer side of Pringle because it makes him more human. Everything else we've seen has made his character out to be highly questionable. Watching the heartbreak in his eyes and hearing the pain in his voice changes that a little for me. It adds a new layer to who he is as a person.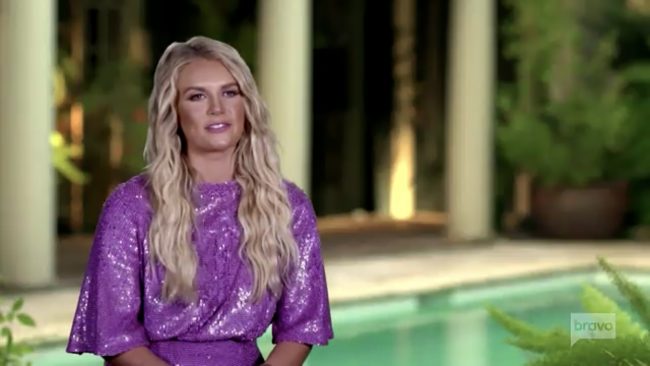 WHY IS MADISON AT AUSTEN'S RIGHT NOW? These two cannot stay away from one another. There's a toxic magnetism drawing them together. It never ends well for either of them.
Madison does apologize for how she acted at the beach party, so that's progress. She knows though that Austen doesn't bring out the best in her. The same goes for him. These two need to make the decision to call it quits, and keep their distance. They're making everything insufferable for their friends because it always turns into them fighting. Nobody wants to be around that.
They both tell the other one they don't want them to date other people. So where do we go from here? You can't live apart, but you don't work together. However, moving on isn't an option? What's the sense in that?
Austen feels as if what Madison likes the most is control. There's no resolution. I think it goes further than that. Neither of them have the self awareness to recognize their own wrongdoings. They apologize in the moment because it's the expected thing to do. Beyond that, they can't fully see the fault in their actions. As a result, they continue to embark on this cycle of pain and chaos. Enough is enough.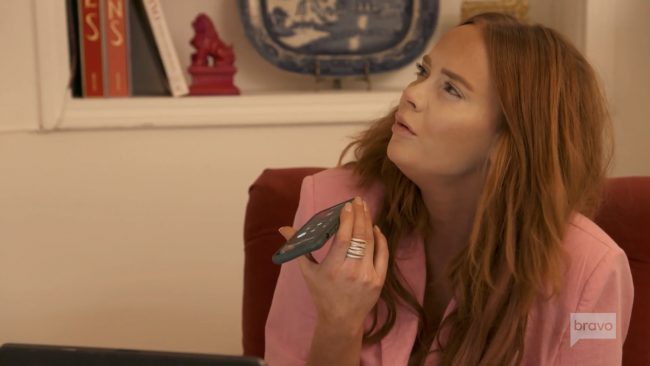 Shep calls Danni to officially invite her to an island party he's co-hosting with Pringle. Is that the best idea? If everyone comes to it, it's going to end the same way as the beach party. Let's do it. Besides, it'll bring on the drama!
Obviously Kathryn will be there, and Danni's aware of that. She doesn't feel like it's worth fighting for that friendship anymore. I'm actually a bit gutted to hear that because I wanted them to repair things. I thought some genuine progress was being made when they spoke on the beach. Leva's the one Danni should watch out for because there's a lot of snake behavior coming from that camp.
Things shift over to Kathryn at home, and she's buying baby items for Thomas Ravenel's new offspring. Does anyone else think it's actually big of her to make that gesture. Given their tumultuous history, it wouldn't be shocking if she wanted to be spiteful about this. Cheers to growing the f**k up.
In the weirdest comment ever, Kathryn asks if she might be related to the new baby. Honey, that's not how any of this works. JUST BECAUSE YOU HAVE BABIES WITH HIM DOESN'T MEAN ANYTHING. BUT ALRIGHT. Those kids are related, yes. However, you are nothing to this new child. Not a lot happening inside of that cranium.
Kathryn feels like she's not standing up for herself enough throughout her recent scandals. In her mind, the only person who deserves an apology is the woman who she sent the monkey emoji to. Leva's parading on about this enough. She made her point, now it's time to find herself a new storyline.
There's hurt being felt by Kathryn. She wanted her friends to stand up and speak out and say she's not racist. None of that happened. In her eyes, during the darkest time of her life, she had nobody.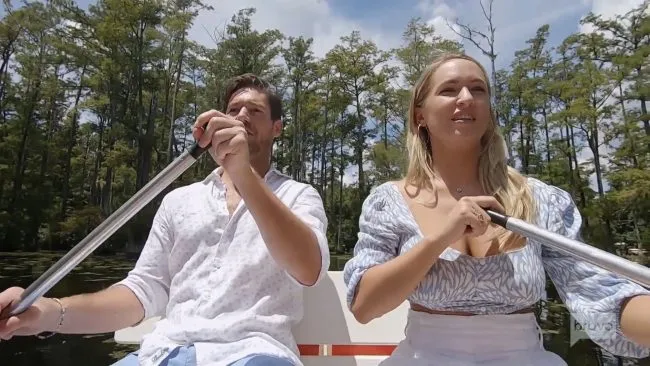 Craig Conover & Natalie Hegnauer are in some sort of swamp that looks creepy as hell. I'd be terrified to fall out of it and become gator food because I'm clumsy. Speaking of gators, that's exactly what they spot. Listen, I'm a huge animal lover, but I recognize the dangers. There's A LOT of meat on this body, and the gators would be on me like moths to a flame.
Their picnic is the most adorable thing ever. How cute is it that they not only survived but THRIVED during the pandemic? Time will tell how the relationship continues to develop, but so far so good! Put me in the wild with some meat and cheese, and I'm set.
Craig's found himself a real one in Natalie. She supports his sewing career, and she finds his ambition to be attractive. Hell yeah! That's 100% how it should be in a relationship. There's not a damn thing wrong with his crafting endeavors. He's out there pursuing a dream, and it's a lot more than many people are doing. How many people can say they have their own line of custom pillows?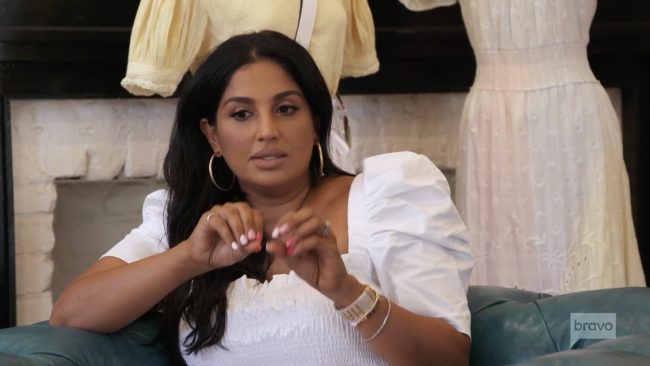 I'm sick of Leva because it's nauseating at this point. Sick of her holier than thou attitude. Her crusade against Kathryn soured many episodes ago. It's too much. Please move on to a different topic.
Leva asks Danni why things went down the way they did at the beach party. Danni was DONE with Craig getting involved in her issue with Kathryn. He is very messy. However, we all know this. It's nothing new. He's going to get involved and stir the pot. That's honestly this number one role on the show.
Leva tells Danni that Kathryn feels as if she's trying to get Danni & Madison to hate her. That kind of remark sets Danni off because she thinks it's a big f**k you to her. Where is the lie about Leva though? That's exactly how it's coming off this season. I originally found Leva to be the biggest breath of fresh air ever. The more the season's progressed though, it's felt like she came onto the show with an agenda to take Kathryn down.
To take it further, Leva feels like the more the guys defend Kathryn, the more they might be racist themselves. Ugh. Here we go again. I'm not here to say whether or not any of the men are racist, but damn Leva. She's the most one track person ever. She's like a social justice robot. MUST. CANCEL. KATHRYN.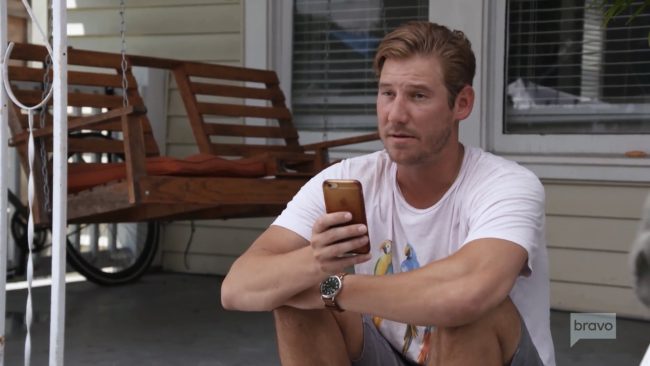 Austen's talking to an old college friend of his, and he's still torn up about the party. Madison set the tone for how that day was going to go down when she uninvited him. That was the precipice of everything else that went down during that tornado of drama.
His friend iterates how badly he needs to cut the Madison cord. That's abundantly clear. Will he actually follow that advice? That's the real question. For some reason these two seem destined to f**k up each other's lives. In a weird poetic way, they deserve each other. If they stay together in their own twisted little world, they'll spare the lives of whoever they may date in the future.
Everyone's getting ready for Shep & Pringle's party, and Madison's wanting to make an impression on Austen. She wants to wear a knockout outfit and watch his face drop. She's definitely over him. Yup. Can she just STOP? They both need to call it quits. I BEG. STOP IT NOW.
Madison brings up an article talking about how Kathryn is in a strategic relationship with a Black man (Chleb Ravenell). That's such a BOLD claim to make if you don't have any evidence to back it up. Sure, the timing is a bit suspect, but that doesn't mean her feelings for this man are contrived. This could be the love of her life, and it's dangerous to spread that kind of rhetoric if you have no proof.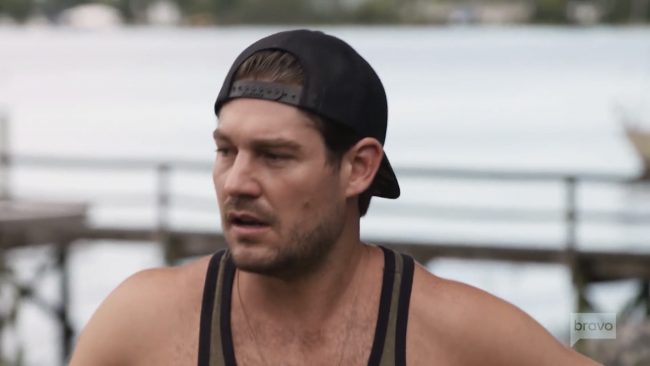 Leva's the first to arrive, and naturally the topic immediately turns to Kathryn.  WHO IS SHOCKED? Leva claims she doesn't believe in cancel culture, but that seems to be exactly what she wants for Kathryn. She's appeared hellbent on destroying her relationships with everyone in the group from DAY ONE.
Shep says he's the type of person to want to invite everyone to come hang out, but that doesn't work for Leva. WHAT DOES SHE WANT FROM HIM? Leva doesn't like with Shep's laissez-faire approach when it comes to Kathryn because WHY? To her, the way he's turning a blind eye is the definition of white privilege. That could be true. It really could. BUT PLEASE TALK ABOUT SOMETHING ELSE.
Austen arrives at the party and immediately ends up calling out Madison for her attention seeking ways. She certainly didn't get the reaction that she wanted. Whatever ill advised point she was trying to make was dead on arrival which is rather satisfying to watch.
Pringle tries to explain to Leva & her squad that it was a bit too much to gang up on Kathryn. They're constantly coming at her, and it's like, what's she supposed to do? How's she supposed to react, but whatever? Leva has spent an entire season trying to crucify her.
Craig's blown away by learning all of Kathryn's indiscretions from Leva. Okay first of all, how did he not know the full extent of what she said to the women she sent the monkey emoji to? Either way, this is the perfect storm of messy for Craig. This is what he lives for. Once Kathryn arrives at the party, the gloves are coming off. She's going to be held accountable in a way she has never seen before. HERE WE GO.
TELL US – TEAM LEVA OR TEAM KATHRYN? DO THE SOUTHERN CHARM GUYS CODDLE KATHRYN TOO MUCH? SHOULD AUSTEN AND MADISON STAY AWAY FROM EACH OTHER? ARE YOU ENJOYING THIS SEASON OF SOUTHERN CHARM?
[Photo Credit: Bravo]