It's reunion time! And the Real Housewives of Orange County are gathered for a safe, socially distanced sit-down at L.A.'s historic Wilshire Ebell Theatre. The ladies dressed in their best red, white and black, and they're ready to do battle. Can you guys believe this is the fifteenth time we've done this in Orange County? We've certainly come a long way from watching clips from the season on a rolling TV in Vicki Gunvalson's grotto sans Andy Cohen. And also Kimberly Bryant. Remember her?
Let's talk about the Real Housewives of Orange County reunion fashion, yes? The color palette doesn't seem to have a definitive theme and the looks are…varied. To say the least. My personal vote for best of the bunch goes to Emily Simpson for her va-va-voom burgundy gown. It's a fab update on the red velvet wrap dress she wore at the Season 14 reunion, which also happened to be my favorite look that year. (Em sure tends to turn it out come reunion time, doesn't she?) It seems she knows red's her color, and she looks better than ever.
As for the others, there are a few surprises. Gina Kirschenheiter looks more put together than usual with her sleek bob, but I don't love the gold-piped cutout on her jumpsuit. Shannon Beador's mod, go-go nod would be better left in the '60s. Same goes for Braunwyn Windham-Burke and Madonna's Blonde Ambition Tour. (I do like the super-long, high half-pony, though. But I feel fairly certain this is the first time in Housewives history that someone has worn combat boots to a reunion…) Kelly Dodd's is just basic black and kind of forgettable. And while I hated it on first impression, Elizabeth Lyn Vargas' hippie-inspired cranberry gown actually looks much better on camera — and seated — than it came across in photos.
The Sad and Depressing Feud Between Gina & Braunwyn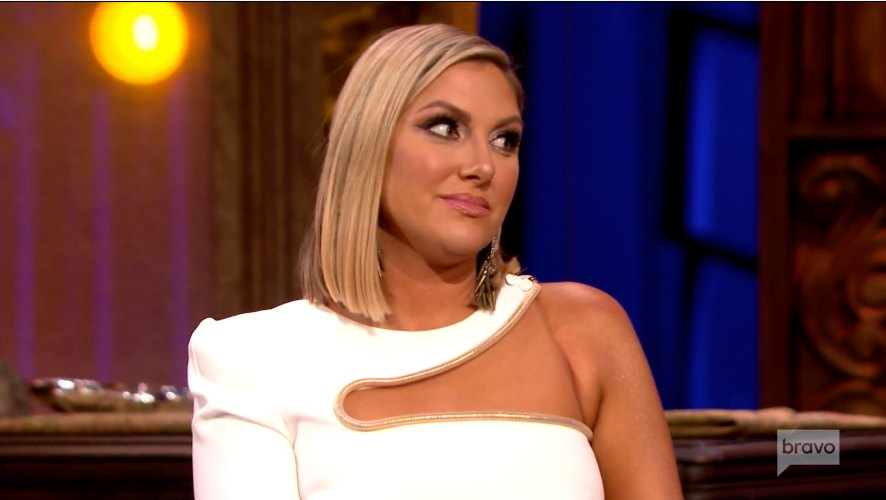 Andy wastes no time jumping into the first big topic: the feud between Gina and Braunwyn that dominated the early part of the season. Throughout filming, these two came a long way from throwing glasses to going to AA meetings together. At many points, it actually felt like Gina was the closest thing Braunwyn had to a friend in the cast. Even if, when filming started, she allegedly questioned why Gina was even on the show. Which honestly, same girl. I've been asking the exact same thing for the past three seasons. Though she weirdly hit her stride this year.)
But it seems they're back on the outs, with Gina admitting that any friendship with Braunwyn is just a one-sided exercise in narcissism. We've all had that friend, right? The one who does nothing but exhaust and drain you?
Shannon allegedly telling Braunwyn that Gina's tiny condo was "sad and depressing" also gets dredged up again. But the conversation quickly devolves into a game of she said, she said, with neither Braunwyn nor Shannon refusing to budge. Braunwyn says Shannon said it. Shannon vehemently denies it. And Gina believes Shannon was being genuinely supportive when she got a tour of the condo, even if it seems from where I'm sitting that Shannon doth protests just a little too much.
Shannon's Stormy Relationship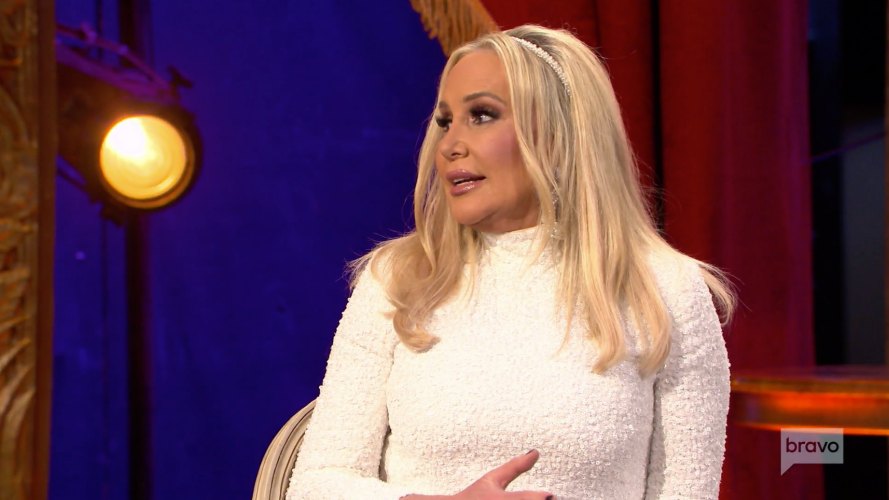 Speaking of Shannon, the next package is all about her fairytale romance with John Janssen. Err, more like fairytale turned COVID nightmare. Shannon has a habit of turning every argument or confrontation into a dramatic, overblown ordeal to begin with. And that's exactly what she did during the pandemic, calling Gina and Emily regularly in drunk crisis mode about how terrible her relationship was.
Naturally, this has caused some issues, and Shannon's now angry at "Miss Holier-Than-Thou" Gina for spreading her concern among the other women. Read: turning her behind-the-scenes histrionics into a storyline. Shannon insists things are just perfect with John now. But interestingly, he turned down production's invite to attend the reunion and speak for himself.
John does make an appearance via a backstage phone call, though. It occurs after Andy asks Braunwyn as the resident sober Housewife in the cast if she thinks Shannon has a drinking problem. Tentatively, she nods her head before admitting that yes, she thinks Shannon does. Obviously, this doesn't sit well with the veteran 'Wife, who insists she's just "fun!" In the phone call with John, she's so flippin' furious that she hints at a bomb she's saved up her sleeve against Braunwyn. It's something involving Stella Beador, and Shannon claims she'll only use it if she has to.
COVID Dodd's on the Wrong Side of History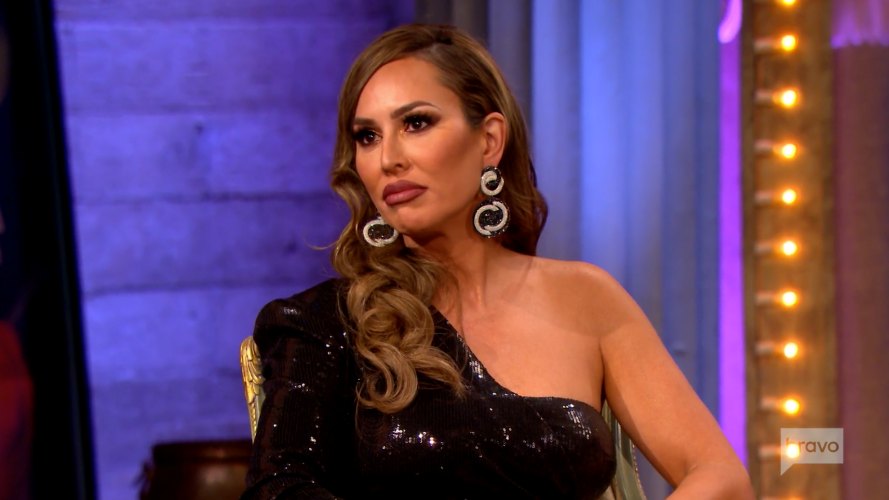 Of course, we can only avoid the topic of the coronavirus for so long. And Kelly's finally in the hot seat. Andy really takes her to task for her all the misinformation she spread during the season. Particularly the thoughtless and downright dangerous opinions that often went viral on her social media. ("Thinning the herd," anyone?) The tension between the two is palpable, with Kelly firing back that Andy is "un-American" for not liking the orange demagogue who just left the White House.
Andy asks Kelly if she's worried about being on the wrong side of history, and it's clear she's feeling exasperated and victimized. Kelly is the actual worst. (And we haven't even gotten to the Black Lives Matter stuff yet…That's coming next week.)
Andy also touches on Shane Simpson's scary bout with coronavirus and how it affected Emily. Randomly, one of the silver linings to come out of the whole ordeal is the lawyer's blossoming friendship with Shannon. After two seasons of icy disdain, she finally has Shannon's attention and approval! And all it took was a global pandemic and the potential loss of her husband to a life-threatening virus to get it!
Introducing the Richest Bitch in Newport Beach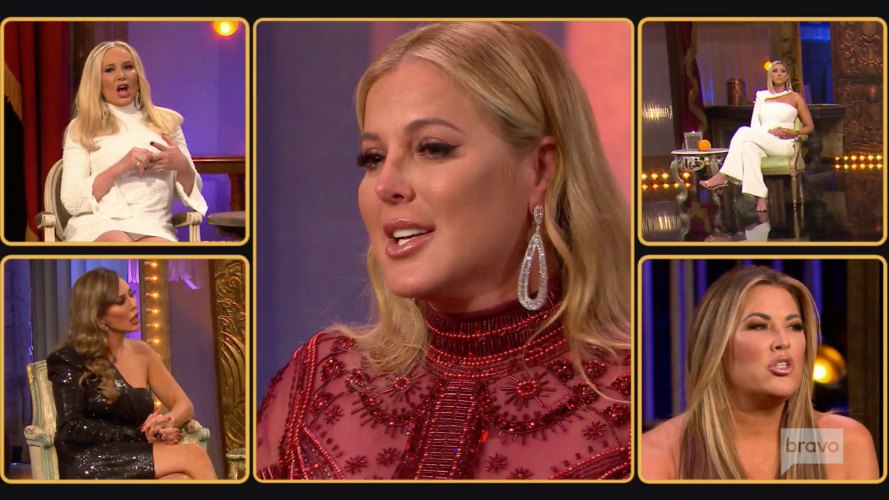 It's finally time for Elizabeth to get in on the reunion action. At the top of the show, she admitted she was nervous. But now, she has no problem sharing her first impressions of the women. (She was worried that Shannon and Gina would both be terrible to her, according to fans on social media.) She also addresses the complicated dynamic with her billionaire ex-husband and current boyfriend, Jimmy Juarez. But I swear no matter how many times she explains it, this situation will not make sense to me.
It doesn't make sense to Braunwyn either, who inserts herself into the conversation by claiming to have a mutual friend with Elizabeth's ex. Oh, and guess what? He apparently has a fiancée. Of five years! This is news to Elizabeth, who goes for the jugular about how much she despises her one-time pal. She calls Braunwyn "cynical," "two-faced" and the "worst lesbian ever." Ouch. She even gets up from her seat to petulantly bow to Braunwyn from the pedestal she's put herself on. There's no love lost on Elizabeth's end, and it's strange to remember that she actually joined the show as Braunwyn's friend.
Fake Alcoholism & the Stella Issue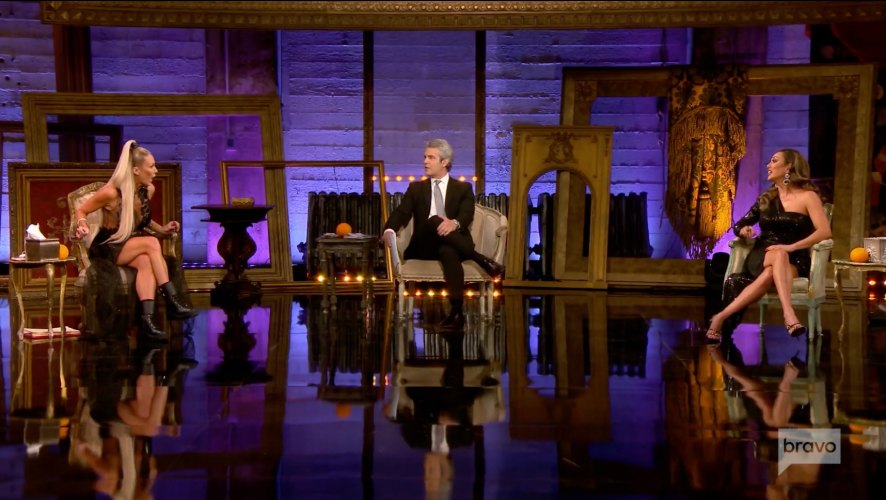 This naturally brings us back to everybody against Braunwyn. After a sweet moment talking about her son Jacob Windham-Burke's new drag persona, the other 'Wives go on full gang-up mode. Kelly blasts her nemesis as a fake alcoholic, throwing it out on the table that Braunwyn was just using it as fodder for a  storyline. Which, frankly, is all kinds of problematic and uncalled for. Faking alcoholism would be a low just above, say, faking cancer. And it disregards the real struggles and triumphs of anyone watching who has ever battled with substance use. Not to mention, Braunwyn is sober. She has been for almost a year. So whether she inherited Dr. Deb's narcissism, no allegation from Kelly can discount that fact.
Then, in the closing moments of Part 1, Shannon unleashes the bomb she's been waiting to drop. Apparently, nearly two years ago, Braunwyn approached her then-14-year-old daughter at a beach barbecue. And blatantly offered, "Stella, if you want the good stuff, text me." Now, this is terrible. Truly disgusting. And possibly criminal? But I have one question: how long has Shannon known about this? If she knew her cast mate offered her teen daughter connections to a drug dealer, why would she ever want to film with her ever again, let alone speak to her?
Why would Braunwyn be allowed at her housewarming party? Why would she bring her kids to the Windham-Burkes' vow renewal? Unless this is new information that Stella just came to her mom with, it just seems like a particularly convenient time to drop that bomb. And next week, we'll see the fallout!
TELL US – WHICH 'WIFE HAD YOUR FAVORITE REAL HOUSEWIVES OF ORANGE COUNTY REUNION LOOK? WILL KELLY BE ON THE WRONG SIDE OF HISTORY (AND ANDY)? HOW SHOCKED WERE YOU AT THE STELLA BOMBSHELL?
[Photo Credit: Bravo]