Tiffany Moon has had to talk Brandi Redmond off a ledge all season on The Real Housewives of Dallas. There's no reason for it. She's not responsible for Brandi feeling uncomfortable. Every event turns into a therapy session needed to coddle Brandi's fragility. That needs to stop. Tiffany has nothing to do with Brandi's paranoia. That's all on her.
D'Andra Simmons has showcased her spiritual journey all season of Real Housewives of Dallas. Even though the shaman stuff is a little weird at times, if it's helping her, that's what matters. She's opening herself up to snide comments and criticism from the other women by hosting them for her shaman event. This tends to be a very judgmental group. I don't think this is going to turn out the way she's intending.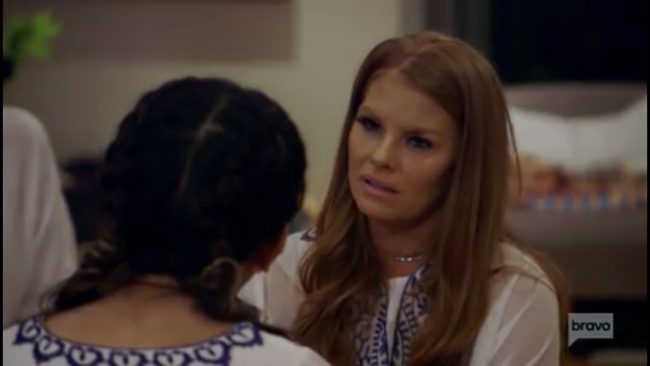 D'Andra's white light journey has been something unique to witness. Poor Tiffany though is already suffering at this party. The smoke coming from the shaman is sending her into a coughing frenzy. This woman cannot catch a break. Something goes wrong with her at every event.
Kameron Westcott can't get into the meditation aspect of it without giggling. It doesn't sound funny to someone not into this. It's also hard to take it seriously knowing that he's also a hairdresser. I'm sure this all has beautiful intentions, but it all sounds like gibberish while it's happening. They're chanting for what seems like an eternity. Someone make it stop.
Brandi's skeptical about doing this because her faith is rooted in Christianity. In some ways, this feels like a betrayal to her religion. I guess we're picking and choosing today what morals we should abide by. Making racist videos mocking Asian people is totally okay, but some light meditation is abhorrent.
D'Andra and Kary Brittingham go first with the shaman, and both make tearful pleas to one another. D'Andra says she's trying her best to be a good friend. The way to do that is to start listening. A big issue they have D'Andra not taking an interest in what's going on in Kary's life. That has to change if they're going to stay on the same page.
When Brandi & Tiffany go, Brandi makes it known that the issue is her not Tiffany. We all knew this. It's never been on Tiffany to make Brandi feel better. Tiffany is fine with moving forward, but this will probably come back up again. Brandi is on a self guided tour toward self destruction.
Brandi's second oldest daughter Brinkley has been struggling since the adoption of Bruin. Suddenly becoming the middle child means she is left out in the attention department. On top of that, she's also dyslexic and has ADHD. Brandi's trying to work through everything by using prayer. This has been the hardest year of their lives, but she maintains faith that God will help her through it.
I'm not sure why, but I feel like all of Brandi's solo scenes are for deflection purposes. It comes off like she wants to make us feel bad for her to forget about all of her wrongdoings. However, nothing feels genuine. I'm sorry, but my sympathy for Brandi's troubles only go so far for so long.
Tiffany went to her big meeting at work with a ton of talking points. Ultimately, her boss agreed with everything she said, and he supports her. That went the best way that it could've gone for her. She needs the time to bond further with her family and make up for the lost time. It's killing her not being able to be the most hands on mom.
Tiffany's job remains important to her, but taking a step back is much needed. The only hurdle is going to be telling her mother. This isn't something that a Tiger Mom like hers is going to take lightly. This might seem like a backtracking life event or even a disappointment. She needs to prepare herself for a negative reaction to the news.
I'm still floored that Kary of all people is going to throw Tiffany a birthday party. She wants a Moroccan themed event, and I have to say, Kary's a good one for this. She knows how to have a great time and party like it's 1999. Whatever ends up happening will not disappoint.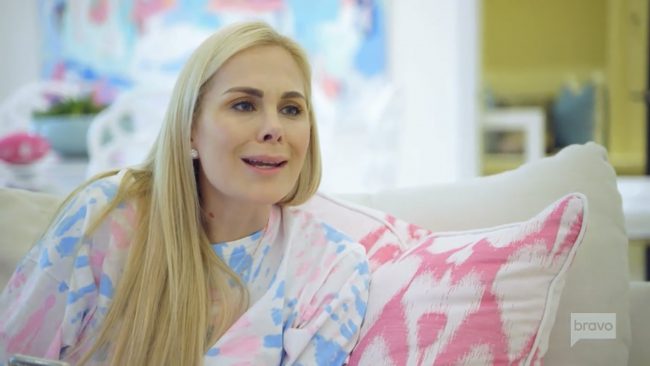 Court Westcott is being so vague with Kameron about the details of their house sale. The way he speaks to her makes it seem like she's a child that can't be trusted with information. She's a whole grown ass woman, and she deserves a voice in her home. Enough is enough.
Kameron went on a realtor side and learned that the sale of her home is pending. Court didn't fill her in on that which is weird. The lack of respect to her is loud and clear. All she wants is to be included in decisions and have a seat at the table. He might want her to have her dream home, but it feels more like control issues.
There's no reason to continue keeping her out of the loop. She's expressed her desire to be clued in about big ticket moments in their marriage. It's on him at this point to swallow his fragile male ego and let her speak. This caveman s**t is for the birds.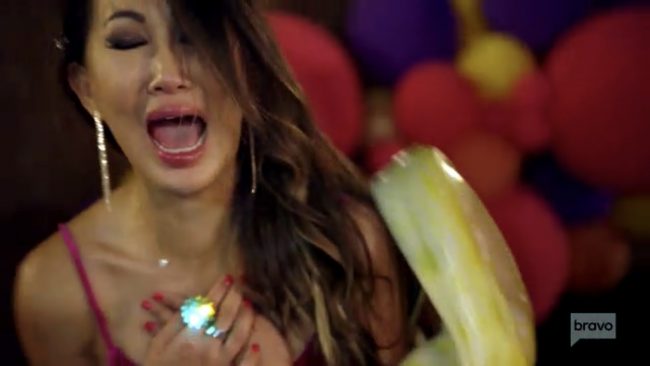 ALRIGHT KARY YOU DID THE DAMN THING WITH THIS MOROCCAN THEMED BIRTHDAY. SOMEONE PLEASE DO THIS THEME FOR ME BECAUSE I NEED IT. HOWEVER, MAYBE LESS PINK BALLOONS.
D'Andra's surprising Tiffany at the party with a Momma Dee Simmons cameo! I want to see Momma Dee get into the mix with some of the drama being spewed by Brandi this season. Dee is close to Tiffany and respects her on a different level. I don't think she'll tolerate any nonsense being spewed in her direction.
Tiffany never had a birthday celebration as a child, so this is BIG for her. To have the group make this feel like a monumental event is going to boost her morale. She's had a difficult time fitting in with everyone so far, so maybe this will help.
Apparently Tiffany's had to do surgery on someone who put a remote control up their butt. Well damn. That's certainly something. Who is out there thinking putting that or a DOLL HEAD up their ass is a good idea? I don't get what could have been running through their mind in that moment. Like sure I'll stick Annabelle's skull up my anus? STOP THAT.
Tiffany gives a speech about wanting to get along with everyone and fit in. It feels like she's come a lot farther toward that goal than she was earlier this season. Things are starting to click, and more of the women are accepting her. If Brandi wasn't in the picture, Tiffany could have had an easier go this year.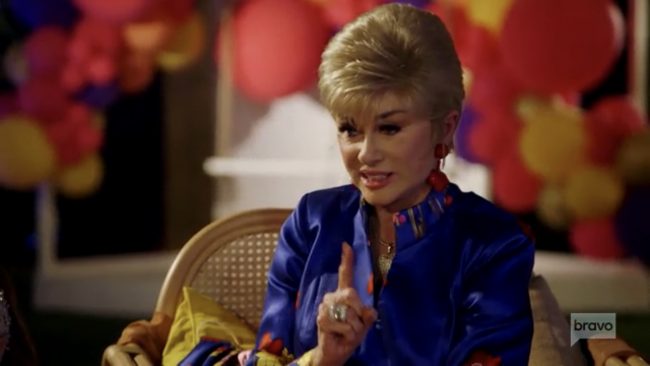 Momma Dee gives an impassioned speech about how she met D'Andra's stepfather, but it doesn't resonate with some of the women. To Kameron it came across like Dee was a gold digger who stalked her husband, I hope they touch upon this at the reunion.
Brandi explains to D'Andra how uncomfortable she was being around the shaman. She only likes to meditate through the word of God. D'Andra's confused though because of Brandi's past affiliation with ghosts and mediums. Tha definitely makes things a bit murky when it comes to taking her words seriously.
BRANDI IS CHOOSING SOME OF THE ODDEST HILLS TO DIE ON THIS SEASON. Everything that comes out of her mouth feels rooted in such tone deaf ignorance. I cringe watching every scene she's in. It's like she decided to come on this season to try and tank her character more and more each episode. What is she doing?
If she wasn't comfortable going to D'Andra's thing, she should've spoken up prior. Randomly coming at her at Tiffany's party and making it about her religion is uncomfortable to watch. She says that it's unChristian of D'Andra to walk away from Jesus and find something else.
This entire conversation feels so wrong. Why is Brandi doing this? She's also using D'Andra's mother to further her own agenda here which makes it even worse. I can't believe how much my respect level for Brandi has tanked this season. Why's she faulting D'Andra for doing whatever works for her?
I can respect Brandi not being into the shaman stuff. That's fine. Do you boo. However, I don't understand why she's attacking D'Andra for HER beliefs. She's practically shaming her for seeking the assistance from the shaman. There's no reason for that.
After Momma Dee breaks up that argument the party finally goes into full swing. A lot of alcohol is consumed after that which leads to an extremely intoxicated D'Andra. Everyone is totally out of control. This isn't Momma Dee's scene at all.
D'Andra's asked why she changed her last name to Simmons, and Momma Dee drops a massive bombshell. She says D'Andra said that the last name Simmons could take her a lot further than Calloway. Woah that paints D'Andra in such an opportunistic negative light. I don't know how I'd feel if my parent was telling people that at a party. True or not.
D'Andra starts screaming that her mother a f**king bitch. I've never seen it get this nasty. Momma Dee asks for her mic to be taken off, so she can get the hell out of there. This is getting ugly and fast because of how drunk D'Andra i.
Kameron says these rumors have been circulating for many years, and D'Andra's insecure about them. Obviously she is. I don't know if there's truth to it, but nobody wants that being said about them.
Who cares why she did it? There's no point in shaming your own daughter on national television like that. I've always felt like Momma Dee was a calculated individual who sets out to hurt D'Andra. This moment has solidified that feeling.
TELL US – DO YOU BELIEVE MOMMA DEE'S ACCUSATION ABOUT D'ANDRA? TEAM BRANDI OR TEAM D'ANDRA? DID YOU ENJOY THE MOROCCAN THEMED PARTY? ARE YOU ENJOYING THIS SEASON OF THE REAL HOUSEWIVES OF DALLAS?
[Photo Credit: Bravo]