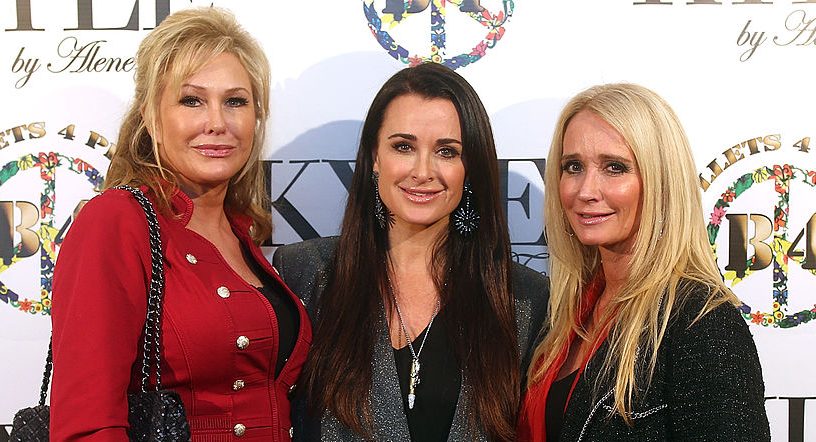 Kathy Hilton has just made her debut as a friend-of the Real Housewives of Beverly Hills, but she's already iconic. And proving she deserves a diamond 1000% more than Teddi Mellencamp Arroyave. She's the goofy older sister of Kyle "Doogie" Richards and Kim Richards and the mother of Paris Hilton. She's bringing the funny back to RHOBH with her poor eyesight and martini chugging, which is a welcome change after the Season 10 gang up on Denise Richards.
Kathy brings a fabulosity and light-heartedness to a show where many of the longtime cast members like to hide their secrets behind the smoke and mirrors of glam looks. Like, her asking if she can put mouthwash in her flask literally sent me over the moon last week and RHOBH is only two episodes in. Truly a queen and as Lisa Vanderpump says, she takes no-nonsense.
And Kyle is yet again headed into another RHOBH season with a sister by her side, which we all know can either be really good or really bad. She and Kim butt heads on the show, whether it was over Kim's erratic behavior or Kyle stealing Kim's goddamn house. And once the Richards girls brought the family drama to the small screen, Kathy checked out as a viewer of the show her own family starred on.
Kathy recently spoke to Access about her first season of the show and revealed that she tuned out of RHOBH after the infamous limo scene of her sisters fighting back in the day. "I did not watch the show," Kathy said. "I did until their big fight and that was it. That was it, the big limo fight. That was it for me. And I don't watch TV in general, so."
Honestly, I'm not surprised someone as kooky as Kathy isn't into TV. Like she literally will tweet or make comments on Instagram to get her friends or family to call her like it's her own personal texting platform.
Needless to say, I cannot wait for more Kathy this season. The only thing that would make it better was if Kim were to return, this time without Brandi Glanville. Or, at least, release her tell-all book that she didn't even tell her sisters about. Now THAT'S the drama a town like Beverly Hills needs nowadays.
TELL US – ARE YOU SURPRISED KATHY DIDN'T WATCH RHOBH BEFORE JOINING THE CAST? HOW ARE YOU FEELING ABOUT KATHY SO FAR ON THE SHOW? 
[Photo Credit: Bravo]