Peaches, assemble! It's reunion time. For the first time since Season 3, the Real Housewives of Atlanta reunion is just two parts. Season 15 hasn't been the most eventful, so it's a relief that Bravo didn't try to stretch this out over three hours. It's one of the first wise choices that production has made this year.
With only two parts to this reunion, the ladies wasted no time diving into the drama, and for some reason, everyone brought props. If they had brought just a crumb of the energy they brought to the reunion to the rest of the season, the show probably wouldn't be at risk of getting rebooted. However, it's better late than never, and an abridged version of the reunion proved to be an hour straight of entertainment.
In part one of the reunion, the ladies gathered around a set inspired by the healing journey to Portugal. We could have done without the pillows in the middle of the floor, but it was definitely less distracting than when they had a koi pond on the reunion stage. The set might be inspired by their healing journey to Portugal, but will anything actually be healed at this reunion? Let's get into it.
Fashion first
We can't discuss the Season 15 RHOA reunion without first covering the looks. One thing about RHOA — it doesn't matter how uneventful the season was, the reunion fashions will always be an event. Season 15 was no different. The ladies gathered in an assortment of blue hues, and for the most part, they nailed it. Everyone pulled out all the stops: Shereé Whitfield showed up with a new nose, Marlo Hampton debut a tightened Ozempic body, Sanya Richards-Ross was glowing with a baby bump, and Kenya Moore served severe underboob. It was all a feast for the eyes.
Marlo, RHOA's resident fashion expert, got to go down the couch and react to each lady's fashion. Surprisingly, she was kind to most of her castmates but admitted that she wasn't living for Kenya's 1940s-inspired hair. Kenya was ready with a clapback, though. And, when she said that Marlo looked like Mrs. Roper from Three's Company, there was no unseeing that.
A subpoena to remember
One of the first bombshells of the reunion came during Kenya's segment. Andy Cohen asked her about Marc Daly's ongoing legal fight over their daughter, Brooklyn. Kenya revealed that because of the scene in Birmingham, Alabama, where Marlo was banging on Kenya's hotel room door, Marc had referenced Marlo in their court battle. So, Kenya served Marlo with a subpoena to appear in court and testify on her behalf.
The idea of someone getting served with a subpoena on the reunion stage is kind of iconic. On paper, that's brilliant, shady, and cutting. However, it all fell flat when we returned from commercial break to learn that the subpoena was actually blank. Kenya said they must have "printed the wrong one." Andy handed the paper back to her like a disappointed schoolteacher.
Big face, little face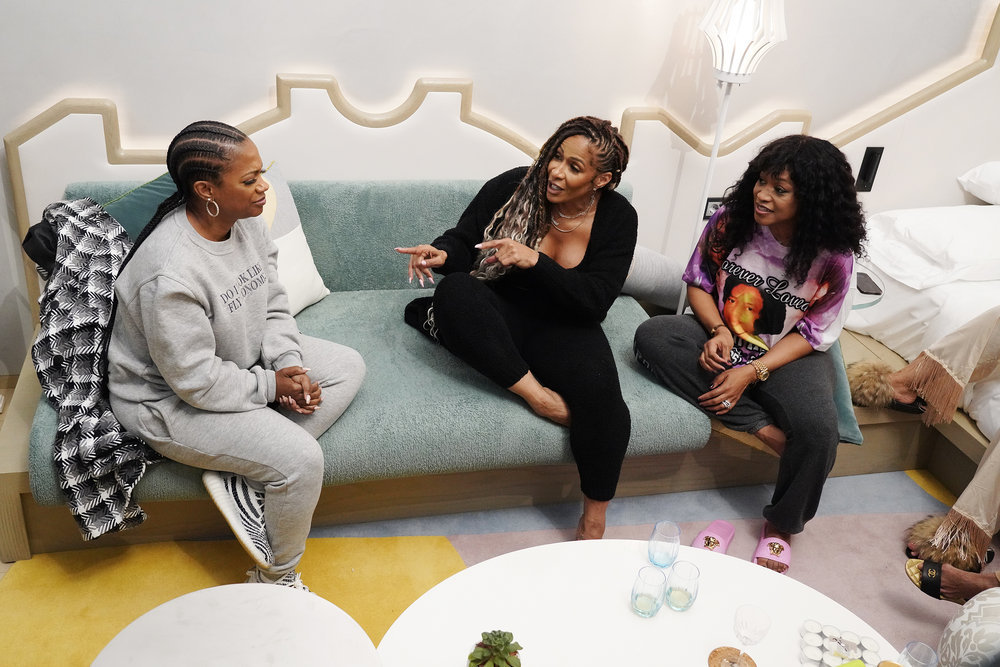 One of the most bizarre feuds of this season that we revisited in part one of the reunion was the feud between Shereé and Kandi Burruss. It was truly a one-sided beef as Shereé kept coming for Kandi. From Kandi's lack of support for She by Shereé to her poor attendance record for cast events, Shereé had a neverending bone to pick. And although they made up in the middle of the season, that went out the window because Shereé had a lot to say to Kandi at the reunion. They straight up cussed each other out for a solid minute on the reunion stage.
Much of the animosity came from Kandi questioning Shereé's honesty about her cosmetic work. According to Shereé, the only thing she's had done is a slight nose job, which was actually because of some "breathing issues" she had. No one believed that for a second. During the exchange, Shereé yelled, "Big face, little face" at Kandi, leaving Andy confused. Just go back to your seat, Shereé.
As Kandi threw shade at She by Shein, Shereé clapped back, telling Kandi to go "mop the greasy floor" at her restaurant. She then pulled out a bunch of print copies of a faux newspaper called She News, essentially dedicated to ripping Kandi apart and tearing down her businesses.
Imagine working at OfficeMax, and here comes Shereé asking you to print this pamphlet full of shady stories about Kandi. The Xscape singer retorted that maybe Shereé should print some fashions instead of printing these little pamphlets. But everyone on the couch got a copy, and we'll probably be seeing She by Shereé News at this year's BravoCon museum.
Although Kandi's restaurants have struggled, it's wild for Shereé to try to criticize anyone else's businesses. Andy asked her if She by Shereé had turned a prophet yet. Shereé explained that most companies don't turn a profit for the first "two to three years." Shereé started talking about She by Shereé in 2008 but admitted to Andy that the business still needs to turn a profit.
Kandi Koated lies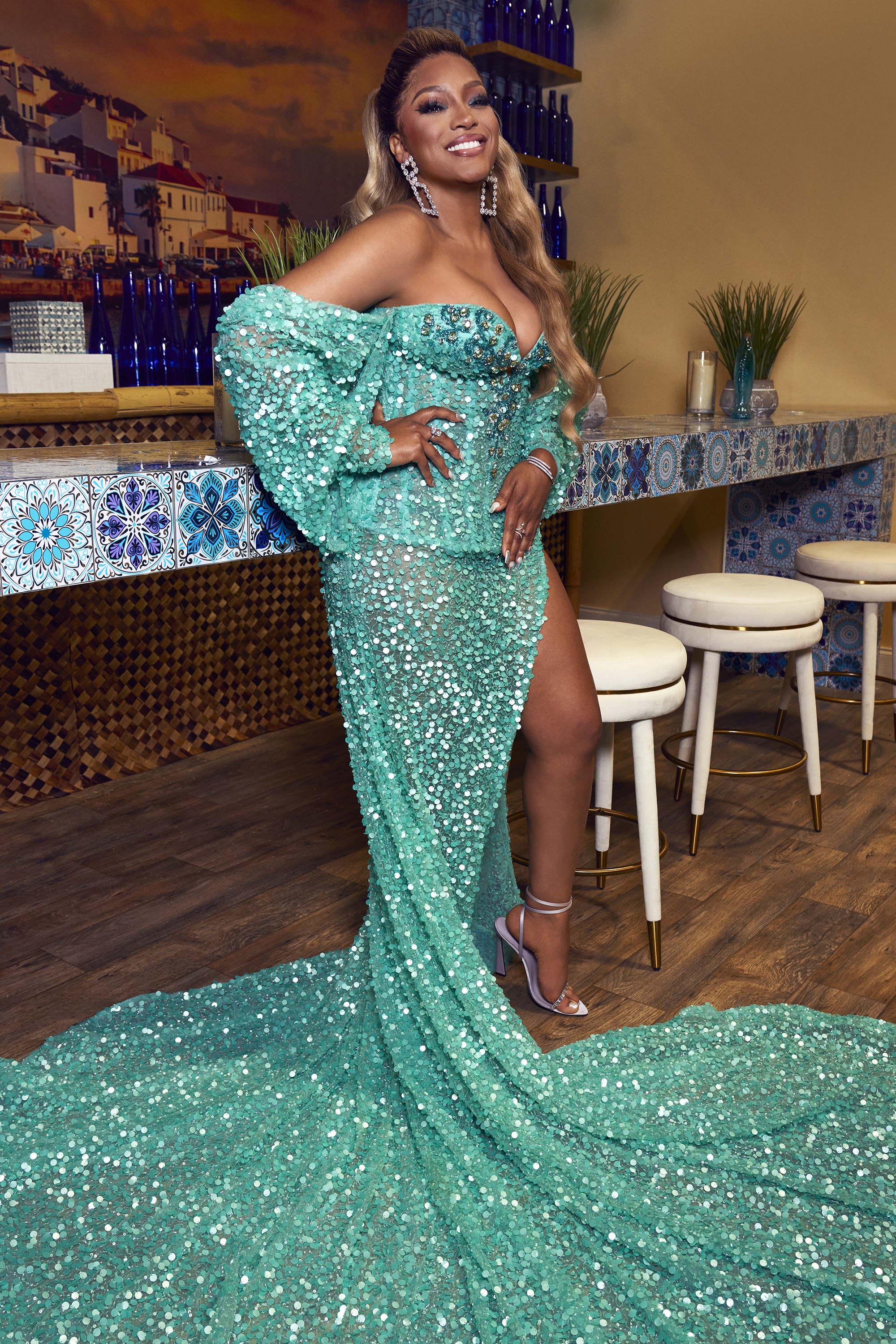 Although they sat Kandi on the far side of the couch, she was in the hot seat for a good chunk of the RHOA reunion. Not only did she have to face off against Shereé, but she also had unfinished business with Drew Sidora as the two revisited kissgate. This horse has been dead, but they just keep on beating it.
So, did Drew and LaToya Ali make out? We still don't know for sure. Kandi was adamant that she saw them kiss, but when she asked Marlo if she saw it, Marlo said she was only "80% sure." You could tell that answer irritated Kandi. However, Marlo said that Drew has been swearing up and down on her children's lives that she didn't make out with LaToya, so it's hard to tell whose truth is more accurate.
Kandi went on to say that she felt so strongly about this situation that it actually changed how she saw Drew and Ralph Pittman's divorce. Kandi explained that while we all thought Ralph was the gaslighter, this situation proves that Drew was probably just as bad. "The lies, the lies, the lies," Kandi said to Drew in a self-referential moment.
Drew also got clocked for her shady comment about filming Kandi and Todd Tucker's movie, The Pass. During the aggressive 10-day shoot, Drew said on camera that she was only doing "Lifetime or above" moving forward when taking on projects. When Kandi got a chance to reply to the shade, she simply said to Drew, "Good luck."
Bring in the friends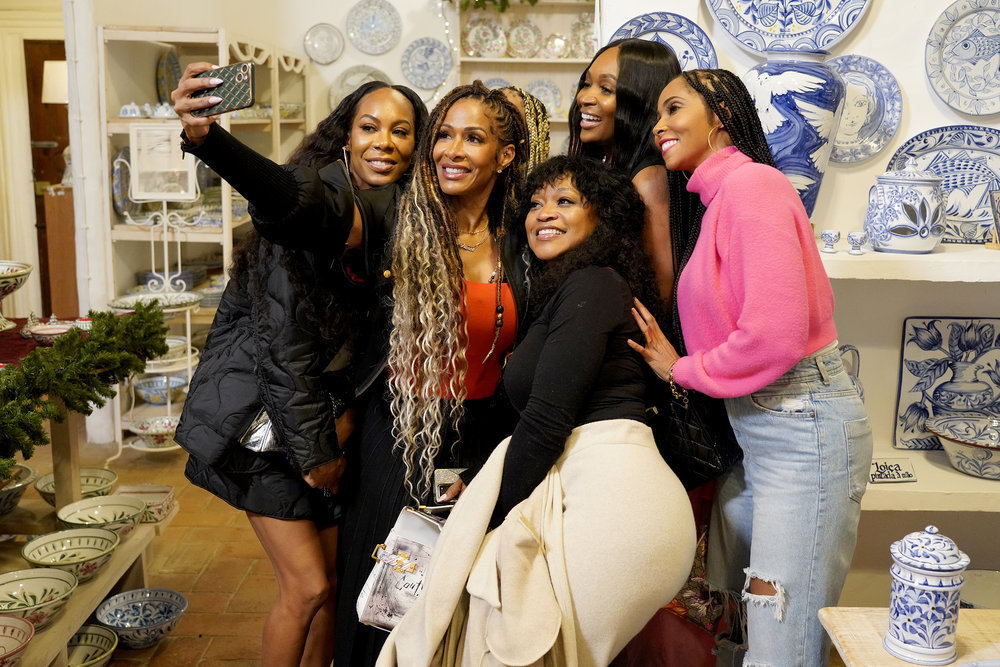 Since this reunion is only two parts, Andy brought the friends out to the stage in record time. Monyetta Shaw came out in her slacks, ready to discuss the collusion she witnessed this season. She was on the sidelines of the season and the sidelines of this reunion. If anyone deserves a Participation Trophy for Season 15, it's Monyetta.
On the other couch, Cousin Courtney Rhodes arrived. There's no denying she was this season's villain. She landed in the hot seat within a minute of her getting onto the reunion stage. The first question from Andy: How exactly are you Ralph's cousin?
Courtney explained that her "dad's sister" (AKA her aunt) is married to Ralph's uncle. So, it's not like she and Ralph are necessarily close, which explains why she felt so comfortable coming on the show and being horrible to Drew. Drew called her a "fake cousin," which we were all thinking this whole time.
When Courtney sat down, Drew pulled a plum out of her purse and threw it at her. The plum might have missed, but the shade landed. She didn't get a peach; instead, she got a plum. Andy took a bite out of the plum, which diffused the situation for a moment, but by the end of the episode, Drew gave Courtney a much-deserved verbal lashing.
Of course, in the season finale, Courtney made those despicable comments about Drew's marriage, her children, and her sexuality. We were all waiting for this, and Drew finally took the gloves off, holding Courtney accountable for what she said. Drew accused her of being "coached" by Ralph throughout Season 15 because she parroted his words and criticisms.
Courtney hardly has a leg to stand on in this reunion. Next week, Ralph will join the stage to share his side of the story. Judging by the trailer, this isn't going to end well.
TELL US – WHAT WERE YOUR THOUGHTS ON PART 1 OF THE RHOA SEASON 15 REUNION? WERE THERE TO MANY PROPS? DO YOU LIKE THE FACT THAT THIS REUNION WILL BE SHORTER? WHO WAS YOUR BEST AND WORST DRESSED?