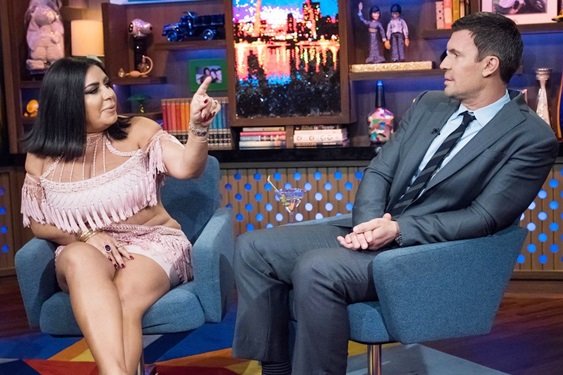 It seems like every cast member on Shahs of Sunset is done with Asa Soltan Rahmati and her vagueness. No one expects someone to share every single bit of her life just because she's on a reality TV show, but what do we know about Asa? She has been on this show the whole time and all she has done is sell caftans and try to convince us that diamond water is a real thing. No wonder Mercedes "MJ" Javid is lashing out.
The rest of this cast really bares it all. Sure, it takes a lot of poking and prodding for some of them to actual admit the truth – cough, cough Shervin Roohparvar and Mike Shouhed – but they all end up putting themselves out there for the sake of being real for the show… except for Asa. As expected, MJ did not hold back when she was asked about Asa during her latest Watch What Happens Live appearance and Andy Cohen and Jeff Lewis were living for it.
bAsa was probably sitting at home blowing up Reza Farahan's phone to complain about nMJ – or at least that is what I imagine because MJ spilled some major tea.
Before the customary Asa shit talking session, MJ and Jeff discussed parenthood. Andy asked Jeff if he had any advice for MJ about starting a family and he told her, "I'd say wait as long as possible." MJ wasn't having any of that, insisting, "No I can't wait anymore." Jeff also mentioned, "I was telling Reza too. I wish I would have waited."
Switching gears, Jeff and MJ shared their thoughts on Vicki Gunvalson and Tamra Judge's on-again-off-again friendship on Real Housewives of Orange County. Jeff theorized, "I think Vicki is trying to save her job, frankly. I don't think they want to be friends. Either one of them."
They also gave their approval for Vicki's new boyfriend Steve Lodge. MJ said, "He's the best. He's amazing." Jeff had nothing but praise for Steve, but Vicki, not so much. He said, "He seems like a really nice guy. She's going to screw that up." MJ said, "Hopefully she won't." Jeff also threw in, "She'll call Brooks or something." Vicki is not going to be happy when she hears about that comment.
Just like every other interview MJ has done this season, MJ had to answer the question "Why are you so envious of Asa?" Maybe MJ was tired of answering that same question all season long because she unleashed a lot of information: "Oh come on, you guys. It's not like that. It feels to me that I was a friend who believed we had a friendship and I didn't know that she had a whole plan and I kept all of her secrets for so long. She was married to a guy for ten years. She never talks about where her house came from that she lives in. She was with him for ten years. I've always had her back."
Except for in this moment when MJ didn't have Asa's back or keep any secrets private.
Andy remarked, "It seems like she's telling the secrets now." Jeff told MJ, "You should tell us more." And she did. MJ shared, "She was caught in bed allegedly having sex with another man. Then he walked away and she threatened him because she had dirt on him. And that's why she has the house that she has." Jeff admitted, "Wow. I wasn't expecting that." Neither were any of us.
When she was asked if she was surprised that Golnesa "GG" Gharachedaghi and Shalom Yeroushalmi got back together after filing for divorce, MJ revealed, "You know, GG at the reunion, when you see, just got back together with him because Shalom and Durani, his ex, had this Instagram war against her and Durani and Shalom called her a broke down Honda civic. And magically they got back together. She wanted to put that ring back on. I've never seen a less real relationship behind such a big rock." Damn.
On a nicer note, Jeff had a lot of sweet things to say about his daughter Monroe. He admitted, "I never thought I could be as in love with something as I am with Monroe. I think she's beautiful and smart. She's so much like me. I love all that about her. She has a temper. I'm just warning you."
Jeff was also asked if he had any remorse for how he has treated Gage Edward this season. Jeff explained, "Yes, but I am very emotional. I forget that the cameras are there. I'm very in the moment. I say things and he's very smart and very calculating. He waits for the cameras to leave and then he unleashes so you don't realize how abusive he is, but yes I do." MJ chimed in, "That is my answer any time anyone asks me a question about Tommy [Feight] as well. Same thing."
RELATED: Mercedes 'MJ' Javid & Mike Shouhed Think Asa Soltan Rahmati Isn't Truthful
TELL US – WHAT DO YOU THINK ABOUT MJ SHARING ASA'S SECRETS WITH THE WORLD? IS MJ JEALOUS OF ASA? ARE YOU SURPRISED THAT GG & SHALOM GOT BACK TOGETHER?
[Photo Credit: Bravo]