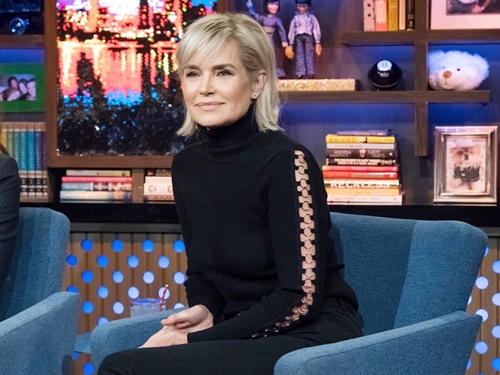 Just when it seemed like Yolanda Hadid wanted nothing to do with Bravo (and most likely vice versa), the former Real Housewives of Beverly Hills cast member returned to the Watch What Happens Live clubhouse.
Yolanda is not contemplating a return to the show that put her on the map (thank God), but she was there to promote her new book, which was barely discussed since she was just asked a bunch of questions about her super model daughters Gigi Hadid and Bella Hadid and her former RHOBH costars.
If you missed the episode, you truthfully didn't miss much. Yolanda looked amazing, but it was far from iconic in terms of content. These are the "highlights," if you can even call them that.
Andy Cohen asked Yolanda about her health these days and she shared, "I'm feeling amazing. Thank you." Andy showed a clip of Yolanda back in the day during a guest appearance on a show with OJ Simpson and asked Yolanda if OJ ever tried to hit on her. Yolanda just said, "I don't remember." So is that a yes?
Of course Andy ran through the list of RHOBH cast members and story lines to get a status check and some opinions from Yolanda.
When asked about Erika Girardi/Erika Jayne, Yolanda shared, "Yes, I talked to her yesterday morning."
Getting more specific, Andy wanted to know Yolanda's "thoughts on [Lisa] Rinna continually challenging Kim's [Richards] sobriety last season?" Yolanda said, "It was heartbreaking to me. You can't doubt or question those kind of situations – especially on national TV." And it's also absurd how the women on this show are either talking about Kim Richards or are looking for an excuse to bring her up. She hasn't been a cast member for two season, yet they cannot get her name out of their mouths.
Andy wondered, "Do you think Lisa [Vanderpump] uses her British humor as an excuse to make mean jokes?" Yolanda said, "Absolutely." Yes, but LVP can get away with anything she wants. I was really hoping Andy was going to ask Yolanda a shady question about Lisa being besties with her ex husband Mohamed Hadid, but he did not grant my wish. I just know that Lisa and Mohamed's friendship has something to do with the tension between she and Yolanda that was there the entire time she was a cast member. And when I say I "just know," I mean I'm theorizing based on years of obsessive reality TV viewing and zero actual insight.
Andy wanted to know Yolanda's thoughts when "Rinna called Kyle [Richards] Kim's enabler." Yolanda didn't say much, but she did admit, "I don't think that's true." When asked if she was still close with Brandi Glanville, Yolanda said, "We talk once in a while," so I guess not.
And of course Andy got to the big question: Would Yolanda ever return to the show? To no one's surprise, Yolanda said, "No." Why would she? She has all the money she needs and she can just travel the world with her supermodel offspring. Why would she pass that up to get bitched out at a dinner party by a bunch of women she can't stand?
Even though this was Yolanda's interview, pretty much none of it was focused on Yolanda herself. When she wasn't asked about Real Housewives of Beverly Hills, she was getting grilled about her famous daughters. Andy come through with this crossover question to be nosy about both topics: "Are Gigi and Bella friends with Rinna's daughters Delilah Belle or Amelia Grey?" Yolanda just said, "No." Is that a coincidence? Are they carrying Yolanda's grievances against Rinna to the next generation? Or do they just not know each other? I want to know.
Andy wondered, "Does Bella care that The Weeknd is with Selena Gomez?" Once again, Yolanda didn't come through with a very exciting answer. She said, "Not any more,  I think." Andy also wanted to know what Yolanda and Gigi's boyfriend Zayn talk about when they get together. Yolanda said, "We have a lot to talk about." Such as?
Andy shared, "There are rumors that Bella is dating Drake." Yolanda did not bite – obviously. Andy continued, "He threw her a big twenty first birthday party last night." Yolanda responded with, "He did? Really?" Andy wasn't going to let that one slide though. He reminded her, "You were there." Yolanda insisted, "Oh. I didn't know that." Alright, then. Andy persisted, "Are they together?" Yolanda answered, "They're friends." Riveting stuff.
Getting back to the book (i.e. the reason Yolanda is doing this interview in the first place), Andy wanted to know, "Is Believe Me in response to the women questioning your health?" Yolanda confessed, "Part of it in the beginning  it was 'yes, believe me,' but it was also 'you can have hope after the end of this journey.' So it's kind of a double."
Andy was also curious to know if Yolanda is dating these days. Yolanda said, "Not yet, but I'm ready." Good for her. And of course, Andy asked Yolanda about her iconic glass refrigerator that she had in her former home. Yolanda revealed, "It stayed with the house," which was expected, but the fridge is definitely a fan favorite, so I don't blame anyone for bringing it up. Hell, that fridge had its own social media accounts and everything.
RELATED: Yolanda Hadid FInding Love Again; Calls Out Kyle Richards For Ignoring Her Crisis; Would've Stuck By David If He Were Ill
TELL US – DO YOU MISS WATCHING YOLANDA HADID ON REAL HOUSEWIVES OF BEVERLY HILLS?
[Photo Credit: Bravo]