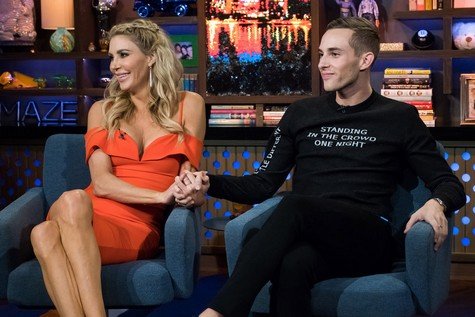 I'm trying my best not to get my hopes up, but I can't help yearning for Brandi Glanville to make a Real Housewives of Beverly Hills return. She's maintaining her relevancy by appearing in 964845454 reality TV shows and Andy Cohen made a supportive video message for her while she was a house guest on the celebrity edition of Big Brother.
Maybe time does heal all wounds. She even made her way to the clubhouse for an episode of Watch What Happens Live. They did not actually discuss the possibility of bringing Brandi back as a Real Housewife, I'm still hoping for it since she makes a point to be up to date on all of the latest drama in Beverly Hills.
Andy asked Brandi to share her opinions on this season's story lines and cast members. When she was asked about the newest cast member Teddi Mellencamp Arroyave, Brandi shared, "I don't want to see anyone accountable on reality TV." That is really the best way to put it. I like Teddi enough, but she's really not elevating the situation.
Speaking of elevating a situation, Camille Grammer came for Dorit Kemsley when she gave her a ball gag as gift. Of course, Brandi said she "loved it." She also gave Dorit a warning after watching Lisa Vanderpump shade her at that birthday lunch. Brandi warned, "It's just the beginning. Dorit will be very homeless soon."
Even though Dorit joined the show as a friend of Brandi's nemesis Lisa, Brandi said, "I mean Dorit can do whatever she wants. I like Dorit." She even supported Dorit drunkenly referring to Camille as a "cunt." Andy pointed out, "That's Brandi playbook." Of course, Brandi said, "I loved it. It was a joke." It was great TV, but I would definitely be annoyed if I were Dorit.
Brandi stood up for Erika Girardi after the cast gave her shit for sleeping at a hotel instead of Teddi's beach house. Brandi explained, "You don't do sleepovers after 14. Shut up."
A viewer asked Brandi, "Do you feel like you got to know the real Omarosa?" She shared, "No. I don't think anyone knows. I don't think she knows the real Omarosa. She's an evil genius." And of course Brandi said "no" when she was asked if she regrets anything she said or did on Celebrity Big Brother.
Brandi continued coming for Lisa when she warned Dorit, "Get ready to be homeless. LVC, as I call her- unless Dorit has blackmail on her, no one gets to talk to Lisa this way or say these things. Lisa will come after you until you're homeless."
RELATED: Brandi Glanville Confirms Andy Cohen Filmed Message For Celebrity Big Brother Since Her Kids Couldn't Appear On Camera; Accuses Omarosa Of Faking Asthma Attack
TELL US- WILL LISA VANDERPUMP GO AFTER DORIT? DO YOU WANT BRANDI BACK AS A HOUSEWIFE?
Photo Credit: Charles Sykes/Bravo