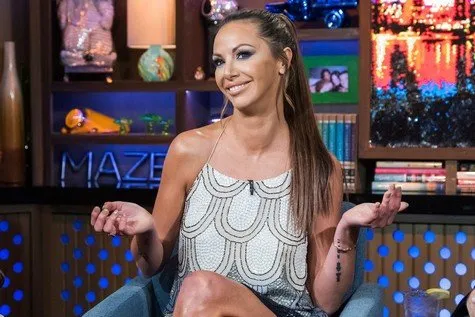 I would have loved to be a fly on the wall when the Vanderpump Rules cast members watched the last episode for the first time. James Kennedy very clearly stated that he "hung out" with ex girlfriend Kristen Doute. Nevertheless, Jax Taylor, Tom Sandoval, Tom Schwartz, and Peter Madrigal were adamant that he said he "hooked up with" her. They called him out for it and spread that rumor to the rest of the cast members.
Throughout the whole episode they truly believed that they heard him correctly. I don't know if it was the booze, the British accent, or just a confirmation bias to put the spotlight on someone else, but none of the guys were on James' side.
Kristen stopped by the Bravo clubhouse to discuss that misunderstanding during the last Watch What Happens Live episode. Andy Cohen pointed out, "He said 'hung out.'" Then he said, "What did feel like when you saw that for the first time? You threw a drink on him."
Kristen confessed, "My brain exploded. I texted Katie [Maloney] and Stassi [Schroeder]. I texted the Witches of WeHo like 'Did you see this the way I saw it?' And we all rewound it like five times." I didn't need to rewind it at all. It was very clear what he said, yet none of the guys wanted to believe him.
Andy asked, "Who were you most mad at?" She answered, "Sandoval and Jax. Both. Sandoval started it and Jax really spread the rumor."
The interview took a bad turn for Kristen. The viewers and Andy came at her past sins for the rest of the episode. A caller said, "When you were accused of hooking up with Jax, you kind of acted similar how [you were acting] when you were accused of hooking up with James. Why should we believe you now?" Andy chimed in with, "Good question. Why should people believe you now?"
Kristen said, "That's so unfair." Andy asked, "Is it?" Kristen was visibly flustered and said, "I'm telling the truth that's why. Did you see the scene? That's why."
Another viewer asked, "Because of everything that happened with Stassi and having lied in the past, I was just wondering why you got so defensive when you were asked about hooking up with James? How do you apologize to Katie and Stassi?" Kristen responded with, "I don't think I should apologize to Katie and Stassi because I don't think my best friends should grill me. They know better."
Apparently that explanation did not sit too well with Andy because he told her, "Yeah, but you cheated behind Stassi's back." She responded with, "Yeah. We've all grown and changed. I know I didn't do anything wrong."
Speaking of Stassi, Kristen was asked, "What do you think of Stassi and her new boo? Another relationship that will be a marriage because of you?" Just in case anyone forgot: Kristen is the one who set up Tom and Katie. She thinks she made a perfect match, yet again. She told Andy, "Yes, absolutely. I think she'll be engaged before anyone else."
And then, she was asked about Jax and Brittany Cartwright's relationship- just like every other cast member has been during every interview this season. She was asked, "Do you think Jax and Brittany's relationship will last? If not, why?" Kristen admitted, "At this point, strangely enough, I think yes- over time. I think they have a chance."
RELATED: Kristen Doute Confirms That She & Brian Carter Are Still Together
TELL US- DO YOU THINK KRISTEN AND JAMES ACTUALLY HOOKED UP? IS KRISTEN BEING UNFAIRLY JUDGED BECAUSE OF HER PAST?  WHICH VANDERPUMP RULES COUPLE WILL GET ENGAGED NEXT? WILL JAX & BRITTANY'S RELATIONSHIP LAST?