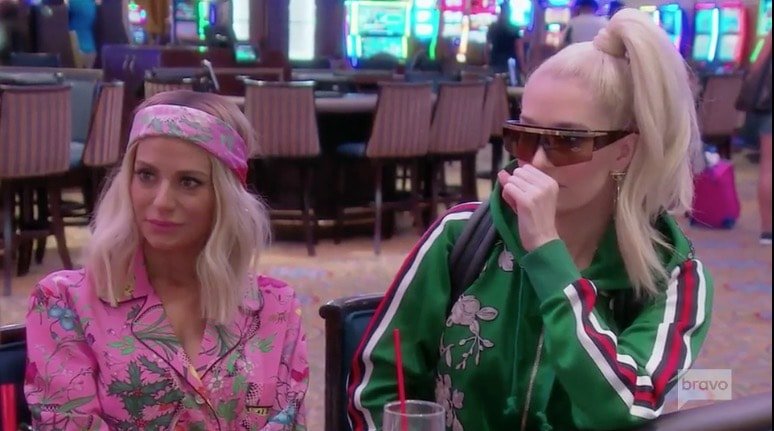 Everyone was wondering who the hyenas ladies were going to turn on during the Real Housewives of Beverly Hills cast trip to Provence. After all, they couldn't just vacation at a stunning chateau and behave themselves! So, without Lisa Vanderpump or Camille Grammer, who would the willing victim be?
Denise Richards was unable to attend, and even if she did, all the ladies like "season one" Denise, so she would be safe. Lisa Rinna would break a glass on a bitch. Dorit Kemsley oddly is getting along with everyone. Kyle Richards is pretend best friends with the ladies. That leaves Erika Jayne and Teddi Mellencamp Arroyave as potential targets.
The target was decided when Kyle teamed up with Teddi to go after Erika. The reason? Because Erika didn't seem like she was having fun with them! That's the best they could come up with? You can do better than this, Andy Cohen.
In a video from the Real Housewives of Beverly Hills After Show, Dorit and Erika discussed the dinner where Kyle and Teddi bullied Erika for being a sourpuss. Dorit, who wore her best leather dominatrix nurse dress, said, "I'm not surprised that Kyle and Teddi would be regretful. Because I think it came very much out of nowhere and I felt like it was unfair." 
I think it came from Kyle and Teddi being shit faced and wanting to stir the pot. Teddi and Kyle had enough liquid courage to harp on the fact that they think Erika is fake and wasn't genuinely having a good time with them.
Erika said, "I mean, I think it's silly. I mean the whole thing is so dumb. I can't even be mad at either one of them, it's so stupid." I agree! It is so stupid. Although, I think Erika should have been more mad at Kyle, since they are supposedly such good friends. 
She continued, "Listen, I'm someone who you earn my trust and my friendship, and when I'm there, I'm there. And she knows."
Dorit nodded and said, "I do… I know because I've been in that place and I know that you get it. She's actually one of the warmest, I mean, a real girls girl. Someone that you can really trust." 
Hmm, what information is Dorit trusting Erika with? Did they bond over PK Kemsley's lawsuit and Tom Girardi's lawsuit? Might be time to cash out while you can and find new husbands ladies.
Also, Dorit is really trying to sell Erika hard here. Erika has never come across as warm or a girls girl. I wonder if this version of Erika will be around next season, because I've yet to see her.
Erika added, "I'm that person you call in the middle of the night. Because I'll pick up the phone and be like, hold on a second, I'll be right over. I'll be like, hold on, I'll be there in five minutes." 
That's hilarious. First of all, I cannot picture Erika driving over to anyone's house unless her sycophant assistant Mikey would drive her. And, unless her friend lives next door, Erika isn't getting to anyone's house from Pasadena in five minutes. Even in the middle of the night when there's no traffic. 
This new friendship between Dorit and Erika is surprising. I guess it makes sense now that LVP is out of the picture. Dorit has to buddy up to somebody. But when push comes to shove, I doubt that Erika will be there to defend her like LVP used to.
TELL US – DO YOU AGREE WITH DORIT THAT KYLE AND TEDDI WERE UNFAIR TO ERIKA? DO YOU THINK THAT ERIKA IS WARM AND A GIRLS GIRL? DO YOU THINK DORIT AND ERIKA HAVE A GENUINE FRIENDSHIP?
[Photo Credit: Bravo]