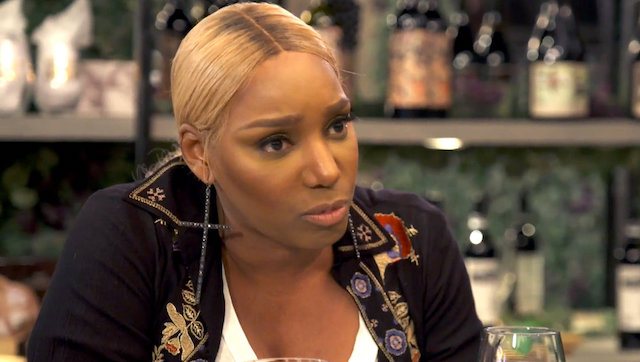 Last night's episode of Real Housewives of Atlanta was tough to watch. Kandi Burruss and Cynthia Bailey went out of their way to protect Kenya Moore from the group following the news of her separation from Marc Daly.
Obviously, many RHOA viewers can't stand Marc, but Kenya has made it very difficult to have sympathy for her. Last night, NeNe Leakes showed Kenya some phony sympathy at dinner. In response, Kenya thanked each cast member individually, except for NeNe, which was super rude. Then, Kenya made a half ass attempt at peace when she decided to bring out a plate of dessert to NeNe- the same dessert that was available in mass quantities for the entire cast. How special. And, of course, the shade continued onto Twitter.
NeNe tweeted, "I don't want to hear NOTHING from NOBODY concerning Ken. She sits, talks and thanks some who has done wayyyyy more worst to her than i ever have! I don't owe this monster NOTHING! I personally think her friends need to keep it 100 wit her."
Then, NeNe brought up some specifics: "The fact that her friends ask others to be sensitive to her situation but she was NEVER sensitive towards porsha & Kordell (remember her sayin porsha was his beard) Phaedra & Apollo, Paul & Tanya. LETS NOT FORGET."
And by "her friends," NeNe is obviously referring to Cynthia and Kandi.
Kandi tweeted a screenshot of her name trending on Twitter and wrote, "Thanks for the love!" In response, a fan pointed out, "It's not all love." And Kandi told this person, "Even if you love to hate, its still love…."
And, of course,
Kandi
shot down that notion.
She tweeted
, "Soooo just because I'm a friend to her that makes me an asskisser? No." Sure, Kandi.
Kenya
didn't address
NeNe's
shade, yet, but
she did tweet about her marital drama
last night. She posted, "
The story I told 
@
Kandi
and @
cynthiabailey10 
about the ex wanting to 'keep it going'was shared from Marc just weeks after he told her he got married nearly 3 years ago and that was her response.
#RHOA."
Obviously, that's terrible and
Marc
is one of the worst
Real Housewives
husbands of all time. Still, Kenya's behavior last night did her zero favors.
TELL US- DOES KENYA CARE ABOUT OTHER PEOPLE'S PAIN? ARE KANDI AND CYNTHIA KISSING KENYA'S ASS? SHOULD KENYA TRY TO REKINDLE HER RELATIONSHIP WITH MARC?