Do you feel that? It's the tide turning on Below Deck Mediterranean. This season has been a veritable rollercoaster so far, full of sudden exits, returning yachties from charter seasons past and even one scandalous, headline-making firing by Bravo. I mean, just take a look at how the show's opening credits have changed from week to week. Last week, we unjustly said goodbye to Chef Kiko Lorran. But that casting change won't even compare to the drama that's about to rock The Wellington.
This week opens with sweet Kiko waltzing down the dock, luggage in tow. (Onto a better and brighter future without Captain Sandy Yawn backseat-driving his galley, surely). Hannah Ferrier is absolutely gutted by her pal leaving. She feels guilty for being partially responsible for the meal that sunk his ship. And, now, she doesn't have a single true ally amongst the crew and she knows it.
However, the charter season must go on, even without a chef (for now). During a quick tip meeting, Sandy reveals the charter guests left a $20,000 tip for the crew. So it seems none of the behind-the-scenes drama affected them. Either that or they really felt so badly for Kiko that they tipped big. Sandy also lets the crew know that their next charter won't be starting for a couple of days. So, the owner of The Wellington (or, you know, Bravo), has provided for the Below Deck Med gang to have a day off at a local beach club. Party!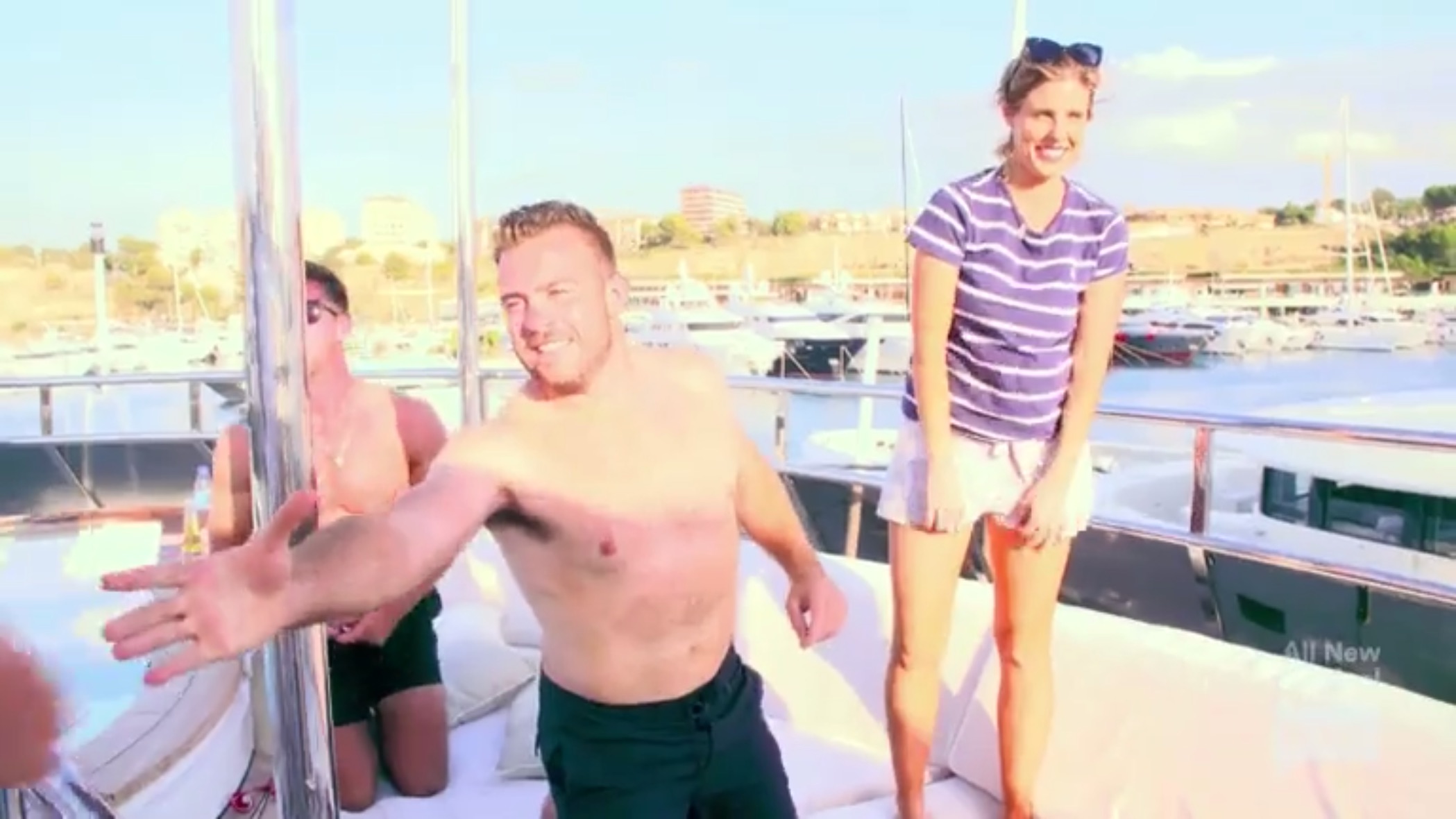 Malia White's gorgeous British boyfriend Tom Checketts finally arrives for his conveniently timed visit to Mallorca. See, the bosun's very attractive boyfriend happens to be a yacht chef. Captain Sandy visibly lights up at this news, and quicker than you can say "Justice for Kiko," she has Tom's resume in her hands. Meanwhile, Malia brings Tom around to meet the crew.
Of course, this happens to occur as Bugsy Drake is busy waxing Alex Radcliffe's back, since that's what this almost-couple does for foreplay now. Somehow, Alex's cheeky attitude about Wolverine-level hairiness only makes him more endearing to me. Mark my words: he may have started as a Jersey Shore knock-off, but Alex is the true star of the Below Deck crew this season.
Since they have the next day off, the yachties head out to Crew Bar for a night on the town. While Hannah corners Jessica More and Rob Westergaard to recruit them to her team, the rest of the crew swiftly divides up into couples. Not wanting to be left alone with Creepy Pete Hunziker and his misogyny, Hannah opts to head back to the boat. There, she lives her "best life" by eating curry in bed while all the boat-mances take over Crew Bar. By the time everyone comes back to the boat for the night, Jess has even said "I love you" back to Rob after just a few weeks of canoodling!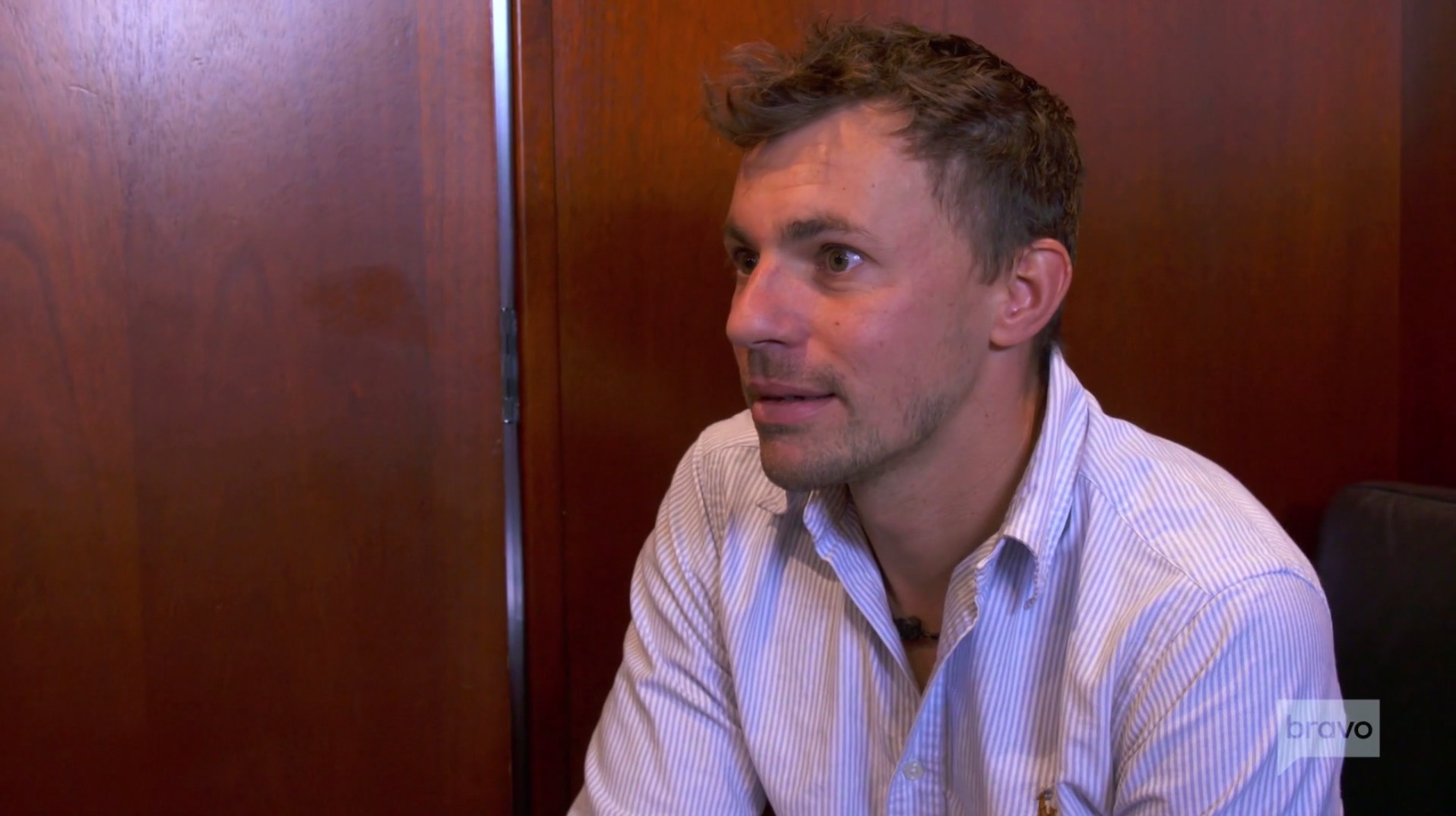 Bright and early the next morning, Malia brings Tom in to meet Captain Sandy. Of course, what's only supposed to be a friendly meet-your-girlfriend's-professional-mentor sit-down quickly turns into an impromptu interview for the British chef. Sandy doesn't waste any time, coming right out and asking Tom if he'll come aboard as chef for the rest of the season. (She doesn't seem to care that he was only stopping by on his way to visit a sick relative in the U.K.) Seeing it as the perfect excuse to spend more time with Malia, Tom agrees and the chef problem is officially solved.
With that settled, the crew heads out for their day of fun in the sun at Gran Folies Beach Club in Port d'Andratx. That is, everyone except Hannah who has fallen mysteriously ill. The chief stew blames last night's curry, but the general consensus among the group is that Hannah is faking it. She simply doesn't want to spend time with the crew outside of work. So while the rest of the cast enjoys a long day of paddleboarding and PDA, Hannah mopes in her bunk. At dinner that evening, the crew officially welcomes Tom, and learns that he once worked under none other than Gordon Ramsay. Malia also brings up the idea of changing up cabin arrangements now that her boyfriend is staying. Naturally, Rob and Jess love this idea, but Bugsy absolutely doesn't want to bunk with Hannah.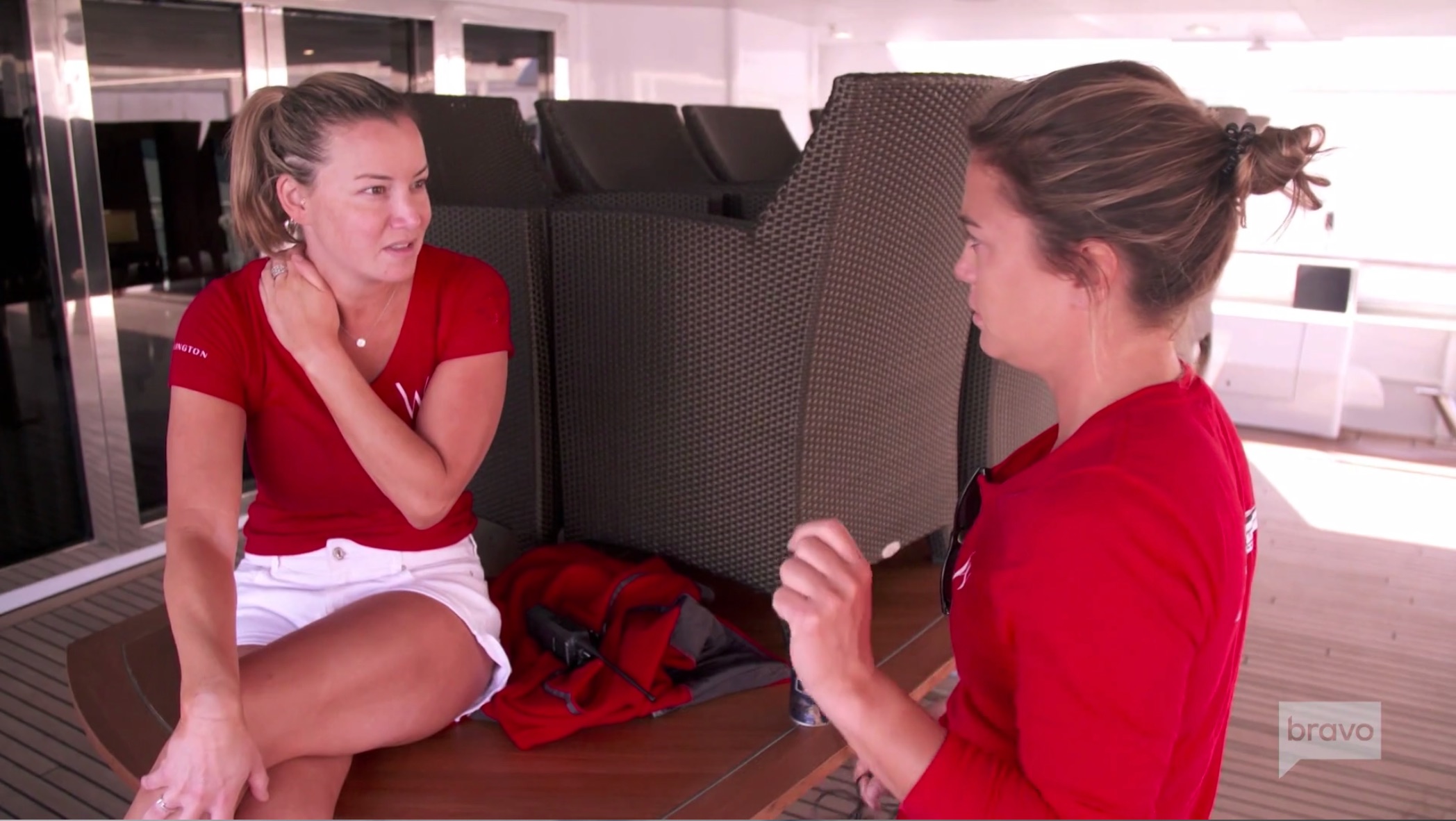 The next day is all charter prep, but Hannah gets a late start, complaining she's still sick-ish. As a result, she leaves the interior without a leader. No to-do list. No delegating. Not even a text about what time they should start. Thank goodness Bugsy can step up to the plate and take charge. In the crew mess, Malia decides to broach the subject of changing cabins with Hannah. Basically, if Malia roomed with Tom, Rob would move into Jessica's room and Hannah would be left with Bugsy for the last two weeks of the season. Hannah hates this idea as much as Bugsy did. But Malia pushes back that it's only fair she should get to sleep with her boyfriend. Hannah vaguely says she'll talk it over with Bugs, though both agree bunking together would put a strain on their already fragile working relationship.
Sandy announces she's taking a walk into Mallorca. And with the captain off the boat, the cabin discussion devolves into a full-blown clash between Hannah and Malia. Hannah isn't budging — she refuses to put with Bugsy just because Tom is a last-minute replacement for Kiko. Plus she doesn't see the need to accommodate Jess and Rob when they've literally known each other for a matter of weeks. (Which, valid point.) However, when Sandy returns, Malia runs right to her, complains and gets her way. Sandy makes an announcement over the radio that Tom and Malia get their own cabin. However, Hannah's off-radio and doesn't find out until later when Bugsy breaks the news.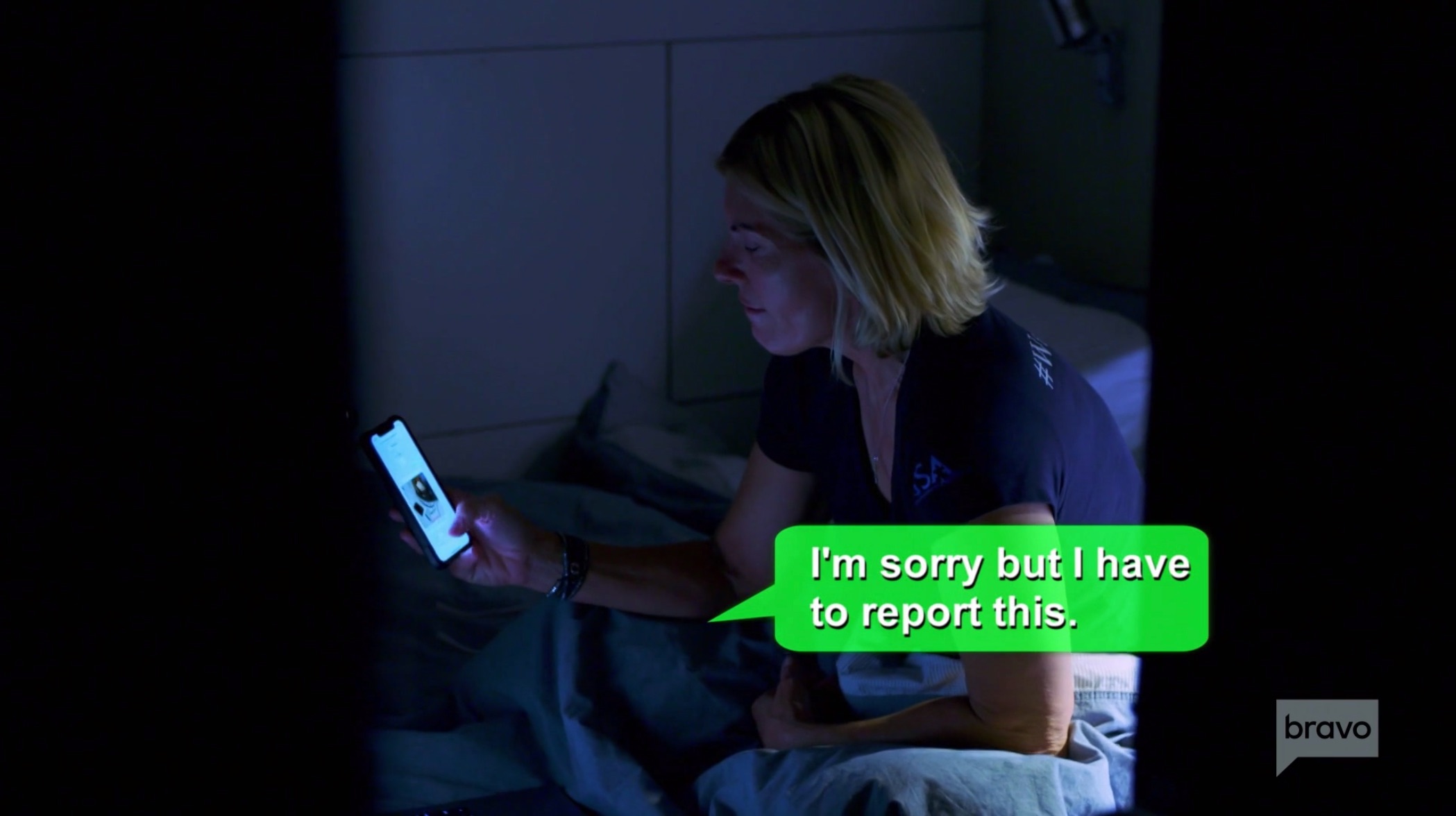 That's not all, folks. The tension between Hannah and Malia is now palpable. And while the bunks are all being rearranged, Malia sneaks into her and Hannah's bathroom. She surreptitiously snaps a photo. Later that night, Sandy gets the text from her bosun: "Sorry but I have to report this." It's a picture of the Valium prescription Hannah mentioned last week in the middle of her panic attack, along with a vape pen, lighter and her passport holder.
The next morning, Sandy sees the picture of concern. She calls Hannah into her office with the first mate present to serve as a witness. "It's come to my attention that you have drugs on board," Sandy says ominously as the screen cuts to black. "To Be Continued" flashes on the screen. And, just like that, we have to wait until next week's Below Deck Mediterranean episode to find out what happens to the chief stew.
Check out the Reality Tea Merchandise Store to buy clothes, accessories, mugs, and more!
TELL US – ARE YOU SURPRISED MALIA TURNED HANNAH INTO SANDY? WHAT DO YOU THINK HER MOTIVATION WAS FOR REPORTING HANNAH? 
[Photo Credit: Bravo]