This season feels like the perfect reset for The Real Housewives of Atlanta. Drew Sidora & LaToya Ali are the new additions this show desperately needed. We haven't even seen them yet, but from the previews, it's probably going to be a fun ride with them. How they fit in with the existing cast remains to be seen, but if they can bring their shade game, they'll do just fine. Real Housewives of Atlanta is home to the shade QUEENS, so it's a tall task.
Hopefully we see more of Porsha Williams fight against police brutality and systemic racism. Porsha's transformation since her first season has been beautiful to watch. She's made some missteps along the way, but this social justice crusader is the perfect iteration of her. This version of Porsha feels like she can accomplish anything. It's so inspiring for her daughter. I do wish though that she was filming more with the other women.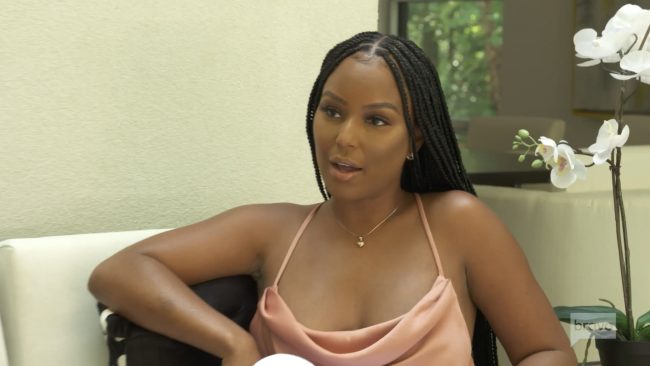 I think I love LaToya already. THANK YOU FOR FRESH FACES. Fresh faces that actually make an impact is more of what I mean by that.
Cynthia Bailey is weird about Kenya Moore and LaToya becoming fast friends. She thinks it's odd that Kenya already has the newbie in her home after JUST meeting. What does it even matter to her? Is that a hint of jealousy I detect? Cynthia might be a little scared that her spot as Kenya's sidekick is being filled by someone else.
Kenya and I are on the same page because she feels like LaToya has a refreshing energy as well. Something they have in common is that LaToya is also on the verge of divorce. Dropping toxic men out of your life has a way of bringing people together. So long!
Marc Daly's possible reaction to the divorce has Kenya a bit worried. We've seen how aggressive he can get with her. It's easy to understand why she'd be nervous to officially pull the plug on the marriage. He has an energy toward her that feels abusive, and that type of behavior can keep someone locked in an unhealthy relationship.
Porsha's mom and sister get in touch with her following the arrest, and she's glad she did it. I'm proud of her as well. She's fighting for justice and change. The way she's using her platform to further the movement is selfless and POWERFUL. Keep it going.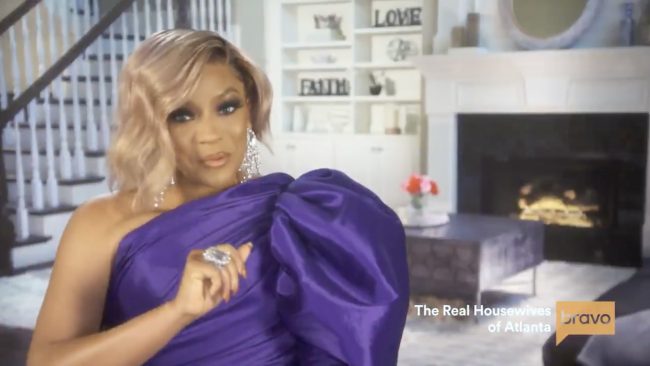 Cynthia meets up with new cast member Drew, and I LOVE HER ENERGY AS WELL. Finally we have the new peaches we deserve. Time will tell if they last long on the show, but so far so good.
Drew shading Kenya's acting credits is everything I needed and more. Drew is a REAL actress. Whatever D list movies Kenya did don't hold a candle to anything Drew did. Being able to throw effortless shade is essential in Atlanta, so props to her.
Drew has an absolutely beautiful family, and I cannot wait to see more of them. Drew's mother is living with them ever since the pandemic, and that has to be so stressful. The way this virus has changed everyone's lives is crazy. There is basically no level of privacy with her mother present in the home. She's front row to everything about her marriage, and that's the type of drama nobody wants to deal with.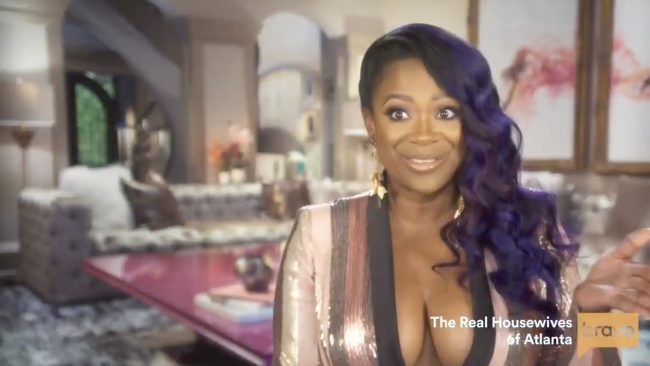 Can you all believe that Riley Burruss is graduating on our screens? Sort of. Only a limited number of people are allowed to be in attendance because of the virus. There is yet another instance of how the pandemic has altered life as we know it.
I'm just glad Kandi Burruss is actually there for the graduation. Over the last few seasons, she's struggled to find a work/family balance. She was always gone and never really around when her family needed her. One positive of the pandemic is how it slowed things down a bit, so people can spend a bit more time together.
Porsha is back in Atlanta, and she wants a full ticker tape parade for her return. I mean, she IS creating change in the world and fighting against the systemic racism in our country. That's powerful. She is out there risking her life in the pandemic to make sure the message is heard. Not everyone is willing to make that type of sacrifice.
Things still are rocky between Porsha and Dennis McKinley, and some important conversations need to be had. The pandemic has heightened small issues between them to create a toxic environment. It's definitely a make or break situation for couples. When you're forced to deal with each other 24/7 like that, it really shows whether or not you're cut out to be together long term.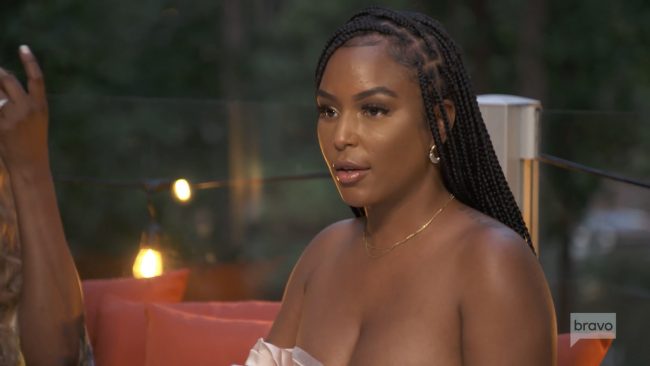 I have to say, it's a bit hilarious to see LaToya at Cynthia's home after her prior comments. Why did you invite her so soon into the friendship? Huh? Why? Answer me. Although, Cynthia does somewhat revert back to that by saying LaToya needs to slow her roll.
Cynthia brings up how Kenya almost ruined Mike Hill's proposal. What a dirty move that was. There really wasn't any reason to do that. It's fine being messy and shady at times, but that wasn't the right place to do it. Just because you're in a miserable marriage doesn't mean you have to ruin Cynthia's before it gets started.
LaToya casually talks about having a sugar daddy, and MARLO HAMPTON DENIES EVER HAVING ONE. What kind of twilight zone are we living in? Those weren't poor old white men that you spent all that time with. Please save the lies for someone else. We see you.
I do like LaToya, but she's A LOT. Very thirsty for the spotlight. She's doing everything she can to create some sort of shock value. That has potential to get old really quickly. Stop doing the most.
Kenya immediately takes a disliking to Drew because she finds her to be underwhelming. I mean, in comparison to LaToya who is twerking all over Lake Bailey, I can see that. It's definitely a night and day type deal. They both have something to offer, but Kenya already has her sights set on Drew as an enemy.
I have to say, I DIED when Marlo told Drew to help Kenya get some jobs. What's the last thing Kenya was even in? One of those god awful SharkNado movies? That sounds like the peak of what she could get in Hollywood.
Marlo pulls LaToya aside to warn her about Kenya and telling her too much of her business. Kenya will absolutely do that. She's one of the shadiest people in all of Housewives. She's an iconic villain, but you have to be cautious around her. Know the devil that you're dealing with.
I love Cynthia's emphasis on including black owned wine labels at her wine cellar. It's great to have inclusion like that. Diversity's needed. Representation matters.
HERE WE GO! LaToya and Drew are getting into it over the idea of sleeping with others during a separation. They have different definitions of what vows mean apparently. I say to each their own. Do whatever makes you happy. There's no reason to judge what someone else does in their relationship. Whatever works for them is what they should do.
Drew tells the ladies that after a fight with her husband Ralph Pittman, he went missing for three days. To this day, she still has no clue where he was. What kind of marriage is that? She shouldn't be judging LaToya for anything when her man is out there acting like that. Worry about your whole ghosting ass husband instead of what LaToya (who is separated) is doing.
Kenya wants to file for custody first and then a postnuptial agreement. She feels as if this is the easiest road to go down with Marc. It's crazy how much she has to tiptoe around his feelings. He wouldn't do the same for her if the roles were reversed.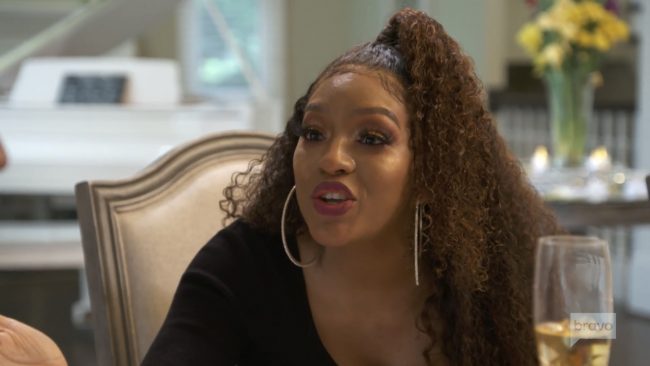 I'm already shocked Drew and her husband have made it six years into their relationship. There are so many issues bubbling beneath the surface for these two. Being on a show like this is not going to do any wonders for their marriage if they have large cracks.
These two will be divorced within the next two years. Drew feels like Ralph isn't transparent in their marriage like he's supposed to be. She cites how he leaves without saying anything as a reason for that feeling. That is really odd. When you're in a marriage, you shouldn't just leave town for DAYS at a time without telling your wife anything.
Ralph claims he leaves because of the pressure on his shoulders to create a legacy. I'm not sure what that has to do with Drew confronting him about where he went for days when he left. He cut off communication for the most part, and that's not even remotely okay with her. She demands to know where he went, but he won't answer.
To make matters worse, her mother was there to see the entire thing go down. How uncomfortable must that have been? After not letting up, Ralph finally admits that he left for Tampa. Why would he go there specifically? Something isn't right with that picture.
Drew further confronts Ralph about having hidden cameras in the home. What kind of creepy NSA type s**t is that? There are certain boundaries you should not cross, and that's one of them. Creepy!!
TELL US – WHAT DO YOU THINK OF DREW AND LATOYA? THOUGHTS ON DREW'S MARRIAGE? WILL PORSHA AND DENNIS LAST?
[Photo Credit: Bravo]