Once a year, something exciting happens in Utah. As January wraps its icy hand around the state, celebrities descend on Park City for the Sundance Film Festival. For two weeks, the state most known for religion becomes the epicenter of the entertainment industry, with A-list stars and indie up-and-comers converging for an endless parade of premieres, parties and Park City moments. And this week, we get to experience it all through the fabulous lens of The Real Housewives of Salt Lake City.
As a native Utahn, Sundance truly was the most fun I had all year. Every year of college, my friends and I would make a staycation out of it, renting a hotel suite in Park City and spending the weekend strolling Main Street and meeting celebs and Bravolebrities alike. In fact, Sundance was the very first time I ever encountered a Housewife in real life. Over the years, my BFFs and I met everyone from Gretchen Rossi and Slade Smiley to the Shahs of Sunset and the Vanderpump Rules gang. In fact, my most epic Sundance stories involve both Harry Styles and one particular A-list actor who shall remain nameless. But those are stories for another day. Let's get into the recap, shall we?
Six weeks in and we finally learn what Jen Shah does for work. Seriously, I had no idea she actually had a job. Apparently, she owns a company called Shah Squad Marketing. Though by the looks of that stark, empty office, the "company" might just be Jen and her assistant Stuart? I mean, I for one didn't see a single employee. Or intern. Not a printer. Or a watercooler. Just Jen holding a meeting with Stuart while wearing a tiara and roller skates. During Sundance, she's throwing a VIP screening for her cousin Tony Vainuku's new documentary. (It's unclear whether the filmmaker is Jen's actual cousin or if it's the amazing part of Polynesian culture where everyone's your "cousin.")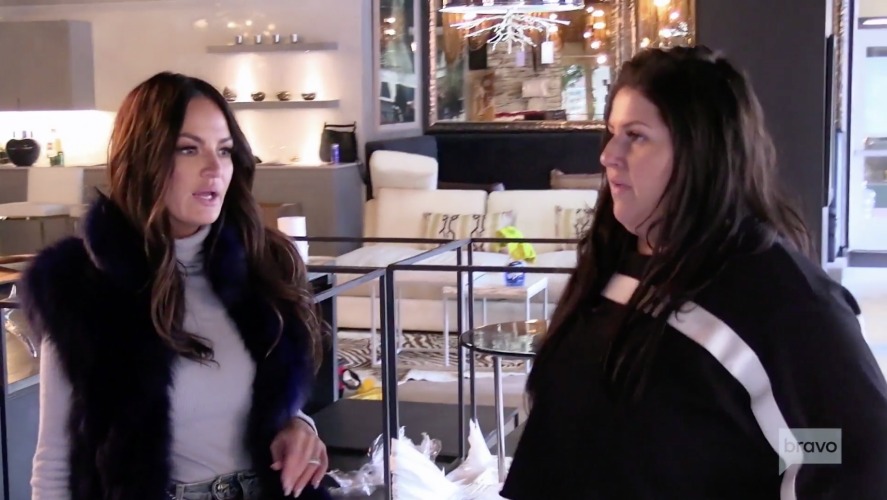 Meanwhile, while Jen's swamped planning a single party at the Shah Chalet, Lisa Barlow is busy running quite literally the rest of the festival. The self-described "queen of Sundance" also has her own marketing company. And she's in charge of planning a multitude of parties, activations and other pop-ups over the two weekends. We're talking major events for WME Talent Agency, NRDC and even the premiere of the HBO documentary McMillions. In fact, Lisa's so busy that Bravo's cameras have a hard time keeping up with her — she barely has five minutes to catch up with her bestie Meredith Marks over the phone, and then we barely see her for the rest of the episode! Either way, I'm obsessed with how much of a boss lady Lisa is and how unapologetic she is about being good at her job.
In the wake of the latest blow-up between Jen and Mary Cosby, Whitney Rose invites the former over to her house for some hot tub girl talk. Whitney just wants everyone to get along for her hubby's upcoming birthday party. But Jen isn't ready to let her vendetta against Mary go. She's quick to sneak jabs at her nemesis into the conversation any chance she gets. And she feels justified in doing so because of how Mary treated her at the Met Gala luncheon. But Whitney makes it clear that she's not about to take sides and expects Jen to be on her best behavior for the party.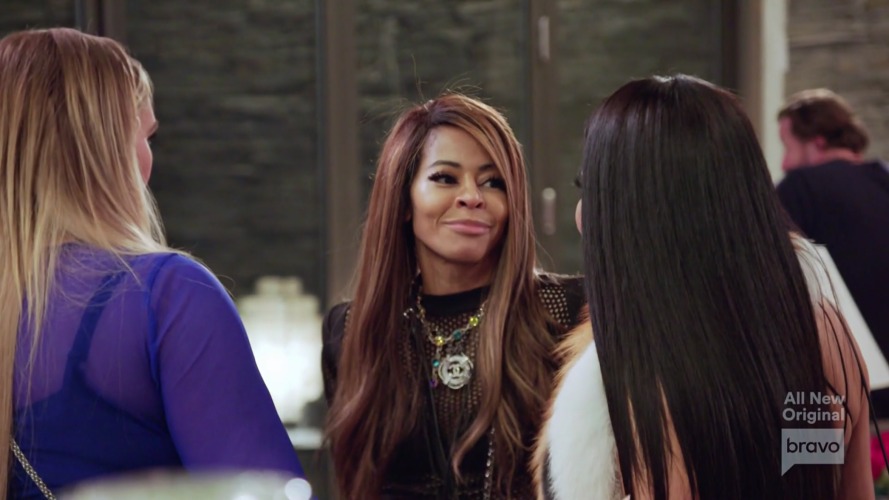 Whitney's celebration for Justin Rose effectively kicks off the ladies' Sundance adventures. But not before Mary films a random scene with her housekeeper, who happens to be her grandmother's brother's daughter. (Which I'm pretty sure would make the woman her first cousin once removed? Correct me if I'm wrong…) Only Mary would claim she doesn't know anything about a woman she's related to…who's worked for her for 20-plus years. But follow that up by insisting that they're still family at the end of the day. Anyway, back to the party bus. Whitney throws a wild bash on the way to Deer Valley, and once they arrive, the party provides the perfect setting for Jen and Mary to once again face off.
The two Housewives rehash every step of their feud, but when Mary brings up Jen's outburst over her grandpa-husband at the 1920s party, the Polynesian 'Wife pulls a Lisa Rinna and claims she never said anything about her nemesis "f–k[ing] her grandfather." Mary insists she was screaming it at the top of her lungs and, like, hello…roll the tape. But Jen defends herself by pointing out that she never even spoke to Mary at the '20s party. Eventually, she blames it on the alcohol like any good Housewife. Mary decides to let it go and the 'Wives call yet another fragile truce. At this point, can we just declare this feud a wash? These two are always going to hate each other and I'm ready for other conflicts to take center stage.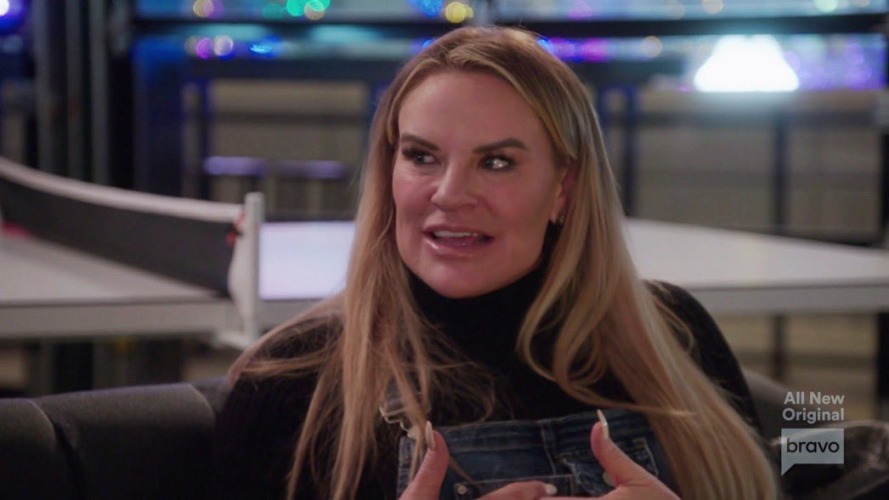 The next day, Whitney meets up with Heather Gay for drinks. After explaining Utah's draconian liquor laws via confessional, conversation turns to Heather's dating life. Or lack thereof. It turns out, as a single, 40-something woman, it can be hard to find a good, available guy in Utah. Particularly when you have a complicated relationship with Mormonism, like Heather does. Looking at her cousin's relationship with Justin, Heather admits she's jealous, no matter how scandalous the Roses' marriage started out. Heather admits she chose faith and religion over love in her former marriage, and now she just wants to be truly happy. It breaks my heart watching the RHOSLC star get emotional about wanting to be seen and still loved for exactly who she is, and saying that "everything about [her] is wrong." Dear universe, give this woman everything she wants! Heather truly deserves the world.
The night of Jen's party arrives and the Shah Chalet is packed. But among the 'Wives, two familiar faces stand out: Vanderpump Rules' Katie Maloney-Schwartz and Lala Kent! Longtime Pump Rules fans know that both SURvers are Utah natives, so the crossover is fitting. And it doesn't hurt that Lala apparently has a mutual friend with Whitney. They immediately connect with Jen and Heather too, and start grilling the latter about her dating life. Heather takes Katie and Lala's advice to go after what she wants. And before you know it, she's getting flirty with a very attractive man named Curtis. Heather's got game, y'all! She ends up leaving the party hand in hand with Curtis and I don't think I've ever been happier for a Housewife in my life. You go, girl!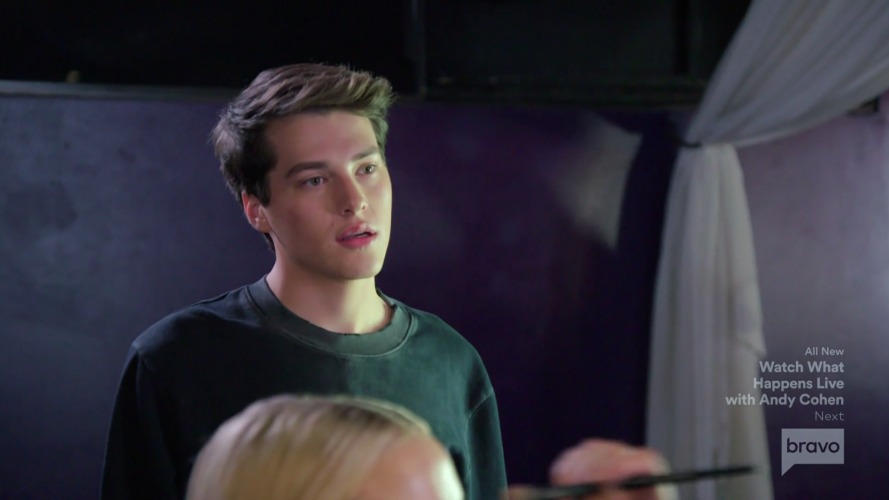 The episode culminates with Meredith and her son Brooks Marks getting ready for his big debut at the first-ever Park City Fashion Week, which coincides with the film festival. Meredith's using the opportunity to promote her eponymous jewelry line, and Brooks is debuting his line of track suits emblazoned with his name. Whitney's walking in the show alongside Meredith, too. One person who won't be there, however, is Seth Marks. Apparently, he couldn't be bothered to come back from Canton, Ohio to support his wife, and especially his son, on their big day.
Following a rather chaotic afternoon involving a blaring smoke alarm and an overflowing toilet, the Markses arrive at the venue for the fashion show 45 minutes late. After hair and makeup, Meredith pulls Brooks aside for a little pre-show pep talk. Seth also sent a video message, but it's not enough for the youngest Marks child. He's not feeling supported by his dad, and it's really sad to watch. In her new all-white confessional look, Meredith breaks down in tears over how her separation could affect her children. And this fashion show is just one clear example of her worst fear coming true. But we'll have to wait until next week's Real Housewives Of Salt Lake City to see how the show, and the rest of Sundance, plays out!
TELL US – IS LISA THE REAL QUEEN OF SUNDANCE? HOW LONG WILL JEN AND MARY'S TRUCE LAST? WHAT KIND OF MAN DO YOU WANT TO SEE HEATHER END UP WITH? SHOULD SETH HAVE COME TO UTAH FOR BROOKS' FASHION SHOW?
[Photo: Bravo]