For the FIRST time this season all of the wives and friends will be together. Full group scenes are coming on this episode of The Real Housewives of Atlanta. It may have taken eight episodes, but the moment's finally here. Kenya Moore set the tone for the trip by arriving on a private jet and bringing her daughter. SHADY!
This will also be the first time Drew Sidora sees LaToya Ali since learning how she shaded her wig. In LaToya's defense, the wig was a whole mess, but why is she spending so much energy shading her? They've met a total of one time, but LaToya couldn't help herself. She's a mini Kenya, and she might be just doing her mentor's bidding by coming for Drew. What's going to happen when Drew's able to confront the insults face to face?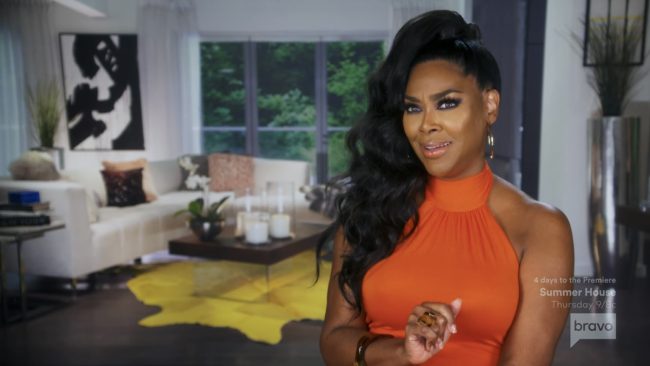 Kandi Burruss tries to defend Kenya bringing her daughter, but none of the women are receiving what she's saying. It's so hard to pick a side in this one because it's easy to see both perspectives. Obviously all of the women would love to have their babies there. However, Kenya isn't doing this because she wants to. She's doing it because she has to.
Ultimately Porsha Williams caves into the idea (albeit a reluctant cave in), and the women move on. We'll see how long this particular grievance stays buried. With these ladies, you never know which bones are going to be resurrected and carried again.
Kenya's planning a murder mystery theme party for the ladies, and I'm stoked. It's a very elaborate setup to get it going, but it should be a lot of fun. If there's going to be so much dissension among the group, this should ease that. Even if it's a temporary ceasefire, that's better than nothing.
Cynthia Bailey is the first of the women to arrive which is odd because I thought she was hours behind everyone. How is she getting there so much faster? That bus is not only hot as hell but slow as molasses.
Cynthia feels that Kenya & LaToya starting off the trip by arriving in a private plane is shady. Even by Kenya standards, Cynthia thinks it's a dirty move. Do you even know who your friend is? This woman has spent countless seasons being the ultimate shady villain of the franchise. She lives and breathes pettiness.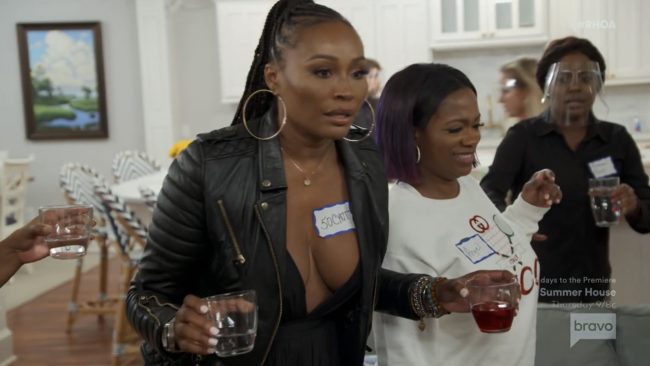 The rest of the group finally arrives FOUR hours after their scheduled time. Did Kenya pay the driver to slow them down? Why are these women forced to ride in these peasant accommodations? Something is just not right with this.
Kenya tells the women are told to make name tags with their alter ego names on them. They don't know yet that these will be instrumental in the upcoming murder mystery party. All of the ladies are picking these names with sexual innuendos, but Kandi of all people is just called "Angel". You have your own line of sex toys, and THAT is the name you chose?
The murder mystery "victim" comes barreling into the living room and collapses to the floor. The ladies look sort of stunned, but they aren't sure what to make of what's happening. There's a part of them that clearly wants to take it seriously, but this victim "died" in such an over the top way.
Before they can process what's happening in front of them, the "detectives" burst in and start waving their guns in the air. PORSHA JUMPS BEHIND THE COUCH. How terrifying must that have been for her? Even though this is a joke, it could be triggering to her specifically.
Kandi's biggest issue with this is that she's petrified these men might be the strippers. They are less than impressive to look at, Not exactly the aesthetically pleasing bachelorette party dancers you'd want to see. I can't say I disagree.
Poor Tanya Sam tries to check on the victim, but the dead comes back to life and comes after her. Is this a murder mystery or a haunted house? What exactly is happening here? Did Kenya order this on WISH or something? Drew says it's the most ghetto murder mystery party ever, and she's not wrong.
Kandi's irritated because it's hard to focus on the game with everyone acting like drunken fools. Her, Kenya, and Tanya are the only ones trying to make the most of the game and play along. Everyone else has devolved into chaos.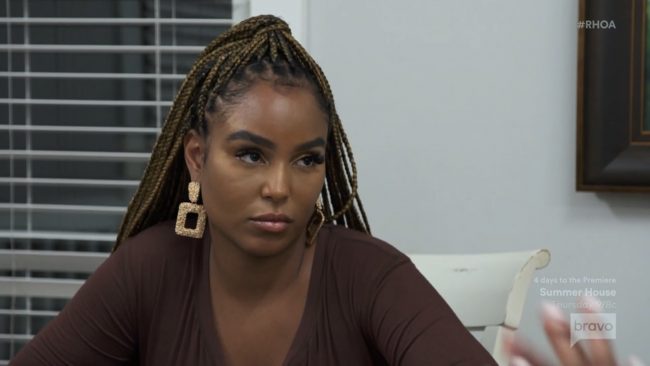 Falynn Guobadia shows up out of nowhere, so now there's another person to not pay attention. Kenya & Tanya are trying so hard to keep the momentum of the game, but it's ruined. Kenya ends up spoiling the game and giving Tanya the better room.
LaToya makes a dig at Falynn for allowing her husband to tag along on the trip. Before Falynn can even have a retort, Drew jumps in and says LaToya doesn't care about husbands. Now we're just trading one shady jab for another.
Drew came to this trip with a bone to pick with LaToya, so she's throwing anything she can at her. Is it projection though? Drew's marriage is hardly happy, so maybe that's why she thinks it's alright to judge someone else's. LaToya grabs Drew's arm which ends up being the worst mistake of her life. Drew says the last bitch that did that found her had rammed in a gate. I guess we aren't f**king with anyone from Chicago on this trip.
Kenya makes LaToya apologize to Drew, but LaToya's so drunk she can't deliver one properly. We're able to move on from that before Drew starts throwing hands, and now it's time for room assignments. The only person with a real issue with her room is Marlo Hampton. She shouldn't be at all surprised to get the worst room in the house. Kenya isn't close with her, and they're always throwing back and forth shade.
I have a feeling this tension between Drew & LaToya is only going to escalate during the trip. For that matter, it's going to be the same with Marlo & Kenya as well. This is night ONE of the vacation, and people are already dishing cutthroat shade. It can only get nastier from here.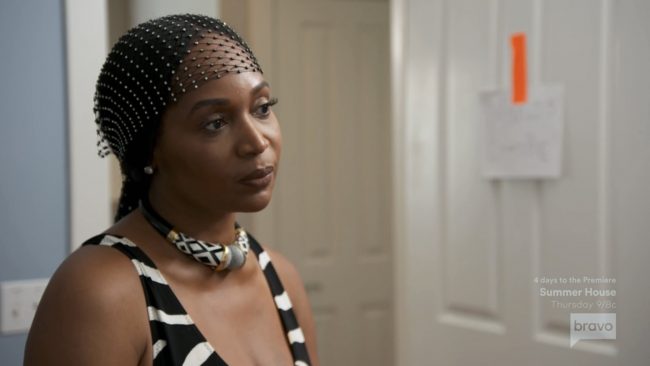 The following day, Marlo opens up to Kandi about how hurt she was by getting the bad room. She doesn't know where the deep rooted dislike by Kenya comes from. Kandi tries to explain that it's years of back and forth spite. She's right. If these two women can have an adult conversation, they may be able to squash this beef.
Dennis McKinley is flooding Porsha's phone with loving texts about wanting to fix things. He's pouring his heart out trying to win her back, but all she texts back is "Thank you". This back and forth between these two is exhausting. On again off again relationships are draining to watch. People grow tired of listening to the same bs every single time something goes on.
Everyone is starving because there's no decent food in the house, and Kenya comes strolling in with lunch for one. Is Kenya actually the worst host of all time? It's like she's going to extraordinary lengths to make it a miserable experience for everyone. Who put her in charge of this?
LaToya embraces her inner shade monster and reveals she packed a wig for Drew. Prior to the trip, this may have been a cute little light shade moment. However, this is a HORRIBLE idea after the night before. Drew's triggered by the sight of LaToya after she put her hands on her. All this wig gifting is going to do is cause a massive altercation.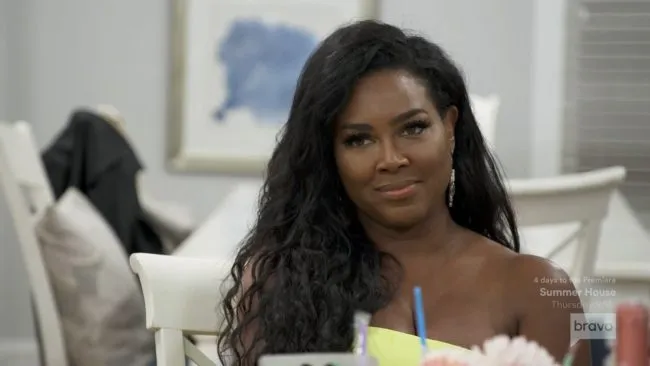 At dinner, LaToya owns up to her comments about Drew's wig and to being fake. That's a step in the right direction. Well, it was a step in the right direction until she tells Drew she got a wig. Drew doesn't want any style assistance from LaToya, and she insists she has a gift of her own for her.
This could be anything. LaToya should brace herself because she could be on the receiving end of a fist to the face. Are there any gates at the dinner table? She's going to find something to ram her head in.
Luckily for LaToya, it's not violence she's getting from Drew. She gives her an autographed photo of herself from her time on The Game. ICONIC. I really didn't think she had it in her to throw that kind of shade back at someone. Honestly these two remind me SOOOO much of Kenya & Porsha in their early days. It's the same type of vibe.
It's one drama to the next because the next course of shade at dinner is served by Marlo. She tells Kenya she doesn't understand why Kenya doesn't like her. HOW CAN SHE NOT UNDERSTAND? There should be no confusion why these two ladies have such disdain for one another. Marlo storms off during the conversation, so we have to wait TWO WEEKS to learn what happens. WHY? Oh, right, the Super Bowl. But, hopefully, the next Real Housewives of Atlanta episode is worth the wait.
TELL US – TEAM MARLO OR TEAM KENYA? IS KENYA A BAD HOST? TEAM DREW OR TEAM LATOYA? ARE YOU ENJOYING THIS SEASON OF THE REAL HOUSEWIVES OF ATLANTA?
[Photo Credit: Bravo]