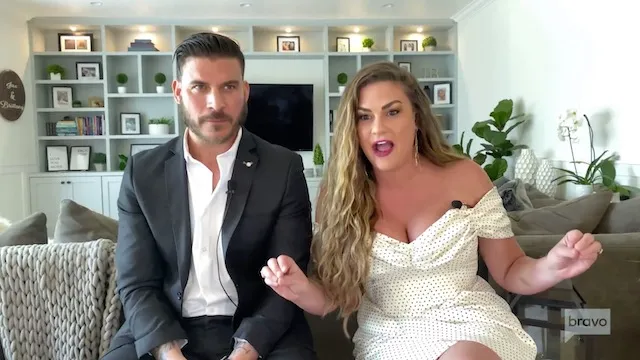 In case you haven't heard, fired former Vanderpump Rules bartender Jax Taylor is a dad now. Brittany Cartwright gave birth to their son, Cruz Cauchi, earlier this week. If you're a bit terrified of the thought of Jason Cauchi being responsible for a human being, you're not alone. Hopefully, he takes more responsibility for his child than he does with his taxes.
And Jax will always be Jax, meaning that he'll continue to make everything about Jax. He's probably grappling with the fact that he's not the Number One Guy in Britt's heart anymore. And refusing to change any diapers.
And despite the baby being less than a week old, he's already getting into issues on social media. According to Us Weekly, Jax and Britt are battling people who are making fake accounts pretending to be Cruz, the baby. I truly wish I was kidding. "This will be our son's only social media page," Jax wrote on his Instagram Story.
Jax shared, "If you follow anything else, it's fake. I am sorry I have to say this, but we have really sad individuals in this world already trying to make 'fake' pages. We love everyone that has supported us, and we thank everyone for such kind words and blessings." To be clear, the baby's page is @littlebabycauchi, in case you haven't followed (or been blocked) by it yet.
Mama Britt also made a statement on her story. "I just want to make it clear that our son/family only has one page and that is @littlebabycauchi shown here! A bunch of people are making fake Cruz accounts after he has only been here a couple days, and it is really weirding me out. Thanks for all the love guys, but let's not act like we are a 2-day-old infant. So strange!"
It also is a little strange to me that Jax and Brittany made an Instagram page for their son before he was even born. And they posted as if they were Cruz even though he was still in the womb. What's the deal with so many Pump Rules parents making Instagram accounts for their babies? Apparently, they have a lot of time on their hands now that they "left" the show. 
I need to know what Charli Burnett and Billie Lee have to say about Jax declaring the authenticity of his child's Instagram account. It's too bad we won't get to see Jax attempt to be a parent on Season 9, even though he's pleading for a new show with all the VPR alums. But many of them don't have the best track record. And like Andy Cohen said, maybe it's better that they're gone.
TELL US – WHAT DO YOU THINK OF JAX AND BRITTANY FIGHTING "FAKE" INSTAGRAM PAGES OF THEIR BABY? DO YOU HOPE THEY GO ON ANOTHER SHOW WITH VPR ALUMS? 
[Photo Credit: Bravo]