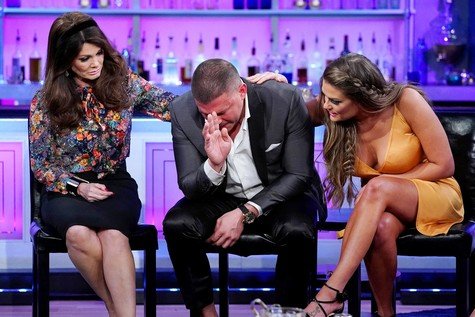 Lisa Vanderpump of the Dahling That's Just My British Humor Vanderpumps, has been doing media for her new show over on the E! channel. While she "overserves" d-list celebrities at her home, people continue to wonder about the fate of Vanderpump Rules, which continues to hang on a very thin thread. The show has struggled to make a return since half the cast was fired for past racial indiscretions. It might be time to give this horse a nice ceremony and let it die in peace.
Along with Stassi Schroeder, Kristen Doute, and two rando guys no one remembers, Jax Taylor and Brittany Cartwright also departed the program. But how they left is up for debate. If you ask Jax and Brittany, they voluntarily left to "work on their growing family". Recently Lisa gave an interview on the possible future of VPR, and ended any speculation of how Jax and Brittany went out. Now it seems Lisa could very well become a member of the #blockedbyjax club.
Bravo cut ties on Stassi and Kristen, along with newcomers Max Boyens and Brett Caprioni. After their surprise demise, fans and other cast members began wondering aloud if Jax and Brittany would be the next to go. Because let's face it, Jax is more of a TLC channel kind of guy. The network ultimately decided to give the viewers what they wanted, but allowed Jax and Brit to control the narrative of their exit. Apparently none of the fired cast are speaking to Lisa as a result of their income drop. And, now, Lisa is taking control of that narrative herself.
According to Us Weekly, Lisa turned the ignition key to the bus and decided to throw some folks under it. Lisa was asked if she was "surprised" by Jax and Brit's "decision to step back" from the show. You can take off your sunglasses, because the shade is real. "Was I surprised what they decided? Well, if you put it like that, yeah. I would have been really surprised." Then she was pretty quick to interject it wasn't her decision… it was Bravo's.
"Who makes the rules? It's not me. Bravo, they produce the show. Even though I'm an executive producer on it, you know, they make most of the decisions," Lisa said. When asked if she had spoken to other cast members who were given the boot, Lisa shared she had reached out to Stassi a couple of times. Despite Lisa giving her a job, making her somewhat wealthy, and giving her the fame that she clearly always wanted, Stassi has not responded to Lisa's communication attempts. "I haven't spoken to her. I did reach out to her a couple of times, but she never responded after she was let go. And that's her choice, you know. That's OK," Lisa included.
In Stassi's defense, she has been busy trying to monetize the birth of her child. For $9 a listen, you can catch up on Stassi's podcast detailing her motherhood journey. $9 will also buy you a nifty meal at McDonald's, so choose wisely. Lisa also mentioned Pump Rules "hasn't been picked up", so depending on who you ask, we STILL have no confirmation the show will be back. At least now we know Jax and Brittany were definitely #firedbybravo. But, it remains to be seen if Lisa will be #blockedbyjax.
TELL US- ARE YOU SURPRISED JAX AND BRITTANY WERE FIRED? DO YOU THINK THE FIRED CAST BLAMES LISA? WILL STASSI AND LISA RECONCILE?
[Photo Credit: Nicole Weingart/Bravo]