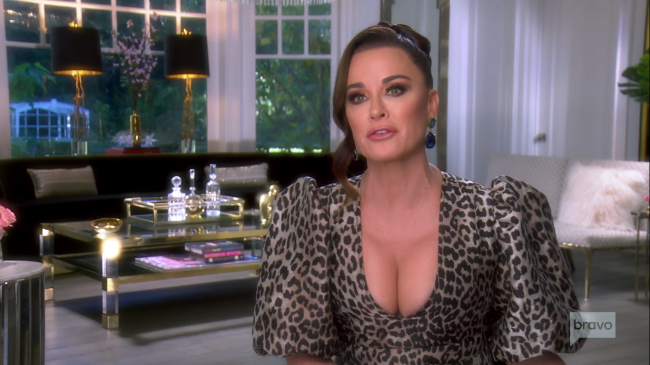 Alright, so we know by now that Bravo is really trying to make spinoffs on Peacock happen and doing anything in their power to get their viewers to subscribe to the streaming service. Summer House Winter Charm, for example. And the Real Housewives All-Stars vacation series mashup, something fans have begged the network for for years, will be behind the NBCUniversal paywall. And in a newly announced project, Real Housewives of Beverly Hills OG Kyle Richards will be showing her acting chops in a surprising new film.
Kyle's been vocal about her acting career, most of it when she was a child, since day one on RHOBH. She and her sister Kim Richards appeared in several blockbusters back in the day. Even RHOBH editors dug up an old scene from the Little House on the Prairie to include in this week's episode. And some of Kyle's solo Hollywood projects, AKA the short-lived sitcom based on her life, have caused plenty of familial problems in the background. But an upcoming new holiday film will likely not piss anyone off with its, let's say, unique plot.
Deadline reports that Kyle is set to star in the first Real Housewives holiday movie, The Real Housewives of the North Pole. Nope, you're not seeing things — this is actually happening. Kyle will star alongside Breaking Bad actress Betsy Brant as Christmas Queens of the North Pole. I literally cannot control my laughter.
The film will be set in North Pole, Vermont. Kyle will play Trish while Betsy's character is named Diana. The pair are apparently known in their little town for winning the Best Holiday House decorating competition every year. But right before Christmas, they get into a Real Housewives-level argument that sparks a townwide feud. Oh look, Kyle getting into another battle over someone's goddamn house. Did Andy Cohen write this plot after indulging in a little wacky grass? Like how did this even come about?
And even the infamous blogs that the Real Housewives love to talk about so much (*Jill Zarin voice* Hiiiiii) will be a part of the story. The major feud between the two main characters leads to a national magazine writer publishing an expose about the situation titled, Real Housewives of the North Pole. Scandalous. I wonder if Kyle will lead any gang-ups in this fictional story. What's the old saying, life imitates art?
Production will begin for the film in Utah this month and the film is set to release this year, presumably around the holiday season. Hey, maybe some Real Housewives of Salt Lake City ladies can make a quick cameo. However, we know the rented Shah Chalet probably won't be the set of the holiday house decorating contest, considering Jen Shah's current legal mess.
Of course, I'm going to tune in, but I didn't expect Kyle to pivot from reprising her role in the Halloween films to a project that's frankly soooo goofy. But I'm kind of living for it. Bring on the holidays. And pour something strong in my eggnog before I press play.
TELL US – WHAT DO YOU THINK ABOUT THE REAL HOUSEWIVES OF THE NORTH POLE? WILL YOU ACTUALLY WATCH THIS FILM ON PEACOCK LATER THIS YEAR? 
[Photo Credit: Bravo]