Before Eva Marcille graced our televisions on Real Housewives of Atlanta, she won America's Next Top Model. Being in the fashion industry requires, above all else, a sense of fashion. No one has it better than Eva! Let's take a look at some of Eva's more stunning moments over the years.
We Have A Winner!
Here she comes… America's Next Top Model has arrived and she is stunning, baby. In 2004, Eva arrived for the finale party of Top Model dressed to kill. Eva is a fashion chameleon; pretty much anything suits her fabulous frame. Here Eva wore a gorgeous sleeveless dress with a long, carwash skirt. The dress skimmed the floor and she chose some beautiful gold stilettos with a wraparound ankle strap. Eva's ethereal beauty in this ensemble is breathtaking. 10/10 no notes.
RIP This Carpet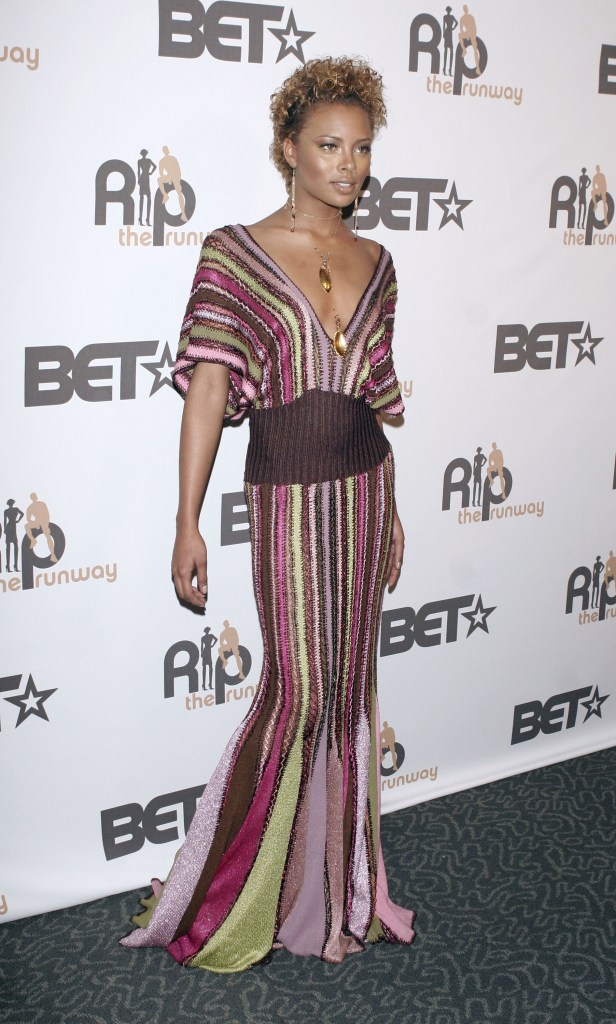 In 2005 Eva naturally took part in the BET RIP the Runway and it was the network's first fashion special event. Thoughts and prayers to the carpet Eva was standing on because she killed it. Her short-sleeved dress offered a plunging neckline and the back of the gown was just as bare! The dress was figure-hugging and colorful, fanning out just below her knees as the fabric reached the floor. The muted tones were earthy and brought out Eva's glorious skin tone. She added some long necklaces with pendants in gold and chose a thin, dangling earring to accessorize this major fashion win.
Pretty In Peach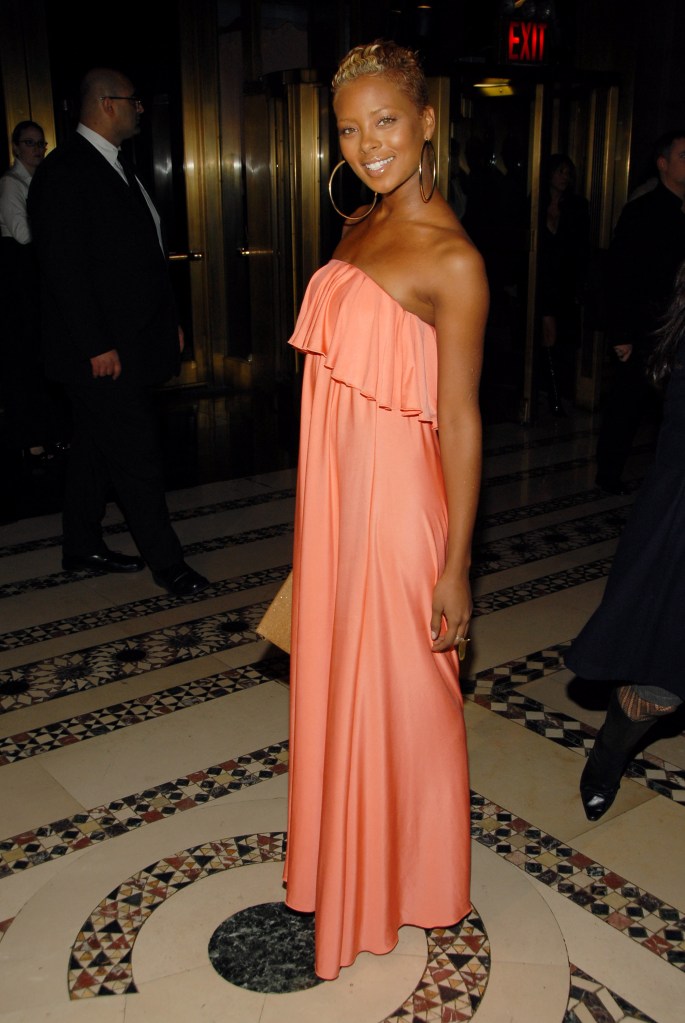 In 2006, we wore hoops! And big ones at that. Giant hoops were all the rage in the early 2000s and Eva hopped on the trend with everyone else! At this point, Eva was getting used to hearing her name shouted as she turned up at big events. When visiting the 10th Annual ACE Awards, Eva opted for a loose-fitting, long gown. Her strapless peach dress looked amazing as Eva allowed the large gold hoops to be the main jewelry event. The flowy nature of the outfit was an elegant touch and Eva was clearly confident and comfortable in this fashion choice.
Blue Funday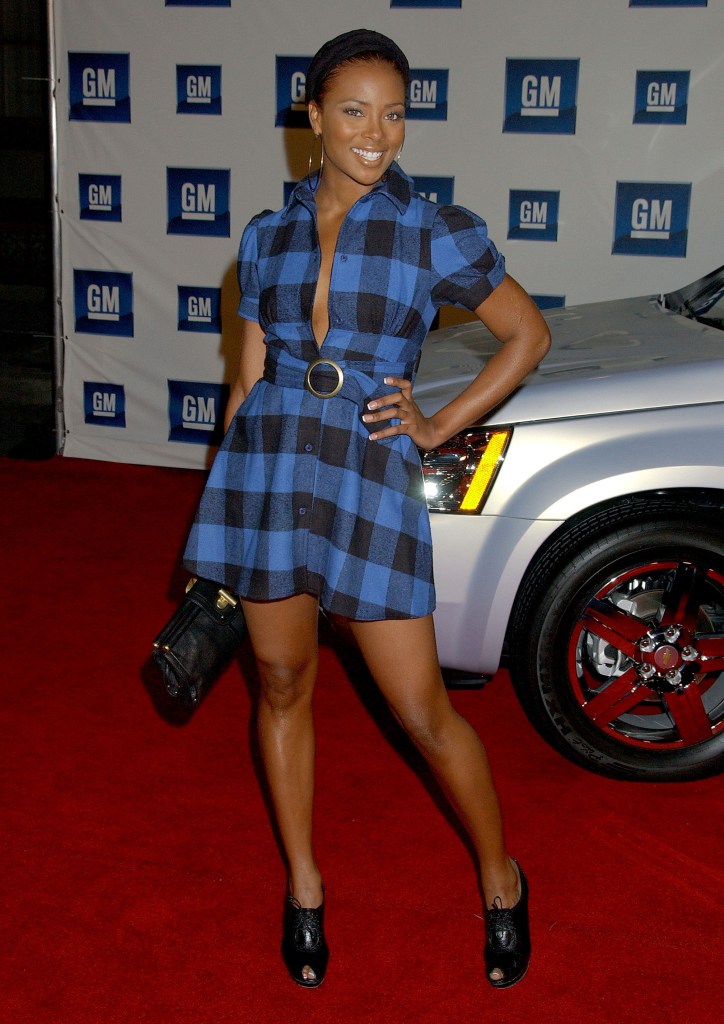 2007 saw Eva still clinging to those hoop earrings because hoops will never go out of style. She popped up at an event looking fresh and flirty in a skater-type dress with a blue and black buffalo plaid pattern. Eva kept things sexy by leaving the top part of her adorable outfit unbuttoned and cinching that waist with the dress' attached belt. The gold buckle matched her favorite gold earrings and Eva wore some flattering booties that were laced up and included a fetching peep-toe.
The Golden Goddess
There was life before RHOA and Eva was definitely living it. In 2010, she was photographed on the red carpet at the 41st NAACP Image Awards in Los Angeles, California. Eva left jaws on the floor in a beautiful, floor-length dress featuring metallic features throughout. A beautiful, silky bow accentuated her slim waistline and Eva carried an adorable gold clutch purse to hold those tiny essential items. This gown was the perfect choice as it shimmered in the lights of the photographers vying for her attention.
Set Your Phasers To Stunning
Good grief, is there anything Eva can't pull off? Is being one of the most beautiful women in the world not enough for her?? In 2014, Eva was back at it at the BET Awards. She took summer white to an entirely new level in this gorgeous column dress. The on-trend cutouts showed just enough skin to keep things interesting while covering all of the necessary parts and pieces. Eva was glowing in this magnificently modern frock. She was definitely standing out in the crowd and turning heads.
It's Full Of Stars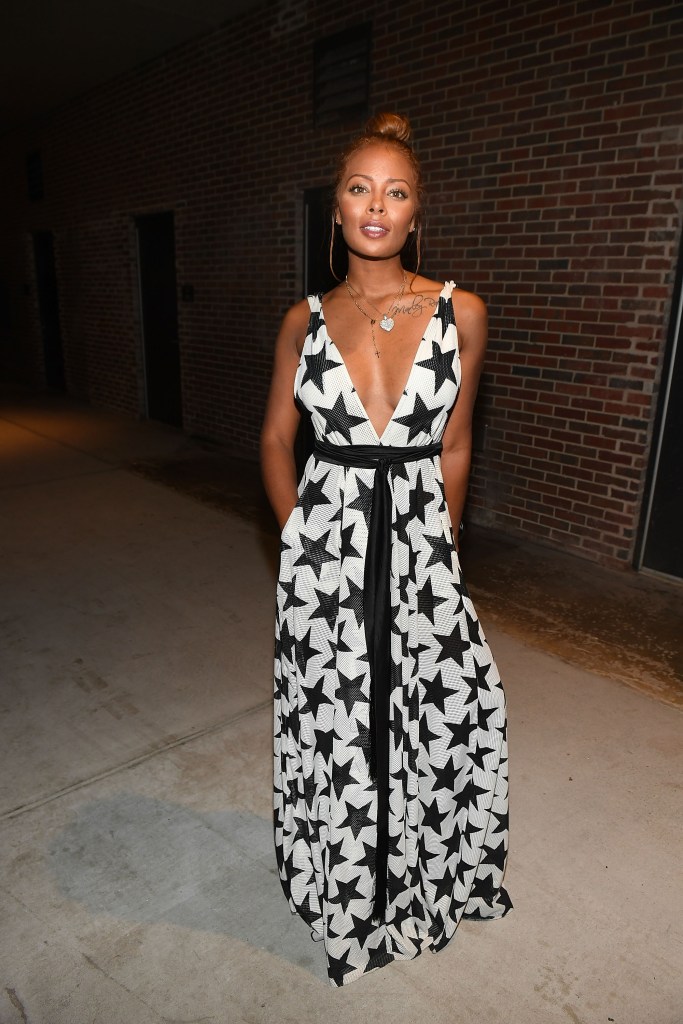 In 2017, Eva took it to another level – you might say, all the way to the stars! Eva attended the Hurricane Harvey Benefit Relief Concert at City Winery, along with other celebrities. Her black and white maxi dress with a repeated star pattern perfectly fit this hot September evening. Eva allowed her natural beauty to be her main accessory and kept the jewelry at a minimum for this number. Whether dressed up or keeping it casual, Eva can rock anything that strikes her fancy.
Pink, Pregnant, And Perfect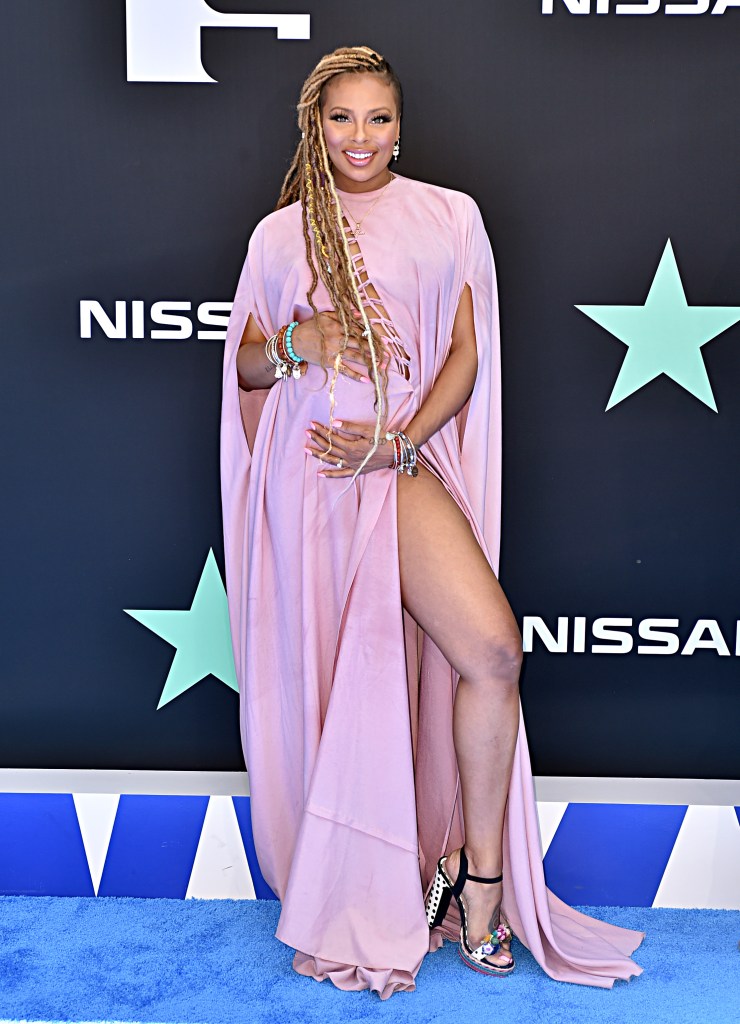 Eva the Diva hit the blue carpet for the 2019 BET Awards this time. With long, gorgeous locs and showing off her future son, this was a fashion occasion to remember. Eva's outstanding maternity look is GOALS. She opted for a dress that wouldn't constrict her growing belly and draped over her tiny build. The pale blush color was phenomenal and she wore the cutest pair of high-heeled, strappy sandals you've ever seen. Whimsical like the wearer, the shoes had a polka dot and floral design that perfectly ended this fairy tale number.
The Feathers Of It All…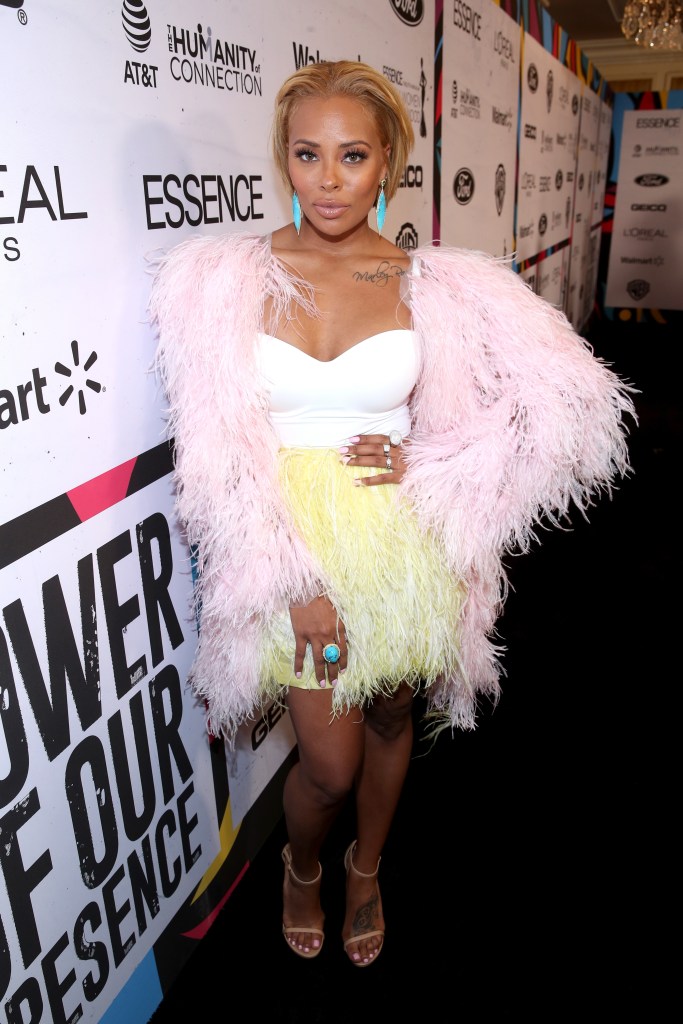 2019 was a busy year for Eva; this time, we're seeing her at the Essence Black Women in Hollywood Awards Luncheon. Okay, feathers! We've seen feathers pop up all over the Real Housewives franchise, and they definitely leave a lasting impression. Eva showed off her fantastic legs with a yellow mini-skirt with white detail. Her top was simple, white, and hugged that enviable figure. The pink-feathered top layer brought all of the pieces together. Eva wore some fabulous turquoise earrings for another fun pop of color.
Fashion Is Fun!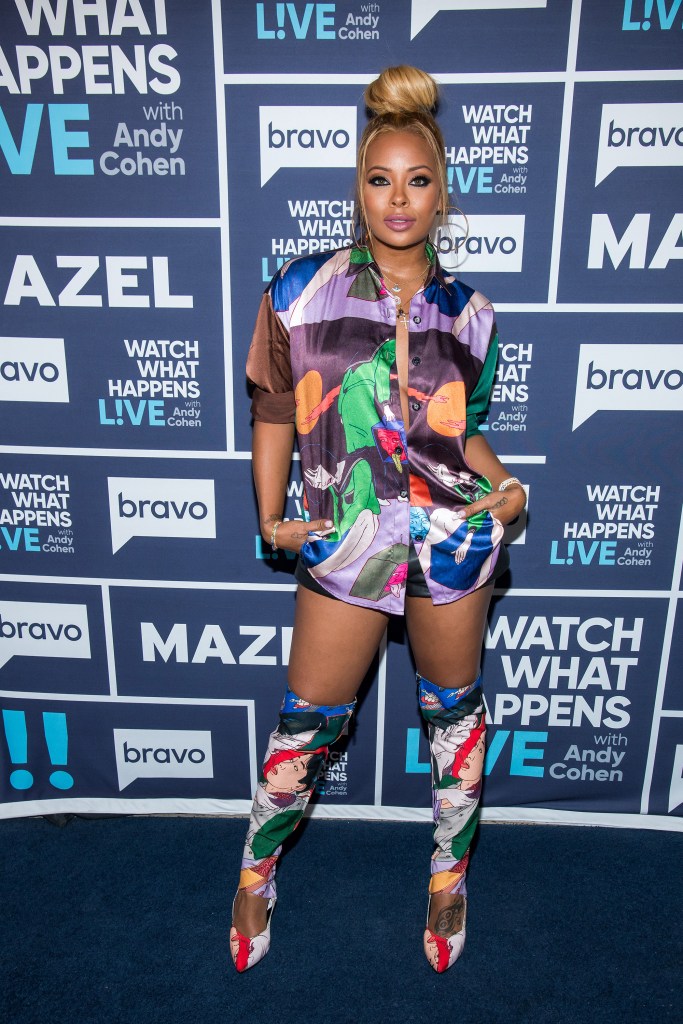 In 2018, Eva joined Real Housewives of Atlanta and was a guest on Watch What Happens Live with Andy Cohen. She wowed the host with her creative ensemble which was an anime dream come true. Nothing says "Look over here!" like a silky shirt coordinated with matching footwear and some sassy short shorts. This was a bold and eye-catching ensemble and Eva isn't settling for a traditional print. It truly is the perfect combination of style and fun that brought out her spirited and unique personality.
While Eva left RHOA in June 2020, she remains an iconic member of the show. She is setting her sites on a new journey these days as a single mom, and we know she will handle it with effortless grace and style. Can't wait to see what Eva shows us in the future!
TELL US- WHAT IS YOUR FAVORITE FASHION MOMENT FROM EVA? DO YOU THINK THE REAL HOUSEWIVES OF ATLANTA LADIES WERE JEALOUS OF HER STYLE?
[Photo Credit: Alex Martinez/Bravo]