Real Housewives of Orange County is back! Last season was a distant memory that was left behind in the dust of Tamra Judge's motorcycle. The main highlights were a nonstop fight between Shannon Beador and Gina Kirschenheiter about whether or not Gina was arrogant, and how many friends Shannon had in her core group. There was also an alleged incident regarding Heather Dubrow pushing someone at her Nobu sushi dinner that was tossed when she sent everyone home. Not the sushi!
However, this newest season looks set to deliver. What's old is new again with the return of Tamra and former Real Housewives of Beverly Hills housewife, Taylor Armstrong. Two very different personalities will shake up the cast dynamic. There's also a newbie, Jennifer Pedranti. Will all three be welcomed into Shannon's core friend group? Let's find out!
On the highway to hell
Did anyone else hear AC/DC as Tamra sped down the highway on her motorcycle? Tamra zoomed into her newly remodeled Ladera home and reminisced that she didn't want her last days on RHOC to be known for falling into bushes or telling others off. This was a new and improved Tamra that will hold her tongue. Let's hope not. Tamra was greeted by her husband Eddie Judge and her mother Sandy, who now lives with them. They then proceeded to talk about who hooks up the loudest in the house over Costco pizzas. A woman of the people.
Emily Simpson met up with Shannon at the dog park to share water bowls and commiserate about Tamra. Who would have ever seen it coming that Emily and Shannon were on the same team and against Tamra? Emily and Shannon were both upset about Tamra's comments about them. Shannon explained they had a falling out after Tamra was let go from the show because they couldn't keep in touch. Cut to Tamra explaining they aren't friends anymore because Shannon cut her off. Ever the negotiator, Emily hopes for peace between the two.
Why can't we be friends?
All seemed well with Emily and Gina as they chatted over the phone while carting their kids around to do errands. Gina's happy in her current family dynamic and celebrated her daughter removing her braces. Even though the kids were driving her crazy, Emily was happy she is now a stay-at-home mom. Her husband, Shane Simpson, finally passed the bar exam and is now a working lawyer. Loved the tidbit about Emily assigning Shane a Darth Vader ringtone. Very on brand. 
However, all did not seem well between Heather and Gina. Heather lamented to her husband Terry Dubrow that Gina had been MIA. She thought they had a real friendship, but Gina had not been reaching out to her. Terry wondered if Gina thought Heather would only hang out if there was a fancy event because that is not the case. They are down-to-earth, people! Doesn't everyone have a champaign button in their closet? Heather also shared her feelings with Emily, who gave her the been there done that speech. 
Bowling and Bed, Bath & Beyond
Tamra and Eddie met newbie housewife Jenn and her boyfriend Ryan for a round of bowling. Jenn became friends with Tamra several years prior when she started going to their gym CUT Fitness. Coincidentally, that is also where Jenn met her boyfriend. According to Tamra, Ryan was the guy at the gym making the rounds with all the ladies. Sounds like a keeper. Jenn admitted she thought Ryan was a "gym douche," but he won over her heart. Both Jenn and Eddie shared the troubles covid had on their businesses. Eddie had to close CUT Fitness, and Jenn's yoga studio slowed down. However, the yoga classes are back in action and Jenn asked Tamra to invite whoever she wanted to her upcoming retreat. 
Gina did a random drop by Heather's house with gifts for the twins who are going off to college. Heather was not a fan of the impromptu invite, so she has three gates after all. As Heather showed the college dorm design plans she had in mind, Gina gifted her with fifteen-year-old Bed, Bath, & Beyond 20 percent off coupons from her time in college. We all know those coupons never really expire, and maybe Heather's staff can find the last remaining store standing.
Heather got to it and asked Gina why they haven't seen much of each other. Gina said she was busy with family, getting a real estate license, having events, and not inviting Heather, etc. It was a list of excuses and Heather knew it. She asked Gina why she wasn't invited to her charity event and Gina said it wasn't fabulous so she figured she wouldn't want to be there. Gina would be sure to invite her next time. Heather seemed satisfied with that answer and the friendship was back on, for now. 
The ghost and Ms. Beador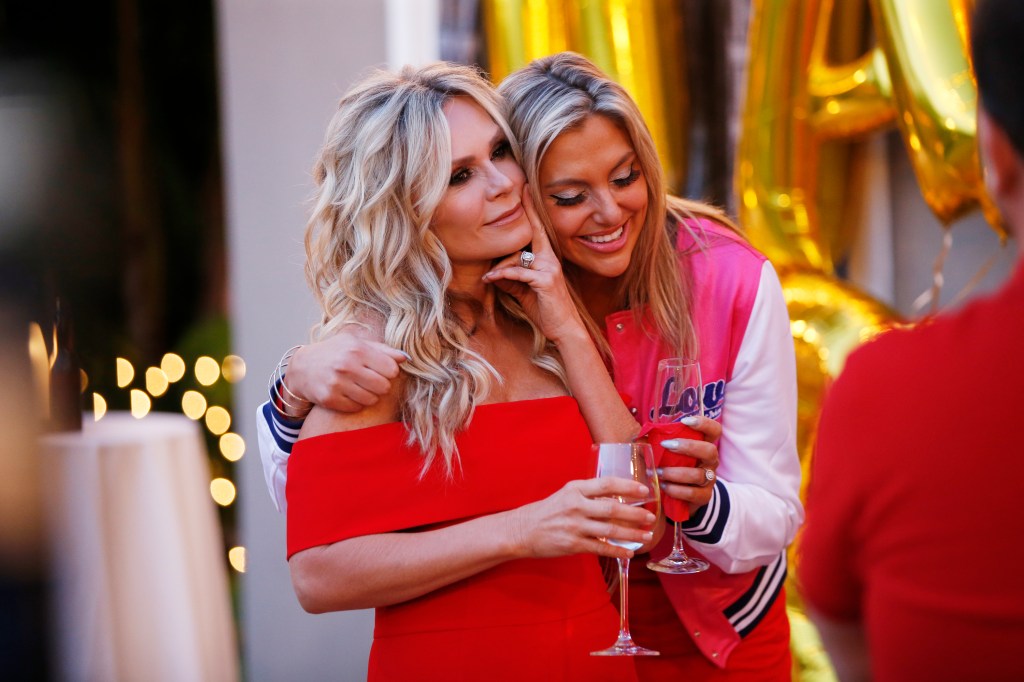 Jenn has an unconventional family life but it works for her. She has four teenage kids and has adopted a fourth child. She also has all the animals from Noah's Arc living at her home. Two dogs, two guinea pigs, two fish, and ten cats to name a few. Her ex-husband William Pedranti also lives in the home, however, Jenn bounces out and stays with Ryan when William comes back from out of town. To complicate things further, William works for her family's business. Ryan is pushing for Jenn to move in with him, but Jenn is not quite ready to make that commitment yet. 
And because we don't see it enough on Bravo, it was time for pickleball. Heather met Gina and Tamra at a pickleball court where they half-heartedly played against each other when all they really wanted to do was sit down and spill the tea. Gina gave a little dig at Heather in her confessional and said Tamra doesn't get mad if Gina doesn't text her back. Unless you are Shannon, that is. 
The ladies all sat down and shared treats from Heather's four-hundred-dollar picnic basket. Gina brought up Jenn's upcoming yoga retreat, and Heather shared she wanted to bring Shannon. Tamra was immediately rattled and went on about how Shannon ghosted her and wasn't there for her when she needed her most. Heather said she and Shannon are in a good place now and Tamra should give her a chance. Tamra noted she doesn't want to fight with Shannon but she does want to say her piece. For some reason, everyone concurs it will be a friendly chat between the two of them.
Never talk crap about someone by the food
All the ladies showed up at Jenn's yoga retreat, which really ended up being a meet-up at the park. Everyone gave a friendly hug to each other, even Shannon and Tamra. Shannon stumbled through the stretches but made it out alive. The ladies were then paired up to share what was on their minds. Emily offered an olive branch to Tamra and they made amends. She noted they both had similar backgrounds and could probably be good friends if they pushed the BS aside. 
Emily also connected with Jenn and liked her personality. Jenn gave a bit more background on her family and how her father got in her face demanding she not leave the relationship with William. Emily was unclear about what happened between Jenn and William, but she heard a bit of gossip from Gina that Jenn had cheated on William. Is Jenn a gym douche too?
Gina and Emily stirred the pot and tag-teamed talking with Shannon and Tamra trying to convince them to talk to one another. At one point Shannon was actually behind them and asked if they were talking about her. Gina aptly said you should never talk crap about someone by the food. Emily and Gina scampered off, and Tamra and Shannon were left alone to awkwardly talk with one another. Tamra did not confront her about ghosting, but instead teared up and shared she missed her. Shannon agreed and said they should get together and talk about it. We then got a preview for next week where their conversation goes off the rails. Let's just enjoy the peace for now.
Real Housewives of Orange County continues Wednesdays at 8/7c on Bravo.
TELL US – ARE YOU HAPPY TAMRA IS BACK ON THE SHOW? DO YOU AGREE THAT SHANNON GHOSTED TAMRA? WHY DO YOU THINK GINA AVOIDED HANGING OUT WITH HEATHER? WHAT DO YOU THINK OF THE NEW HOUSEWIFE JENN?