This one's for you tonight. We've been through a lot together during this season of Vanderpump Rules. Thanks for staying with me while I tried to make sense of it all. 
When we started Season 10, Raquel Leviss was carrying the show and I will die on that hill. I think we can all agree that watching stale relationship dynamics move into the middle phase of life just isn't that gripping. Really, all she had to do was bring a galaxy light and things were tolerable. But why stop there? 
Season 10 became absolutely unhinged once news broke of #Scandoval. No doubt this will send ripples throughout Bravo for years to come. Viewers and their unsuspecting partners have been overrun with breaking story after breaking story regarding anything Tom Sandoval or Ariana Madix related for the last several months. We've become reality television scholars. I'm even researching nail art for my degree in Manicure Criminology. 
So let's get on with it. The show started with Raquel walking to her seat on stage. 
Raquel's reckoning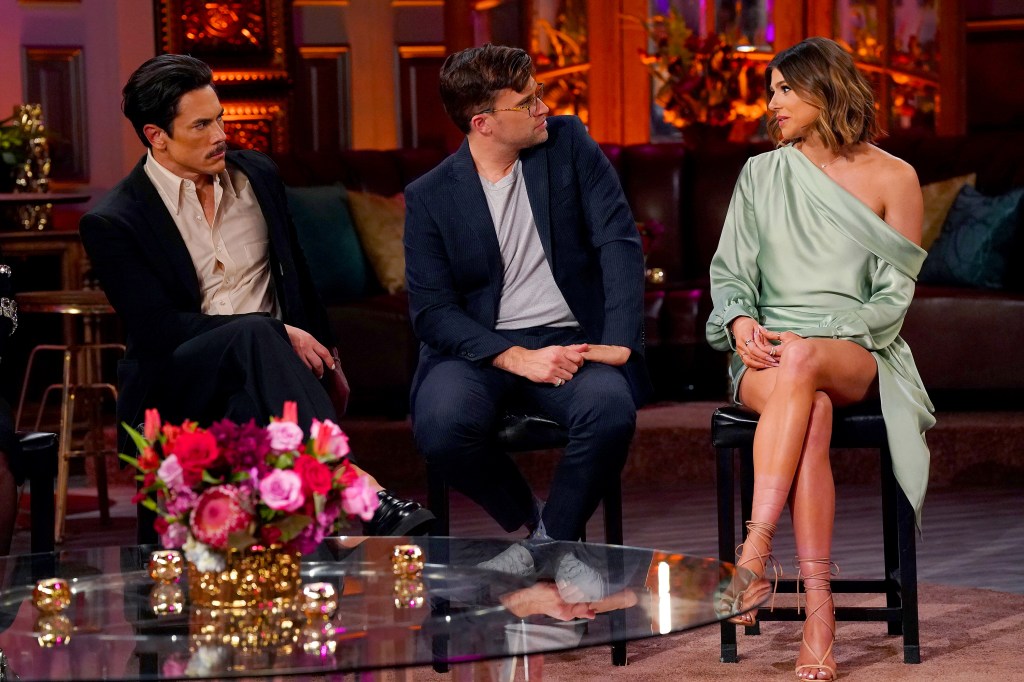 Raquel starts out at the reunion saying she's embarrassed, she's not proud of herself, and she owes people an apology. She claimed that her personality shifted over the summer, and Ariana recites her already iconic line, calling Raquel "sub-human." Raquel argues that her sins, in fact, make her human. 
In her 1:1 interview with Andy Cohen, Raquel maintained that she and Tom had only hooked up … um … once … before her end-of-season sex talk with Ari. When asked if she encouraged Tom to break up with Ariana, she says no. Raquel insists she only asked Tom to evaluate whether he was happy in his relationship. 
Things devolve from there. Ariana tells Raquel to fornicate with a cheese grater, Tom begins mocking James Kennedy's accent for lack of anything to say, and Lala Kent reminds everyone she can spot a cheater. She has her Masters in the Mistressing Arts, after all. 
Tom #2
Tom Schwartz learned he was an ugly kisser this season. Still, Raquel insists she was exploring real feelings for Schwartz while they were in Mexico (and she was hooking up with his bestie). She said she was "curious" about making out with Schwartz "since the beginning." Whenever that was. 
The gang also recaps the argument about Rachella. Schwartz, who has his own history of dumping drinks, didn't seem to mind the drink James threw on him earlier this season. His beef had more to do with James insulting his old nerdy loser lifestyle. James apologizes, and that's that. 
WE INTERRUPT THIS RECAP FOR AN ARIANA ANTI-CLOGGING RAZOR BLADE COMMERCIAL. Why was this so funny? 
Give them Rachel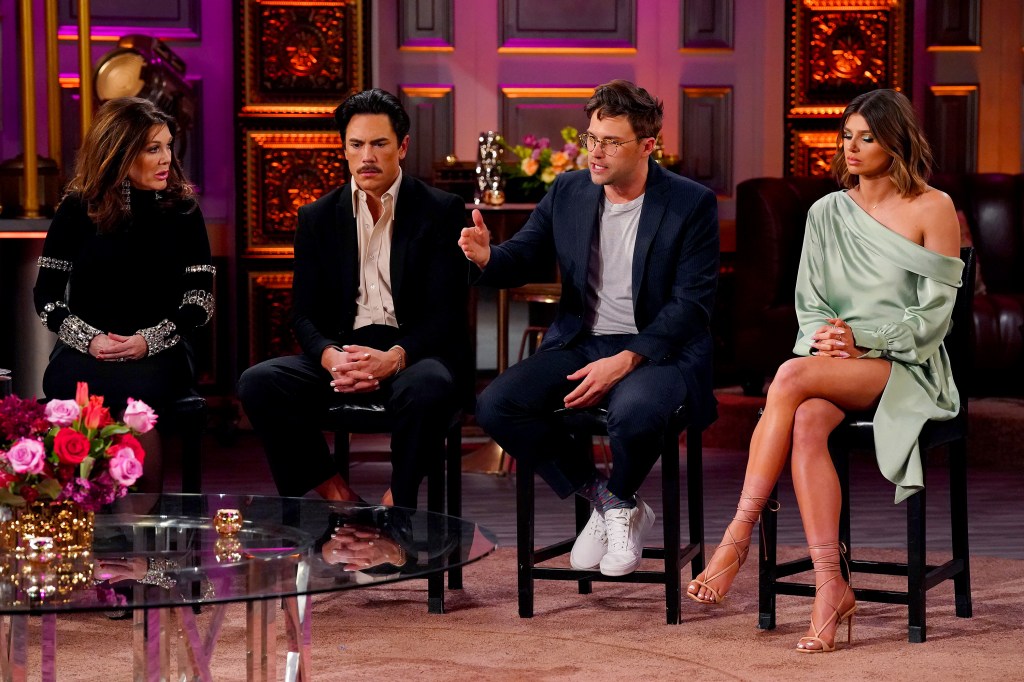 Time for more Raquel v Everyone. Raquel accuses Lala of being desperate for James' attention during their relationship. Raquel calls her out for wanting him back in her bed as soon as he was happily dating her. No lies detected. Lala shoots back that Raquel needs a mental evaluation. Again, no lies detected.  
Raquel admitted that she wanted to skip the reunion. She was embarrassed about keeping the affair from Ariana, who has always been in her corner. She apologizes and says she's been selfish. She calls everything a mistake and added that she handled everything wrong. She says she is seeing the consequences of her actions that she hadn't considered because she was living in the moment. She said that being with Tom made her feel seen and heard, and his love bombing was better than anything Ariana had ever provided. 
Ariana says she hopes her dog's ghost haunts Raquel, and calls her ex-bestie a dementor. Raquel says she is in love with Tom, and Ariana calls her ugly and rotten like a moldy piece of fruit. Tom says he loves Raquel too. Whatever.
Lisa's producer credit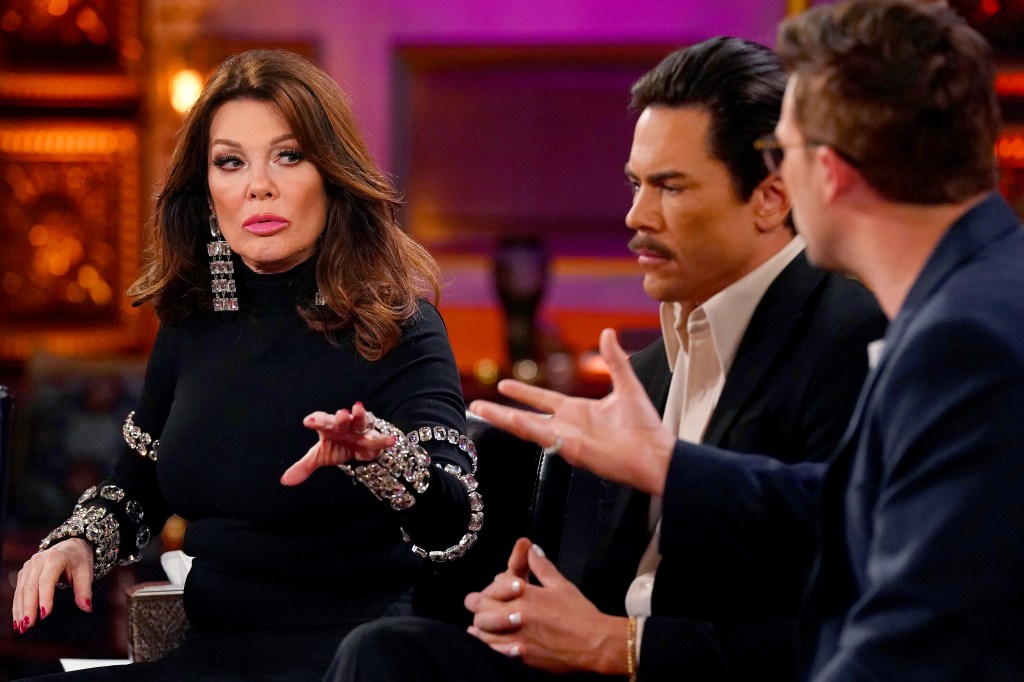 Have we ever seen Lisa Vanderpump work like this? She had no idea about Tom dressing like Raquel for Halloween. Ken Todd stayed off the blogs that day, I guess. Lisa did, however, press Raquel for her lightning bolt necklace purchase on camera. The conversation takes a few turns, and suddenly Tom is mocking Ariana for keeping her shirt on in the bedroom. A serious low-point. 
The comment actually bothers Lisa, but she ends her time on stage begging everyone to find forgiveness and compassion. Ariana rolled her eyes all the way back to Season 2 when LVP brought her on the show to scare off Kristen Doute. It's all in the book for Herstory 201. And it seems herstory is repeating herself once again. 
Hot tub time machine
The final moments of the episode are given to Raquel. She's in a lot of pain. Bloated with lies about the timeline of her tryst. In her final interview six days after the reunion was filmed, Raquel explained that Tom wanted to lie in order to make things less painful for Ariana. So kind of him to sacrifice like that, but clearly Raquel moves to the beat of her own drum. 
Raquel admitted that the second time she and Tom had sex was in Mexico during Scheana's wedding. She found him stray in the hallways, too drunk to find his own room on the first night. Rather than help him to his stay, she ended up getting physical with the slob. And they kept things going from there. Schwartz must be devastated to hear this. 
Raquel went on to say she's not only met Tom's mom but that she was completely aware of the situation. Raquel maintained that it ate her alive to not tell Ariana the truth. She loves Ari so much she wanted to be an official thruple. Then she had a breakdown, saying she and Sandy hooked up in Ariana's home, while she was out of town at a FUNERAL.
Now, Raquel is in a hard spot. She has no one supporting her except for Tom. She knows that admitting these truths may cause him to abandon her, and she's in no place to lose any supporters. That said, she hates lying about the night in the jacuzzi. She knows that lie in particular is a bad look, but she doesn't seem to understand why it's not about the look and more about humanity. Never hire a pageant coach with a mustache. They covered that in Clout Chasing 101.
See you next season! 
TELL US – DID YOU END THE SEASON MORE SYMPATHETIC TO RAQUEL THAN YOU WERE BEFORE? WHO WOULD YOU LIKE TO SEE BACK FOR SEASON 11? SHARE YOUR FAVORITE MOMENT FROM THE SEASON IN THE COMMENTS BELOW!