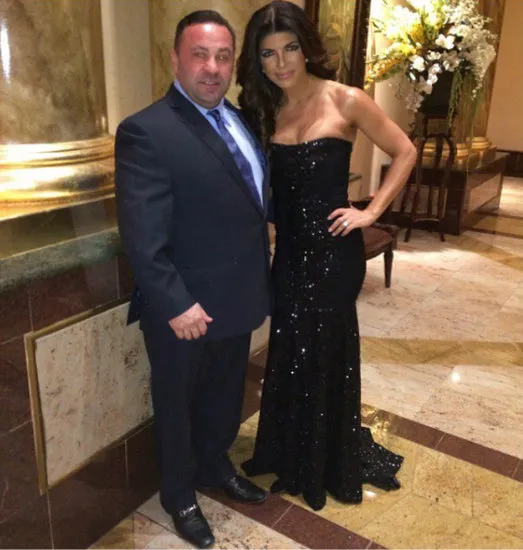 Another day, another dollar rumor that Teresa Giudice is getting divorced from Joe Giudice! With Joe leaving for prison in a few short days, the rumor mill is working overtime about the drama-plagued Real Housewives Of New Jersey stars. 
Before Teresa self-surrendered to prison last year there were countless rumors speculating about divorce, depression, and pregnancy. Cause the universe needs more Teresas or Joews! Now that Joe is about to change his address to Ft Dix Federal Penitentiary, the rumors are here once again!
CLICK THE CONTINUE READING BUTTON FOR MORE!
Teresa's attorney James Leonard, Jr confirms that no, Teresa is not pregnant, nor will there be any divorce court to add to the plethora of Giudice legal woes. "Teresa is not pregnant. She and Joe have four beautiful daughters together—their family is more than complete," he tells E! News. "They are not looking to add to it."
Yes – lets hope the only thing Teresa and Joe add to their family is money, paid bills, and some self-awareness! 
Reacting to divorce speculation, he dismisses that as well. "Teresa and Joe are not getting a divorce. Not now, not in six months, not ever. That's another sensational story that gets floated every few months to sell magazines or get hits on gossip websites."
Still with 41 months of prison ahead of them, plus Joe's possible deportation to look forward to after his release, we'll see what happens. Teresa has said her own prison sentence made her marriage stronger than ever. Although Teresa is well-known for being delusional.
However, I think it's fair say that after calling her a c-u-next-tuesday on national television, plus the copious cheating allegations lobbed against Joe, in additional the disastrous legal and financial situation he placed his family in, coupled with his alcohol issues, all of which Teresa has steadfastly supported him through, she's a stand by your man kinda of girl. 
Teresa's attorney echoes those very sentiments. "The truth is, despite everything they have been through, their relationship is stronger than ever and they are still very much in love with one another." Well that's reassuring – true love does exist outside of Disney Movies. Let's just hope none of the fairy tale romance gets repossessed by the feds. 
I, personally, am really intrigued to see how Teresa handles herself sans Joe – let's hope she gets savvier! 
TELL US – WILL TERESA AND JOE'S MARRIAGE SURVIVE PRISON?
[Photo Credit: Instagram]