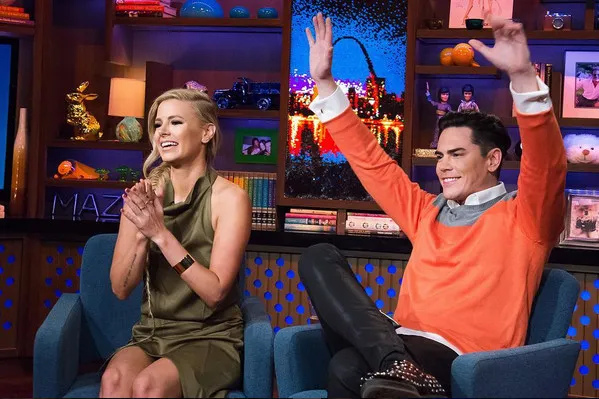 The only two sane people left on Vanderpump Rules, Tom Sandoval and Ariana Madix, were Andy's guests tonight on Watch What Happens Live. They covered a variety of topics, including Lala Kent, James Kennedy, Scheana Marie's mystery man and more!
Andy plays clips from Kristen Doute's comedy sketch and asks Ariana for her thoughts. She very diplomatically says, "I think it's cool when people work hard on their thing and put it out there. It's a harsh world out there, so there's going to be some positive and there's going to be some negative opinions."
Ariana says she's familiar with the Jax Taylor dick pic because it was on Twitter. Tom says everybody saw it, but Andy admits he had not seen it. Tom reveals that some people thought it was him when it was first posted. Sandoval says he would never ever ever send a dick pic.
Andy grills both of them about the NDA and Lala's boyfriend:
Have they met the boyfriend? No.
Can they confirm or deny that he is married? Ariana says "No, not really."
Did he buy Lala's Range Rover? They both say "seems likely."
Did they sign an NDA? "No. Hell No."  Ariana says that on the show is the first time she had heard of this supposed NDA. "It was really weird."
Was he really not at the house at the music festival? "No, and I know this because I showed a picture of who is rumored to be her married boyfriend to a friend of ours who is not involved with this at all and I said 'is this the guy you saw show up and pay for the house?' and he said no."  She says she never saw the guy because she was in the bedroom getting ready to go to the festival. Tom adds that Lala gave her wristband away and didn't even go to the festival. "We did not see her the entire weekend."
Andy plays a clip from next week and then asks Tom if he thinks Kristen really did go down on Brittany (as it's brought up at Jax's birthday roast in front of Brittany's mom). "There's definitely that possibility, it was a late night and they were drinking." Ariana says that it's just funny and you have to rib people a little about it.
What does Ariana think of Stassi saying she has a superiority complex? "I kind of thought it was really funny when she said it. I think that there's a lot of things wrong me and I think that's probably really low on the totem pole of things that are wrong with me."
A caller asks when they last spoke with Lala and why do they think she left the show. Ariana says she texted with her a little bit the other day. "She was at SUR and she took a picture with my brother and sent it to me. Honestly at the end of all of it, I'm not sure why she left the show. I mean, we've all been through some really crappy stuff on but it doesn't really make sense to me – know she had two allies who were always going to try to see things fairly – for her to just skip out on us like that."
Do they forgive Lala Kent for skipping out on the birthday trip? Tom says no, but Ariana says "I was going to say kind of." They both admit that her ditching out did change things in their friendship with her.
A viewer comments that Ariana seems to have a hard time maintaining female friendships – is she a girl's girl? "It's so funny, I get people Tweeting this at me and it's like it only lives within the world of this show. All of my friends outside of the cast of Vanderpump Rules are women. So, it's odd to me. My three best friends I've had for fifteen years. All my friends are like high school, college, so long ago. All I do is maintain female friendships, except with Stassi, Kristen and Katie." Tom says "I think it might be the other way around. A lot of the other girls on the show have that issue."
Did Ariana feel awkward accepting Schwartz's offer to be a groomsman, knowing that Katie didn't want her to be a bridesmaid? "There's a little bit of truth to that. I remember having a conversation with him afterwards and being like 'look, it's ya'lls wedding, so whatever you guys want, no matter how I feel, I'm gonna do what you guys want.'  I mean, that bridal shower where they spent all that time talking shit about me? See all those balloon strings hanging? I brought those there. I bought them. I was part of helping with that."
Andy says he got a kick out of Ariana's reaction to Stassi Schroeder yelling at her at the bridal shower and not giving two effs. She agrees, "I don't. I don't understand this entitlement she has in this group of people. I wasn't trying to be disrespectful. I've always been able to hang out with a group of people or hang out with Stassi and get along but when you come at me like why would you think that's your place? We're not on that level, sorry not sorry."
Do they know who Scheana Marie's Snapchat mystery man is? Ariana deadpans "It's actually me" as Tom raises his hand to claim to be the one, too. She then says "Scheana and I are very close and in a very intimate relationship and I know a lot about her life." Andy concludes that Ariana does know and doesn't want to say.
Ariana and Tom say they're in the same apartment still because they don't want to waste money on more rent so they can keep saving for a house.
They agree that Carter and Kristen are a good match because they balance each other out. Ariana says Carter is a very calm energy person.
A caller asks about their friendship status with James Kennedy and what they thought of what James revealed about Lala to Kristen and Stassi. Ariana says "I was more surprised that since Kristen thinks he's a murderer that she would be in the same room as him after saying she couldn't be in the same place." Andy adds, "she also loves to dig up dirt about others, no?" They do admit that they're cool with James. Tom says he seems to be in a pretty good place right now.
TELL US – WOULD YOU FORGIVE LALA FOR DITCHING YOUR BIRTHDAY PARTY? THOUGHTS ON STASSI'S NASTY COMMENTS ABOUT ARIANA ON TONIGHT'S PUMP EPISODE?
Photo Credit: Instagram
Save
Save
Save
Save
Save
Save
Save
Save
Save
Save
Save
Save
Save
Save
Save
Save