Miami is where souls go to die on Real Housewives Of New York. People are arrested. People are swept up in tsunami-like rages. And people pose decadently and cluelessly in front of their cabaret posters in the middle of the street.
Last night gave us the full spectrum of why Real Housewives Of New York are the alpha Housewives. One minute people are shaking with sobs, the next they're shoving their dogs in a home freezer, then putting on thong leotards for a little 80's throwback workout.
We're back at the fateful Miami dinner where everyone hates Luann de Lesseps for loving cabaret more than she loves them. Feeling Jovani is a full-time job, my friends! Bethenny Frankel is literally levitating after unloading on Luann for being a selfish, insufferable asshole who doesn't appreciate their friendships. This is all valid. When Bethenny lays your cards on her table, you're gonna wind up holding a pair of twos with one of those twos actually being a joker.
The whole time Bethenny is freaking out, Sonja Morgan, owner of my heart, just calmly keeps on eating. Sonja will never let good food go to waste. She will smuggle it out in her skirt, as we know. She will smuggle it out in the weave on her head! Even when forced to choose between food, and friendships, she will choose food. You only need one to survive! Even if Bethenny did save her from shoving her YSL sandal through a glass table.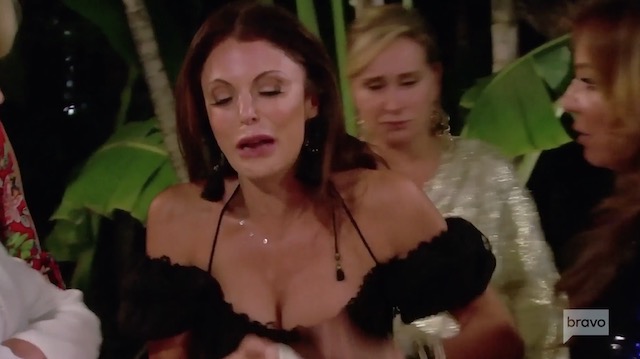 After Bethenny pushes Luann away, Dorinda Medley and Barbara Kavovit escort B outside the restaurant to calm down. Bethenny, like all good sadists (and I say this with great love and appreciation) feels the calming rush of endorphins after she's gotten it all out. Ramona Singer, whose words have the soothing reassurance of a Hallmark card, tells Luann that Bethenny blames her for Dennis Shields' death, because Bethenny was intervening selfish Luann instead of helping Dennis. Luann decides she's had enough and that it's time to find a guy to validate her sense of superiority and possibly buy her a non-virgin cocktail.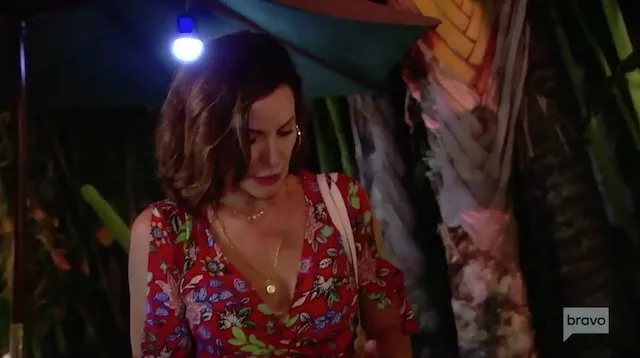 Luann truly doesn't understand why these women are behaving like her parole officer over taking a swim when both Tinsley Mortimer and Ramona bailed on the group to go on dates. Luann's right, but she's also wrong. Per the usual, Luann is totally missing the point! 'The Swim' was asymptomatic of Luann's indifference to her relationships and her dismissiveness about connecting with them on a human level. Like Luann took Sonja to an AA meeting to 'support her,' then abandoned Sonja when she needed support most. And she left Bethenny, once again, to clean up the mess. Bethenny should stop being such a neat freak.
I do think there's a degree of truth to what Ramona said though, however unnecessary it was that she said it. Bethenny does likely feel that it isn't fair that Luann is here, not appreciating how good she has it, resenting sobriety, while Dennis died. It's not rational, nor right, but I get it. I don't agree with the way Bethenny projects so much of her emotions onto Luann to reenact her childhood relationship with her mother, but I get where Bethenny is coming from. And also, yes, Luann is insufferable! So much so that she returns to the restaurant not to make amends, but because she doesn't want these women to think they can break her. SIGH…
Luann does manage to apologize to both Bethenny and Barbara in a way that sounded sincere-ish. She even teared up explaining that she didn't want to bring up Dennis for fear of upsetting Bethenny. Bethenny graciously accepted, gave Luann a hug, and apologized for her meltdown. Luann is relieved, and even manages – of course – to squeeze in a cabaret joke when she quips that everyone got dinner and a show. "Cabaret life," Tinsley slurs drolly.
But in reality, Bethenny has checked out of the Luann show. "I don't see many leopards walking around with no spots," she shrugs.
You know what is hilarious to me though, for YEARS Bethenny has talked Skinnygirl non-stop and turned this show into an infomercial. It has been totally insufferable! They say what we don't like about ourselves bothers us the most in others…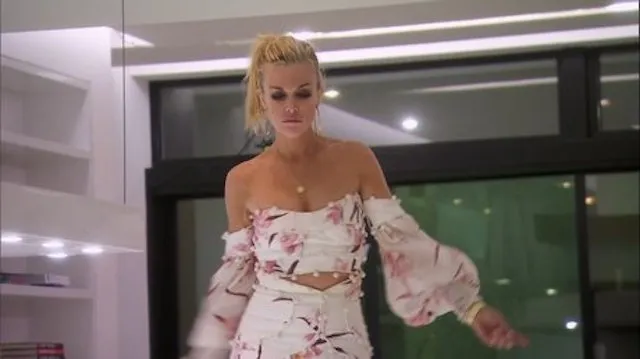 Back at the house, Tinsley is still drunk and ready to let loose in her $3k picnic blanket of an outfit which turns her boobs into sunny side up dried out and barren eggs. Dorinda finds it very curious that Tinsley constantly has new expensive clothes, yet no job to speak of… But Dorinda doesn't have time for Good Girls Gone Wild dance party antics, she has Bethenny to attend to!
Dr. Dorinda, expert at widowhood, is forever at a grieving girl's side, and I LOVE her relationship with Bethenny. Actually, I love Dorinda full-stop. Dorinda is the Bethenny Whisperer, and she's also the only one telling Bethenny that it's OK to feel it all. What I love about this show, is there's Bethenny scraping off her makeup, sobbing in a dowdy robe, while Dorinda crouches in front of her and encourages her to just be with the pain, and that type of realism and rawness doesn't happen on most Real Housewives. I cannot stand Kim Richards but once she left Real Housewives Of Beverly Hills that same rawness left too but the shows are better for it. We can handle the glamour and the gritty, Bravo.
The next morning, bright and early, Luann's at yoga while Bethenny is already out the door, anxious to get home to Bryn. As the girls were packing I noticed a curious absence of Raj "rhymes with rage" — I guess he gave all his Raj to Bethenny, who probably packed it all up in a suitcase to store in the Luann file she keeps on her hard drive. (Bethenny is probably, actually, an old fashioned file folder kind of a girl)
Ramona also bails early to attend an Art Basel party. Sonja feels dejected. It's always So without Ro anymore, and 'onja needs her 'Ramo'. Ramona is no better than Tinsley when it comes to needing a man, and predicating her self-worth on desirability.
Despite all the drama, Dorinda leaves happy. She loves these women the way an inmate loves their bunkie! Did anyone else notice that Sonja was weirded out by having a female driver? Is it because she didn't help with the luggage?
Home in NYC, Bethenny visits Dorinda's new apartment and notices a curious absence of John. He comes over a couple of times a week to satisfy her needs, aka pick up her thong panties to dry clean, then he's on his way. Dorinda is dating John for dry-cleaning the way Tinsley is dating Scott for shoes. And to eradicate the fear of dying alone and being eaten by Alsatians. At least the hotel maid will find Tinz!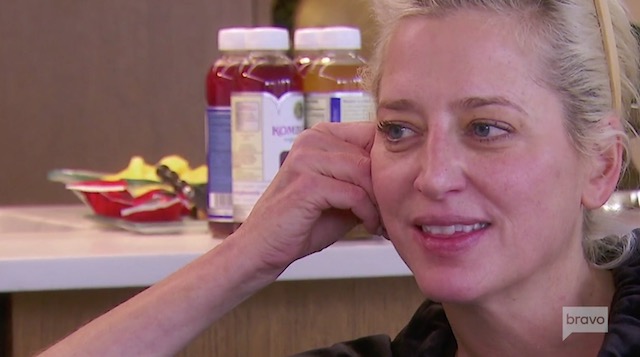 Dorinda is shocked to learn that Luann has been texting Bethenny non-stop since Miami. After their argument in last year Luann didn't speak to her for 8 months. Dorinda has been feeling like an audience member in Luann's life, not a friend, and Bethenny agrees that they need to get off the clock and stop letting Luann treat them like assistants. Apparently, even at Luann's intervention, she was the star, taking center stage. I've always believed that growing up one of 6 kids, Luann always felt overlooked and ignored so she developed this need to be larger than life, but what is often the case is that the things which make childhood more bearable often become the pathologies that make adulthood less bearable.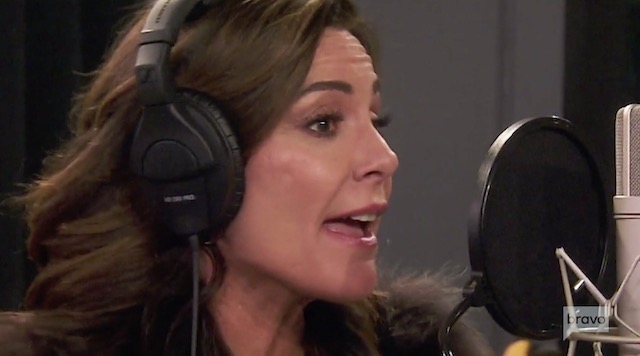 I'm assuming childhood is where Luann developed the notion that she could sing? Because she is back in the studio recording her rehab anthem, "Feeling Jovani," which doesn't talk nearly enough about the bologna sandwich she endured in jail. "I've been traveling, I've been in jail, I've been in Jovani, I've been everywhere but I haven't been to AA…" That line was also missing, but don't lose your mind was included.
Then Luann pays a visit to Ramona, lord knows why. Contractural obligation, I assume. Ramona waxes poetically about dating and about the glorious dinners of having Mario eating out of her hand as he admits to throwing their marriage and family away, but Ramona will never get back together with him now that she has that upper hand.
Then Ramona tells Luann that they'll all be skipping her Christmas Cabaret because on that very same night, at that very same time, she's throwing a joint birthday surprise party for Dorinda and Sonja. Luann is invited of course and can just come after the cabaret. Luann is so appalled her statement necklace about blew right off her head!
Right after Luann got done admitting to Ramona that Bethenny was right about her being selfish, she flies into a tizzy that they would DARE miss another cabaret event. But if Ramona is going to sacrifice her date nights, she's not going to waste them sitting around watching the Countess.
Meanwhile, Dorinda is getting back in touch with her roots as NYC's most popular 80's aerobics instructor. As a woman who just bought Jane Fonda aerobics on Amazon Prime (get it now people – $9.99, streamed!) I am SO. HERE. for Dorinda, the real-life version. Also, I'm gonna need Dorinda to do an aerobics DVD! Dorinda contacts her former aerobics rival Jon over because she has an idea: she wants to do an 80's aerobic charity for the LGBTQ community. Then they get right to choreographing a hilarious routine that involves face-to-face side-stepping. "I hope I don't get pregnant," Dorinda jokes shaking her money-maker.
Alas, Tinsley cannot come to the charity event because Bambi, her 14-year-old chihuahua, passed away from complications with cancer. Even though Tinsley was getting him weekly chemo. When Tinsley saw that Bambi wasn't breathing she called 911, who does not revive dogs. Ramona and Sonja come over to check on her and Tinsley opens the door, sobbing, but the real shock to Ramona is not that Tinsley is holding a wake and viewing for Bambi, or that Bambi is currently in a freezer awaiting defrosting for said viewing, but that Tinsley is so distraught she's without lashes or makeup.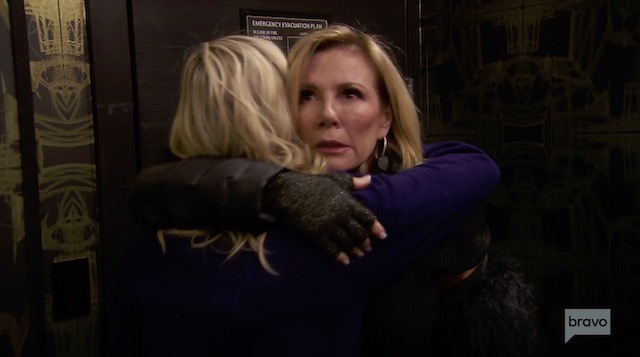 Of course, then Ramona realizes that Tinsley is talking about hugging a "dethawed dog" before having him cremated. Sonja is completely nonplussed. After her dog died she had his body stored in her home freezer until he could be cremated. Right then and there, Ramona is regretting every food she ever ate at Sonja's. Might this also explain why the ice turned brown?
The other news is that Tinsley is back in contact with Scott, only via text, but when he learned of Bambi's passing he sent her Gucci sneakers called "The Bambi." Ramona and Sonja are not impressed.
At Dorinda's charity event Ramona informs Dorinda that Tinsley is turning her dog into ice cubes, then having it stuffed, and that Scott is still in the picture, manipulating her and buying Tinsley's love with fancy false promises. Dorinda is disgusted by Tinsley settling.
Then Dorinda is disgusted when she learns that Luann sent Bethenny a gift following the blowup in Miami. Dorinda can't understand how Luann ignored her for 8 months over one comment, but is begging Bethenny for forgiveness after her ruthless tirade. Barbara also got a jacket though! It seems it's a very belated intervention thank you gift (I hope she gave Ann a car) and also Luann should've just reminded Dorinda that she wrote her a song, Feeling Jovani, and also immortalized her in the cabaret act!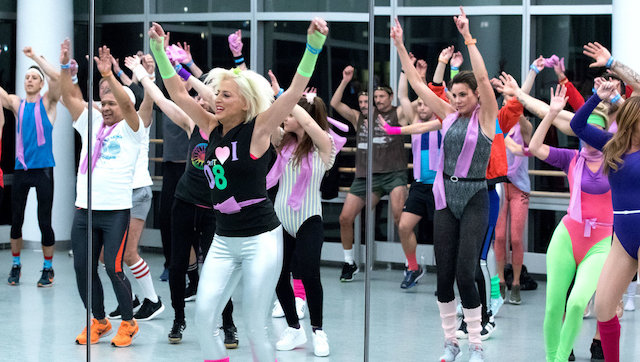 Before Dorinda can really pop off, the aerobics must start. As they say in the biz, the show must go on! Thankfully every woman dressed totally 80's and the endorphins rush made them all have a blast. Even Bethenny is in a phenomenal mood, as she invites everyone to her "S'mores and Whores" Christmas party, which makes less sense than a sobriety song dedicated to designer prom dresses for middle-aged women. But whatever, Bethenny loves a theme and a costume and an opportunity to be weird and ribald.
Then Ramona strikes again by halfheartedly inviting Barbara to the surprise party she's throwing, but tacking on that she knows Barbara can't come since she'll be at Luann's cabaret. Barbara is starting to learn – too late – her Housewives lessons, so she hightails it over to Sonja to inform her that Ramona is pity inviting again, and on the very same night, at the very same time of THE CHRISTMAS CABARET. Move over Baby Jesus, Luann is in town and she's feeling Jovani. Did the three wise men bring sequins, cocktail dresses, and friends who can sing in tune?
Sonja is incensed, and storms over to Ramona to yell at her for intentionally trying to upset Luann by forcing a conflict of interests that will leave Luann out. Ramona tries to gain the upper hand by insisting she's doing something nice, then pretends she was forced – simply forced! – to reveal to Sonja that it's was a surprise party for her, thus demanding that Sonja come. Ramona, of course, blames Barbara for all of this. Finally, Bethenny intervenes and announces they're all going to cabaret whether they like it or not, then showing up at Ramona's party after. Ramona is not happy to be upstaged. She's clearly not feeling Jovani, but some kinda way.
And next week – I simply cannot accept this! – is the season finale! WTF, Bravo.
TELL US – ARE YOU FEELING JOVANI?
[Photo Credits: Bravo]