*sigh* So many thoughts about last night's episode of Real Housewives Of New York. SO. MANY. THOUGHTS. And even more questions!
Does Luann de Lesseps deserve the wrath of hungover Housewives? Does air conditioner make Sonja Morgan poof or poop? Does Bethenny Frankel see Luann as her human sounding board – the one person resilient enough to take all the tantrums Bethenny's mother ignored as she headed out to the clubs or on a date; giving Bethenny free-reign to project all of her childhood emotions.
Also, it occurs to me, that Bethenny probably married her mother and her father in Jason Hoppy, who seems diabolical, but also really disinterested in her melodrama, and Bethenny needs someone to give validity to her hysteria or else she thinks they don't 'hear' her.
Bethenny has two communication styles: freaking out meltdown, or zen psychologist cool mommy giving all the advice you didn't want or need, while helicoptering over and fixing all your problems (by maybe also making them worse ala Lori Loughlin). Sometimes we just want to be YouTube influencers, or cabaret stars with an affinity for dips in the ocean and that, my friends, is O.K. Or is it? Why does everyone need Bethenny's approval? Why does Bethenny pretend she doesn't' care while desperately wanting approval?
So here we are in Miami where the alcohol and the tears are flowing and mixing in the most delightful way! After proclaiming that she wasn't going to get batshit wasted a second night in a row, Sonja broke that promise to herself and got trashed again. So trashed she almost smashed her designer-clad foot through a glass table, then broke a glass.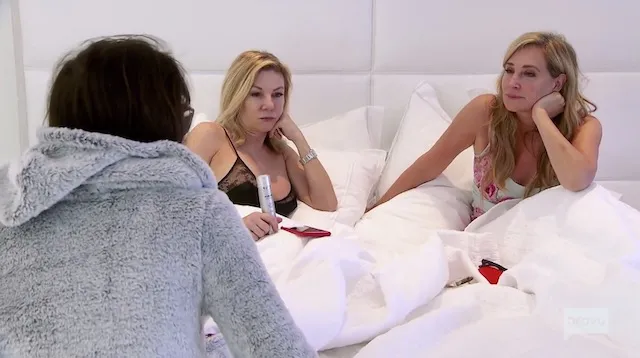 The next morning (after Ramona Singer's ex-husband/new date swap), wearing sunglasses that look like a disco, Bethenny sits Sonja down for a little talking-to about Sonja's Trouble With Booze. Ramona is there for moral support – and to hawk TruRenewal Skincare with a huge zit on her face, made even more noticeable by the hangover puffiness. Ramona has that skincare bottle positioned, conveniently in front of the camera the entire time Bethenny is warning Sonja that her drinking has become unmanageable.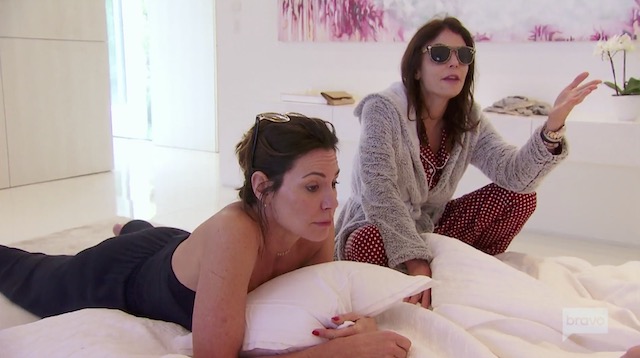 And with that, in strolls Luann, looking alert and chipper and ready to pass judgment on Sonja like she wasn't falling in a bush last season. Bethenny encourages Sonja to go to an AA meeting with Luann, and Sonja accepts – but only because she doesn't want to cross Bethenny. Bethenny is now running Skinnygirl Sobriety, I suppose.
Tinsley Mortimer woke up happy as a character on Sesame Street. Like every morning, the first thing she does is call Dale for advice. Tinsley is excited because Bethenny introduced her to Brett (a guy Bethenny previously went on a date with), and they exchanged numbers. Tinsley is so southern she is literally awake and in a kinda PJ outfit with full makeup before breakfast. Also, Brett is 100 years old and doesn't know how modern dating works, so he texts her before to coffee to s invite her for a "down low" drink. Old people really should not use a slang without consulting Urban Dictionary. Yes, I am age-shaming Tinsley's date. Too hard to refuse!
Tinsley can't believe it! A man. A real. Live. Breathing. Man. Who does not make her star in Coupon Cabin commercials! Tinsley thought it was a mirage in Sonja's wine glass, but nope Brett's the real deal. Verified by the fact that Ramona saw him too, and her radar is alerted. Ramona obviously doesn't care that Tinsley smooched Brett already – he's still up for grabs – her grabs, and Ramona might have his number too.
As revenge, Tinsley quickly pulls up the TMZ pic of Ramona making out with Harry Dubin, and shows Bethenny. It's not so much kissing as Ramona vacuuming other women's saliva out of Harry's throat. It was nothing short of disgusting.  And certainly not something anyone wants to see hung over, before breakfast.
Then Babaraba Kavovit finally gets her moment in the Miami sun when she starts crying about being left out of the group. She wants to go home, to her hammers and her nails, where the square peg doesn't have to try and fit into the round hole. Even Luann is ignoring her. First Bethenny, Ramona, and even Lu blame Barabara for bringing this on herself with bad vibes, then Bethenny reminds Barbara that Luann is the one ditching her – for AA meetings no less! Bethenny encourages Barbara to start hating on Luann and then she'll feel included. Literally.
Sonja is annoyed about this AA meeting from start to finish. First, she doesn't think she has a problem with alcohol (no comment). Then Luann makes her change because Sonja's wearing a bikini top with a macrame coverup, and Luann decides that's not appropriate. Even though Luann is wearing a dress one could get a gynecological exam in because the slit is so high. As Luann is ostensibly getting changed, she leaves Sonja sitting in the foyer forever while she fusses with her outfit.
"Luann acts like she's the first alcoholic to ever walk the earth," Sonja complains, now wearing boring white capris and a t-shirt. Mostly Sonja doesn't want FOMO as the other ladies are at lunch on the beach and she's stuck with a bunch of depressing alcoholics and Luann using the AA meeting as a stage to practice her cabaret act. Yes – Luann even use the meeting as a stage.
After the meeting, as Luann and Sonja head to the beachfront hotel to meet the other women for lunch. Sonja feels unsettled. Listening to tragic people talk about how awful life was as an alcoholic is ruining her vacation. Sonja just wishes she could scoop up all these undesirables and take them to the townhouse. Which would make their lives worse, actually because they'd have to drink to deal with Sonja (and the mold). After seeming OK in the car Sonja starts to fall apart at the hotel over how wet the seats are. Isn't Sonja used to that, living in Casa de Mold and Crumbles?
Apparently going to AA was like being forced to ride the subway and acknowledge those poor unfortunate souls. Tinsley and Dorinda Medley don't know what to make of Sonja's sudden freakout. "She needs a drink," decides Tinsley.  Actually Sonja really just wants to go back to the house where they've been having so much fun getting wasted beyond imagination, hanging out with hot paramedics, embarrassing themselves in front of their friend's ex-husband, and you know just enjoying all the splendors of alcohol – and food. Speaking of, Bethenny ordered lunch – including the much-anticipated truffle fries –  and has them box it all up to go.
Luann is annoyed. She actually wants to get out of the house and hit the beach. While Sonja is crying about the pitfalls of marrying and reproducing with a geriatric who might die and leave her to deal with the kid solo, Luann keeps mentioning that they'll all feel better after a swim. Then Luann decides even if everyone else wants to go back to the house, she's going to the beach. Dorinda is aghast and immediately runs over to tattle to Bethenny.
Now call me Sonja-At-An-AA-Meeting, but I sort of feel bad for Lu here. The struggle for sobriety is real, and no one is paying that any credence, while simultaneously freaking out about Sonja needing to get sober. Like why was Ramona allowed to leave the group and go on a date? Yet everyone is livid that Luann ditched Sonja mid-panic attack.
Why were Tinsley and Ramona allowed to walk past Sonja's ambulance on their way to the bar? I TOTALLY 100% agree in every way Luann is a selfish self-absorbed cabaret-o-holic, but is she really more selfish than the rest of these women? Maybe Luann just needed to be away from a house that literally has booze running from the faucet. It's like being in a Vodka flavored Yankee Candle! And for someone complaining about everything being about Lu, Sonja has made this entire trip about her. Girl – get it together.
Back at the house, Bethenny makes crab cakes as they all realize the truffle fries weren't in the bag! DOOOOOM. Isn't this technically Sonja's fault, because she made them leave? Someone has the brilliant idea to ask Luann to order them fries, but Luann do something for someone else? Never! The Countess has other more pressing matters to attend to than wait for deep-fried delicacies. She must go check out her cabaret poster, and strike a pose for her minions! Seriously.
The other women complain that Luann has been gone hours and hours, avoiding them (it was 2), and that all Luann ever talks about is Luann. Which is ironic because all these women ever talk about is Luann! Luann is literally the only topic of conversation over lunch and even Barbara admits that The Countess is being a shitty friend. Barbara, after defecting from Cabaret Cult, is finally welcomed to the group with open arms – and given the first massage. The one that was technically Luann's. In fact, by the time Luann returns to the house, everyone is calling her the Hamburgler for stealing their fries and they've conspired to make sure she goes massage-less.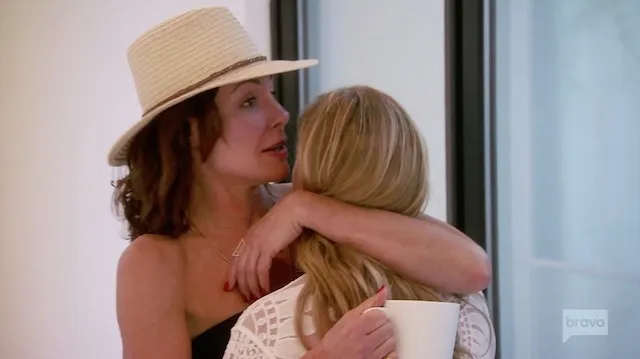 Luann just wanted some time alone, to reflect on herself looking at a poster of herself. Who can blame a girl for being a cabaret star?! Sonja is not impressed that Luann once again didn't check on her in her time of need, but Luann doesn't care if people think she's a diva. Like that's an insult. She IS a diva.
By the time dinner rolls around the women are all massaged and amped up on Luann toxicity. Luann is sulking in her room because she got the last massage, then the hairdresser left before giving her a blowout. Now her hair looks vaguely reminiscent of a golden retriever, and she's in a bad mood as if predicting that dinner will be a bath of her own shed blood. And don't you know she bleeds cabaret? Not wanting to wait for Luann to stop sulking, the women hop in a car and leave Ramona to deal with her. Ramona is kind of feeling bad that Luann is the new Barbara. Those brief flashes where of conscience are so befuddling. They end when Luann is rude to Ramona about how stressful it is to brush her own hair.
Tinsley left early for her date with Brett. They meet at the same restaurant where the other women will be dining later. Within in minutes of ordering her drink Tinsley starts rambling about being 43 and whether or not she wants a baby. Then she starts making out with Brett. Sonja sniffs that this is not the way to make a man marry you. This is not advice Sonja should be dispensing!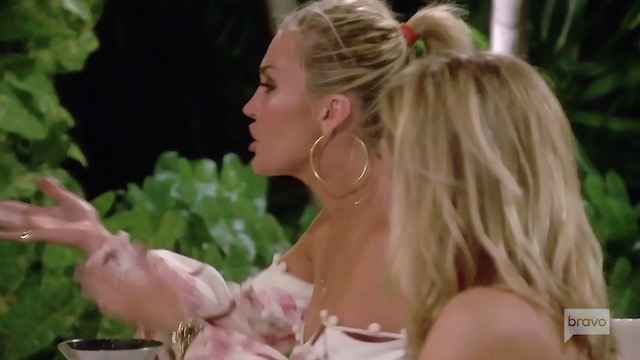 Over dinner Barbara tries to explain to Luann how dejected she felt, missing those long Lu hugs. Luann cuts Barbara off by rushing around the table to hug her just then, to try and deflect from whatever complaints Barbara may have. This prompts Tinsley to slur that Luann never has Barbara's back, and Luann reacts by mimicking Tinsley's drunkenness.
That causes Bethenny to go zero – 100 in 5 seconds flat and she is OFF. Bethenny is disgusted and livid by Luann's intolerable insufferable behavior of making everything about herself and cabaret when Bethenny just lost her boyfriend, no fiancé, to drug overdose. The same man who helped Luann with her legal matters. Yet Luann has never checked in on Bethenny. Now I don't believe that. Do I believe it hasn't been very frequent? Yes.
Bethenny also accuses Luann of "dining out" on her sobriety to make a buck. Like doing standup at the AA meeting? Although who is Bethenny to talk here when she's used every instance of her personal life as fodder for reality TV or product whoring… I'm surprised she isn't selling Skinnygirl Smackdowns yet.
Bethenny is literally foaming at the mouth and running around the table spewing insults at Luann, reminiscent of that time in the Berkshires. This time Bethenny is deriding Luann for not showing gratitude for the intervention Bethenny did. Apparently, Luann was such a mess she was running through a field in a negligee, drunk, and trying to get in her car to drive. Bethenny warded off the paparazzi, had an attorney come over on Sunday to help Luann with her lawsuit, and then sat in her driveway so Luann couldn't leave in her car, possibly killing her friends.  Luann repaid all of this by leaving rehab a week early to cabaret and never bothering to see how Bethenny is coping with Dennis' death. And then she ignored Barabara to top it off!
Luann, resilient as ever, is pretty nonchalant about the whole thing, and sort of sneers, "Look at you," as Bethenny is literally running laps around the table screeching. Ramona is so shocked tears are prickling the corners of her Botoxed eyelids and she just wants to squeeze one teeny tear out, but she winds up splashing vodka on her face to mimic a tear instead.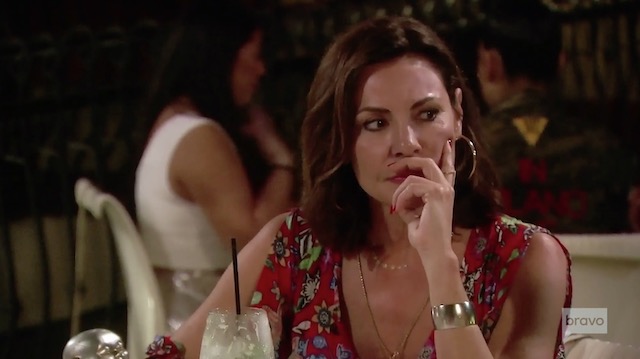 So, I get where Bethenny (and all the ladies) are coming from, but I also feel a little empathy for Luann. It's hard learning to be a new social self when you get sober, and the self you socialized with was dirking. It's also a time when many people go through some selfishness as they feel awkward and are struggling to accept that life without alcohol can be great. I don't think the women are being sympathetic to this, but I also understand their frustrations with Launn's egotism. (Which doesn't seem that much more overblown than in any other season?).
I also think Bethenny has developed a pattern of being nice when it suits her, then terrorizing people who don't forever do her bidding (wasn't she ripping into Sonja about cheater brands a few seasons back…) and Luann is one of her favorite targets. It does sound like Luann was an abominable friend to Bethenny by choosing cabaret over companionship – and Bethenny didn't deserve that especially after all Bethenny did for her. Maybe I need a bologna sandwich reality check and should go to Reality-Anon alongside Sonja?
TELL US – ARE THE REAL HOUSEWIVES OF NEW YORK BEING TOO HARD ON LUANN OR IS SHE BEING SO SELFISH SHE DESERVES IT?
[Photo Credits: Bravo]