Not a day goes by on Below Deck Mediterranean without kitchen issues, bad weather and Captain Sandy Yawn throwing a "Sandtrum" – aka, a Sandy tantrum – about something, then getting over it 2 seconds later to direct her wrath at someone else.
Sandy has 2 speeds: hugs and snugs – I love you like bananas, ice cream, and motor yacht docking –  or screams and yells. After a season of flying under the radar, Joao Franco and Hannah Ferrier both finally found themselves in Sandy's crosshairs. Meanwhile, Travis Michalzik got all the love a Sandy can offer. You know it's the end of the season when the chief stew and the bosun are in trouble!
High winds are rocking the Mediterranean as fall approaches, which is why it's a bad idea to book your motor yacht vacation during discount season – especially if you're prone to seasickness as guest Deana is. She's literally crawling on the floor, moaning like her entrails are being ripped out. Hannah escorts her upstairs and gently rubs the inside of her wrists to help regain equilibrium. It's not quite a taint, but Hannah jokes that she assumed her hand job days are over. Are they ever? Especially if one hopes to net a 65-year-old millionaire!
Once Sandy finds calmer water she notices the neighboring yacht has all their toys out. Sandy decides it's time to get into a dock-measuring contest and demands her crew put out everything – yes, even the banana! In their rush to stimulate Sandy, Joao forgets to check the jet skis completely.  Just as he's pulling a raft full of the ladies, the ski dies. The guests aren't so disappointed, but Sandy is livid at this incompetence.
Poor Joao is simply exhausted. Between getting up in the middle of the night to appease Sandy's toddler-whims by moving the boat at midnight, plus picking up the slack for deckhands helping in the galley, Joao's averaging like 3 hours of sleep per night. And it's catching up to him in the worst way. Even I feel bad for the dude! After the tow of shame back to Sirocco he knows Sandy will be expecting an explanation.
The guests requested a white party for their final dinner (soooo original!). Chef Ben Robinson is inspired to provide an all-white menu utilizing cauliflower, feta cheese, white truffle risotto. He even has Jack Stirrup sort the peppercorns so that only the white pepper remains. Hannah, on the other hand, is a big ol whomp-whomp. Hannah decides ordering 99 white balloons will cut it and washes her hands of the entire thing.
Getting white balloons on the boat is the most challenging part. It required a slow calculated tender ride, with Colin Macy O'Toole gripping the balloon strings as if attached to his life, and praying he doesn't get sweaty hands like he always does when he's nervous. Then, Aesha Scott struggled to squish the balloons through the hallways to hide them in the utility stairway. Exactly what about balloons equals some big reveal, Hannah? No need for secrecy!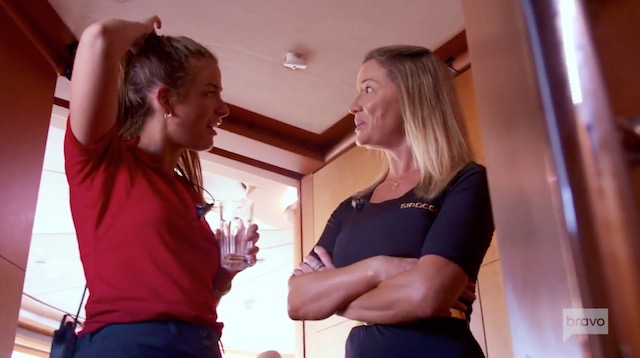 Little does Hannah know that behind her back, Aesha asked Sandy if they can do white glove service for dinner. Sandy loves this idea, but when Aesha proposes it to Hannah, she dismisses it as tacky. We all know that for Hannah, just like last week when Anastasia Surmava was shopping for table decor, that "tacky" is a euphemism for lazy.
As in Hannah doesn't want to bother coordinating white glove service so she dismisses it outright. Aesha is disappointed. She's on cloud 9 with Jack and living in a bubble where everything glows with a special light. A light Aesha wants to spread to the guests and everyone else. Even if she's not fully ready to spread her legs to Jack!
Nope, they still haven't slept together. But with the charter season winding down, and everyone going their separate ways soon, Jack has a plan to hopefully remedy this by asking Aesha to be his girlfriend.
Aesha still isn't convinced about dating a yachtie. She's planning to return to New Zealand for a couple months and doesn't want a boyfriend she sees intermittently while they're at the same por. Or one she's trying to chase down in international waters.
It's why Aesha still has reservations about fully committing her heart and body to Jack – a position I respect, and Jack seems to as well. Even though he's walking around with a permanent case of the blue balls. All the better to float with, my love!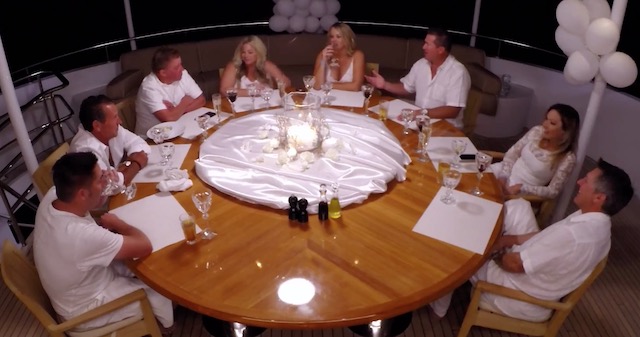 While the deck crew scrambles to entertain the guests, and Ben scrambles to prepare a dinner devoid of color (but vivid in flavor) Hannah throws that same tired white satin bed sheet from a 1985 Vegas honeymoon suite on the table. Hannah plops down a couple tea lights down. She hangs clusters of balloons intermittently. And, then, she complains that Ben is taking too long with the food.
The guests did wait an hour for risotto and halibut, but they declared that it was totally worth it! Even that picky lady who is allergic to her own skin or whatever loved it and managed to stay awake through the main course.
Sandy is too distracted berating the deck crew to check-in on dinner, which is why she wasn't aware that white glove service didn't happen. Jet skis are bigger business with Ben (and his cloches) firmly in command of the dysfunctional galley – so Sandy erroneously assumes.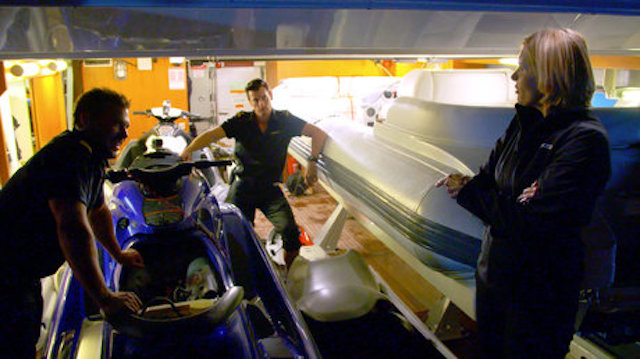 As Joao is explaining what's likely wrong with the jet ski (spark plugs perhaps), Sandy comes down to offer her input. Which really means Sandy is butting in, even if she doesn't know what she's talking about. She demands Joao use her suggestion to fix the windjammer. When Joao snaps that it's not the battery, Sandy reacts by ripping him a new one for being disrespectful and arrogant.
I wanted to give Sandy the benefit of the doubt. She's also exhausted after a long season, but this is Classic Sandy. She always has a favorite, and that favorite can do no wrong. After feeling like they connected over alcoholism, Travis is presently that favorite (and also the best tender driver there ever was!)
Joao manages to bite his tongue and apologize to Sandy's tirade. However, the second she walks away he's back to dismissing her suggestions. And what do you know, Joao is right that Sandy was wrong. And also unprofessional. Sandy was mad at Joao for being disrespectful in front of the crew, so she handles it by screaming, disrespectfully, at the boson in front of the crew? No. Tit-for-tat leadership is not all that!
Upstairs, the guests are following dinner with many, many nightcaps and Aesha is on duty to serve them into the wee hours of the morning.  Joao goes to bed, exhausted and feeling under the weather. Speaking of weather – once again it's not cooperating so Sandy decides to move the boat in the middle of the night.
Sandy dispatches Jack and Travis to wake Colin and Joao. With the guests still awake, and the crew probably drunk slaphappy, Jack and Travis decide to put on life jackets and blow the emergency whistles pretending the boat is sinking. Joao is too exhausted to even yell at them for their dick move. He just drags himself out of bed, again, to do Sandy's bidding.
The next morning, Ben is making eggs Benedict.  A simple enough task, unless you have an obnoxious person who pretends all her food issues are "allergies." We all know the type! And on this charter that type is Deana. She needs her whites peeeeerectly cooked and firm, while her yolk is still soft. So Deana sends her eggs back twice!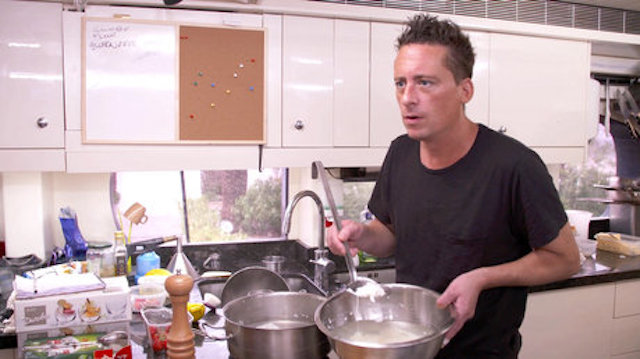 The first time Ben remakes the egg, he brings it out himself and she inspects it in front of him. She jabs it with her acrylic nail (class personified) before saying she doesn't want her white to wobble at all. She sends it back again. The other guests need a drink after Deana's egg issues so they ask Hannah to make white russians.
The white party was yesterday, Dude! Ben is frantic. Not only is he incapable of accepting criticism, but now he's recooking an egg – of all things – for a third time! As if he is some podunk wannabe like Anastasia – or worse: Mila!
After making the 3 egg – third times a charm – we get to play our favorite game: radio tag! Nothing has the same ring of June, June, Hannah, but Hannah, Hannah, Ben comes a close second.
Except Hannah, at the bar, either ignores Ben or doesn't hear him paging about the egg. Anastasia has already been sent down to do cabins. Aesha is still sleeping, so Hannah is it to handle breakfast service. When she finally appears in the galley, Ben is irate.
Ben demands two stews on service. He wants Hannah to wake Aesha immediately to assist with breakfast. Hannah refuses, and bristles like a sea urchin at the impudence of Ben telling her how to do her job. Ben doesn't think interior deserves an 8 hour night of sleep, plus a 2 hour break, while the deck crew is helping with dinner and cleanup.
Ben blames Hannah for wanting to be nice to her staff in favor of managing them. Hannah snaps that Ben should worry about his own team, party of 1, and leave hers alone. Unfortunately, the guests hear the exchange and are upset that Aesha is being dragged into it after being such an amazing stewardess. And that is their cue to leave. Awwwwkwward!
Despite the uncomfortable ending, the primaries have nothing but compliments for the phenomenal food, service, and crew. Too bad Sandy doesn't feel the same!
In the tip meeting, she apologizes to Joao, gushes over Ben, then focuses her wrath on Hannah. It all started when Hannah tried to lie when Sandy asked how the guests like the white glove service, but Aesha piped up that they never actually did it. Cue Sandy freaking about interior not being up to snuff, especially when compared with the deck crew!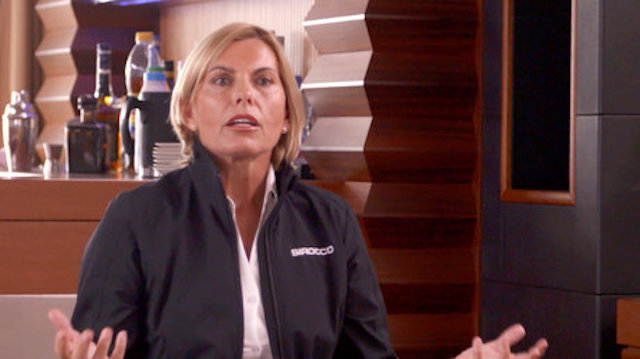 Ben interjects that there should ALWAYS be two stews on service at all times, and Sandy completely agrees. What a shift! A few episodes back, Joao could barely motivate Jack out of bed, and Sandy was noticing their incompetence while praising how in-sync interior was.
Now the Lazy Susan has turned and Sandy is calling Hannah out for being too "lovey-dovey" with her stews, by caring more about their beauty sleep and emotional states, than the guests' comfort.
Speaking of emotional state, Jack has written "Will You Be My Girlfriend?" in red paint on a bedsheet, with a matching question mark (and heart near his penis) on his chest. Joao and Travis will hold up the sign while Colin distracts Aesha with a rap. Then when she turns around they'll drop the sheet and Jack will be standing behind it, waiting for the answer. This fauxposal is a gamble, but Jack is desperate for sex, so rejection is worth it.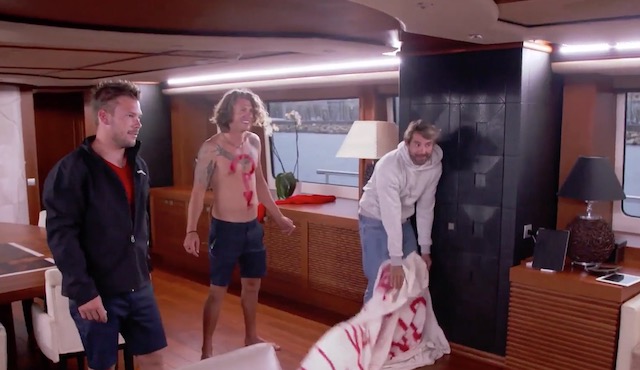 After the disastrous tip meeting, everyone is in the mood for something fun and lighthearted. So, Hannah even pops champagne and sets out cheese in preparation for the girlfriendosal. Of course Aesha says yes, (YOOOOEEEEEEEESSSSSSS, actually) and cries. Tt's all very, very, VERY cute. Then Aesha and Jack hit the town for a date. Afterwards, there's some long awaited s-e-x for dessert!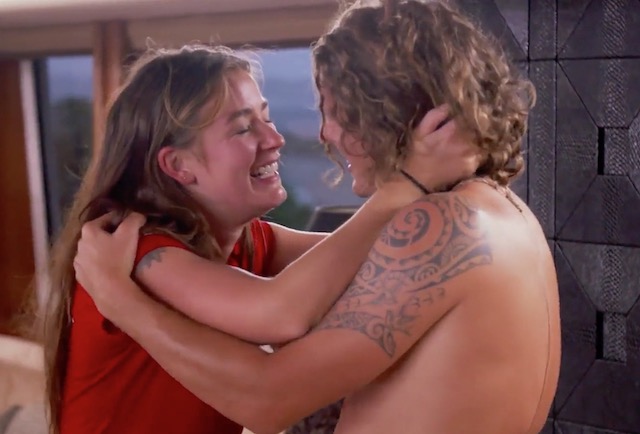 Anastasia and Hannah remain on board to search for tablescapes in preparation for the upcoming final charter. The guests requests both a Great Gatsby and a Moulin Rogue party. So generic! So Bravo! What Anastasia and Hannah come up with is the predictable, tacky AF, beads, feathers, and satin garbage.
Meanwhile, all the remaining boys head into town for dinner. The topic of conversation is, naturally, the interior crew getting yelled at. Joao fondly reminisces about Brooke Laughton's gorgeous tables while Ben laments at how unhelpful they are. As if interior's sole job is to appease Ben like he's some sort of sultan with a harem dedicated to his nosh.
I thought Travis wasn't going to drink, but drink he does. Thankfully, he sticks to a couple glasses of wine, and doesn't even seem to be sloshed. Is this progress? A recognition from Travis that he doesn't need to get trashed to have fun and make friends? Because Drunk Travis loses friends and alienates people. Whatever the case it is much-appreciated by all.
Back on deck Joao barely stumbles through the door to fall into bed with a fever. He tosses and turns, and his body temperature is so high it's overheating their tiny room. Colin wakes Captain Sandy, sadly not with life preserver and whistle. She immediately sends Joao to the hospital. Although she's not happy about it, because if Joao is sick, they're a man down for the final charter. Seriously!
TELL US – DID AESHA MAKE THE RIGHT DECISION IN ACCEPTING JACK'S FAUX-POSAL? IS HANNAH LAZY AND SLACKING OFF? ARE SANDY'S VERBAL LASHINGS UNCALLED FOR? WHAT DID YOU THINK OF LAST NIGHT'S BELOW DECK MEDITERRANEAN EPISODE?
[Photo Credits: Bravo]