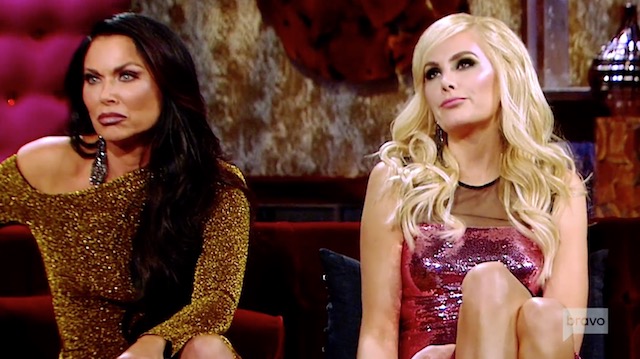 The Real Housewives of Dallas Season 4 reunion is approaching. Andy Cohen and the ladies gathered to relive the major moments from the season in New York City last week. The network hasn't released one frame of footage, but they did share one super important detail: the seating chart.
We all expected LeeAnne Locken and D'Andra Simmons to be on opposite couches. They have been feuding for two seasons at this point, wearing us all out in the process. However, they did not wind up with the chairs next to Andy this year. My guess is that he was just sparing his ears from the inevitable shouting by sitting next to people who are more soft-spoken. Or maybe, just maybe, another feud eclipses the LeeAnne vs. D'Andra drama as the rest of Season 4 plays out.
Get ready for this one: Stephanie Hollman and Kameron Westcott secured the highly coveted "hot seat" spots next to Andy. For years, Real Housewives fans have viewed these positions as indications of importance and seniority. However, it does usually mean that these people will get the toughest questions and get into the most arguments. You win some, you lose some, right?
Honestly, I just don't think the Kameron vs. Stephanie drama is truly that deep. They just don't communicate in a way that works for the other one. They just weren't meant to be friends and it should be that simple, but, of course, it is not. I am just surprised by all of their back and forth on social media and in the press. I wonder if Stephanie regrets using the phrase "surface-level friend" at this point? This just seems like way too much drama over something that just doesn't seem to be a huge deal in the grand scheme of things.
Sitting next to Stephanie is LeeAnne, who is probably livid to give up that seat beside Andy. Next to LeeAnne, is Brandi Redmond, who had a great season with very little arguing and regrettable decisions. I expect her to coast through that reunion, defending Stephanie when she can.
On the other couch, we have Kary Brittingham in that second chair right next to Kameron. Are the Bravo execs just trying to serve LeeAnne and D'Andra slices of humble pie by relegating them to lesser seats than they had in previous reunions? Yes, D'Andra is at the very end of the couch, instead of a rookie Housewife. Ouch. Not only that, but D'Andra's mother Momma Dee Simmons is probably making an appearance… and pushing D'Andra's spot further down the couch.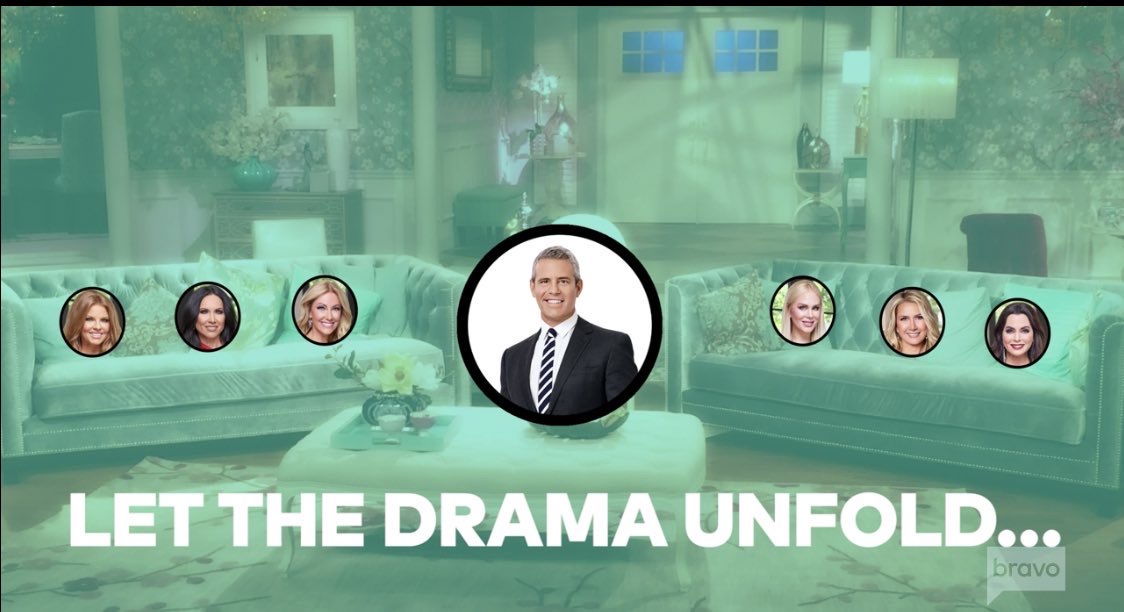 As far as I know, Cary Deuber doesn't get a seat on either couch. Yes, she is a "Friend of the Housewives" this season, but she had zero drama. She didn't bring the storylines the way Vicki Gunvalson and Marlo Hampton do in that same role.
TELL US- WHAT DO YOU THINK ABOUT THE REAL HOUSEWIVES OF DALLAS SEASON 4 REUNION SEATING CHART? ARE YOU SURPRISED STEPHANIE HOLLMAN AND KAMERON WESTCOTT WILL BE IN THE "HOT SEATS"? WHAT DISCUSSIONS ARE YOU LOOKING FORWARD TO MOST WHEN THE REUNION AIRS?
[Photo Credit: Bravo]