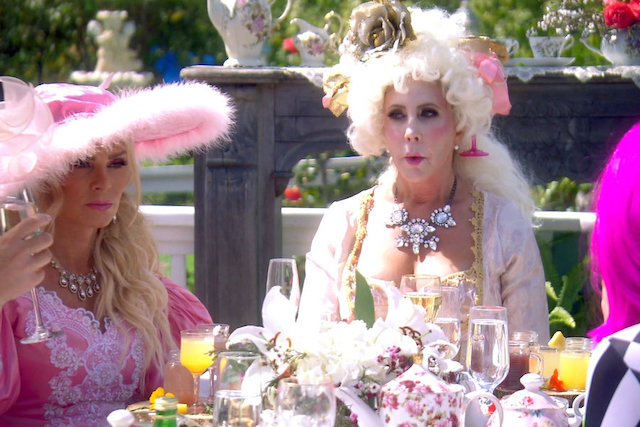 It appears no one can save demoted Real Housewives of Orange County star, Vicki Gunvalson from her own mouth. In a superhuman effort to remain pertinent to the cast, Vicki has inserted herself into all kinds of controversial content. Even though Vicki's status went from "in a relationship" to "it's complicated" with her orange, she still plays a heavy role on the show. Unfortunately, her way with rumors words might have earned her more clapbacks than a standing ovation.
Without Vicki, there would have been no sex train this season. We wouldn't have a nickname for Brown Wind Windham-Burke. And viewers would be remiss to have escaped Vicki's annual visit to the hospital during a cast trip. While Vicki's campaign to come back full time has been rammed down our faces, some viewers and cast members feel it might be time for her to go once and for all. Now, Vicki's words have gotten her into hot water once again. Condragulations, honey!
The ladies headed to Florida so Braunwyn and accessory-challenged husband Sean Burke could show them how to party Miami-style. Apparently partying Miami-style to Braunwyn is the equivalent of auditioning for the Solid Gold Dancers cruise ship tour. After taking in the hot Miami scene, the gang traveled to Key West. As you might know, Key West is the home of a thriving gay community. Much like New York's Fire Island, the Keys have a rich history in acceptance and blossomed as a hotspot for many LGBTQ families to visit or make their home. Lots of people already know this, but Vicki might have missed the memo.
The group visited a drag show to get down, but Vicki was bewildered by what she saw. Vicki said, "I do not understand it. Boys dress like girls, girls dress like boys. I don't get it. Sorry, drags." We don't get why you have had 9 faces, it's okay. Vicki's comments opened the door for social media to educate her on the art of drag. I mean, dragging. One follower wrote, "There Vicki goes with another ignorant comment about "not getting drag queens". You know what I don't get? Substantiating a cancer scam!" Fair point, we're all still scratching our heads over that one.
In Vicki's defense, it could be a generational thing. She probably hasn't been exposed to certain alternative lifestyles LIVING IN CALIFORNIA. Another user shared, "Vicki is an awful human being. She's so degrading to people she thinks she's better than. Drag queens, strippers, everyone who doesn't kiss her ass. She's a liar. A conwoman. A gossip. She is the worst housewife. She needs to go. For good." Something tells me we might not see Vick as a guest judge on next season's RuPaul's Drag Race. Which sucks because maybe she could get some contour tips.
Twitter wasn't done. "I am so sick of #Vicki playing naive to get away with saying offensive shit! Maybe drag queens don't understand your dumbass Vicki! So there," an irritated fan wrote. Vicki was blasted with, "Vicki "just don't get drag queens" comment just shows just how ignorant you are. God don't like ugly & it looked like Karma made you her bitch at the end of the episode." Maybe if you don't "understand" a particular life, religion, or political affiliation, don't question it on national television.
The comments kept coming, "Of course Vicki doesn't like drag queens and doesn't want to be educated. She's Vicki. Please for the love that is God do not bring her back next year." More backlash ensued, "Wowwwwwww. Vicki showed her true self with the drag queen comments. I can't even believe she'd say that on camera." Perhaps Vicki said it thinking people would find her lack of knowledge "cute" or "charmingly naive". Not this Twitter warrior, "Vicki did NOT say she didn't get Drag Queens. Gawd she is so awful, and a prude."
The moral of the story is, it's okay to not understand a lifestyle. But to candidly comment on a community of human beings with a massive following might not be the best look. There are just as many people wondering how someone could subject themselves to multiple elective surgeries. Or wonder how a loyal follower of Christianity with a strong moral compass could be married 3 times. At the end of the day, it's just Vicki being Vicki.
TELL US- WHAT DO YOU THINK ABOUT VICKI'S COMMENTS? WILL VICKI RESPOND TO THE BACKLASH? SHOULD SHE APOLOGIZE?
[Photo Credit: Bravo]