Well, everything stayed the same on Real Housewives Of New York except for one little fairy, who reclaimed her light, and flew away to the hope of a giant walk-in closet with a promising sparkle in her eye. That's right, Tinsley Mortimer has left the building. Specifically, she's left the long-term hotel she was living in.
In secret Tinsley went on an overnight rendezvous to visit Scott Kluth. Then she decided, on a whim, to return to NY, pack her stuff and move to Chicago! It was now or never. It was that or be looking down the barrel of turning into either Ramona Singer or Dorinda Medley. Tinsley does not need to learn her lesson twice as to what happens when you choose Real Housewives Of New York over being a real and actual housewife. She doesn't want to be crying over eggs for the rest of her life!
Seriously it was that quick! Scott promised Tinsley a ring, but better than that, he promised to renovate a bathroom so she could have her own built-in glam room! As Ramona reverently sighed: there is no better proof of commitment than that. It is the highest echelon, it is a symbol of earth-shattering, mountains moving, love, it is true and it is honest and it is more real than Ramona's natural hair color, and it has made Ramona a believer.
So one minute she's The Tinz, wailing about taking back Manhattan (Again-Again) while hot pink blush runs down her cheeks into Dale Mercer's monogrammed handbag.  The next minute she's just Tinsley, a girl in love with a boy, and taking a leap of faith with her heart on the line. I like the new Tinsley. The one who is brave enough to be herself. To abandon this aged notion that being a somebody in a world of scumbodies matters more than being a happy person in a world of technical nobodies.
This is the first thing Tinsley has done that's shown growth. Sure, she has the financial resources to take the risk; knowing that if it didn't work out with Scott she'd still be OK quitting her day job. And Tinsley can always – always and forever and ever – go back to Dale's various gilded prisons. But this is Tinsley finally taking ownership of her life, and finally making a choice to let go of the old notions. Congratulations Tinsdale. (Seriously though, as Tinsley's lone fan, I'll miss her).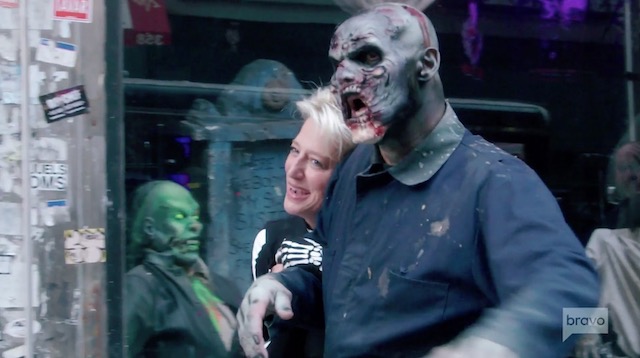 Now if only people could be happy for her! Dorinda decides to invite all the women to a haunted house called Blood Manor. This is the infamous promo scene where Ramona is startled by a zombie on the sidewalk and freaks out. I really didn't think he looked all that different than the guy Ramona meets for a date later in the episode…
The funniest thing is that Elyse Slaine managed to sidle right past the zombie and zombie clown, completely unnoticed. See – even the pretend monsters hired to terrorize these women ignored her. That haunted house was gory and disgusting. Everyone survived with only a few soiled Depends, and afterward, they meet for drinks at Anejo, a tequila restaurant with the cleverest name in the history of smart advertising.
Over first rounds of fancy tequilas, Leah McSweeney announces that Tinsley is preparing for a ring, so this deserves celebration. It was an awkward way of revealing that Tinsley is actually days away from leaving them and moving to Chicago for Scott. Dorinda chooses to totally ignore this announcement to invite everyone to the Berkshires, then mock Tinsley for living in a hotel. Dorinda is jealous that Tinsley is having another shot at love.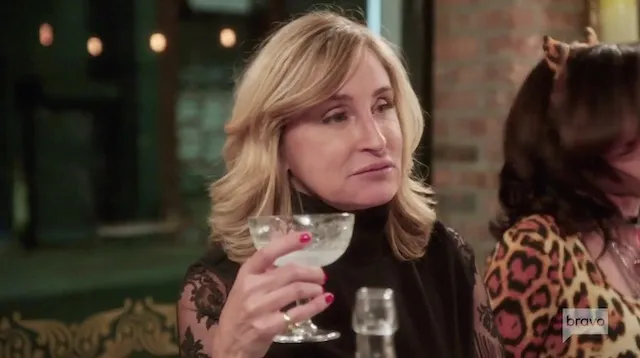 Dorinda then tells Sonja Morgan, Luann de Lesseps, and Ramona to ignore Tinsley and not congratulate her. Ramona, afraid of having Dorinda turn on her, follows the rules, but Luann at least attempts to display some class about the whole thing. Dorinda's jealousy is palpable and it's beyond immature, which is why it's fitting when Tinsley responds by mimicking Dorinda like a little sister would.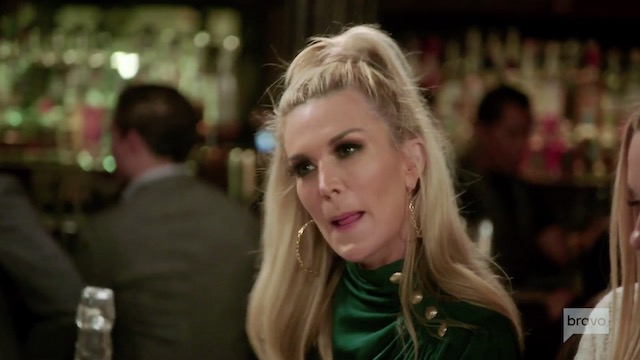 Dorinda really is mean and awful. Also, I'm so tired of watching her judge Tinsley that I guess it's a good thing Tinsley left. This cast, like so many others at Bravo, might – dare I say it! – need a shakeup. Younger, a little fresher, less bitter, and drunk.
Later Ramona pretends she wants to undue her mean woman-ing so she invites Tinsley to get a drink and catch-up. Luann also shows-up. Then Ramona's date appears. That's right Ramona double-booked a date! She deserves this guy anyway. He looks like Lurch, and it turns out he knows both Luann and Tinsley through Harry Dubin. How are there only 5 men in NY? That is the true blood manor – the STD clinic trying to contact trace Ramona, Sonja, & Luann's romantic history. We know Tinsley would never sleep with this guy. She's no PJ for BJ kind of girl.
My favorite part about this scene was not how Ramona interrupted Tinsley mid-romance story to greet her creepy date, or that the creepy date knows Harry Dubin, but that Luann is shocked and appalled that Tinsley would move to Chicago before her Halloween cabaret.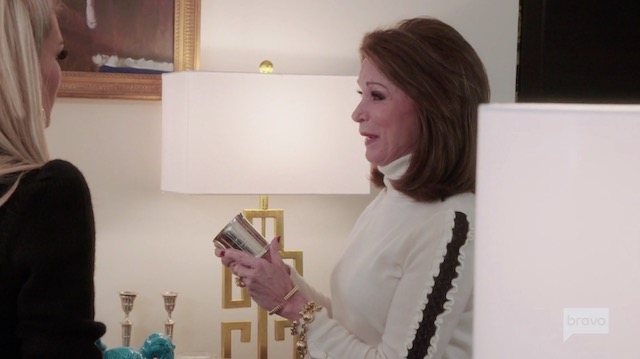 Our last scene of Tinsley is her packing with Dale crying into Tinsley's sterling silver baby cup (which Tinsley probably feeds her dogs from) because she's moving from the East Coast. It's just so apt that Dale considers Chicago some new money cesspool of heathens that she can't ever visit for fear of being kicked out of The DAR (Daughters of the American Revolution). And that's a legitimate fear – they really do have the best potlucks.
Oh, we all know Dale is really crying because she'll no longer get to be on Real Housewives Of New York! But who knows if a Real Housewives Of Chicago will ever happen. Andy says no, and I bet Tinsley (aka: Scott) says no too!
Sonja and Leah come over to say goodbye, but Sonja is really here to say farewell to Dale. Sonja actually picks Dale up in a bear hug and they nearly knock the lamp off the table hours before Tinsley moves out. She almost lost that security deposit!! Then Tinsley puts her dogs in puffer coats and climbs into a town car to ride off into the sunset. Tinsley deserves better than the way these women treat her. Unfortunately, she was the only thing classy on this show, and now she's gone.
Then it's time for Ramona, Sonja, and Dorinda to climb into their own town car and ride off into their own sunset. Or should I say twilight. All the way Long Island where they're being literally kidnapped to help Ramona achieve her late-in-life manifesto of being a socialite. You're never too old to live your dreams!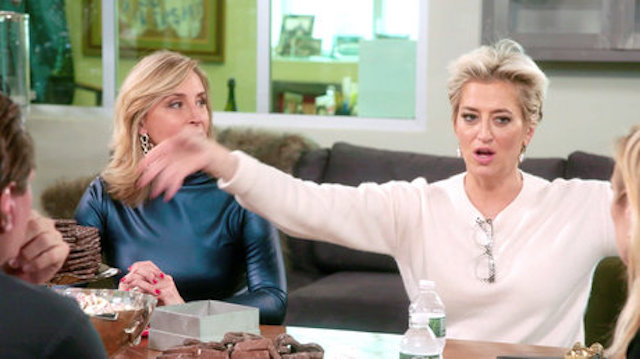 Ramona has hired Larry Scott to throw her a beautiful, luxe, and intimate birthday party for 60 of her closet girlfriends. This time she's actually inviting Sonja and Dorinda, who let's face it, are really her only girlfriends. Luann definitely didn't make the cut. A Larry Party® (Trademarked on his website. Literally.) is over the top, chic, and costs a fortune. Well, unless you can promote him on your semi-low budget TV show… I mean this guy plans parties for Judge Judy so you know he's the tops of the tops!
Ramona behaves as if he's throwing the inaugural ball. She drags Sonja and Dorinda into his huge warehouse where he has this enormous mock tea party spread laid out for … nobody … as if this was a very un-birthday party.  It was just piled with sweets and unachievable dreams. Ramona, Sonja, and Dorinda all have birthdays within days of each other so Dorinda suggests Ramona have a joint party with Sonja. Of course, Ramona refuses. She wants the spotlight all on her. As the Larry Party® doctrine dictates she is the chandelier from which the entire room centers. Oh god…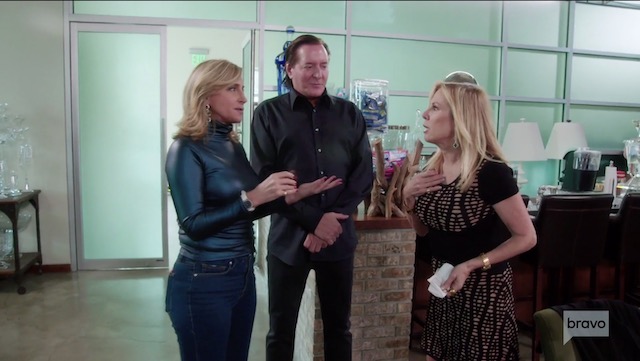 Sonja is outraged that Ramona is being so selfish (really?) so they end up in a big snit right in front of Larry, who asks to excuse himself to give them some privacy. He clearly does not know these women well, nor does he truly mean privacy since he just goes and sits down across the table to pull up a slideshow of his 'past work' on an iPad. Ramona keeps waving her hands around and saying "I'm sorry…" which means she is not at all planning to have a joint party. She's the star.
With nothing else to do but wait, Sonja and Dorinda take liberties with the snack table. Sonja was making love to that whoopee pie! Before they go, Larry demands a group photo for his social media. Sonja has chipmunk cheeks from tucking cookies back there. She had to celebrate the Century 21, Discount Retailer Extraordinaire, has ordered Sonja Morgan Collection for 2 of their giant department stores.
Well, that's pretty much it. Unless you guys want to hear about Luann planning her "Marry F Kill" cabaret show. Or about how Leah juiced kale and her baby daddy/boyfriend-non-boyfriend was afraid to try it, but he did take a dead houseplant to the garbage shoot.
TELL US – ARE YOU SAD TINSLEY LEFT?
[Photo Credits: Bravo]