If Dorit Kemsley were designing a dining room for the women of Real Housewives Of New York it would require padded walls (and floors), plus a vacuum that descended from the ceiling to pick loose clumps of food and spilled drinks. It would also need each table to come equipped with a megaphone and tissue dispensers. And possibly, if we're being really ambitious it would need men, of any ilk and sort, schlubby, stuffy, dad bod, inappropriately clad, drunk, dull, droids – whatever as look as they seem convincing male-ish, they'll pass. And never get between a Real Housewife of New York and a man!
In Newport, Rhode Island where Ramona Singer is pretending to be of the puritanical Mayfair class that Tinsley Mortimer hails from, no one can behave. Leah McSweeney is throwing anything she can pick up, and now they're in yet another bar having yet another emotional meltdown. Honestly — someone just put hormones in their drinks because it's like everyone in this cast is constantly PMSing.
Ramona and Leah form a tacit agreement to try and accept each other. Leah even accepts Elyse Slaine's apology for judging her. Look I love Leah's antics if only because they make Ramona poop her pants – literally according to Instagram – but none of these women owe her any sort of apology. Leah expecting grace for her drunken insanity because "this is just who I am and I won't apologize" is gonna grow tiresome real quick. She tells Elyse she wasn't that bad – really? – and that she's allowed to act out because she was holding it in all week being a mom.
Leah obviously does not mix well with alcohol. Hell, no one on this cast does. Elyse, waffles between wanting to be classy and above it all, and wanting to be shady and part of the group, except she's not and she can't be. She's just too… protective of her image to truly gel. Which is why Elyse apologizes to Leah. Um, judging is literally the only role and sole responsibility of a Housewife: to judge another Housewife.
Then it's decided that they'll go for a boozy lunch. In the middle of which Leah's sister Sarah walks in. Well, you know supermodel Sarah isn't going to be a hit with Super Cougars Ramona and Sonja Morgan, but Dorinda Medley and Luann de Lesseps are surprisingly accepting and kind to her. All is going to surprising well, actually, as they head to dinner at a restaurant owned by Tinsley's friend.
Oh, Tinsley… poor Tinsley. Just poor woebegotten Tinsley, with her voice set in an octave of perpetual whine, and the anxious buzzing of her personality. The restaurant is cute and quaint. Tinsley arrives first with Sarah and Leah to procure their table. Meanwhile, Dorinda is in Luann's room seeking advice. Dorinda spent the evening drinking wine alone, then called John. Now she's all sort of weepy drunk that John wants her back when she needs space. Luann gives her surprisingly salient and good advice to not capitulate.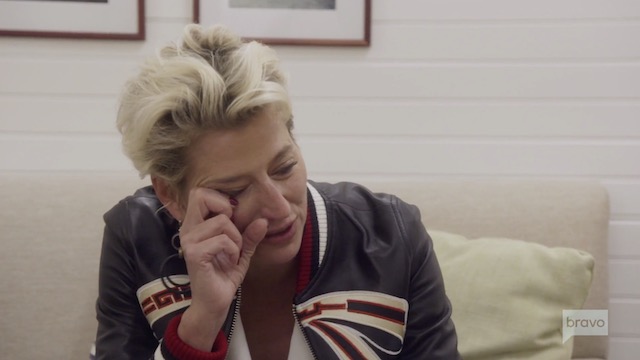 Luann, dear old Luann, was pretty much the voice of reason last night. She told Dorinda to start making decisions for herself to help her heal. She told Leah and Ramona, separately, that their behavior was out of line, and tried to corral reason in the restaurant. Then Luann decided that working together with Dorinda they would repair the group. Now Luann has had a couple years of therapy under her belt, but Dorinda is seeing a life coach who doubles as a chiropractor and is going in there to complain about Tinsley.
As if Tinsley has literally ANY bearing on her life. What I mean is that Dorinda, who considers wine the only counselor she'll ever need and cries into it nightly, is in no position to heal anyone else. Although when Dorinda is up she is sharp and lovely, and barrels of breezy fun. I also like Lu and Do together.
Anyway, dinner is a disaster. The second Ramona walks into the restaurant she spots an active-ish-ish man at the bar. He's wearing golf shorts, and has probably been drinking for hours. He also hasn't brushed his hair since he moved out the frat house in 1982. Ramona is smitten immediately and turns the cougaring to 11. Right behind her are of course Sonja and Luann to corner his friend, an equally dismal showing.
Tinsley starts vibrating with frustration because they're being rude by not coming to the table. Leah, whose hypocrite is hanging from the hem of her trousers, is also annoyed with how they're behaving. Poor Elyse is trapped listening to drunk Dorinda slur about her sex life with Richard.
Tinsley sounds like the backup singer in a girl group from the sixties when she's mad. She's just whining and making no intelligible sounds, but she wants RaSoLu to ditch the doofuses and come back to the table to order like proper wannabe ladies. Tinsley should've taken Leah's advice to just ignore them. But, instead, she marched over their like an ill-trained governess to demand they sit down. Tinsley was actually totally snapped at  Sonja that this guy wouldn't sleep with her anyway, and that she was acting like a desperate cougar.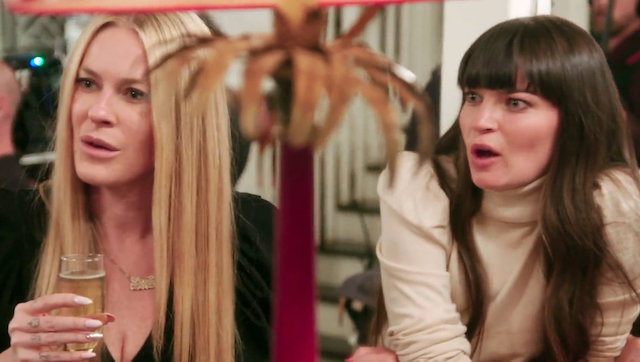 At this point, schlumpy mcdad bod was looking desperate to escape. First of all, he's engaged. Second of all, he had Sonja and Ramona licking his ear and laughing too loud. Then he had Tinsley bustling over to whine about dried up old cooches without manners. Obviously, no one acknowledges Tinsley, so Leah concocts a plan where she and Sarah, exploiting their youth and hotness, will go over to flirt with him, distract him from the geriatric girls gone wild (thank you Elyse), then everyone will convene at the table like proper ladies.
It sort of works. Instead, this guy who is getting far too much attention, basically tells them to leave him the f–k alone, deal with their grannies. Then he storms away. When Leah and Sarah inform the other women that he was such a jerk, Ramona blames them for chasing men away from her. Then she decides Sarah is dead to her, but it got her to the table!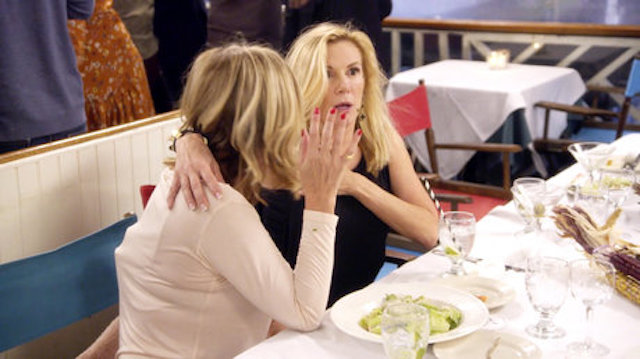 Finally seated at the table, Sonja and Ramona 'pull a Leah' and lose their shit. Sonja puts the decorations up to her ears to block out the sound of Leah. Ramona is ranting that Leah is the problem not her. Then Sonja calls Sarah weird. Dorinda decides to take her trashed self back to the hotel alone, leaving Luann to hold down the fort of good behavior. She wrote the book on this so put you money where your mouth is! Luann just wants all the girls to quiet down, replace the table decorations, and eat a proper meal – a repeat of the night before. This time though the misbehavers are reversed. That is until Leah made a ravioli meet Ramona.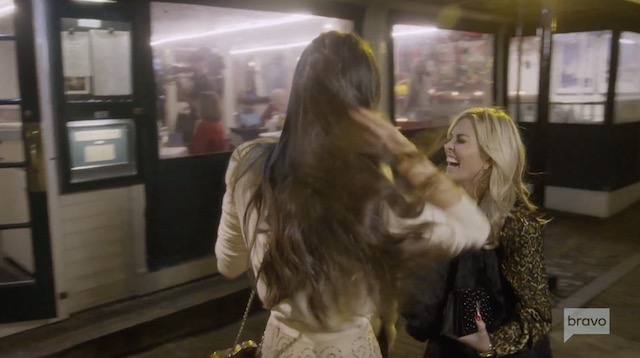 In response to Ramona dismissing Sarah and being rude, Leah stands up, flings a ravioli at Ramona, and Sonja, then walks out. Leah storms out in a big fur shrug, stealing the martini glass, and chugging the contents walking down the street. Apparently, she's the Rihanna of this show. Tinsley practically falls on the floor with laughter, then Leah tackles her to kiss her so they both fall down. Take Dale's manners and shove 'em! It's only a matter of time before Dale calls Scott and offers him the house in Newport if he'll take Tinsley off her hands, force her to grow up, and distract her with a dangled proposal. This Leah is a bad influence and Tinsley's days of procuring a decent man were already numbered!
In response to being 'ravioli'd' Ramona doesn't even flinch. She just calmly picks it off her sweater, and goes about whining to Sonja until Elyse points out that it's all over her face. Luann is flabbergasted.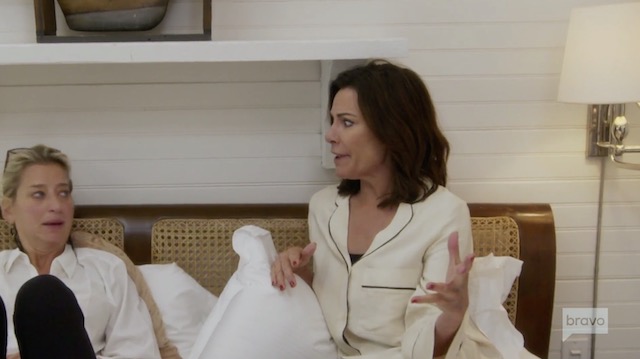 The next morning, everyone is in breakout groups to process the ravioli slap. Dorinda is shocked and, let's be honest, sad she missed it. She's still riding for Leah because she's misguided. Luann thinks Leah could benefit from a copy of her book, and arranges to send her one with some helpfully highlighted passages.
Ramona and Sonja are outraged and appalled. How dare Leah behave so uncouthly in public. They are highly moral upstanding women who have standards. Wasn't Sonja screaming pussy at a party a couple weeks before? Elyse points out that perhaps they have no legs to stand on. None! They are ambutees of dignity.
Chatting with her sister, Leah has no remorse for being who she is. If who she is is a flinger of foods and fingers, and anything else she can get her hands on, perhaps she needs to do some character building. Even Ramona is able to comprehend this. I don't even wanna know what color Leah's parachute is. Sarah is shocked by how little Leah understands about dealing with people. Co-sign that to Dorinda. No wonder they're BFF.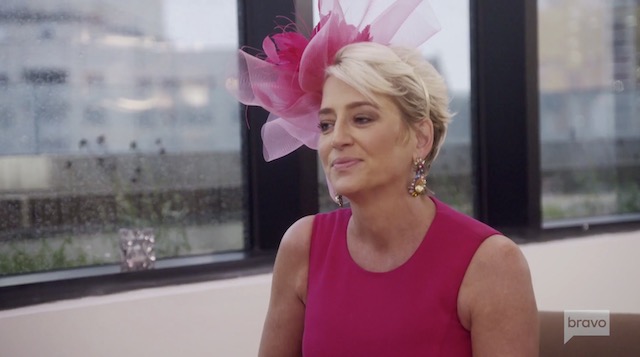 Back in the city Dorinda decides the solution is to host a rebuilding tea party that doesn't serve alcohol. It's like True Renewal but for friendships. Luann is supposed to cohost but leaves Dorinda to do all the work because she's preoccupied with scripting out Married, Shag, Kill for her cabaret show. Didn't you know – Luann does a cabaret!
Leah knows she must apologize to Ramona. Not for being who she is – whomever that is – but for what she did. Leah had lunch with her parents and her mother reminded her, yet again, that alcohol is no friend. Leah's parents were not what I was expecting.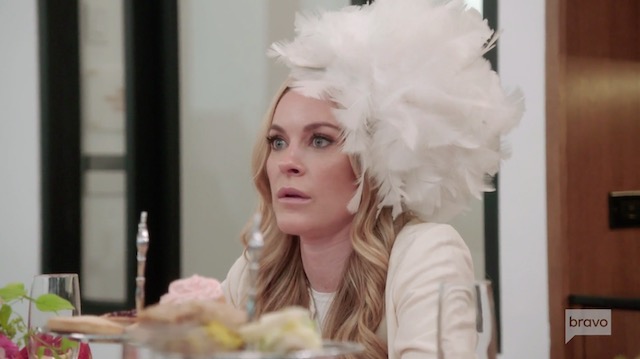 At the party, Leah, wearing a giant white hat like a "Surrender" sign, tells Ramona she's sorry for the ravioli. Although she forgives Leah Ramona expresses concern about her levels of decorum and if she's fit to hang out with them. Dorinda interjects to remind Ramona that they've all had their moments. More than a few! Like when Ramona threw a glass at Kristen Taekman's face, for instance! Ramona is threatened by young beautiful women who don't immediately move out of her way.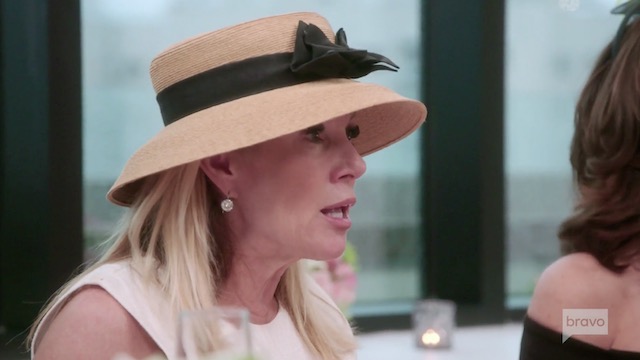 Eventually, though Ramona agrees it's not worth fighting over. She is 60 and finally mature. They hug. Leah cries. Then Tinsley arrives, late and wearing … It's like she was dressed by a six-year-old, then got into mommy's hair gel supply.
Tinsley is happy though. She just spent a secret weekend with Scott Kluth – or so she thought! Right away Dorinda pulls Tinsley aside, reveals that she was sent a photo of Tinsley and Scott form a source (What is she Bethenny now? ) and threatens to tell the other ladies that Tinsley is hiding her relationship, unless she admits it. WHY? WHY ON EARTH DOES DORINDA CARE? ESPECIALLY WHEN SHE SAYS OVER AND OVER THAT TINSLEY IS LESS SIGNIFICANT TO HER THAN A MINT!
Tinsley is baffled. Of course, she tries to justify that they just hung out that one time, but are not together. She reminds Dorinda that she found out about her breakup in Page Six, so Dorinda is hardly in a position to demand Tinsley out her dating life. Dorinda argues that it's not the same thing because all the women already knew. Except not Tinsley?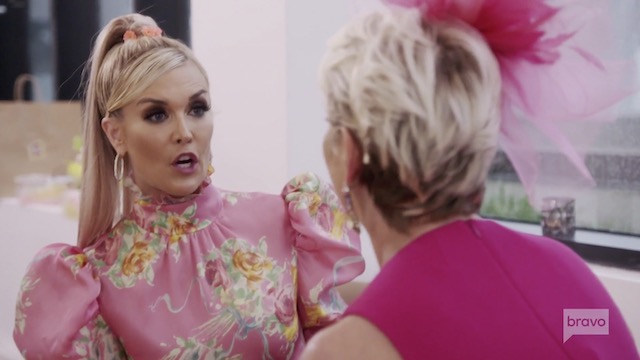 Dorinda's reasoning is preposterous, and incredibly dumb, but Tinsley caves. Immediately when returning to the table admits that she was with Scott over the weekend, but didn't want to tell them for fear of being judged. Instead of ripping into her, the women are exalted. Tinsley actually starts crying with relief, and also because she really loves this man but fears that, once again, he'll push her away. Welp, Dorinda's plan majorly backfired! Every other woman at the table rallied behind Tinsley and her happiness, and encouraged her to force Scott to get serious – or else. It worked… Tinsley ditched them, and got engaged.
Seriously though – what is Dorinda's deal? Emotionally blackmailing Tinsley that if she doesn't tell, Dorinda will tattle for her? Dorinda is gross.
TELL US – WAS LEAH OUT OF LINE? OR WAS RAMONA'S BEHAVIOR OUT OF LINE? WHAT DO YOU THINK ABOUT THIS REAL HOUSEWIVES OF NEW YORK SEASON SO FAR?
[Photo Credits: Bravo]