The Mexico trip is almost over, but the Real Housewives of New York are probably happy about that. The trip has seen so much chaos and turbulence in the group. From the initial issue between Ramona Singer and Leah McSweeney to the renewed focus on Dorinda Medley's anger, it's been a journey. On last week's Real Housewives of New York episode, Ramona tried confronting Dorinda, and it went horribly wrong.
Ramona might be one of the worst possible people to be dishing out life advice. She treats people just as badly most of the time. Another thing coming up soon is Sonja Morgan's big fashion event at Century 21. After so many years of claiming to be working on so many things, this might actually happen. Cross your fingers folks, and hope Sonja pulls through. If she has another failed business, her friends might lose hope for her forever.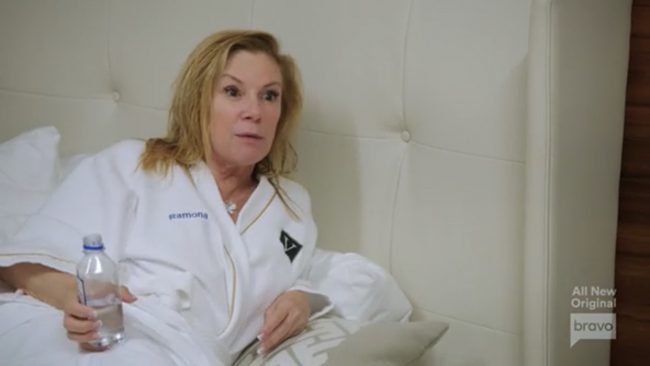 Ramona is still convinced Dorinda has anger problems. I hate myself for agreeing with Ramona. However, you can't deny Dorinda's aggressive behavior all season long on Real Housewives of New York. The way she treated Tinsley Mortimer in the first half was horrifying to watch. The turkey baster comment was appalling on every level.
Ramona evidently sends out a group text about anger issues, a group that even includes Dorinda. What a ballsy move! Dorinda is pissed off and starts sending them all articles about Ramona's past nasty actions. She just lit a fuse that she might not be able to put out. Good job Corona Singer.
Somehow in Ramona's mind, she thinks this is a great idea that will get through to Dorinda. Uh, have you ever met your "friend" before? That's not how Dorinda operates. She's not going to look at that article and suddenly have an epiphany about her life.
Luann de Lesseps tries to talk some sense into Ramona, but she won't hear anything. Ramona has officially started something she can't finish. Dorinda will eat her alive. Dorinda walks into Ramona and Sonja's room saying, "that was a great article". The sarcasm Dorinda's used with Ramona on this trip has been top-notch. Living for the condescension.
Ramona tells Dorinda she needs to deal with her anger. Well in all fairness, you ALL have issues you need to deal with. Ramona needs to be nicer. Luann needs less of an ego. Sonja needs to put down the bottle. I can't believe Ramona is telling Dorinda that she's worse than her father. Considering everything Ramona has shared about her upbringing, that's a little much for a comparison.
Ramona actually thinks Dorinda is jealous of her life and amount of friends. I think it's safe to say that Dorinda's three close friends are probably better than Ramona's fifty. Quality,  not quality honey. I've never seen someone with such an inflated sense of self like Ramona. Who does she think she is? Who is Ramona Singer in this world?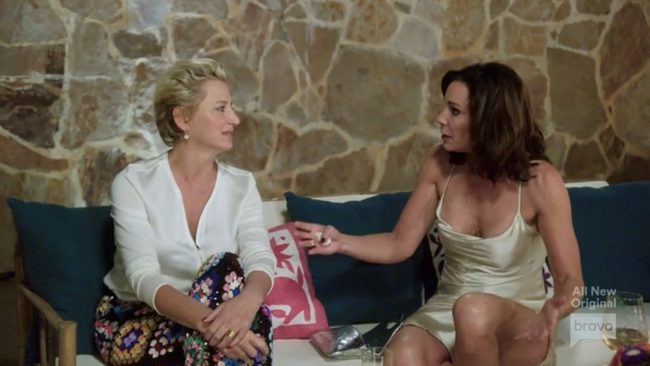 There's one final dinner on the Mexico trip, and there should be plenty of fireworks. Ramona set off a monster with this article. Luann talks with Dorinda prior to the dinner to try and get her to be cool with the women. However, Dorinda thinks it's wrong the way they only focus on her issues. It's like there's a wall up with Dorinda right now. She doesn't want to take in a word coming out of Luann's mouth.
Poor Leah shows up in the midst of a tense back and forth between Luann and Dorinda. Run away because it's only going to get worse from here. Luann is trying to clear everything up, but Dorinda doesn't listen one bit. She can't comprehend for some reason that she unfairly targeted Luann that night. Leah makes a good point that Luann is annoyingly dragging this out. Just move on. It's not that deep.
Dorinda and Luann will never fully recover from the Jovani debacle. There has to be some sort of unspoken jealousy there or resentment. Every time there is an issue between the two, Dorinda brings up the mugshot and Jovani. That kind of tit for tat is toxic to a friendship.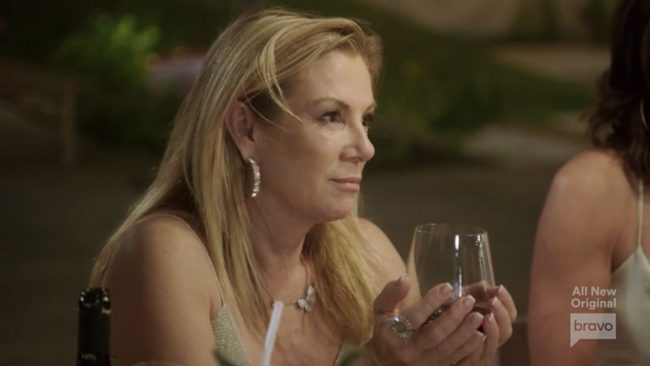 At dinner, Dorinda inquires about Leah's company, but it's hard to focus on that because all you can hear is Ramona complaining about her wine. It's too old for her liking. It's too bad. She's so damn rude to the staff too. How can anyone be okay acting like that? She even complains that the wine is too cold. Bitch go get your own wine.
Leah calls Ramona out at the table for always complaining. My favorite thing about this season has been the way Leah is constantly holding Ramona accountable. She has had her foot on Ramona's neck every single episode. We love to see it. Leah is a bit miffed though because she wasn't included on the anger issues group text. There goes Ramona once again trying to ice out Leah.
Ramona professes her love for Dorinda in her life, but she ruins it by talking about her anger. Ramona being so fake hurt is nauseating. She's a grade A assh**e, and she'll never change. Stop with the fake theatrics. It's so phony. Luann wants Ramona to be real which has no chance of coming true. You have a better shot at Luann winning a Grammy.
Sonja believes Dorinda is projecting her personal pain on the rest of the group. Yeah, that's probably true. Dorinda is on some wild s**t this season. She's always been brash and intense, but it feels darker this year. Whatever she's going through internally is splattering all over the group like she's Bravo's Jackson Pollock.
Ramona accuses Luann of not confronting Dorinda fully because she uses her to get perks. What has Luann recently ever used Dorinda for? She didn't necessarily use her for Jovani. Dorinda acted like a whole ass at the show which created the iconic Jovani moment. Let's not rewrite history. Introducing someone to something doesn't mean you have to owe them for the rest of your life.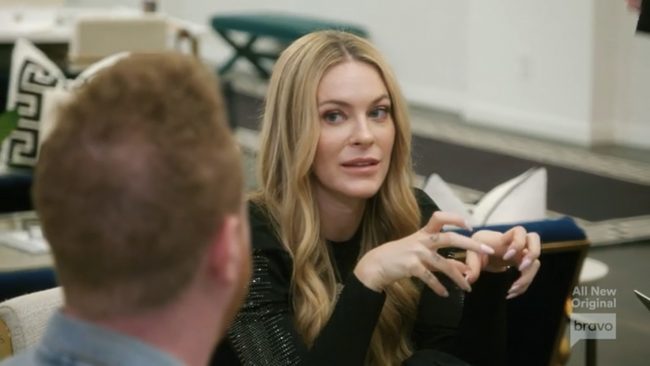 The Mexico trip has come to an end, and Leah is hard to work at Married to the Mob. She built her brand from scratch, and it's been a raging success. The designs feel like a reflection of Leah's personality. Her essence is infused in every piece.
She feels like the sky is the limit for her brand right now. I bet being on this show and being a fan favorite has caused her sales to skyrocket. It was a super sound business move to get this added exposure.
Ramona is in a weird place following the events of Mexico. Blah blah. Cry me a river. She caused all of her own drama in Mexico. However, Ramona has to always be the victim with her poor me attitude. Ramona admits that her flirting persona with men isn't a real version of who she is. I'm a little shocked to hear her admitting that. She wants a man to love her for who she is. As long as their in the top one percent, I'm sure it'll be a great fit.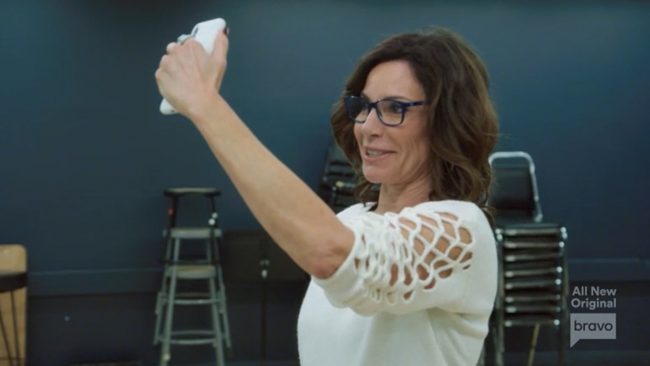 It's rehearsal time for the cabaret show, and Sonja is nowhere to be found. For someone who wants to be paid for this, she isn't making a great impression. Maybe if she actually showed up, she might deserve some pay. Unless she is actively involved in this though, I wouldn't pay her a dime.
Luann calls Sonja, and Sonja hates that rehearsal is on the day of her party. Although, Sonja claims she was never told to be there. That seems like a fib. It's probably more likely that Sonja is more invested in her own event than Luann's show. Let's let Sonja have this one. She needs a win. Hopefully, this event is everything she ever wanted and more. We've come such a long way from the toaster oven days.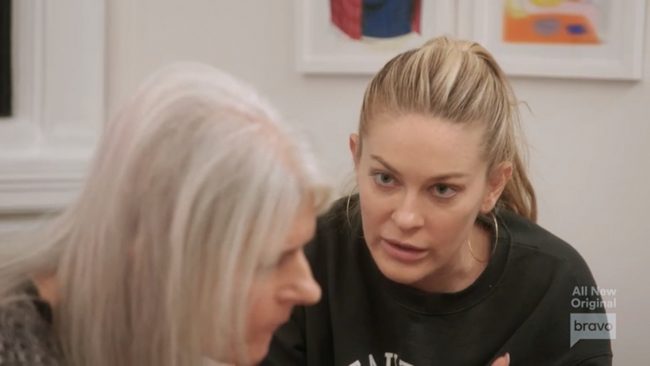 Apparently, Leah's mother Bunny McSweeney stays at her apartment on Tuesday nights. That has to be awkward after finding out that her mom doesn't even like her. That's something that needs to be addressed. Leah brings it up, and it makes her mother laugh. That's kind of a mean thing to say about your child. She doesn't care for Leah's drinking, and it's hard to shame her for that. We've seen Leah's out of control behavior under the influence at many points over the season.
Leah breaks down after her mother says the drinking could have an effect on her daughter. From what we've seen so far this season, her daughter seems to be fine. At least on the outside, Leah looks like a great mom. The relationship looks a lot stronger than the tumultuous one between Leah and her own mother.
I'm so proud of Sonja because a few years ago I'd have never thought she'd succeed like this. This bitch is an entire international lifestyle brand, and so far tonight I'm impressed. Regardless of her past, it's always great to see someone as sweet as Sonja succeed.
Luann questions whether or not Sonja is going to show up to her show. Despite what's going on in her own career, Sonja should at least be there for Luann. She made such an uproar about getting paid, and she can't even show up to the required events.
Finally, Sonja gets to do her speech, and Ramona's phone keeps ringing. When will Ramona ever learn how to have proper manners? Whenever she can act like a normal human being, let me know.
Check out the Reality Tea Merchandise Store to buy clothes, accessories, mugs, and more!
TELL US – ARE YOU HAPPY FOR SONJA'S SUCCESS? DOES DORINDA HAVE AN ANGER PROBLEM? SHOULD LUANN KEEP SONJA IN HER CABARET SHOW? ARE YOU ENJOYING THIS SEASON OF THE REAL HOUSEWIVES OF NEW YORK?
[Photo Credit: Bravo]