This is it! We made it to the season finale of The Real Housewives of Orange County! It came suddenly. Yet it took forever to get here. What a strange, strange season this has been. It's worth noting before diving into the drama that, clocking in at just 14 episodes (and assuming there's no Secrets Revealed episode after the two-part reunion), this is the shortest season in RHOC history since Season 4. That was back in 2008. During the earliest days of Tamra Judge pointing her finger across the table at Javier's and accusing Gretchen Rossi of going to Bass Lake.
It's also only one episode longer than the freshman season of RHOSLC that's also airing right now. Blame it on the pandemic. Or on the First Ladies of Bravo showing their age after 15 years. Or some combination of both. But it's truly unprecedented for a flagship show that has regularly delivered 20+ episodes per season for the last decade. And is it just me, or did it sort of feels like production just…decided to wrap things up? Was it the worst season in Housewives history? That's to be decided. But was it one of the weakest? Almost certainly.
To end the season, Emily Simpson is throwing a beach party! Because she's finally decided to contribute something to the overall storyline, COVID scare notwithstanding of course. It's easy to forget about the party planner half of Em's persona. But remember when she first appeared on the show as the party planner behind Tamra's country-themed grandbaby shower back in Season 10? And that was a full three years before she got her orange!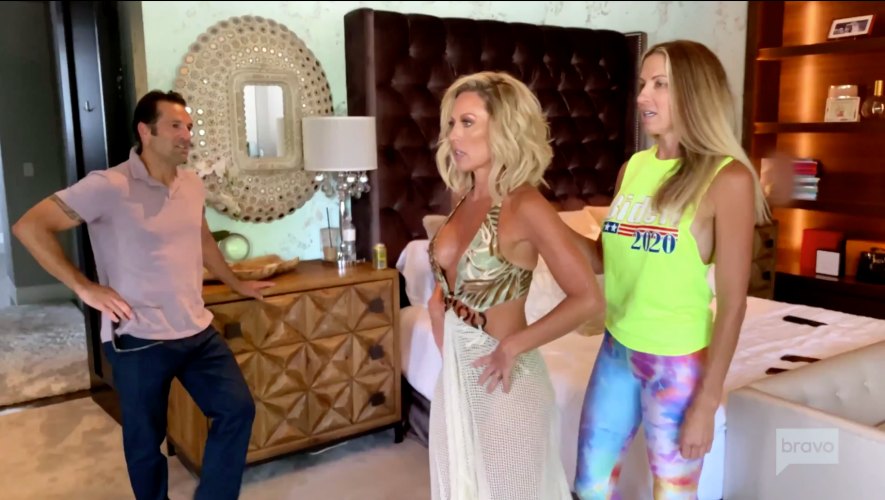 But first, let's lay the narrative groundwork for the party, shall we? Because it's not a season finale soiree without something to fight about! And all the drama boils down to, essentially, two issues. First, it's gotten back to Shannon Beador that Gina Kirschenheiter's been talking about her relationship with John Janssen. And Shannon is n0t happy. She's busy sending her oldest daughter off to college and doesn't appreciate being the subject of gossip despite being the one who told Gina and co. that her relationship has been…not good lately. She's also fallen back into her old habit of one-sided friendship.
Only this time, Gina's taking on the part that Tamra played for so many years. It's all histrionics and incessantly needy phone calls fifteen times a day, and Gina doesn't know what to do at this point.
The other source of contention is everyone's issues with Braunwyn Windham-Burke. All the ladies seem over her for various reasons. But all of them circle back to the overall question of her authenticity. Kelly Dodd basically hates sober Braunwyn. (Which, like, rude. Her whole attitude toward Braunwyn getting sober and healthy has been just disgusting, frankly.) And all the 'Wives have questions about what's going on in the Windham-Burke house. Are Braunwyn and Sean Burke even together? Is there something more going on with her live-in BFF Shari?
Braunwyn herself doesn't even know how to explain her life at the moment. Via confessional, she again hints at the "major conversations" she and her husband need to have. It sounds like it's gotten to the point where she loves Sean but she's not in love with him anymore, you know? But is she in love with Shari? She won't say one way or the other. (Personally, I think the sophomore 'Wife might ultimately be in love with herself more than with anyone else. But that's just one opinion…)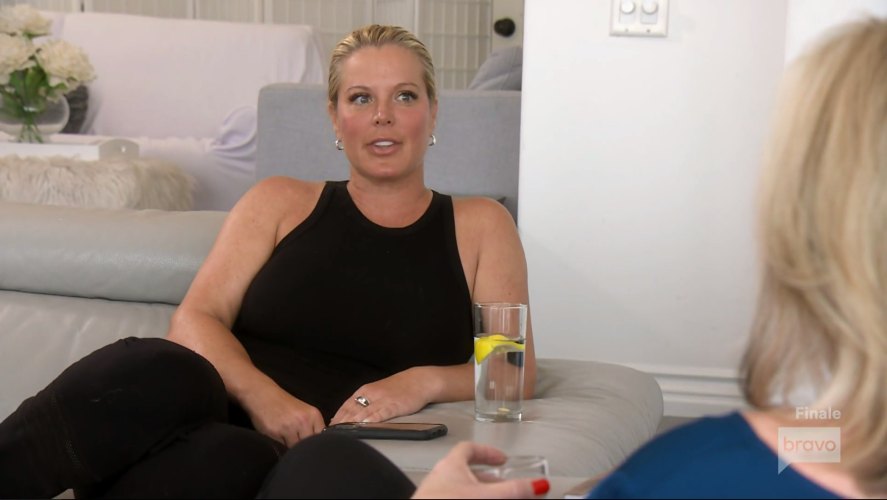 Meanwhile, Elizabeth Lyn Vargas is finally going to therapy to deal with all her repressed trauma. You know, from growing up in a cult. I've gone back and forth on Elizabeth all season. But I think she's a fascinating character study for TV. And certainly a Housewife unlike any we've ever seen in the OC. Or in the entire franchise, really. Ultimately though, Elizabeth doesn't know who she is.
Even at 45 years old and with her divorce behind her, the newbie's still figuring out her identity beyond being the richest b*tch in Newport. And she has massive amounts of work and introspection and personal growth to do to figure that out. So I hope she gets a second season to show viewers that journey in front of Bravo's cameras. Because it's sure going to be an interesting ride.
The day of the beach party arrives. And while Emily's technically hosting, it's at Elizabeth's beach house. It's the first time all six Housewives have been together since Braunwyn's vow renewal pre-production shutdown. So…at least five months ago. Since then, it's all been socially-distanced meet-ups, Zoom calls and one-on-ones. So it feels good — and weird — to have everyone back on the same stretch of sand to hash things out. And it starts off on a good note, with Shannon bearing customized face masks for all the 'Wives. But all it takes is dividing up into groups for things to start going south.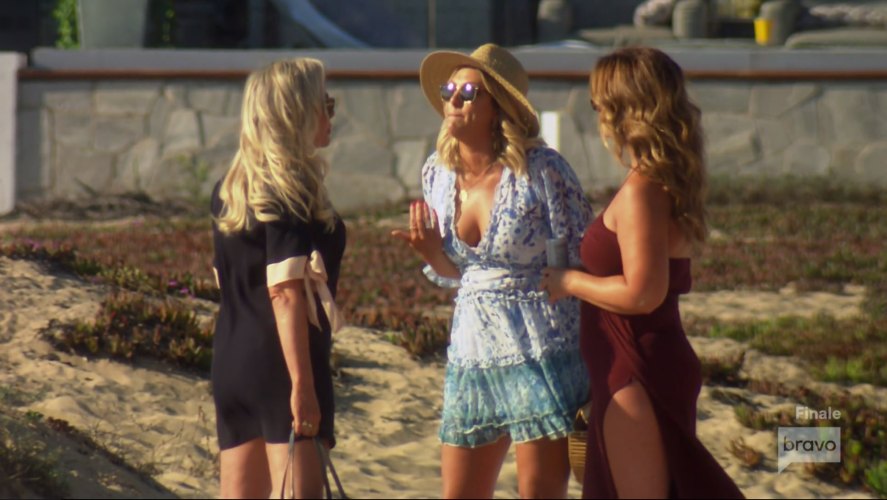 While Braunwyn confides in Gina that she's going back to school to become a drug and alcohol treatment counselor, Kelly's busy gossiping about her frenemy and Shari. (And honestly, the snark about "coming out" and questioning Braunwyn's sexuality behind her back inches far too close to homophobic for my liking. Kelly is vile.) Then, Shannon pulls Gina and Emily aside to confront them for talking about her own relationship with John. Gina insists it was all coming from a place of genuine concern. She also rightly points out that she didn't want to meddle in Shannon's home life because she didn't want to overstep a boundary as a friend. When did Gina secretly become the most correct and relatable person in this cast?
Shannon cries, admitting the fairy tale label she'd put on her new romance was maybe too much pressure. Eventually, they squash it. But I'm more concerned that they didn't address Shannon's co-dependency in friendship. Because the underlying issue is just going to keep perpetuating itself, whether Shannon is happy with John, or whether Gina's talking about it or not. As they rejoin the table, another argument has already broken out between Braunwyn and Kelly over, you guessed it, authenticity.
Kelly doesn't understand why Braunwyn opens up to some of the 'Wives (like Gina) and not to others (like her). That reasoning seems pretty cut and dry to me. Why should Braunwyn be expected to pour her heart out to Kelly when Kelly secretly can't stand her?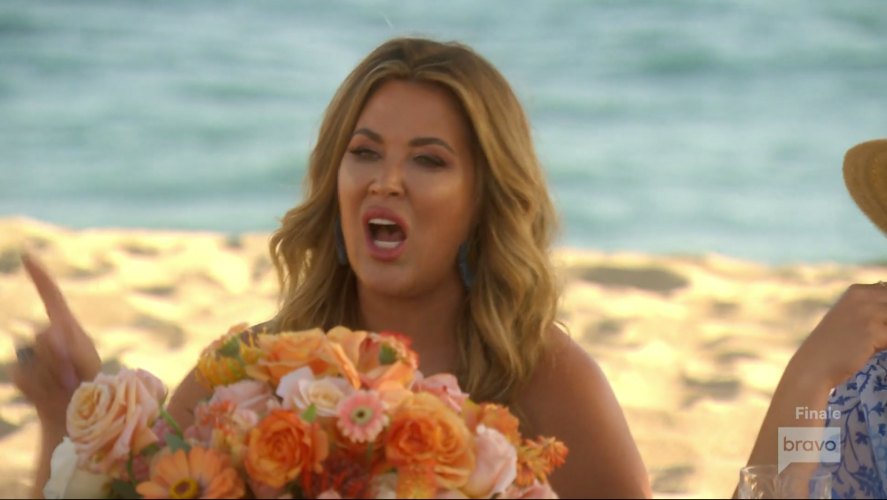 Soon enough, all the other women get dragged into the conversation. And it starts feeling like a Braunwyn intervention. Or straight-up bashing session, depending on how you view it. Elizabeth's mad that Braunwyn's been stand-offish since Lake Arrowhead, until it comes out that she made some terribly questionable comments about Braunwyn putting her kids through her alcoholism and then abandoning them. So…maybe that's why Braunwyn's not returning your texts, Liz… Mid-argument, Emily also throws out that there seems to be a "level of compulsive lying embedded in" the new 'Wife. So much so that she doesn't even realize she's doing it. But this isn't about Elizabeth, it's about why everyone hates Braunwyn.
The 'Wives question what's going on in Braunwyn's marriage. She says she loves Sean. But also admits she loves Shari. And yes, there are some big issues going on in the house. And some of Sean's needs clearly aren't being met. But Braunwyn feels like she has the right to be selfish at the moment while she figures everything out. She also admits she hates Newport Beach, with its oppressive conservative culture, and she's trying to be a beacon of liberal light amid such a staunchly Republican crowd. Kelly jumps down her throat at this, screaming about how "the tolerant are always the most intolerant," while simultaneously telling Braunwyn to leave Newport Beach if she hates it so much.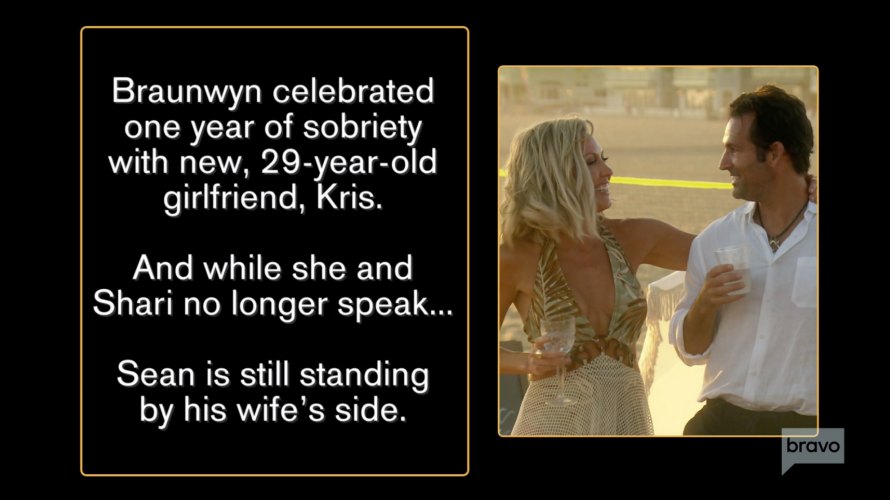 Shannon distracts from the fight by revealing she's literally taped into her dress just in time for all the husbands and boyfriends to show up! In a random turn, the fighting all but stops, and Emily takes over as the de facto narrator for the remainder of the finale. Going around the circle, she gives thoughtful toasts to each of her cast mates, which coincides perfectly with their end-of-season "Where Are They Now?" cards. She's also, randomly, the only 'Wife to get a final confessional as the episode draws to a close. Hmm… could producers be positioning Emily to get the center orange next season?
Most of the final check-ins are nothing we don't already know. Kelly got married on 10/10/2020 with none of the other 'Wives in attendance. Gina's sworn off experimental hairstyles. And Braunwyn came out as a lesbian and is dating a 28-year-old while still married to Sean. However, there is one casual reveal that I'm going to need all the tea on at the reunion: Braunwyn no longer talks to Shari. Wait, what?? What happened? Is this why I've never been able to track down Shari's last name for these recaps? I'm dying to know what went down to make that co-dependent friendship crash and burn. In the words of Vicki Gunvalson, "I don't wanna know this. Tell me more."
TELL US – WAS THE BEACH PARTY A BUST? IS SHANNON REALLY HAPPY IN HER RELATIONSHIP? WHAT DO YOU THINK HAPPENED BETWEEN BRAUNWYN AND SHARI? WHY DID EMILY SUDDENLY BECOME THE REAL HOUSEWIVES OF ORANGE COUNTY FINALE NARRATOR?
[Photo Credit: Bravo]