This is it. The end of Season 15 of The Real Housewives of Orange County. We made it, guys. Now, I for one wouldn't actually say it's been the worst season in modern Housewives history. (That distinction still goes, in my opinion, to Season 13…) But it certainly was an odd duck in the show's fifteen-year canon. And sure, there are plenty of reasons. Blame it on the pandemic. Or in the glaring absence of Tamra Judge and Vicki Gunvalson. Blame it on the new girl. Or on the fact that these women don't really have authentic friendships anymore.
But really, when you look back at the history of RHOC, the show veered off course after Season 11. And it's been in a never-ending nose dive ever since. (Though I for one rather enjoyed most of Season 14…) Personally, I have my theories about why that is. (Read: the unforgivable loss of Heather Dubrow, which many fans are just now starting to recognize four seasons after her exit.) But either way, this is where we've arrived. So for one last time, let's dive back into the complicated mire that is Season 15 in the OC.
Part 1 ended with the major bombshell that Braunwyn Windham-Burke had once offered to hook Shannon Beador's daughter Stella Beador up with drugs. The entire room is rightfully stunned by this accusation. Including Braunwyn herself, who claims to not remember ever saying such a reprehensible thing to a 14-year-old child. She feels horrible, and apologizes over and over again, breaking down in tears. But also admits she can believe she'd do something like that when she wasn't sober. And shockingly, Shannon forgives her without much of a fight. It's honestly a weirdly anti-climactic resolution after waiting so long to angrily drop the bomb.
Gina's New & Improved Life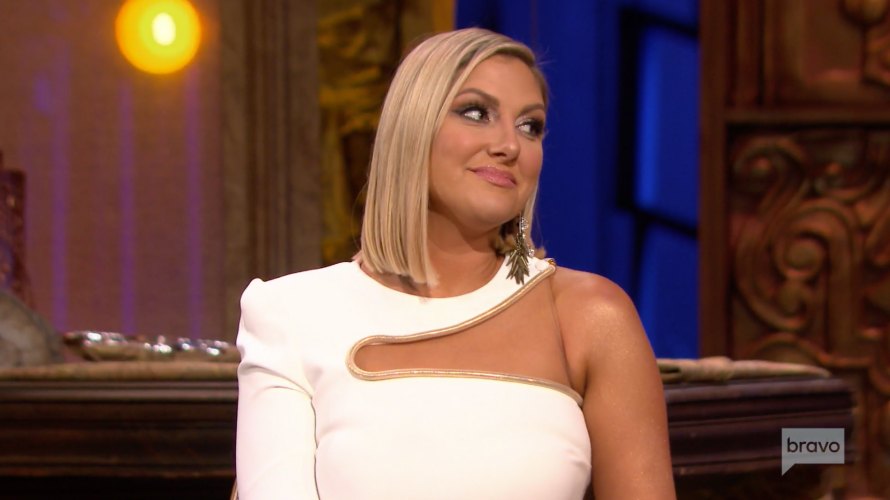 Moving on, Gina Kirschenheiter gets a sweet package about her new boyfriend, new house and new hairstyle! Despite the global pandemic, it's pretty clear her life got infinitely better in 2020. She's happy with Travis Mullen. Her house is not sad or depressing. And she's finally figured out that when it comes to her hair, less is most definitely more. The one source of drama that's still going on is her ex-husband Matt Kirschenheiter's domestic violence charges.
Because of the pandemic, Gina never submitted a victim impact statement to the court, but insists she still plans on doing so. However, she's focused on healing, standing up for herself and successfully co-parenting with her ex.
How Do You Solve a Problem Like Kelly?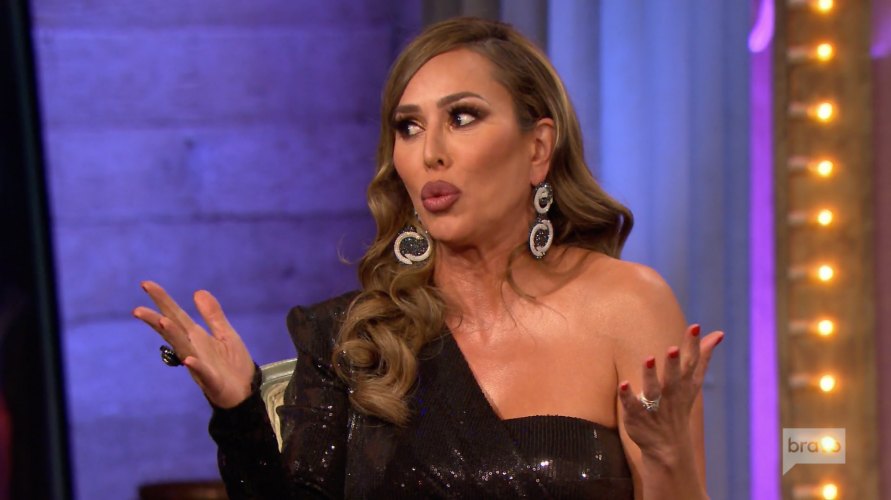 Ready to talk about RHOC's insensitivity problem? Because Kelly Dodd is in the hot seat. Whether it's Braunwyn's sobriety, Shannon's tincture or calling the new girl "fat," the loudest mouth in the OC just never says the right thing. Like Gina points out, she's as sensitive as a porcupine. But hey, she got married during the pandemic with 20 people present. And technically had far fewer guests than, say, Cynthia Bailey, who got hitched on the same day. (Only Emily Simpson and Gina scored last-minute invites, but none of the 'Wives attended.)
The biggest conflict arises, though, over Kelly's opinions regarding social justice, protesting and Black Lives Matter. Which pits her against Braunwyn, the self-appointed activist of the cast. Braunwyn takes issue with Kelly's infamous "Drunk Wives Matter" hat. Which of course Kelly downplays and defends. And she has another defense for all the ignorant and racist comments she's made in the past. Guess what? She's Black! According to Kelly, she has license to say whatever she wants because her genetic test from 23 and Me came back to reveal that 1.6 percent of her ancestry comes from Sub-Saharan Africa.
Honestly, watching Kelly scream "I'm Black!" at the reunion is one of the most ridiculous things I've ever witnessed in the 15 years I've been watching Housewives. As Braunwyn points out, every person on this stage has benefitted from the privileges of their perceived whiteness. Now is certainly not the time for Kelly to go around screeching that she's Black. Or that she's done so much for the Black community. Or gay people. Or try to convince people she's an LGBT ally. Trying to justify her ignorance and mocking, offensive attitude isn't a good look, cancel culture or not.
Everyone Hates Braunwyn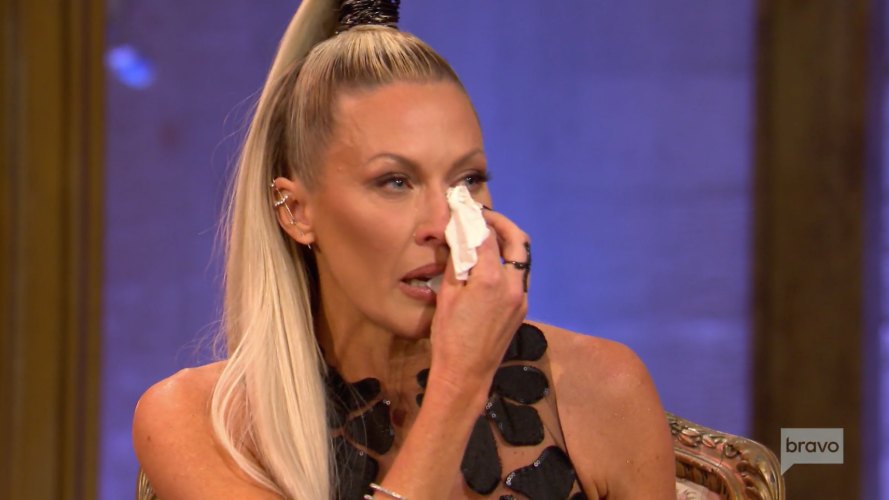 Somehow, this diatribe segues into everyone piling on Braunwyn. Kelly screams that her nemesis has "never done anything for Black people" and that her woke-ness is a convenience. (However, I would push back that at least Braunwyn is trying to use her platform as an ally. She's one of the few white voices in the Bravosphere who has consistently tried to show up, learn and be a visible support, no matter what her flaws and faults may be.) But to the other women, it all comes across as performative. And they say they support social justice just as much, they just don't post it all over social media, OK?
They also take Braunwyn to task over her sexuality. And mostly asserting that they're all homophobic. Kelly can claim to support the LGBT community all she wants, but would a real ally make derisive comments about lesbians and raw tuna? I don't think so. The most interesting moment of this whole exchange, though, is when Elizabeth Lyn Vargas pipes up and reveals she's bisexual. But that she's "non-practicing." Oh and that Braunwyn tried to kiss her after they met.
Andy Cohen puts a pin in the conversation by giving Braunwyn a much-needed reality check. He argues that she's going through so many changes right now, she needs to focus on herself and not trying to be a role model for everyone else. And it's hard to argue with that.
Elizabeth's Escape From the Cult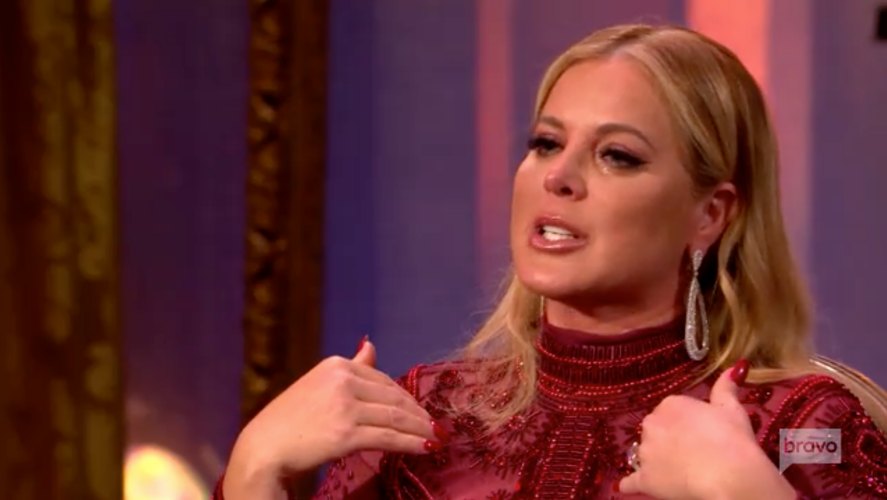 Circling back to Elizabeth, it's time to talk about the cult. I know a lot of people don't care for the newbie, but this was the most fascinating storyline of the season in my opinion. I'm most curious, honestly, about whether production or Bravo knew about Elizabeth's past during casting. Or was this a complete surprise when it came out in Lake Arrowhead?
I've done some research, and the cult started by Elizabeth's grandmother was the Faith Bible Tabernacle in rural Missouri. The rookie is still clearly uncomfortable with revealing her past on national TV. In tears, it seems like she vacillates between feeling vulnerable in owning her truth and flat-out regretting it. But I kind of hope Elizabeth comes back next season, simply to continue unpacking that and hopefully find her true self in the process.
"Who's Sean?"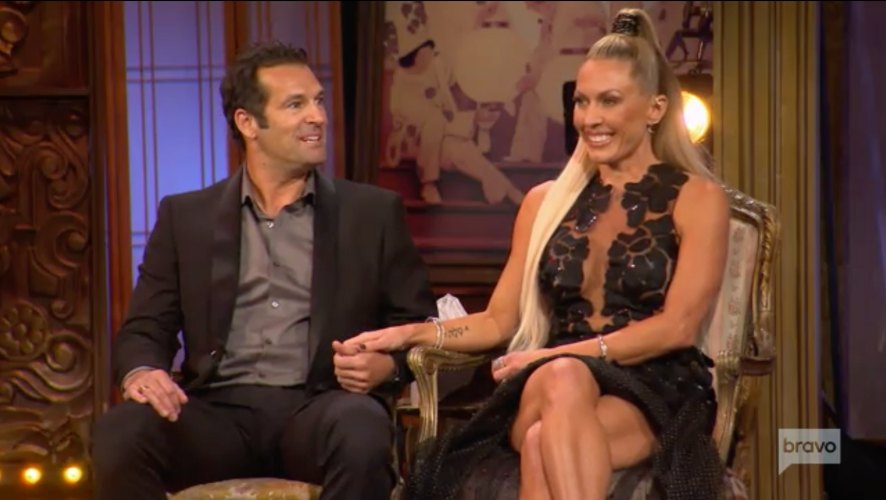 Finally, it's time for Sean Burke to join the ladies, even if Shannon outright forgets for a moment who he is. When discussing their non-traditional marriage, all of the 'Wives heap sympathy on Sean for being dragged along by Braunwyn. Elizabeth offers him her divorce lawyer. Gina surmises the boundaries of the marriage move only when Braunwyn allows them to. (Case in point: Braunwyn flipping out after finding out Sean had had another woman over to the house…when she was on a vacation with Shari.)
Speaking of Shari, apparently that friendship imploded after she asked Braunwyn to leave Sean for her. Except apparently Shari identifies as straight? It's all very confusing. Braunwyn insists nothing physical ever happened between them, but admits it was a sort of emotional infidelity.
The more pressing issue that Gina brings up is Braunwyn admitting on camera to hitting Sean. Rightfully so, to Gina that's domestic abuse. Sean takes turns justifying, downplaying and excusing his wife getting physical. He blames it on her alcoholism. And explains that for once, he was standing in her way rather than enabling her. As one of the 'Wives says under her breath, he basically swallows it. All of that may be true, but it's undeniably dark. And there's no real resolve to it other than the Windham-Burkes deciding to move past it. Who knows what the future holds for the couple, but it will certainly be fascinating to watch them navigate this dicey territory.
A Mocktail Toast
And with that, the reunion's pretty much over! What an odd note to go out on. The ladies all go around and share one thing they've learned from COVID. Kelly's is, of course, not to live in fear. Several others focus on the importance of family and rejecting materialism.
And then Andy passes the baton to Emily to give the final toast of the season. Which is interesting, considering she also closed out the finale by serving as the de facto narrator. Andy may have hinted today that Real Housewives of Orange County is about to undergo a serious — and much-needed — "reBOOT," but I don't think Em is going anywhere. Only time will tell, but it's safe to say this was an end of an era in the OC. Real Housewives of Orange County Season 16 is, blessedly, going to look a lot different.
TELL US – WILL KELLY BE FIRED FROM REAL HOUSEWIVES OF ORANGE COUNTY FOR HER INSENSITIVE COMMENTS? WHAT'S YOUR TAKE ON BRAUNWYN AND SEAN'S MODERN MARRIAGE? WHO DO YOU WANT TO RETURN FOR REAL HOUSEWIVES OF ORANGE COUNTY SEASON 16?
[Photo Credit: Bravo]