After a jaw dropping season finale, the Southern Charm cast are ready to do battle again at the reunion. In an end of season cliffhanger, Kathryn Dennis was shown taking a pregnancy test. What a shocker! Nobody has a clue this was a possibility prior to the airing of this. Hopefully we get some clarity regarding this during part one of the reunion. Also, what will Kathryn have to say to Leva Bonaparte after a season of being on the receiving end of her crusade?
In addition to all of that, Charleston's most dysfunctional couple looks to be fighting once again. The never-ending saga of Austen Kroll & Madison LeCroy rubbed many in the group the wrong way. All season, every group event turns to chaos because of these two and their toxic relationship. From the looks of things, Craig Conover in particular has had enough. He's ready to drag Madison from here to the ends of the Earth.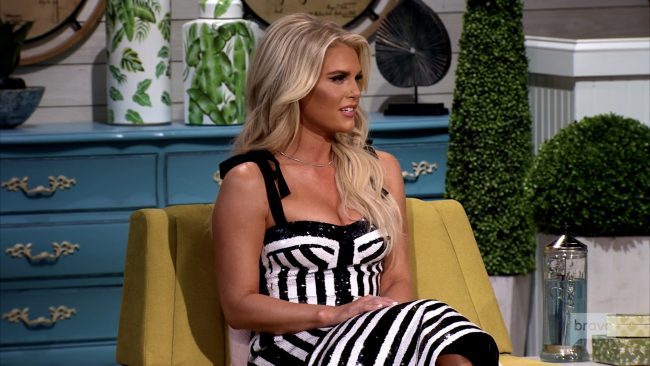 I'm not sure if this is an unpopular decision or not, but I prefer the new style of reunion seating. It feels a lot more open, and people don't read into the seating arrangements as much. I know it's being done for the sake of the pandemic, but I hope this new setup remains.
Right away Andy Cohen asks Kathryn if she's pregnant, and she's not. Nobody knows when it comes to her what's possible, but this time she's not with child. Could you imagine the people saying her being pregnant is strategic as well? Leva would be allllll over that.
Andy asks them about how they handled the early days of the pandemic. Leva took the virus the most seriously, but many of the kids doubted the legitimacy of it. The pandemic hit their town hard because of the hospitality centric nature of it. I'm located in the Orlando area, and it's the same for us. Being such a hub for tourism, we've been decimated by the virus and travel restrictions.
On a lighter note, Andy brings up the videos Austen and Craig made on Instagram in the early pandemic days. Madison's not a fan of any of these antics, but Craig shuts her down fast. Out of nowhere he calls her out for sleeping with a married former MLB star? WHO IN THE A-ROD COULD HE BE TALKING ABOUT?
Madison demands for Craig to reveal a name and denies ever doing that. Austen cosigns Craig's accusation, but we don't get to hear the name. Sadly, the bleep out the name of the former baseball star, so it's still a mystery. The more Madison's trying to deny these rumors, the harder Craig comes at her.
Andy wants Craig to dial it back a bit because they're only 20 minutes into taping. Slow down my messy friend. Give it time. Let the drama marinate. We have plenty of time to get into the nitty gritty of who is sleeping with who.
Can you really blame Craig for being at his wits end with Madison? He begged her all season to finally cut the cord and let Austen go. However, she insisted on stringing him along and making everyone's life a living hell. This version of Craig is a product of her own making. Take it all in Madison. This is your life.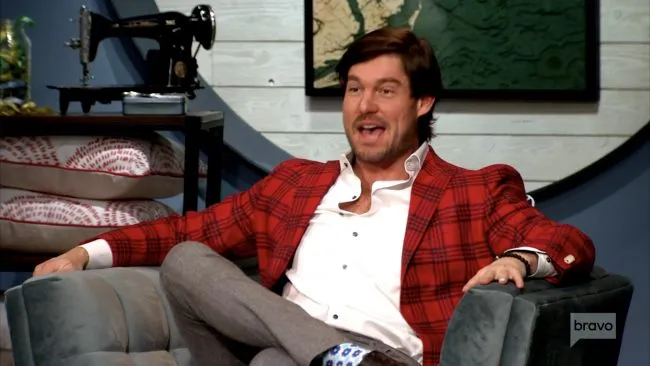 Madison tells Craig he's just upset that Austen slept with his new girlfriend Natalie Hegnauer first. Does this woman have no morals? Why's she trying to create friction between them over this? Her saying this on television must be why Craig's coming so hard at her at this reunion.
Madison's now using this information as a weapon to try and hurt everyone. It's a little bit suspect though that Natalie was previously on Love Connection. That feels like someone trying to be a social climber and get fame on reality television. I hate to question her motives, but…..
Craig calls Madison a trash human being over all of this. There's no reason for Madison to come at any of them over this. Natalie didn't sign up for these two of attacks. To say Craig's pissed is quite the understatement. He calls Madison a sociopath with no feelings for anyone else. She's into herself and only herself.
Madison reads off a "heartfelt" apology she sent to Natalie, but Craig's not receiving it. Andy ends up reading it directly off the phone and notices Madison added an extra I'm sorry when she read it aloud.
Shep Rose starts to question Natalie's intentions as well after learning the Love Connection news. There's an element of opportunistic behavior for sure. If they haven't already, this is a conversation she and Craig need to have. He can't remain in this relationship blindly.
Craig's finished with Madison because of all of this and vows to never speak to her again. In his eyes, she just threw away 10 years of friendship over petty drama. I bet they're back on good terms when next season starts. The people on this show can never remain totally done with one another. They're destined to be in each other's orbits forever.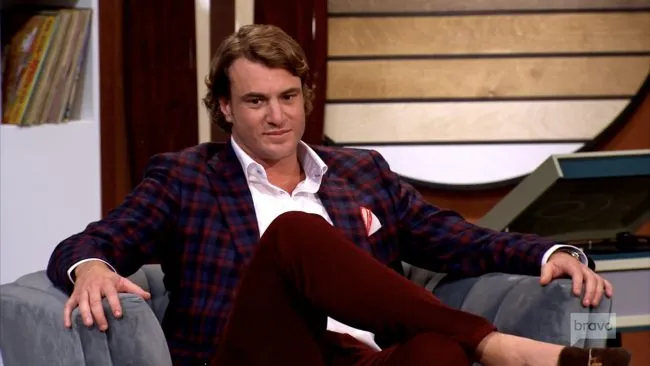 I still cannot believe Shep's finally in a serious relationship, and neither can his co-stars. Taylor Ann Green has brought out a significant change in him. He came across as less of a Peter Pan this season, and the maturity level has increased. Whatever magic Taylor possesses is something insane to witness. More of that please!
Danni Baird says Shep's matured since they were together, and she loves watching them together. She's brought out the best in him, and she really could be the one. Shep says Taylor's innately a good person, and that makes all of the difference. The cast is fawning over this new and improved version of him. You know damn well none of them want the old Shep to rear his ugly head again.
Shep reveals he has not been entirely faithful to Taylor. There was a hiccup involving some text messages and him making out with another girl. He claims it was just a moment of weakness, but it led to an honest look at what he wanted. Austen says the experience helped Shep decide what he wanted for himself and his relationship. That's all well and good, but what about Taylor's feelings? I'm sure that type of faithless moment wasn't just a little slip up to her.
Leva feels like that is just romanticizing cheating, but Shep doubles down about it. It was a cathartic moment for him and Taylor, but Madison isn't feeling it. You can tell she's reveling in the fact that there's some trouble in paradise between him and Taylor.
Therapy gives Shep  the ability to look in the here and now and what makes him happy. John Pringle calls out Shep for his head space when he made fun of the homeless person. Pringle tried to educate him on the reality of people in that situation, but he brushed it off. Shep wasn't in the frame of mind to receive it, but ultimately he broke down when his parents confronted him.
Despite some early season drama, Madison feels like Shep's apologized accurately for his actions. Things started out shaky once again for these two, but it's good to hear they're in a period of peace right now. This doesn't suffice for Austen though and calls them out for not being friends.
One of the biggest issues between Austen and Madison is always making everything into a fight with each other. THIS ALWAYS HAPPENS. Madison's not having any of Austen's interjections and warns him to "shut his Muppet mouth". I'm not sure what Gonzo or Kermit ever did to Madison, but I will not take any of those insults! Let's not drag Muppets into this. They don't deserve it.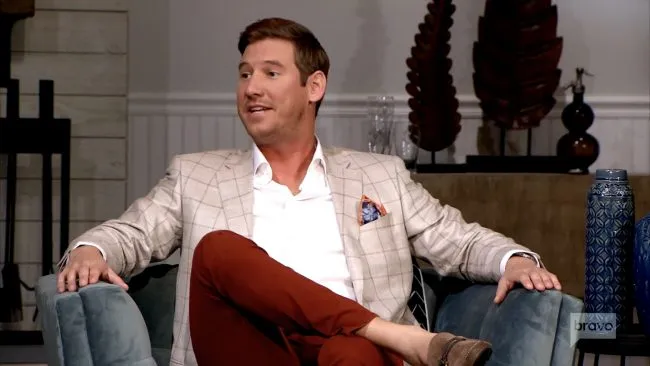 Shep's make it clear that his newfound peace with Madison has nothing to do with Austen or anyone else. What he chooses to do is reliant on Madison's relationships or interactions with anyone else. However, Shep does make a dig at Madison by saying she keeps Austen around because he's cheap labor.
The accuracy of that statement is one hundred percent. She dangles the idea of being together in front of him long enough to get what she wants. It was evident at the pool party that she had negative intentions with him. She doesn't want anything to do with him allegedly, but then she goes out of her way to make an impression on him. When she didn't get the desired reaction, she totally freaked out.
Switching gears, Andy moves on to Craig's success as the Pillow King. What a turnaround Craig's made in seven seasons of this show. After spending so much time with law ambitions that went nowhere, he's finally in his niche.
Andy asks Shep how he feels about Craig's success after he spent many years dragging him for it. This must be a hard pill to swallow because Mr. Messy himself is now the cream of the crop in this group. Andy gives Shep the opportunity to give Craig well deserved props.
Luckily for Craig, his goals of becoming the male Martha Stewart are well on their way to being achieved. He next plans on having a physical location to sell his current products and test new ones. I hope he shoves all of this in Patricia Altschul's smug face. She's so dismissive to him and his success, and I want him to make her eat her words.
Madison & Leva don't want Craig to trash Patricia, but that's garbage. Let him do and say whatever he wants to. She made disparaging remarks about his livelihood, so all bets are off. What gives her the right to scoff at someone trying to make a life for themselves? Madison and Leva wouldn't dare ever hold Patricia accountable for actions because they want to be "in" with the elite?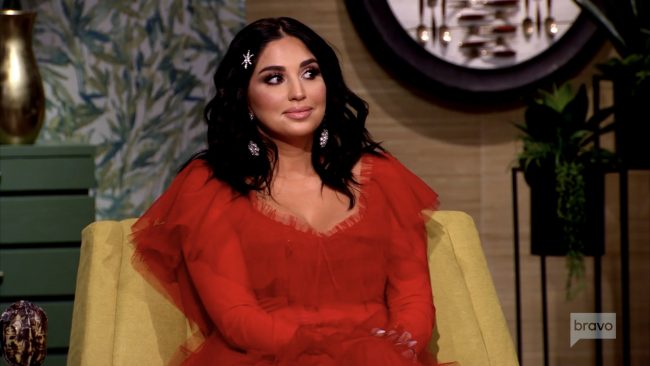 Leva says the hardest part of being on the show is not being heard at times. She spent the entire season yapping about Kathryn, so trust me honey you were heard. We got the message loud and clear about what YOU are about.
It must be difficult to navigate living in a town like that being of Persian descent and married to a black man. The South isn't exactly known for being welcoming and loving to POC. Hearing her stories about how she was called illegal and told to leave the city is heartbreaking. Nobody should ever have to experience that type of ingrained racism and bigotry.
Leva reveals she and Cameran Eubanks are not in a great place after she joined the show. A lot of the cast still talks to Cameran, but Craig doesn't. There's no real clarity about why she's not around anymore, but Kathryn makes it known it's not because of her. She says Cameran made the decision not to return to the show prior to her spewing any rumors.
Kathryn also lets everyone know she didn't make up the rumor about Cameran's family. Everyone seems to know the rumor existed prior to Kathryn, but NOBODY knows why she's not on the show anymore. Let's get some clarification about this.
To quit the show the day before filming is supposed to begin is so shady because that's not how you do business. The show has done a lot for her, so to burn that bridge is so irresponsible.
Leva & Kathryn start getting into it about how Leva went to all of Kathryn's friends to turn them against her. Kathryn is coming unglued at this reunion and refuses to let Leva distort her narrative any further. Before Leva can get a word in, Kathryn starts screaming that we haven't "seen this bitch in a while", but she's back. NEXT WEEK CANNOT COME FAST ENOUGH!
TELL US – DID CRAIG COME IN TOO HOT AT MADISON? IS NATALIE AN OPPORTUNIST? DO YOU THINK SHEP HAS REALLY CHANGED? WHY DO YOU THINK CAMERAN REALLY QUIT THE SHOW?
[Photo Credit: Bravo]