It's a tall task, but I promise we can get through this season of The Real Housewives of Atlanta. The knowledge that StripperGate is around the corner is the only thing making this bearable. We know it's going to cause an uproar within the group, but getting to that point is like watching paint dry. How can there be nine episodes so far this season where literally nothing ever happens?
Kenya Moore is making a run for the worst host of all time, and she doesn't even care. These women have had enough of the double standards and hypocrisy from Ms. Twirl. Everyone's irritated with her, and it's only the second night. Marlo Hampton has finally had enough of the shady actions directed toward her, and she's confronting the wicked witch of the ATL. Maybe, just MAYBE this will give us the fireworks we desperately deserve to watch.
The group is only one the second day of vacation, and all hell is already breaking loose. First it was Drew Sidora & LaToya Ali. Now, it's longtime foes Kenya & Marlo. Aren't they supposed to be on this trip for another three days? How're they ever going to make it that long?
Porsha Williams says there's something deep down in Marlo that craves Kenya's friendship. That could be some truth to that, but this feud has been going on for several years. It's time to either move on or stop trying entirely.
Kenya claims Marlo attacks her at every opportunity. I get where Kenya's coming from because already this season Marlo's shaded her and warned LaToya to watch out for her. If you desire someone's friendship, that isn't the way to get it.
Cynthia Bailey tries to restore order between the two of them and asks for them to TRY. If they can find a level of respect between them, that would be nice. It's exhausting to have that type of negative energy circling the group for that many years. They're both far too grown to be acting like fools that often.
Porsha reminds everyone that they usually bond over laughs and suggests playing a game. Hostess Kenya says she has a game in mind, but she's one hundred years old and wants them all to go to sleep. She might be the worst hostess ever. She gives out shady room assignments and has them play the weirdest games imaginable. Also, who wants to go to sleep at 9:30 on vacation? NOBODY.
Porsha suggests playing Never Have I Ever, but Kenya slinks off upstairs with the baby. Nobody wants her mood to bring down the party anyway. However, I do understand that her young daughter is also on the trip, and she wants time with her. Enjoy THAT, and let the other women enjoy their fun and games.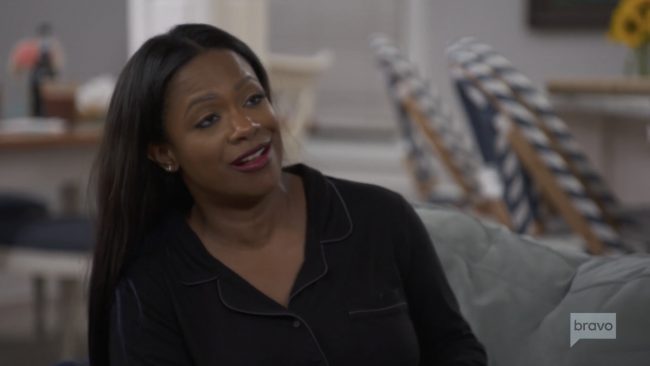 I have to say the dynamic in the group seems a lot lighter with Kenya away. Obviously Kandi Burruss disagrees and she tries to retrieve Kenya from her lair upstairs. What happens next really shocked me because of how seemingly close their relationship has been. Kenya wants NO PART of Kandi being upstairs trying to get her or having a camera with her.
Kenya shuts Kandi out which is yet another terrible move as the hostess of the trip. Once downstairs, Kandi fills in the other ladies about Kenya's decision to stay upstairs with the baby. The issue here goes a lot deeper than not wanting to play games with the other women. This is about women like Porsha & Kandi struggling with not having their babies on the trip while Kenya is in bed with hers.
How is it fair to everyone else with small children that Kenya's able to do that? They had to learn about it from a photo on Instagram. That's f**ked up, and that's why nobody likes or trusts Kenya.
Porsha says like Kenya feels as if her time as a mother is more valuable than everyone else's. Kandi has the youngest child of anyone in the group, and she's still on the trip. I understand where they're all coming from, and I do agree to an extent. At the same time though, Kenya doesn't have the same type of support system that everyone else has. She doesn't have close knit people that can take and watch her baby while she parties on vacation.
All of the uproar about the baby causes everyone to decide to skip the game. It's funny how they were all upset about Kenya not playing the game, but it led to everyone not playing. Make it make sense!
Kandi goes into her shaky crying voice, so you know s**t is real. Her daughter Blaze is very clingy to her and it's already been hard enough leaving her for this vacation. Throw in Kenya's tone deaf double standard actions, and this could be the biggest hurdle their friendship's ever faced.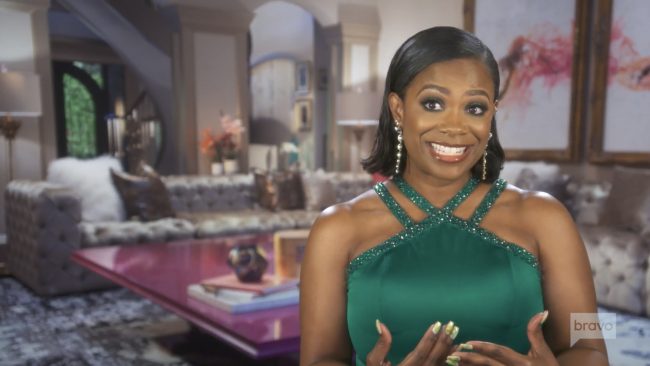 The next morning Tanya Sam & Porsha talk about the upcoming decision to be made about Breonna Taylor's murder. The big question that was looming at the time was whether or not the officers involved would be charged. Porsha's been heavily invested in the fight for justice, so she's hoping the family can get resolve.
With Cynthia outside talking to Mike Hill, Kandi gathers all of the other women for an announcement. SHE IS PLANNING A DUNGEON STYLE COSTUME BACHELRETTE PARTY. You know what this means folks? We are so close to learning what happened during #StripperGate. The scandal is near, and things won't ever be the same again.
Kandi has costumes for EVERYONE. I wonder if Kenya will actually be attending or if she'll be planning another quiet evening isolated with her baby. Can she take home the title of party pooper for the second night in a row?
Kandi confirms that there will be a stripper at the party, so this is it y'all. This is the moment that everyone's been waiting for all season. We've had to sit through eight of the most more episodes in franchise history, so this better be good.
When all of the ladies clear out of the room, Kandi rips into Kenya about not having enough nannies for the trip. Kandi lays it all out there for Kenya. I think this has been coming for quite a long time, and she's finally had enough. She calls her out for the private jet, bringing her daughter, having her own food, and Marlo's room. I'm a bit jarred to see Kandi taking up for Marlo like this. I didn't think they had that type of relationship.
The last thing Kandi makes known she had an issue with was Kenya disappearing to her room. Clearly, it's a buildup because this is the last straw to Kandi. Kenya counters everything she said with a tear filled lament about her recent struggles. We all know Kenya's current situation and her divorce. We get it. That doesn't give you the ability to wreak havoc on everyone's lives because of it.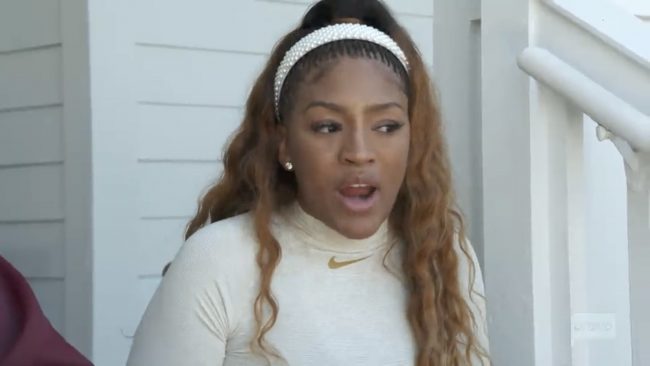 Kenya asks for Kandi & LaToya to help her take over for the day because she needs the help. Kandi's willing to give her a temporary pass because of what she's going through. We'll see how long that lasts. I have a feeling if Kandi is pressed in front of the rest of the group right now, she won't have Kenya's back.
The women are supposed to be doing a workout led by LaToya, but she suggests doing shots ahead of time. I'm not too keen on exercise, but I could get in on this drunk workout trend. Sign me up for ALLLLLLLLLL of that.
Drew doesn't understand the dynamics of the group still. She doesn't get how everyone can go from fighting to the death to living it up partying in a matter of moments. Welcome to the madness honey.
Drew opens up to Porsha about moving homes while she's not even home. Not only that, Drew's feeling some type of way about Kenya having her child there while she's away from hers. That seems to be a recurring theme amongst all of the women. Kenya needs to own it and not make up excuses because everyone's pissed about this.
On top of everything else, Drew's not sure what to make of the negativity of the vacation. She tells Porsha she almost packed her bags and went back to Atlanta at once point. All of the fakeness is getting to be too much for Drew. This isn't the group for her. She is perhaps too normal to be in an environment like this where to dynamics are always shifting.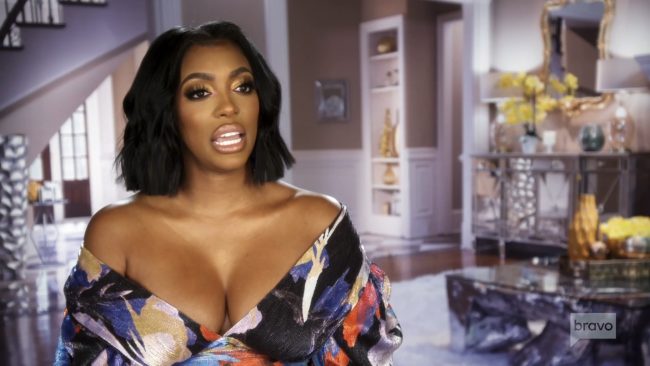 Porsha ushers everyone into the house to hear whether or not charges will be issues in the Breonna Taylor case. Only one of the six officers is charged, and it's literally just wanton endangerment. That's it. What a crock. I understand the tears streaming down Porsha's face because that's one of the biggest injustices in modern American history. Period.
I am heartbroken watching Porsha completely break down over this. It was great of the show to have all of the women doing the "Say Her Name" line regarding Breonna. Nice touch.
At dinner Drew wants to play a game called "the realest or the fakest". This sounds like a recipe for disaster. I don't think she's up to par with some of the shade queens in this group. Tread softly..
Drew's first target is Kenya and the entire dramatic mess from the night before about Brooklyn. Kenya immediately gets defense and feels like she's being attacked. This is going to go left so quickly. I don't even think Drew really wanted to play a game of any kind. I believe she is too cowardly to open come at Kenya about anything so she had to do it under the guise of the game.
When pressed at the table in front of the group, Kandi calls her out. I was right She doesn't think Kenya cares what anyone else is going through or their struggles. PORSHA THOUGH. Whew. She comes at Kenya with an explosion of passive aggression that triggers Kenya. Porsha's refusal to look up off her phone sends Kenya into a tailspin. Finally, Porsha has enough and tells Kenya to give everyone her sob story.
Even Cynthia tries to get Kenya to see the error of her ways, but it's impossible. Kenya forever lives her life through hypocritical colored glasses. She has an inability to ever recognize her wrongdoing.
Cynthia says the option should've been extended for the other women to bring their babies. Kenya (which actually made my jaw drop) tells the table she didn't have to give them the option. What an incredibly rude and self centered statement to make. She's going to lose her friendship with Kandi over this if she's not careful.
After Kenya issues an apology to Kandi, we get a tease of the next phase of the trip. RELEASE THE STRIPPER. BRING ON THE DRAMA.
TELL US – IS KENYA A BAD HOSTESS? SHOULD THE OTHER WOMEN HAVE BEEN ALLOWED TO BRING THEIR CHILDREN? ARE YOU ENJOYING THIS SEASON OF THE REAL HOUSEWIVES OF ATLANTA?
[Photo Credit: Bravo]