Last week The Real Housewives of Beverly Hills gathered for part one of the reunion. All eyes were on Erika Jayne as she sat in the hot seat for the first time. The scandal regarding she and Tom Girardi made this season one for the ages. So far she's being as transparent as possible (allegedly), so we'll see if the trend continues.
Erika's Not So Pretty Mess Of A Life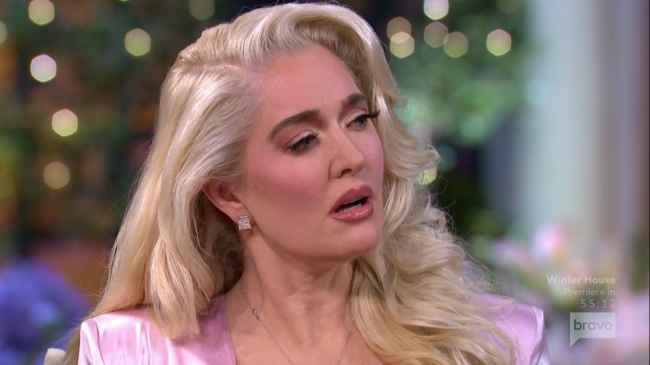 Erika says there's much more to the marriage issues than the cheating. To hear Tom wouldn't even acknowledge Erika's questioning about his cheating his appalling. It sounds like she was trapped in a marriage from hell.
Erika denies being unfaithful to Tom until she filed for divorce. It's so hard to believe that someone as young and vibrant as she was wouldn't seek comfort elsewhere. Tom allegedly cheated for years, but she never sought anyone else. That's what she'd like for us to believe. I don't know about that.
Andy Cohen questions Erika about how she previously painted a pretty picture of her marriage to Tom. This kind of reminds me somewhat of the Taylor Armstrong/Russell Armstrong situation. Fans had no idea what was going on behind closed doors until it finally came out.
Erika says she highlighted the best of their marriage on the show. My job dropped to the floor learning she wasn't in charge of any finances in their marriage. Every paycheck she ever made was handed over to Tom. Since the day they met, everything went to Tom.
The power balance of their marriage is totally off. From the outside it looks like she's in it for the money. However, if she didn't have access to anything, where was she going to go? She had no actual out.
Andy tries to say she could've left with half of his fortune at any time. She switches the narrative to say she's now stuck with half the debt. What is she supposed to do? I hate to say this, but I'm starting to lean back toward her not really knowing anything.
When Erika first heard about lawsuits coming after her, that's when she realized something was up. Erika won't say at what time she sought legal counsel regarding everything. I don't think she's going to ever get charged with everything. No way.
The reason for the divorce not yet being finalized also comes to light. The conservatorship and competency hearing has delayed everything. You know Erika wants to remove herself from this man as quickly as possible. All of his alleged wrongdoings have done a number on her life. Yes, I understand there are more serious victims in all of this. However, I can't help by feel Erika might be a victim in some way as well.
Erika admits she knows of three mistresses Tom allegedly had. On the day she left she found a topless photo from another woman on his phone. In typical Erika fashion, she reacted and texted the woman back. She said, "nice tits stupid bitch". Is it wrong that I'm living for this no fucks petty version of Erika? She has nothing left to lose at this point. There is NO filter.
Kyle Richards looks uncomfortable when asked why she never told Erika about Tom's alleged cheating. There's always rumors about everyone in the group, so you never know what's real or not. There have been rumors about her own marriage before on the show. She knows how easy it is for people to spread lies.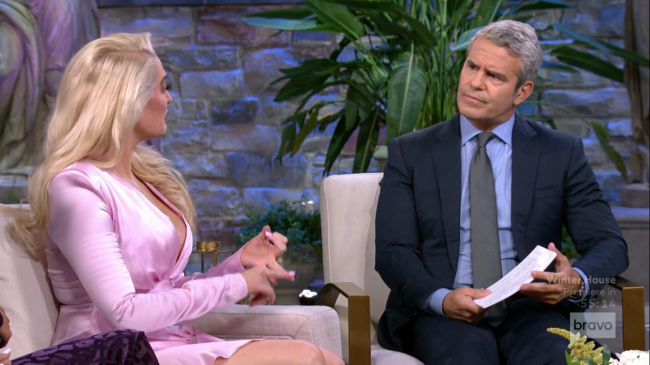 WHY ARE THERE PANTIES FOR SALE AT TOM'S LAW FIRM AUCTION. They weren't Erika's, so who did they belong to? How did this old ass man get so many women? GROSS.
The astrology party from last year is referenced because Tom seemed alright back then. This raises a lot of questions. Erika says Tom's on the loop saying the same stories all of the time. Kyle backs Erika up by saying there was a vacancy in Tom's eyes in the clip from last season. All the stories from last season were things from his past.
I'm curious what Crystal Kung Minkoff thinks of all of this chatter. Her father actually had it, so she might be able to say something different. She could back her up as well, but I doubt it.
Erika says it was her call not to seek surgery for Tom after his alleged car accident. She did everything she could to protect this man. If everything she's saying is true, it's a damn shame the life she was forced to live. Erika claims she reached out to many doctors, but they wouldn't get involved out of fear of being sued by Tom. She was in a no win situation.
Knowing what she knows now, she has no idea who she was married to. There were both good and bad parts, but she still has no clue what the hell happened. Everything about Tom appears to have been a sham. What was actually real in this marriage? Somehow she still believes Tom loved her. It sounds like a dark and twisted love.
Erika hopes the allegations against Tom aren't true. She thinks there's a chance everything may not be true. After everything she's still trying to protect him on some level. It comes across like a Stockholm syndrome type of thing. She hopes he hasn't done these things, but sweetie it doesn't look good.
Sutton Stracke says forensic accounting brings out the truth about what your spouse could be hiding. Andy says everything becomes more difficult when things are allegedly purchased with victim's money. Erika says she has to worry about herself in all of this. Shouldn't that be the case? She can feel bad for the victims but also hate what's happening to her life. Just because you don't like her as a character on your TV screens doesn't mean she's the worst person. PERIOD.
Dorit & The Gift Of Gab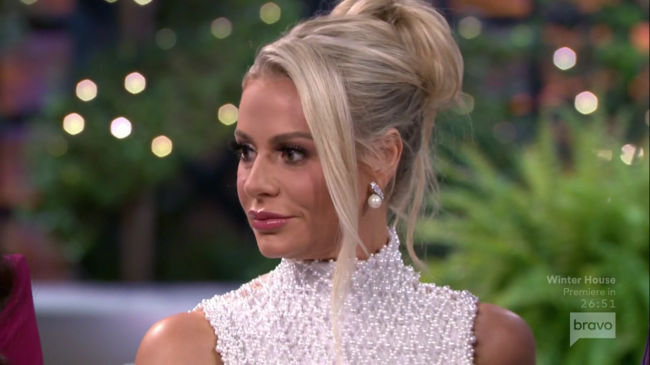 Dorit Kemsley finds herself to be an easy target, but she doesn't think she hijacks conversations. ANDY YAWNING IN THE MIDDLE OF DORIT TALKING IS HILARIOUS. We all feel the same.
Andy brings up Carlton Gebbia, but Garcelle Beauvais has no idea who she is. How does Garcelle not know witchy fucking poo? Shame! Do some research before you get on the show! Just kidding. I love you.
It's cringe hearing Dorit talk about having dark skinned people work for her. It didn't come out the way she meant it. She was trying to make a point about diversity, but the delivery was horrible. Garcelle backs Dorit up a little bit by saying it was a tough conversation for everyone that night. She even references social media always making everything so seriously.
Kathy Hilton LOVED the conversation from that night because it enlightened her about Garcelle's experiences. She now knows how important it is to see color. Seeing Garcelle as a Black woman is first and foremost.
Dorit's still denying having a nose job. She's offended by the insinuation, and she laments how much it hurts her to be accused of that. Out of everything the cast is going through this season, this has the least impact on me. We're talking about serious and heavy issues, and she's trying to make this into something. Stop fishing for relevancy.
May The Lord Be With You
Lisa Rinna tried so hard to make Amelia Gray's relationship with Scott Disick into her main story line. Between that and Harry Hamlin's gardening affinity, she gave us absolutely nothing once again. Her personal life is a snoozefest. I'm a huge soap fan, so part of me still loves watching Billie Reed on this show. However, I think it might be time for her to take a break from this.
Lisa reveals it was Amelia who pulled the plug on her relationship with Scott. Thank goodness that came to an end. It was never going to last, and it sounded like a mess. Lisa looks overjoyed about the news of this relationship ending. APPARENTLY HARRY STYLES IS A FAN OF THE SHOW IS SO FUCKING ICONIC. Best news ever. I know I loved that man!
Everyone in the group seems relieved about Amelia calling it quits with Scott. Lisa only spent time with Scott about three times, so thankfully it's all over. He clearly wasn't making an effort to bond with the family. The age gap is a hard thing for people to try to move past.
Drake following Lisa is everything. You know those other women are jealous of that kind of high profile follow. Lisa may be infuriating, but she remains iconic honey. Period.
Sister, Sister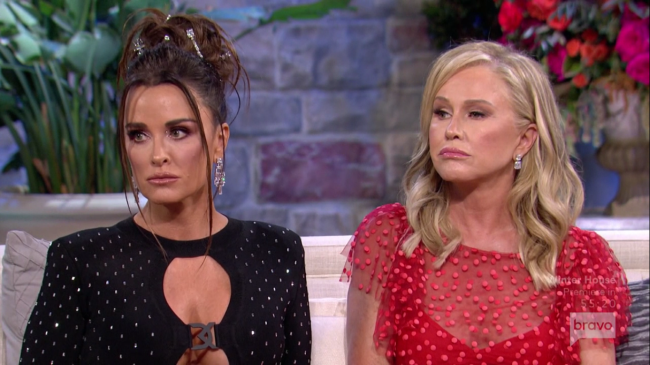 It's refreshing to see Kyle on a show with her sister and it not be a painful experience. This season with Kathy was everything they could've ever wanted as sisters. The show has brought them closer, and it's heartwarming to witness. It's a shame they spent so many years not speaking because they lost out on so much time.
Kathy was NOT happy when the first season aired. The limo fight caused a lot of strain and tension within the family. All of the sobriety issues with Kim Richards gave Kathy a sense of responsibility to protect it. Kathy was holding things in because of everything she was witnessing. However, she realizes it could help people to pick up the phone and mend things.
Kathy's biggest issue with the American Woman TV show was because it portrayed their mother. Talking about her or seeing anything regarding their mother makes her break down. It's difficult for her to speak about anything regarding the subject. During the conversation with Andy, Kathy completely loses it and starts sobbing uncontrollably.
TELL US – DO YOU BELIEVE ERIKA? DO YOU PREFER KIM OR KATHY ON THE SHOW? DOES DORIT TALK TOO MUCH? ARE YOU ENJOYING THIS SEASON OF THE REAL HOUSEWIVES OF BEVERLY HILLS?
[Photo Credit: Bravo]