We're back for round two of the Vanderpump Rules reunion. This week, Andy Cohen did his best to get back to the task at hand. That being, Season 10 from the before times. But wherever a majority group of women is trying to speak on something, there's usually a lurker trying to interject. 
You'd think Tom Sandoval would learn to shut his yapper after being caught in more than a few lies already. But here we are. And as an extra treat, whenever Tom spoke, Ariana Madix had to jump in too. Take a sip, have a puff, or pop a pocket Xanny. Whatever you need to calm those frayed nerves. It's another Scandoval routine. 
Trailer trash talk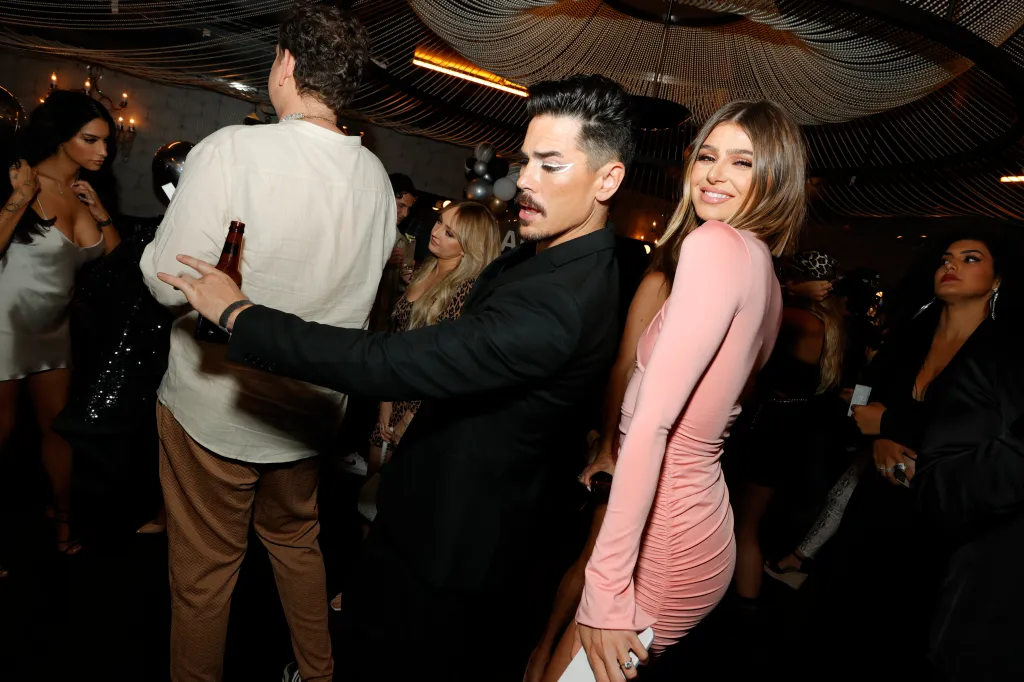 Emphasize that header however you see fit. Tom takes a visit to Raquel Leviss' trailer on his filming lunch break. He breaks down the situation on stage for her, despite her explaining she can watch everything that's happening.
Raquel asked Tom about the comments that he and Ariana were intimate as recently as January. He explains that was the same month Ariana was complimenting his fashion. He couldn't resist. This rationale satisfies Bambi for the time being. She feels her pendulum has swung too far into self-discovery, and it's time to re-center. Tom's facial reaction to this announcement appeared to be one of repulsion and second-hand embarrassment. Love that for him. 
Following this quaint moment, Sandoval throws a pity party outside of the trailer. He wants to time to talk to Raquel alone, off-camera. Production reminded him that as long as there are two people from the cast together, they are obligated to film. He whines that he doesn't feel relaxed. It's too overwhelming to watch what he says on camera. Is he new here? 
The arrival of Ally Lewber
Ally Lewber has landed. She is reunion official. During her part, Ally admits she watched Vanderpump Rules over the pandemic like anyone else. She also shared that she doesn't particularly love James Kennedy's drinking. James tried to explain that his drinking has evolved as he's aged, but Sandoval doesn't like that. 
Mustache-Tom began to weave a tale about James becoming belligerent at some event and losing him a business deal. James retorts that the Toms were also wasted at that event, but at least he was climbing the rafters and giving the people a show. Then Lala Kent steps in. She sober-splains that no one who drinks and parties as heavily as the Toms should be handing out substance use advice. 
Lala's roleplay audition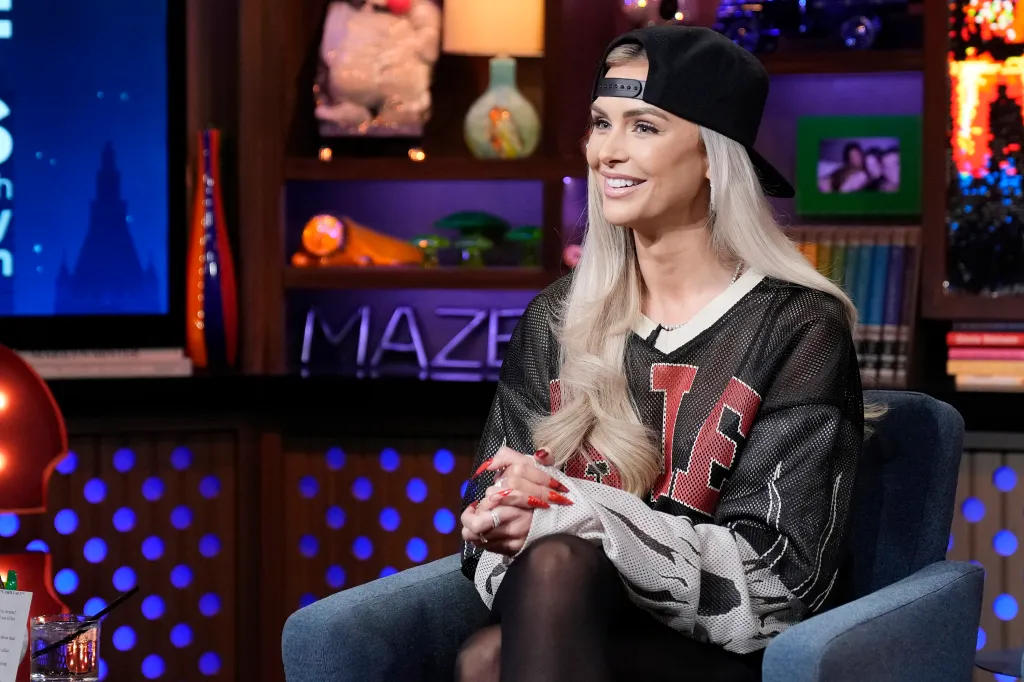 This scene feels like the first time all season we've seen Lala taken to task for her equal parts proud and creepy relationship with Randall Emmett. And our patience was rewarded. Lala revealed that she met Randall after being poached by his manager at SUR. Lisa Vanderpump was positively loving the free mistress marketing for her business. 
Lala says she was asked to audition for Rand, and "shocker", she got the job. She explains that she didn't hook up with Randall at the audition, but the first time they went out together separately. Apparently, her Utah roots prevented her from understanding "The Old Fat Man" (James' words) might have ill intentions. Someone has done a few too many twirls on her friend Heather Rose's stripper pole. Tupac would never fall for this.
Scheana's moment
For legal reasons, Scheana Shay can't talk about the (rumored) smackdown she laid on Raquel at the time of the reunion filming. When Sandoval is asked what he thinks happened between his girlfriend and Scheana, he short circuits. He then lets it slip that he heard Scheana say she punched Raquel, but Scheana denies it. Soon enough he'll be getting squared French tips and then he'll know the truth. 
Scheana then revealed that she has proof of Tom hitting on Raquel as early as Coachella in April of 2022. Allegedly, he was telling Raquel that he and Ari were in an open relationship. That tracks. 
Later, Andy brings out some papers provided by Raquel to give to Scheana. It states that Raquel has requested to dismiss her restraining order against Scheana. Raquel says she regrets having filed it at all. Ariana blurts that she doesn't care and she should just keep it in place, but Scheana bursts into tears of relief and Lala comforts her for all the legal hell she has been put through. Tom starts trying to speak but is hushed once again. 
Scheana is devastated over how much of her time and energy she gave to Raquel. She says that this legal situation has caused her to have breakdowns that led to her baby hyperventilating. Dark. And just like that, shi-shu must exit the stage so that Raquel can join the group. We're moving on.
Raqy horror picture show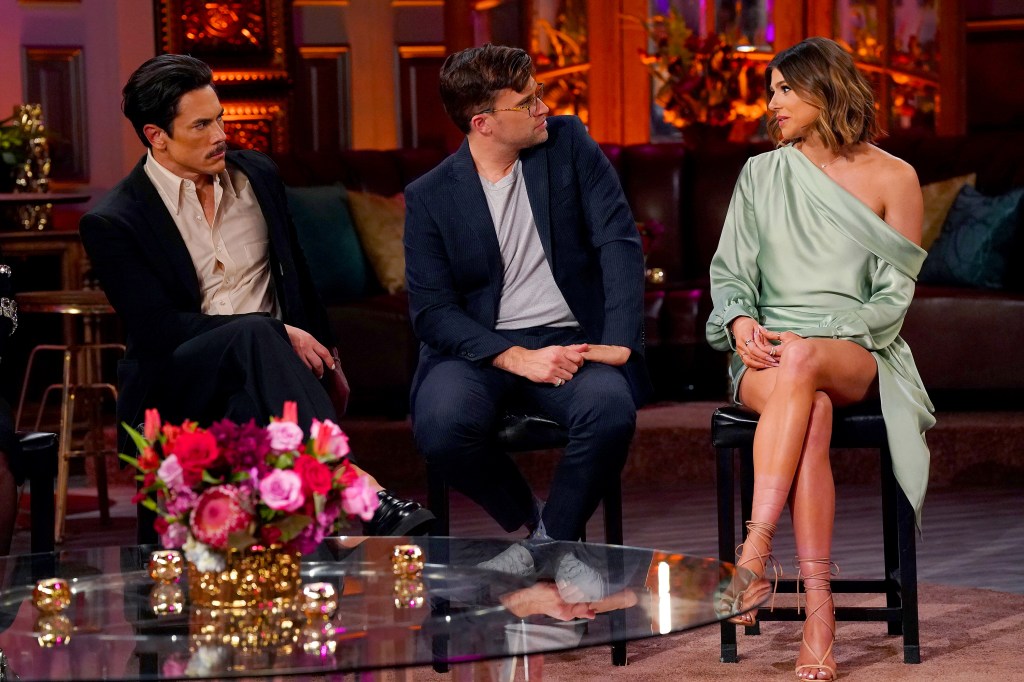 In her one-on-one interview, Raquel is adamant that she and Tom got their start after the girl's trip that was filmed in Season 10. She had never felt a love (bomb) like this before, and she really thought things would work out for the long term. Raquel also shared that during this time, it seemed like Ariana knew about the things going on behind her back.
The episode ended with Raquel walking into the group filming and Tom Schwartz passing around a bottle of Xanax. See you next week!
The Vanderpump Rules Season 10 reunion concludes Wednesday, June 7, at 9/8c on Bravo.
TELL US – WHAT COACHING ADVICE DO YOU THINK TOM WOULD GIVE RAQUEL OFF CAMERA? WHAT ARE YOU MOST LOOKING FORWARD TO IN NEXT WEEK'S EPISODE? IS THIS REUNION LIVING UP TO YOUR WILDEST SCANDOVAL DREAMS?