Kyle Richards is the last remaining "OG" on Real Housewives of Beverly Hills. As such, she has had her share of memorable moments. Some could be considered iconic, while others were filled with tension and emotion. She has been holding her RHOBH diamond for 13 seasons. So, whether she is clashing with her sisters or fighting with a bestie, she knows the assignment. These are Kyle Richards' most memorable moments on RHOBH.
A Psychic Prediction Leaves a Bad Aftertaste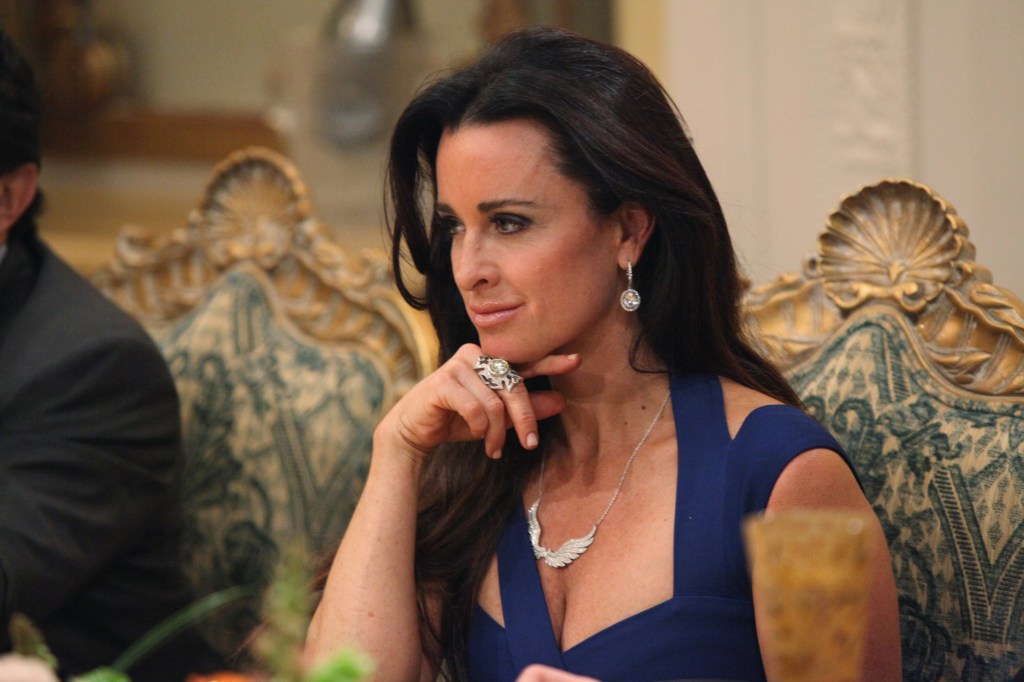 During Season 1, Camille Grammer held a dinner party at her home. And it was legendary. Camille's good friend, psychic Allison DuBois, also attended. After initially refusing to give a reading, Allison fired off one that Kyle will never forget.
Allison said she only saw two marriages for Kyle. Since Kyle was divorced when she married Mauricio Umansky in 1996, that sounded like good news. But Allison added, "He will never emotionally fulfill you. Know that!"
Jumping ahead to the present day, now Kyle and Mauricio have separated, per Page Six. Is Allison puffing on her e-cigarette in triumph? This duo always portrayed a happy and united marriage. Perhaps we will see a reconciliation in the future.
Kyle Revealed a Family Secret
During the first season finale, Kyle and her sister, Kim Richards, engaged in a nasty verbal fight in a limo. While the sisters squabbled during the season, it was a shock to viewers when their anger exploded. Kim accused her sister of stealing her house.
A furious Kyle charged at Kim and screamed, "You are a liar and sick and an alcoholic." The scene was unforgettable due to its shocking nature. Kyle told her sister that she would no longer be getting any further help from her or Mauricio.
Brandi and Kyle's Driveway Showdown
Brandi Glanville and Kyle were involved in a shoving match at co-star Eileen Davidson's home during Season 5. Kim, who had been in rehab, started to behave oddly. Kyle wanted to speak with her.
While in Eileen's home, Brandi tried to usher Kim, and her slice of pizza, outside. Kyle grabbed at Brandi, who shoved her. Brandi brought Kim outside, but Kyle followed. She insisted she needed to speak with her sister.
Brandi shaded Kyle for not being there for Kim. At one point, Brandi grabbed both of Kyle's wrists. Who knew that Eileen's driveway would be the setting for an iconic RHOBH fight?
The Bitter End for Kyle and Lisa Vanderpump
All the drama on Season 9 of the show centered on a dog that Dorit Kemsley adopted from Vanderpump Dogs. Ignoring the pup's adoption contract, Dorit allegedly rehomed the puppy. According to Lisa Vanderpump, the dog ended up at a kill shelter.
When news of the scandal hit the press, RHOBH cast members Teddi Mellencamp, Lisa Rinna, Erika Jayne, and Dorit believed that Lisa Vanderpump leaked the story.
Kyle went to Villa Rosa to inform Lisa that her co-stars believed she was the leak. Lisa swore on her children that she wasn't. But Kyle didn't believe her. Lisa ordered her longtime friend out of her home, as her husband Ken Todd bellowed, "Goodbye Kyle!"
Not only was it the end of their friendship, but also marked the end of Lisa's time on RHOBH. But don't worry. She is sitting pretty with a little show called Vanderpump Rules.
Another Sisterly Bond Is Damaged
Kyle and her other sister, Kathy Hilton, were estranged in the past. But during Season 12, their repaired bond was fractured again.
Kyle organized some shopping time with her co-stars at her favorite Aspen store, Kemo Sabe. Kathy was furious when Lisa Rinna ordered Kendall Jenner's brand of tequila instead of Kathy's brand. She was angry and stormed out.
Later that evening, Lisa Rinna claimed that Kathy had a meltdown after acting out at a club. According to Lisa Rinna, Kathy threatened to ruin Kyle and the show. Kyle was in the middle. And let's say she didn't side with Kathy.
At the reunion, Lisa Rinna and Kathy argued while Kyle sobbed. Kathy called Kyle "a martyr" and knocked her sister for not taking her side against Lisa Rinna.
Kyle and Kathy remained estranged but have recently started to make amends. Kathy is reportedly not filming for Season 13. But Kim is returning as a guest.
Buckle up. It looks like Season 13 could be another memorable season for Kyle.
TELL US – WHICH MOMENT IS THE MOST MEMORABLE ON OUR LIST? DOES KYLE HAVE A STORYLINE OTHER THAN FEUDING WITH HER FAMILY?