Ask any Vanderpump Rules fan about their favorite moment, and there's a very strong chance it happened on a cast trip. While the former SUR employees are always chaotic, there's something about a group vacation that really ups the ante. Even on the seasons that were otherwise duds. We're looking back at the most memorable cast trips over Pump Rules' ten seasons.
Las Vegas, Season 1
Viewers learned of Stassi Schroeder's infamous obsession with her birthday during the show's very first cast trip. Despite Jax Taylor cheating on her in Las Vegas, Stassi decided to celebrate with a trip there, and brought along new boyfriend, Frank.
It may have been Stassi's birthday, but most of the cast was (inexplicably) on Jax's side after their breakup. When the man in question crashed the birthday party, everything spun out of control.
Tom Schwartz, who was just a background player by this point, had his first big moment that showed he was a bad guy all along. After telling Stassi to shut up, he poured a drink on her.
It resulted in a parking lot fight with Frank, where Jax took his beloved chunky knit sweater off, showing he really meant business. The fiasco set a very high bar for the show's cast trips, one that this chaotic crew was somehow able to keep clearing.
New Orleans, Season 5
One of the many bad omens leading up to Schwartz and Katie Maloney's wedding was their absolutely disastrous joint Bachelor/Bachelorette trip to New Orleans.
Katie was in a bad mood because of Schwartz's cheating (also, she got hit in the face with Mardi Gras beads). Tom Sandoval couldn't stop crying that Katie was "castrating" Schwartz. At the same time, Sandoval kept bringing up Kristen Doute's past cheating to her new boyfriend, Brian Carter, (also, Carter had a one night stand with Katie before she met Schwartz).
The whole trip was a mess, but things really came to a head the night Schwartz, Sandoval, Jax, and Ariana Madix dressed in drag. Carter defended Kristen and Katie to the Toms and dropped an incredible Sandoval burn. "Everybody grows up Tom," he said, "and you grew up to be…Sia." Stassi kept poking her head out from around the corner to watch the fight, while Jax hid in his room and refused to let Brittany Cartwright get involved.
The night ended with Sandoval calling Schwartz a "battered wife" and kicking open the bathroom door. We think Sandoval shouldn't be on VPR anymore, but in that moment, he delivered the outlandish drama we crave. His New Orleans tantrum is still one of the most unforgettable Bravo moments.
Big Bear, Season 6
VPR's Big Bear cast trip is best remembered as that time Jax almost drowned, but there was even more chaos going on. Lala Kent and James Kennedy continued their "it's not about the pasta" fight, and their lingering romantic feelings were obvious the whole time. Meanwhile, Rachel Leviss awkwardly and quietly sat by like a third wheel (most of Rachel's early appearances were just that, which is part of why Scandoval was initially so shocking).
This was also the height of Scheana Shay's cringe-worthy obsession with Rob Valletta. On the same trip, Rob admitted to Jax that Scheana's proclamations of love made him uncomfortable, as he didn't feel the same way. Of course, Jax spilled the beans to everyone, setting up more drama.
Season 6's next cast trip was somehow even wilder.
Mexico, Season 6
Only a few episodes after Big Bear, the cast took another trip to Mexico. Recovering from his near-death experience, Jax claimed to be offered his dream job in Florida. No one really believed this was true, but it still added to the tension in his relationship with Brittany.
A group dinner turned into a huge screaming match as Lala and Stassi defended Brittany. Jax responded by yelling that he didn't even know Lala. Sandoval, who would later pull this move once he took Jax's place as the villain, defended his then-best friend. Ariana hid behind a napkin.
Meanwhile, Schwartz drunkenly ended up at another hotel, where fans assume he cheated on Katie yet again. It's also theorized that Sandoval covered for Schwartz by throwing attention at James and Kristen's late night chat.
James very clearly said he hung out with his ex, but Sandoval told everyone he admitted they hooked up (in hindsight, this is when James should've realized Sandoval's a liar). "Krazy Kristen" unsurprisingly did not respond well.
Also, Lala revealed to Scheana that she drinks from a baby bottle at night.
Back to Mexico, Season 10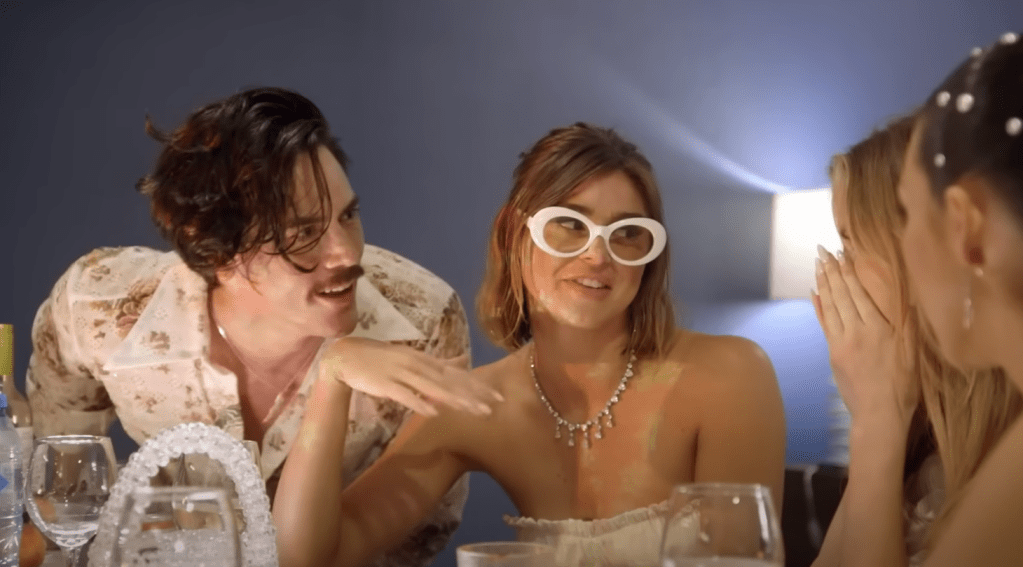 Last season's cast trip to Mexico for Scheana's second wedding was chaotic on-screen and off. Rachel, far removed from her days awkwardly sitting by, really ramped up the drama. On-screen, she and Schwartz shared their much-anticipated "make out" (which Katie described as a "creepy uncle" kiss).
The true drama was happening off-camera, as Rachel and Sandoval carried on their affair right under everyone's noses. They apparently disappeared for hours. And Scheana's wedding dress designers claimed to see them kissing.
Watching with knowledge of Scandoval, the affair seemed obvious by their actions. Sandoval was very, very touchy-feely with Rachel. They also joked about Ariana's jealousy right behind his then-girlfriend's back (literally).
The strange viewing experience made this a different kind of wild VPR cast trip then ever before. We'll see if next season's cast trips can live up to it. We already know a Lake Tahoe trip will show Scheana and Sandoval's healing retreat and Puppygate 2.0. Hopefully there will be more chaotic moments that haven't been spoiled yet.
TELL US – WHAT WAS THE MOST CHAOTIC VPR CAST TRIP? WHAT ARE THE BEST MOMENTS FROM THE CAST GETAWAYS EACH SEASON?