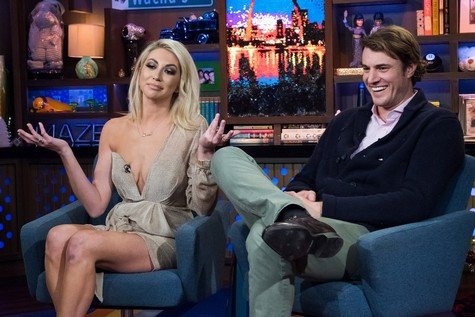 I don't blame Andy Cohen for pushing for a hookup between Shep Rose and Stassi Schroeder while they were both guests in the Bravo clubhouse during the last Watch What Happens Live episode. They're both Bravolebrities. They have a good amount of mutual friends. They are both very open about how much they want to be in a relationship.
Shep even has his own Southern Charm spin-off show called Relationshep which documents his quest for a love interest, so it makes sense that Andy brought up his love life during the interview. Probably no one is surprised by this prediction, but it does not look like Shep found "the one," since he admitted to hooking up with Summer House cast member Jaclyn Shuman pretty recently.
Andy got right to the point and asked Stassi and Shep, "Has anything ever happened between the two of you?" Stassi said, "We haven't hooked up at all." Andy continued to plant the seed when he said, "The night is young and the show has just begun." I'm here for it. Shassi, Step, or whatever their combined couple name is would be interesting to say the least. It would be one of those "opposites attract" scenarios, but it would definitely be intriguing.
Aside from pushing for Stassi and Shep to be more than friends, Andy asked Stassi about her most notorious ex Jax Taylor and the rumors that he cheated on his current girlfriend Brittany Cartwright with Faith Stowers. Stassi teased, "I can't give anything away. I lived it." I was one of the naive people hoping that Jax changed for the better during his relationship with Brittany, but the odds are stacked against him. I just don't see why a girl would lie about having sex in front of senior citizen and missing her period. I've heard that "all publicity is good publicity," but I just don't feel like that applies here. This girl is definitely going to get a ton of hate on social media. If she hasn't already, she should really deactivate her accounts. She either slept with Jax or she lied about sleeping with Jax. No matter how you slice it, it's a bad look for Faith.
Later in the episode a caller asked Stassi what advice she would give to Brittany about dating Jax. Once again, Stassi didn't give anything away and just said, "If you are going to give Brittany one piece of advice on Jax, what would you say? You better tune in this season. I give her a lot of advice."
Andy asked Shep, "How much fun are you having on this show?" He admitted, "I had fun on the traveling part. When they came home to roost, that's when it got a little nuts." And I can't wait to see that.
In honor of Stassi's third wheel status with Tom Schwartz and Katie Maloney, Andy asked Stassi about the Bravo couples that she would have a threesome with. She said yes to pretty much every choice minus the Vanderpump Rules options with the exception of her former employers Lisa Vanderpump and Ken Todd. Stassi explained, "I'm fascinated by this relationship. They are so perfect every time I'm around them. I have not seen them mess up once."
The episode really got interesting when a fan asked if Stassi or Shep have hooked up with a cast member from another Bravo show. Stassi said, "I really wish I have, but I haven't." Shep admitted it and told Andy, "You met her. After the Grateful Dead concert." Andy seemed like he had no idea what Shep was talking about and asked, "She was from a Bravo show?" Faintly. She was a secondary cast member on a show that was only on for one season, so I don't blame Andy for not putting that one together.
They kept going back and forth with vague questions and answers until Andy just asked for a name and Shep said, "Jackie. I think the world of her, by the way." By that I assume he means Jaclyn Shuman. I have no idea if she actually goes by Jackie or that's just what Shep thinks her name is. She wasn't really on Summer House long enough for me to know for sure.
Shep also mentioned that he went to the concert the night before he appeared on the Today Show and I did my own fact checking. Shep appeared on the Today Show November 15 and there was a Grateful Dead concert on November 14 in New York, so I take that to mean that Shep is still single and he did not find a match on this show. Or he is just in an open relationship with a very understanding person.
And of course they couldn't ignore the elephant in the room: Stassi's podcast controversy. Andy asked if she had anything else to say after apologizing on Twitter and she said, "I didn't just apologize on Twitter. I actually spent a good few days locked in my apartment reading emails from a lot of people and I put together a letter that I put out on social media. I stand by everything that I wrote in that. All I can do is say sorry to people that I hurt and just try to do better."
Andy followed up with, "Do you regret deleting the episode?" And Stassi said, "With the letter that I wrote, I think I got my point across because at first I regretted deleting the episode, but then when I wrote that letter I said what I needed to say." (For the record, it was saved online by others)
Just for good measure, Andy asked Stassi, "Are you attracted to Shep?" She admitted, "He's a very handsome man." Nice try, Andy. I applaud the effort. It just doesn't seem like Stassi was feeling that idea. Unfortunately.
TELL US- WHAT DO YOU THINK ABOUT STASSI'S REGRET FOR DELETING HER INFAMOUS PODCAST EPISODE? ARE YOU WATCHING RELATIONSHEP? 
Photo Credit: Bravo/Charles Sykes